San Diego Morning Report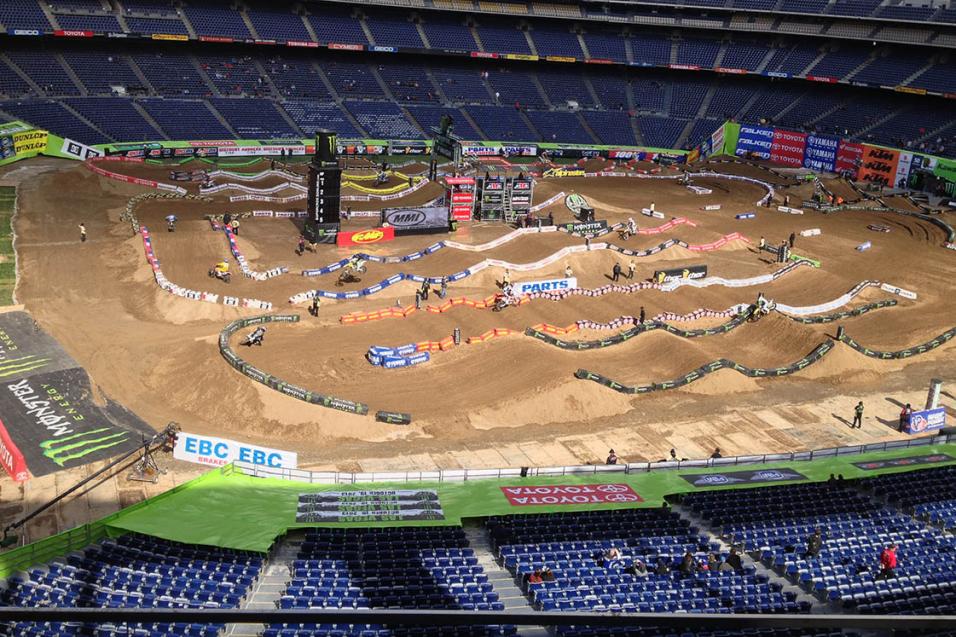 Qualcomm Stadium
San Diego

,

CA
San Diego
Monster Energy AMA Supercross Championship
Only in the supercross world is San Diego known for bad weather, but indeed the February Monster Energy Supercross date seems to always flirt with the rain. And that was the case again here, as huge storms yesterday threatened to turn the track inside Qualcomm Stadium into a muddy one. When tarps were pulled this morning, the flat sections of the track (such as the start straight) were completely saturated, while the vertical spots (jumps) were dry. Hilariously, at about 10 a.m., the track crew was both watering the finish line jump while they were pushing mud off of the start straight!
By the time practice began, the track had dried out to a degree, with some ruts in the corners leftover. It's sunny here with a slight breeze, so things continue to dry. It looks soft in spots--our man Jason Thomas tells us the ruts will make practice pretty tough, but he also thinks the track crew will clean all that up before the night show, so it won't impact the results tonight.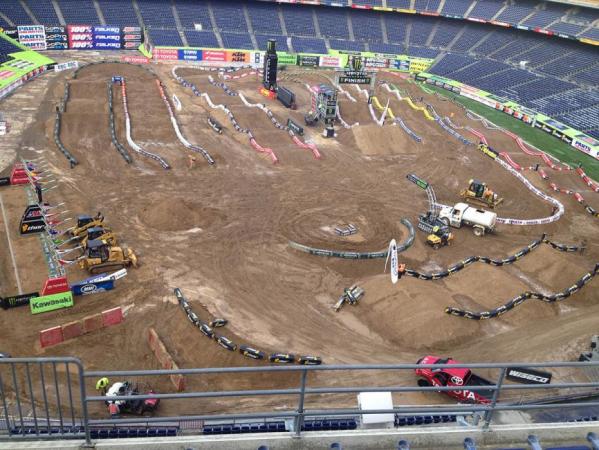 The track crew getting to work this morning.
Weege pic.
Otherwise the track looks pretty simple. There's a big triple-over-table only a few riders jumped during free (untimed) practice today, and one other rhythm section could be difficult, starting with a triple onto a table. Seemed simple now, but things can change--in fact right now the crew has gone back out to reshape some sections before timed practices begin. Stay tuned.
In news and gossip, if you heard about the AMA and FIM fuel testing last week, well, we now hear every rider tested last week has passed. And that's about it, for now. Stay tuned.