Qualcomm Stadium
San Diego

,

CA
San Diego
Monster Energy AMA Supercross Championship
Hello, everyone and welcome to the Rev Up. Business is picking up. I've began to look at the Monster Energy Supercross series in three parts: The opening six rounds in the West, the five rounds of the East Coast swing, then final six races spread across Canada, Texas, Washington, and Utah before calling it off in fabulous Las Vegas, Nevada. The road to the Supercross championship is long and hard as cross-country travel soon becomes a veritable 21st rider to compete against. But not yet. Beautiful San Diego, California is on the board and serves as the end of Act 1. While some characters have thrived in the opening rounds and others are aching for a change of pace, there is one particular player that is set on kill...

Let's review. A puzzling 16, 2, 1, 1, 8 tally for Monster Energy Kawasaki's Ryan Villopoto lands him 17 points out of the championship lead. He's been on the ground a lot since the Monster Energy Cup. Muscle Milk Honda's Justin Barcia began to show championship form, then he put up consecutive DNF's. His teammate Trey Canard has shown flashes of both brilliance and folly, but he is healthy and remains in the hunt. A bombshell hit the tour last weekend with a timely and dominant victory by Red Bull KTM's Ryan Dungey. Where had he been? His season was looking darker than 3 a.m. when he finally grabbed a start, put in the fastest 20 laps and in one fell swoop put himself in second place in series points. Two racers needed a breakout performance, and now only Chad Reed has yet to step up. Imagine the noise if Reed and James Stewart hook up out front in San Diego?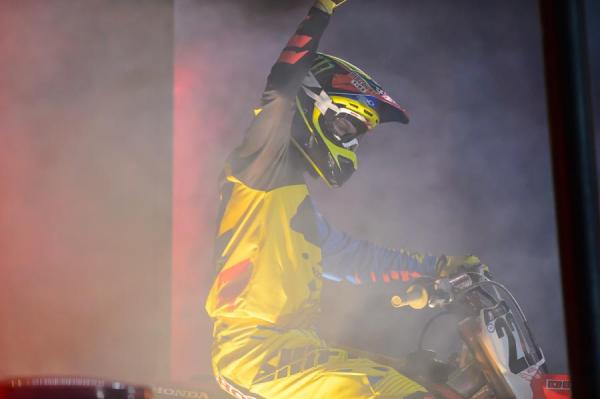 Can Chad Reed pick up his seventh win in San Diego this weekend?
Simon Cudby photo
It's an obvious nod, with Reed owning six wins in San Diego. One aspect that fuels this is the laps he put in last weekend. His momentum is back, and while he's been on the ground in the second or third corners the last two races, he has gated very well. The other aspect is the track design to come looks to be higher speed with wide corners, and a real whoop section. All of that considered it is a good time to be on team Discount Tire/Two-Two Motorsports Honda. Time to bring back "The Thunder." He has the confidence of his six trophies, but this may be the hardest one to earn yet.

This leaves the butt-kicking that Rockstar Energy Racing's Davi Millsaps has put on everyone to earn his 14-point lead. Davi has been top five in almost every practice, won heat races, a main event, and is the championship force to reckon with. His opening effort has rewarded him with a very real chance at the title. Sure, a DNF dashes his lead, but if he keeps banging out top-fives somebody is going to have to go on one hell of a run to overtake him. He has shown no signs of slowing down and it will surprise me if he fails to extend his point lead this weekend. He'll have to beat Dungey to do that, though.
The show rolls on. Racers like Matt Lemoine, Vince Friese, Weston Pieck, and Jimmy Albertson are hungry and making life extremely tough for anyone on a big team. And now, Josh Hill returns to the mix.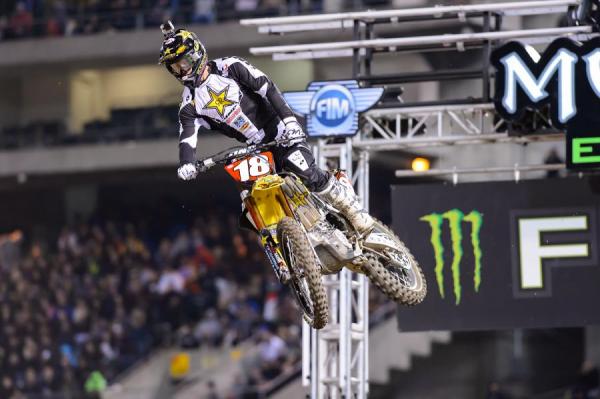 Can Millsaps extend his 14-point lead over the field in San Diego?
Simon Cudby photo
San Diego will mark the end of Act 1. To be champion you have to get out of California with your health and a mathematical chance at the title. The East Coast swing to come offers a probable mud race at Daytona, the battle of Atlanta and the Mid-West mayhem of Indy and St. Louis. Before any of that enters the picture there is a huge dust up on the horizon. Every single main event that's transpired has been the most anticipated of the season, and this trend could stretch the entire duration. We are seeing some amazing supercross, ladies and gentlemen. Reed is going to go for it, Dungey is hot off a win, and Davi Millsaps is slowly pulling away! Can Ken Roczen win again and put a nail in the 250 class coffin? Is it possible to be anymore excited about Supercross? You can't script this kind of story, it is too random and has it's own irregular heartbeat. I've never been more happy to say I have no damn clue who is going to win this weekend. In either class! Let's keep everybody healthy and let this thing continue to grow.
Thanks for reading, see you next week.