MotoSport Ultimate Ride Giveaway
MotoSport Announces the Ultimate Ride Giveaway with up to $20,000 in Prizes and
Three Ways to Win!

TUALATIN, OR
– The latest edition of the MotoSport Ultimate Ride Giveaway provides the
opportunity to win one of five Ultimate Ride Grand Prize Packages, a $2,000 MotoSport gift
certificate for completing the Endurance Challenge, and participate in a weekly drawing for a
$500 MotoSport gift certificate.
The Ultimate Ride Giveaway attracts hundreds of thousands of entries from MotoSport.com
customers and visitors alike. With three ways to win, an expanded prize assortment, and
an incredible $20,000 worth of winnings to giveaway, MotoSport.com has created a contest
that is hard to resist.
The Ultimate Ride Giveaway runs for twelve weeks from February 4 through April 28,
2013, and allows for two entries per week per person. Enter online at MotoSport.com/win
– or at the time of purchase from MotoSport.com - and via the MotoSport.com Facebook
page located at Facebook.com/motosportinc, to maximize the chances for winning. Mail-in
entries are also accepted.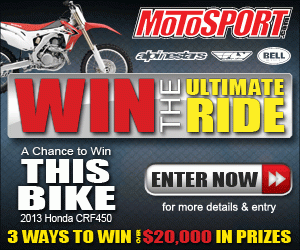 Each and every week, a winner will be selected for a $500 MotoSport.com gift card.
Multiple winners are allowed so prior winners are encouraged to keep coming back for
another chance to win $500, plus each additional entry increases the chance to win the
Grand Prize.
Additionally, MotoSport.com offers the Endurance Challenge for the truly dedicated; if at
least one entry is received for all twelve weeks of the contest from an entrant, he or she will
be automatically eligible for an additional drawing for a $2,000 MotoSport.com gift card.
The Ultimate Ride Giveaway 5 Grand Prize package consists of a choice between five rides
from five different powersport categories. The choices are made up of the following rides:
2013 Honda CRF450R dirt bike;
2013 Yamaha YZF450R quad ATV;
2013 Kawasaki ZX-6R sportbike;
2013 Honda Shadow Phantom cruiser, or;
2013 Honda FourTrax Foreman Rubicon UTV.

As part of the Grand Prize package, the winner will also receive a $1,000 MotoSport.com
gift card, a full assortment of appropriate riding apparel and a matching helmet – all by way
of top industry brands Alpinestars, Bell and Fly.

Alpinstars: http://www.alpinestars.com/
Bell: http://www.bellhelmets.com/
Fly: http://www.flyracing.com/

Enter today by completing the online entry form at http://www.motosport.com/win,
and then head over to the MotoSport.com Facebook page (https://www.facebook.com/
motosportinc) and enter again for another chance to win! Enter each week through up to
April 28, 2013 for the maximum number of entries!

More information and official rules for the MotoSport Ultimate Ride Giveaway can be found
at: http://www.motosport.com/win.

Stay up-to-date on MotoSport news and alerts from our social media outlets:

• Facebook: https://www.facebook.com/motosportinc
• Twitter: http://twitter.com/motosportinc
• YouTube: http://www.youtube.com/motosportinc

About MotoSport.com

MotoSport.com was started by a rider who raced in the 1970's and 1980's who was looking for a far more expansive supply of parts and accessories for racers - which could be obtained quickly - and without the usual hassles and limitations of a dealership. Today, MotoSport has become an industry leader, carrying products from top brands like Alpinestars, Bell Helmets,
and Fly Racing and remains focused on providing customers with the parts they need when they need them. As one of the fastest growing power sports retailers from start to finish, MotoSport.com is dedicated to providing the best experience, anytime, anywhere. Check the store out online at MotoSport.com or call 1-888-676-8853 and join the best customers in the industry.