O.co Coliseum
Oakland

,

CA
Oakland
Monster Energy AMA Supercross Championship
If you haven't programmed your DVR to record the Oakland Supercross tomorrow, stop what you're doing and go do it now. Go ahead, we'll wait, you're going to want to see this. All set? Great. Now let's get into the action from the fourth round of Monster Energy Supercross in Oakland, California.

Coming into round four, the big questions were if Ryan Villopoto would take another W and start a win streak, and if Eli Tomac would be able to extend his own streak to four in a row. Both questions were answered in a big way, albeit with completely opposite results.

The opening lap of the 450 class was simply crazy. Ryan Villopoto holeshot this race, but behind him there was absolute chaos in the form of a massive pileup. The crash involved TwoTwo Motorsports Honda's Chad Reed and JGR Yamaha's Josh Grant at first, but a ton of riders were cleaned out in the melee, including Yoshimura Suzuki's James Stewart, and Muscle Milk Honda's Justin Barcia.  Plus, Barcia's teammate Trey Canard and Red Bull KTM's Ryan Dungey were held up. [Note: we earlier reported that Grant and Reed had gotten together first, with some blame going Grant's way, but further review shows that's clearly not the case. JG was an innocent victim].  The crash sequence is bound to be one of the most watched, rewound and watched again bits of racing all year as fans try to figure out exactly what set the incident off to begin with.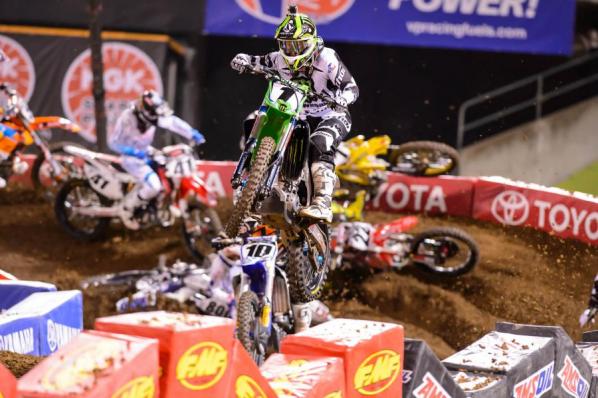 Check out the first turn behind Villopoto.
Photo: Simon Cudby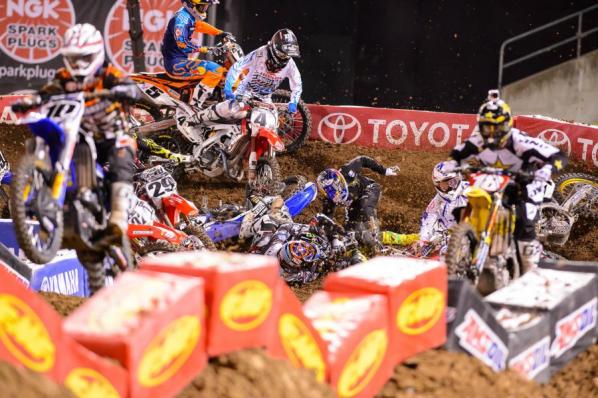 Photo: Simon Cudby
Barcia got the worst of it. He went down hard and didn't get up right away. Fortunately he was able to get up and walk off under his own power, but he can't be happy with two consecutive DNFs. Initial reports say he was winded and that he's not injured, and we'll keep you updated as we find out more. Stewart also failed to finish the race, but reports say that is due to a bike problem.
Up front Villopoto was absolutely dominating, and he would go on to win by a massive margin. Points leader Davi Millsaps was all by himself in second on his Rockstar Energy Racing bike, and Justin Brayton ran third on his JGR Toyota Yamaha. Eventually Dungey, who started the race outside of the top ten due to getting caught in that early mess, caught Brayton, and then went inside of him in a corner, leaving Brayton on the ground. He would finish tenth. After the race Brayton was quick to point out that it was nothing more than a racing incident and that he hold any ill-will toward Dungey.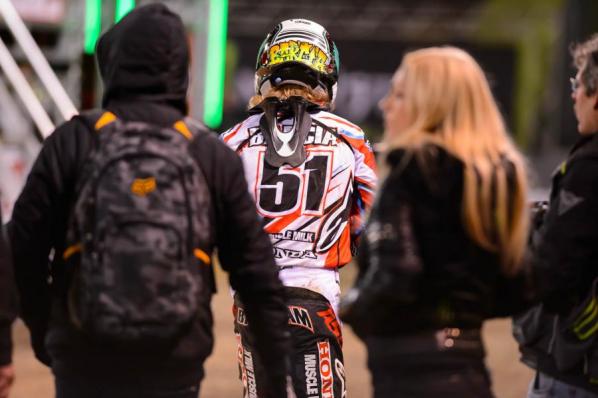 Justin Barcia walked off under his own power.
Photo: Simon Cudby

Elsewhere, Canard was riding great coming through the pack, but a small crash exiting a rhythm lane ruined any chances he had at catching Dungey. He took fourth, and Mike Alessi put in a great effort to finish fifth. Andrew Short took sixth on a production Honda. Speaking of great efforts, both Vince Friese and Matt Goerke had outstanding performances tonight. Friese held down fifth place for the first six laps of the race, eventually finishing in ninth, and Goerke ended up in seventh. Reed, by the way, charged back up to twelfth after the second-turn pileup.

Looking at the bigger picture, Davi Millsaps holds onto the red plate for yet another week with Canard seven points back, and Villopoto eight back in third.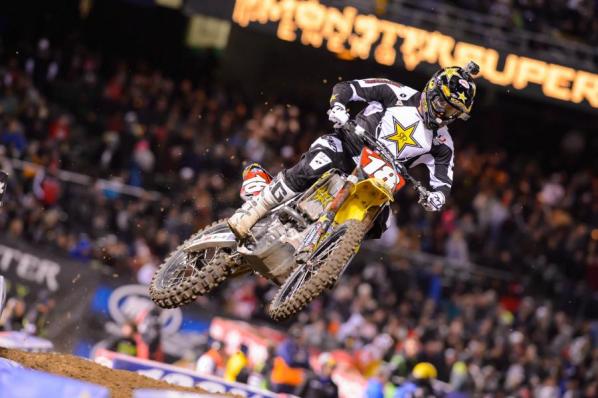 The red plate will remain on Millsaps' RM-Z450 for A3.
Photo: Simon Cudby

In the 250s, two streaks were broken. First, JDR J-Star KTM's Joey Savatgy rounded turn one in first, ending the stranglehold on main event holeshots held by the Lucas Oil Troy Lee Designs Honda team. But, it wasn't long before one of the TLD riders—Cole Seely—was in the lead anyway, as he and Ken Roczen had motored past the rookie Savatgy. It looked like Roczen was going to make a run at Seely right away, but a bobble over the finish line jump gave Seely some room to breathe for a few laps. But Roczen had been fast all day and was riding exceptionally well, so it was obvious he was going to reload and put together another attack on Seely. The assault came once the race was past the halfway point, and on lap twelve, Seely's defenses could no longer hold up and Roczen got by in a corner. After moving into the lead, Roczen quickly built up a big lead and maintained it all the way to the checkers, taking his first win of the year. Seely held on for second.

Elsewhere, Jason Anderson rode to a very lonely third in what was a great podium effort, followed by Martin Davalos, who was also pretty much by himself out there. Behind them however, a battle was raging for fifth. The rookie Savatgy was fending off the likes of Zach Osborne, Malcolm Stewart, and Kyle Cunningham. The man on the move in this pack was Cunningham, who had crossed the finish line in sixteenth after one lap. Cunningham eventually got on Savatgy's tail, and for a brief period the pass seemed inevitable, but fatigue started to set in and Cunningham, who is coming off of a nasty case of the flu, started making mistakes. The errors culminated when Cunningham swapped hard in the whoops leading into the triple, coming about as close to crashing as one can without actually going down. In fact, it was such a crazy swap that Malcolm Stewart went out of his way after the race to find Cunningham and tell him that he couldn't believe he had managed to keep the bike upright. Stewart benefitted from it and was able to get around Cunningham, and he would then pass his JDR KTM teammate Savatgy with just a few turns to go to round out the top five. Savatgy and Cunningham came through next.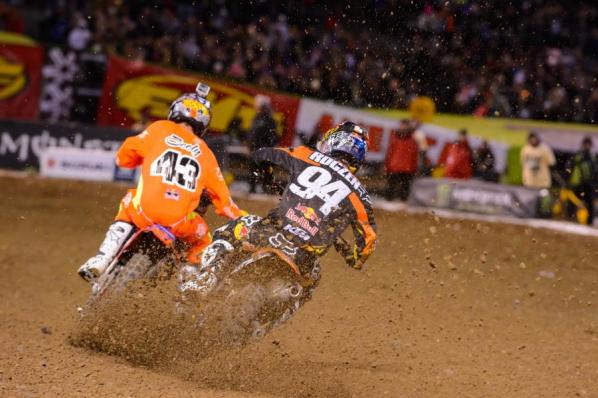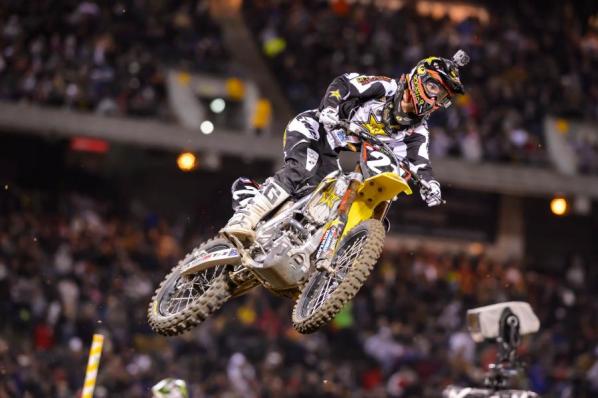 Jason Anderson logged in a solid ride to end up on the podium in Oakland.
Photo: Simon Cudby

And what about the reigning champ? Eli Tomac's night couldn't have gone much worse. After crashing early in the race and starting from way back, Tomac went down again in the first set of whoops and DNF'd the race. At first he sat on the edge of the track holding his leg, but he was eventually able to limp off the track under his own power. After the race GEICO Honda team manager Mike LaRocco said that the team is going to get Tomac checked out to be sure, but as of now, they believe the only injury he sustained was a bruise to his leg and knee. "He's more mad at himself than anything," LaRocco said.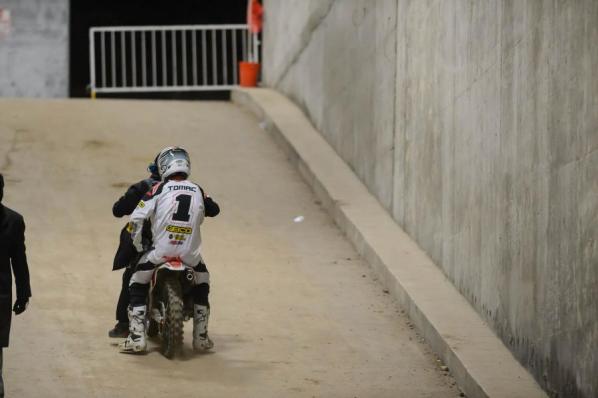 After his DNF in Oakland, Tomac now sits in third for the championship.
Photo: Simon Cudby

With that, Roczen suddenly finds himself holding the 250SX points lead. Tomac, who was leading the series by nine points, is now in third, trailing Seely by four points and Roczen by fifteen. Tomac gave up a ton of points last year when he crashed in the whoops in San Diego, and he still went on to win the title, so the championship is far from over for him, but he definitely made things harder on himself tonight, though. Also worth mentioning is Anderson's third place, which put him back in the top five just a few weeks after not even qualifying for the main event in Phoenix.

Be sure to check Racer X Online often throughout the week for interviews and analysis of the crazy Oakland action.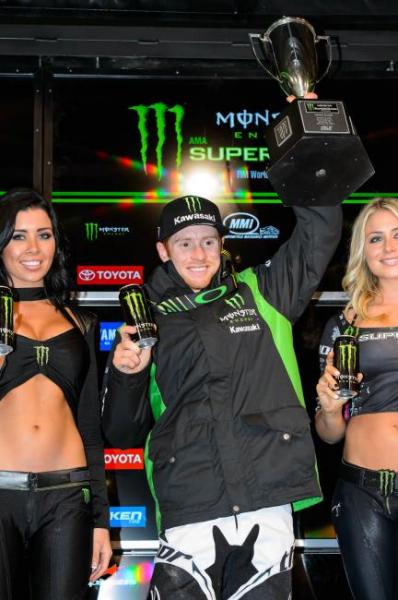 RV is now up to third in the points standings.
Photo: Simon Cudby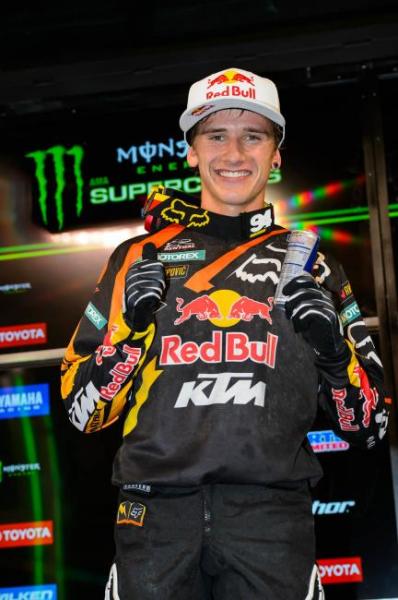 Ken Roczen, your current 250SX points leader.
Photo: Simon Cudby
250SX Results
1.    
Ken Roczen
2.    
Cole Seely
3.    
Jason Anderson
4.    
Martin Davalos
5.    
Malcolm Stewart
6.    Joey Savatgy
7.    
Kyle Cunningham
8.    Austin Politelli
9.    
Christian Craig
10.    Zach Osborne
11.    
Tyla Rattray
12.    
Travis Baker
13.    Jessy Nelson
14.    Chris Plouffe
15.    Jean Ramos
16.    Josh Cachia
17.    Kade Mosig
18.    Killian Rusk
19.    Jake Canada
20.    
Eli Tomac
450SX Results
1.    
Ryan Villopoto
2.    
Davi Millsaps
3.    
Ryan Dungey
4.    
Trey Canard
5.    
Mike Alessi
6.    
Andrew Short
7.    Matthew Goerke
8.    
Broc Tickle
9.    
Vince Friese
10.    
Justin Brayton
11.    
Jimmy Albertson
12.    
Chad Reed
13.    
Kyle Chisholm
14.    
Les Smith
15.    
Bobby Kiniry
16.    
Josh Grant
17.    Cedric Soubeyras
18.    
Matt Lemoine
19.    
James Stewart
20.    
Justin Barcia
250SX Points
1.    
Ken Roczen
– 91
2.    
Cole Seely
– 80
3.    
Eli Tomac
– 76
4.    Zach Osborne – 58
5.    
Jason Anderson
– 52
6.    
Kyle Cunningham
– 49
7.    
Martin Davalos
– 48
8.    
Christian Craig
– 47
9.    
Malcolm Stewart
– 45
10.    
Tyla Rattray
– 45
11.    Jessy Nelson – 38
12.    Joey Savatgy – 38
13.    
Ryan Sipes
– 31
14.    Austin Politelli – 26
15.    
Max Anstie
– 26
16.    
Travis Baker
– 23
17.    Jake Canada – 21
18.    Michael Leib – 16
19.    Josh Cachia – 12
20.    Jean Ramos – 10
450SX Points
1.    
Davi Millsaps
– 85
2.    
Trey Canard
– 78
3.    
Ryan Villopoto
– 77
4.    
Ryan Dungey
– 68
5.    
Chad Reed
– 65
6.    
Andrew Short
– 56
7.    
Jake Weimer
– 47
8.    
Justin Brayton
– 42
9.    
Justin Barcia
– 41
10.    Matthew Goerke – 39
11.    
James Stewart
– 38
12.    
Josh Grant
– 37
13.    
Broc Tickle
– 35
14.    
Kyle Chisholm
– 30
15.    
Mike Alessi
– 25
16.    
Vince Friese
– 24
17.    
Weston Peick
– 22
18.    
Kevin Windham
– 21
19.    
Matt Lemoine
– 16
20.    
Jimmy Albertson
– 12