O.co Coliseum
Oakland

,

CA
Oakland
Monster Energy AMA Supercross Championship
Davi Millsaps
has drawn his fair share of criticism through the years—a reputation of not putting in the work has followed him all the way up until this season—but you've never once heard someone say he's a jerk. By nature, Davi is a nice, humble, friendly guy. Great qualities in a person, but as a racer, it leads to some problems.
When we interviewed Davi's mentor Ezra Lusk back in November, he pointed out that the biggest challenge for Millsaps this year wasn't adapting to a new team or new bike, or finding motivation or working hard. The big challenge was just getting Davi to believe he's as good as anyone else out there.
Millsaps finished second in last year's Monster Energy Supercross standings. To his credit, when I talked to Davi during the off-season, he was quick to point out that a lot of the top riders were out with injuries last year. Davi could have closed his eyes on reality and said last year proved he's the second-best supercross rider in the world. But that's not his style—he's humble, and he knew he had to take another step to prove he still belonged in the lead pack once everyone returned.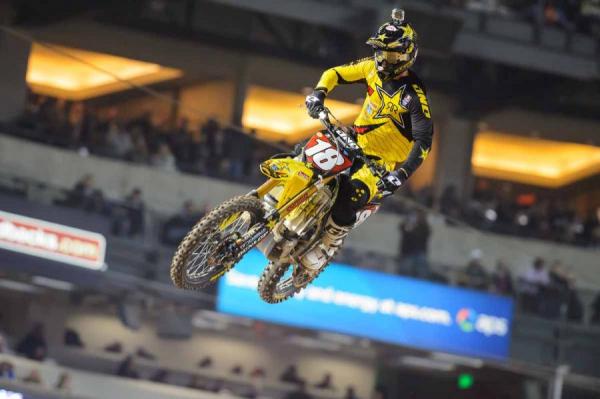 Millsaps is quickly making a believer out of himself, and that's the most important step.Simon Cudby photo
I saw Lusk after last weekend's race, and he said getting Millsaps to believe it isn't a matter of just giving him motivational speeches laced with, "You're awesome and you're as good as anyone else." It's a more complex recipe. It starts with Millsaps' own health. This was the first off-season in years where Davi wasn't coming back from a huge injury. Last year, he had to get knee surgery right before Anaheim 1. The year before, he was still recovering from a huge crash at
Budds Creek
that jacked part of a kidney—it took him most of 2011 supercross to get his diet figured out and regain strength. During the fall of 2012, finally, Millsaps had a clean bill of health and could hammer through a real off-season conditioning program. That's a confidence booster.
Because Millsaps is a nice guy, you won't hear any grumblings about riding the much-maligned Yamaha YZ450F for the last two years. But I've heard people hint that he finds the RM-Z450 an upgrade. You won't hear himsinging the Suzuki's praises, either, because Rockstar Energy Racing no longer gets Suzuki support. So we'll just let the results do the talking on the equipment subject.
Confidence in his health, fitness and equipment, Davi now had the pieces to believe what his inner circle group tells him—that he can run with anyone out there. So far this year, he's proven it. He was great all day and night and Anaheim 1, and won. But for Millsaps, winning when he's on has never been the problem. The trouble has come when trying to salvage consistent finishes on his bad nights. He's grinding it out this year. At Phoenix, he admitted he just didn't feel sharp all day. He rode solid, though, and finished on the podium.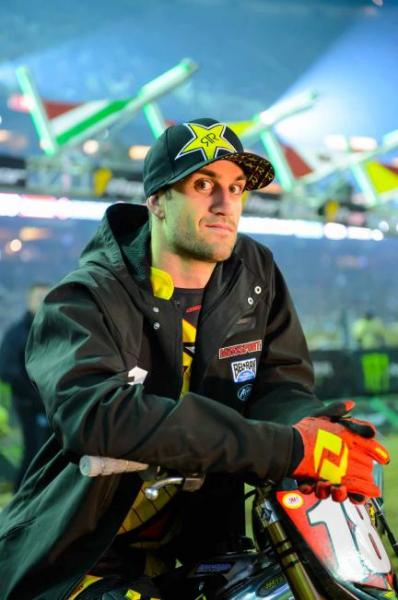 Millsaps is a nice guy, but we all know that in racing as in life, nice guys don't always finish first.Simon Cudby photo
Anaheim 2 was shaping up to be a bad night after his bike locked up down the start straight in his heat race. He went flying and got banged up. But in the LCQ, he pushed on, even passing and beating
Justin Barcia
for an LCQ win he didn't need to get. In the main, he put himself up front again and fought off
Chad Reed
's advances for the podium—Chad got him, Davi passed him back. A late crash handed the spot back to Reed, but there was no doubting Millsaps willingness to fight.
After the race, he was a little beat up from the heat race crash. But he was still the series' points leader. And the people around him, like Lusk and Rockstar's James Hanson, where going the old-fashioned route to make sure Davi kept believing. They pointed out how Davi beat last week's main event winner, Barcia, straight-up in the LCQ. Pointed out how he was able to match up to Reed's attack late in the race. They kept telling him to believe what they know is true—that Davi really is "one of the guys" this year.
And that means you can forget shocking wins like Anaheim 1. If he does it again, it won't be that shocking at all.