O.co Coliseum
Oakland

,

CA
Oakland
Monster Energy AMA Supercross Championship
For this week's breakdown, I am going to take a look at the 450 SX class points and share my thoughts, opinions and misconceptions about each rider's season thus far.  Keep in mind, these are my opinions and I am not a particularly bright individual.
1. Davi Millsaps - 63 pts: Anyone who said they picked Davi to be the points leader after three races is either a liar, or their last name is Millsaps. Rejuvenated, reinvented, and something else clever starting with re, all describe this incredible start to the season. Kudos to him for proving the naysayers wrong so far.
2. Trey Canard - 60 pts: After a horrific injury ending his 2012 season, many questioned if Trey would ever return to his previous form. With two podiums in three races (and only one small mistake from being in the points lead), I think it's fair to say this kid deserves a lot of credit. It's hard not to root for a comeback story this compelling. If he can eliminate the late race mistakes, he looks like a legitimate title contender.
3. Chad Reed - 56 pts: Chad Reed finally looked like his old self this past weekend in Anaheim. To the relief of many, including himself, he seems to be back to form and look for him to be near the podium at almost every round. His career podium percentage is off the charts and has kept him in every title fight since, I think, 1928. I doubt that changes for 2013.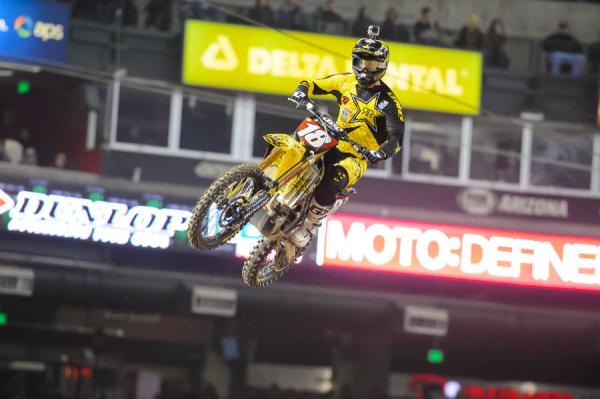 Davi Millsaps is the surprise leader a top the point standings through three rounds.
Simon Cudby photo
4. Ryan Villopoto - 52 pts: With great power comes great responsibility. Few would argue that Ryan has shown the most speed this season but big mistakes and bigger crashes have relegated him to fourth in points. If and when he catches fire, everyone might want to buckle up. I have seen this scenario before from a redhead with a Florida address and it ends badly for the competition.
5. Ryan Dungey - 48 pts: Strange season for Belle Plaine's finest. Normally a strong finisher and consistent to a fault, he has been a bit off the radar the past two races and hasn't shown his signature closing speed toward the end of main events. While three races isn't a large enough sample to draw clear conclusions, I am sure he is scratching his head a bit and hoping to get back on track in Oakland.
6. Jake Weimer - 47 pts: While I am sure Jake has aspirations of better than a 5-6-5 start, it is definitely nothing to shy away from. He is leading the "best of the rest" charge and if things go his way, he could sneak onto the podium here soon.
7. Andrew Short - 41 pts: With rumors swirling about his team, it's hard to imagine it hasn't had any affect on his psyche. Last year he struggled with health issues and while he had his first career win, it was a frustrating end to the season. The "smiling assassin" needs to find his patented holeshots and he can be in that vaunted top five.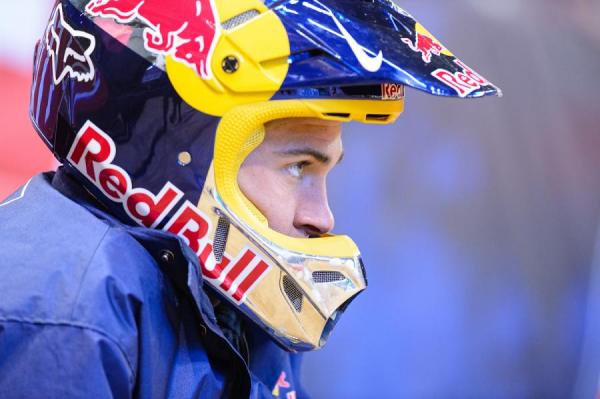 It's been a very inconsistent start to the season for the typically consistent Ryan Dungey.
Simon Cudby photo
8. Justin Barcia - 40 pts: Eighth place is very deceiving for how Bam Bam's season has gone. A mistake led to stitches, a broken nose and a costly DNF last weekend, otherwise he could be your points leader right now. Look for big things once he heals up. This kid has the goods.
9. James Stewart - 36 pts: An ACL tear is all there is to talk about for James.  Having been through this, I know how tough the first few weeks are and the next couple of races will tell the tale. No one is used to seeing Bubba ride around in eighth place and I doubt he can handle a whole season of it. He is better than we have seen and for the sake of competition, hopefully he can regain that strength and speed.
10. Josh Grant - 32 pts: Anyone have an answer here? Josh is normally one of the fastest guys on the track but I haven't seen that fire yet this year. I know he probably isn't happy with his riding and rightfully so. He is better than his results have been.
11. Justin Brayton - 31 pts: First turn crashes and injuries have riddled his season so far and this weekend he looked to have it all together after a convincing heat race win. Not so fast. He was stuck in the pack most of the race and seemed to be unable to move up in the stacked field. He is better than eleventh, but with a field this deep, every point counts.
12. Matt Goerke - 25 pts: Coming into 2013 on a factory KTM has paid dividends.  At the front on nearly every start, he has shown improved speed and legitimately can race with the second tier pack of riders. And if there is a mud race, look out!  He could be in the mix.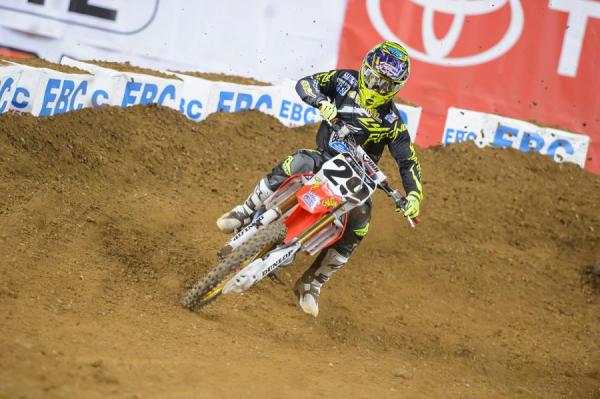 Even with rumors swirling about his team, Short has been stellar through three rounds.
Simon Cudby photo
13. Broc Tickle - 22 pts: As the leader of the new RCH effort, thirteenth in points is not what RC, Carey Hart or even Pink had in mind. His speed is there but starting in the back every week is not going to work in this field. I have a feeling he will be practicing starts this week.
14. Kyle Chisholm - 22 pts: Chizz is in no man's land right now. Not on the pace of the top ten as of yet, but also plenty fast enough to make every main event, he is in that area of 12-14th place anonymity. On a new team, it will be interesting to see if he can bridge the gap to where he wants to be.
15. Weston Peick - 22pts: As solid as it gets in every way, Weston is doing what he expected to do—make every main event and challenge for top ten finishes. Well, he expected to do this, but I doubt many others did. I am sure he is raising eyebrows, even after numerous top ten finishes just a year ago. With better starts and maybe a breakout ride, he could pick up some serious help and be on to something.
16. Kevin Windham - 21 pts: I have this uncanny feeling that KW is not going to move up in points this year. I know sixteenth is uncharacteristic for the savvy veteran but I just don't see him climbing the ladder moving forward. In fact, I doubt you'll see K-Dub score very many more points this year, if any. I can't really explain it, just a hunch.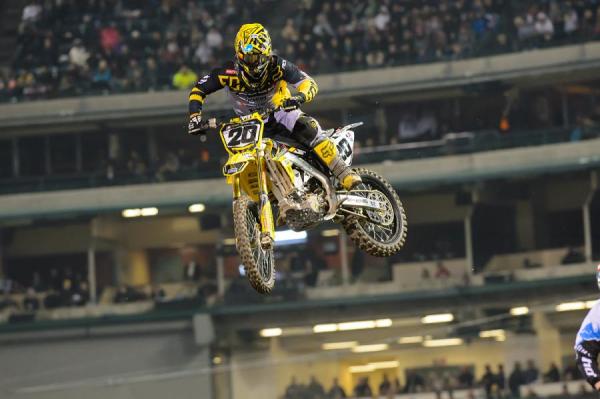 Thirteenth in points is not what many expected of Broc Tickle.
Simon Cudby photo
17. Matthew Lemoine - 13 pts: A rookie to the 450 class, speed has never been an issue for Lemoine. Making all three mains is a great way to start the season, but getting involved in a war with a known Nihlist (Peick at A2) is probably not a good idea either. A good start in the main event would go a long way to improving his results.
18. Vince Friese - 12 pts: Vince Friese is eighteenth in points!
19. Mike Alessi - 9 pts: What a weird season for Mikey. Bad, make that horrible, starts in the main events have proven too much to overcome and Tony has to be nearing the human blood pressure world records. My advice?  Hop in the hot tub, light up a cigar with the boss man and relax.
20. Bob Kiniry - 5 pts: Meathead is a new dad and that has to help calm a tumultuous 2013 campaign. He missed the Phoenix main event by one spot, otherwise it would be looking better than this. He has raw speed as he proved last year, it's just a matter of time before he moves up the ranks.