O.co Coliseum
Oakland

,

CA
Oakland
Monster Energy AMA Supercross Championship
Throughout his career, TwoTwo Motorsports Honda's Chad Reed has been a winner. Being a winner isn't just about actually winning, but it's a mindset. And Reed's championships and his amazing podium percentage (120 podiums in 150 starts – 80 percent) are evidence of this attitude. But he started out 2013 off the podium two weeks in a row. Both finishes were fourth place, missing the podium by only one spot, but this was still unacceptable to Reed. So he went to work. And at Anaheim 2, round three of the 2013 Monster Energy/AMA Supercross Series, he took a step forward, landing third place, and ending up on the podium.
Racer X: How much of your progress over the last few weeks has been at the test track, and how much of it has been in your riding itself?
Chad Reed: It's frustrating because all off-season we struggled with certain things. We showed up at the first race and we struggled with those same things. You've been doing it long enough to think that you would have it all sorted, but you've been doing it long enough to also know where you need to be to be fast and competitive. I didn't have that feeling at Monster Cup, I didn't have it at Anaheim, I didn't really have it at Phoenix. We had flashes of it this weekend, so it is what it is and we're getting closer. Sometimes you have to start from the ground up. I probably would put it to that point where sometimes you have to hit rock bottom with settings and direction and you've got to piss some people off and get emotions going to find the way.
So did you get fired up at some people? Because you can be a fiery guy...
I haven't been fiery for a few years, so I guess it was time to get fiery.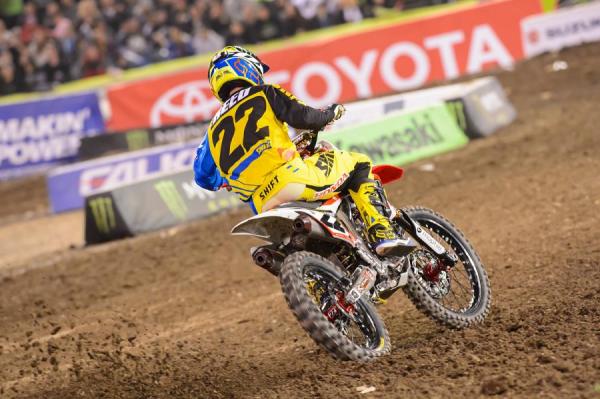 Reed collected his first podium of 2013 at Anaheim 2.
Simon Cudby photo
You've said in the past that as you develop your riding and you get faster, your settings change a little bit. Was that part of it at all or was it just that you were so far off in the first place?
I can't even really talk about what we're struggling with. The thing is, I need a certain feel. To quote Cole Trickle [Days of Thunder], there's only so much I can do with a race bike. [Laugh] So get me within the window and I'll do the rest.
Even in Phoenix, it seemed like, in first practice, you were pushing a little bit before it was timed. Was that just you trying to see where you were at?
Yeah, I mean, the effort is there and the want is there, but the comfort hasn't been there.  So it's not like I've been rolling over and trying to just ride it out. I'm trying to do what I can do with what I've got to work with. And we were a lot better today. We didn't go from left field to right field and end up in the middle field. The motorcycle we showed up with this weekend we raced with, so it's a good stepping stone.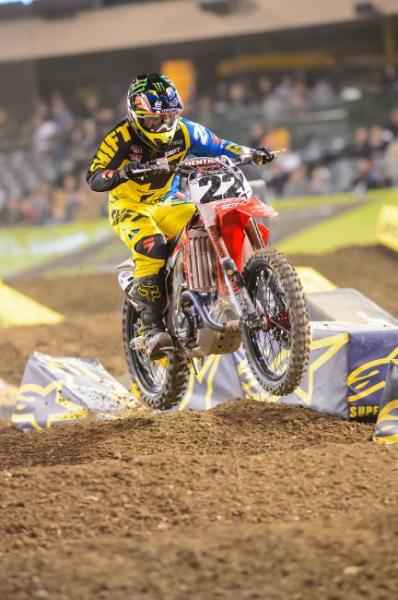 Reed is currently third in points.
Simon Cudby photo
Kevin Windham retired today at Anaheim, and he was maybe the only guy older than you, since you're both in your 30s. I know you've known Kevin for a while. What does that mean to you?
Yeah, I didn't know today was going to happen like that. Thursday at the first Anaheim he came up to me and we had a heart-to-heart. It was an interesting talk and at that point I knew Kevin was done at the end of this year. It was pretty cool. To have respect, not only as two fierce competitors over the years, but as friends. For him to come and ask my opinion and get my feeling on certain things, I thought was pretty cool. As recently as Thursday we were out at the test track and he said, "Remember my talk with you at Anaheim 1?" I said, "Yeah." He said, "I've decided in a couple weeks I'm going to announce it." And I said, "Wow, in a couple weeks." And he said, "Yeah, but I'll finish out the season." So I knew the announcement was coming, but he said he was going to finish out the season. I think talking to him today, there's just certain rhythm sections on the track and certain things he's not comfortable doing at speed anymore and he's not willing to lay it on the line. I think at that point you know, and that was my advice to him from my cousin Craig Anderson just recently retiring. With what he told me, it was parallel with what Kevin was telling me. So I just said, "Man, what's the difference between 19 and 20 years and 14 more races, when you're just not going to be happy and you could possibly get hurt?" He's had an awesome career and it's going to be sad to not see him out there, actually.