Angel Stadium
Anaheim

,

CA
Anaheim II (A2)
Monster Energy AMA Supercross Championship
The pits outside of Chase Field are tight, and four Honda semis—two Muscle Milk Honda rigs, and the TwoTwo Motorsports and GEICO Honda trucks—were all jammed into a small space. That only intensified the cheers when
Justin Barcia
completed his walk back to the pits at the end of the night. A gathering of team personel and fans gave Barcia a well-deserved round of applause. But
Trey Canard
did one better. He met Barcia in the middle of the pits and gave his once-again teammate a big hug.
"I'm so happy for him," said Canard. "I don't understand how anyone can say anything negative about Justin. And for the whole team, they've have some down years and it's great to see it all turning around."
I think Canard was more happy for Barcia than Barcia was for himself. Given Barcia's "Wild Child" rep, you'd think his first win on the biggest stage would be greeted by tears of joy and then an after-party complete with substance abuse that can't be discussed in the press. But this reporter wanted to get the scoop, and I saw Barcia's vice directly with my own two eyes. After the race, he made a cup of coffee! And that's because he was getting sleepy. You win your first 450SX ever and you have to fight off the urge to take a nap!? What?
Consider it another notch in the evolution of the motocross star. Barcia has gone through the whole program. At a young age, he moved from the North to the Southeast to ride and train everyday at Millsaps Training Facility. Remember, the generation of riders before him, were literally inventing such training facilities (check the last name of last week's race winner). While the likes of Millsaps and the Alessis took the seriousness of amateur racing to another level, it has been taken another notch higher by today's kids, who are living and riding with other pro hopefuls every single day. Note Matthes' column from early today on rookie whiz Joey Savatgy, who seems un-shaken by the real life of professional racing. Hey, they expected nothing less.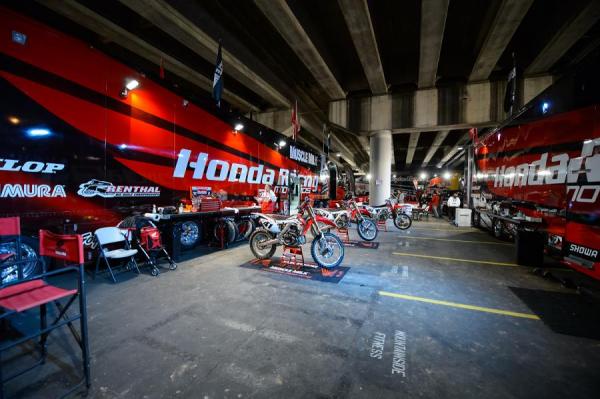 The factory Honda setup at Chase Field in Phoenix.
Simon Cudby photo
When you're surrounded by bikes and training and racing every day, I think that kind of blurs just how amazing that lifestyle really is. Remember, Barcia was in a TV commercial for the CRF150R when Honda launched it. Barcia had his Factory Connection deal signed long before he turned pro. He has been marked for greatness for a long time, and is now just following the logical progression of his destiny. There is nothing surprising about this. But for most of us, motocross was an exception, not a rule. It's something you snuck in between the stuff you had to do—but for today's up and coming rider, it's the only thing you do. And it will go a level higher, because today Adam Cianciarulo is trained by Aldon Baker and literally gets to ride with Ryan Villopoto and Jake Weimer at times. You think he'll be shocked if he wins races?
Justin Barcia is now just the 56th human being ever to win an AMA Supercross main event. But it seemed so normal!
Doesn't hurt that Barcia is part of this impressive system Honda has developed, with massive, massive credit going to Rich Zielfelder and everyone at Factory Connection. Remove Canard's sloppy 20th laps the last two weeks, and Barcia and Canard would have swept the opening 450 rounds, and gotten a 1-2 finish in Phoenix, with Eli Tomac sweeping both 250 races. That is domination!
All three had their FC Honda rides locked in before they turned pro, all three started winning early, and all three are now just continuing that roll. Take it a step beyond with Tomac, who comes from a family that's actually seen this type of success already. Tomac is dominating the 250 class right now at a level as high as we've ever seen. After the races, when you talk to him, yeah, there's some joy in these wins, but it's really very procedural. And when he sees Barcia winning his second 450SX race ever with ease, well, that will just make Tomac that much more nonchalant when he does the same thing next year. Because we know it's going to happen.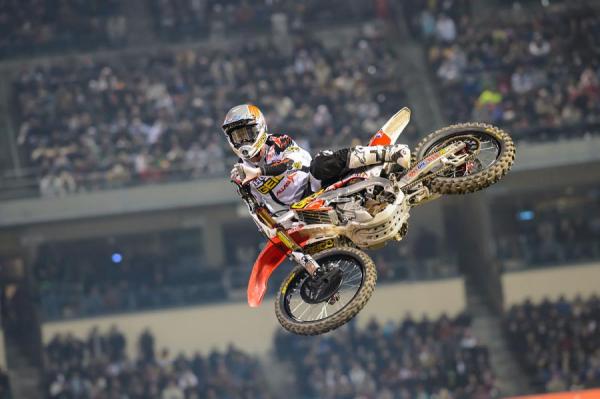 Eli Tomac has been a force in 250SX through two rounds.
Simon Cudby photo
As evidenced by Canard's post-race praise of Barcia, this trio has learned to get along. It wasn't always easy. A funny thing happened with that FC team, where each new kid came in like a house of fire, and stole some of the hype and attention from the others. Canard won a supercross title in his first shot, but a year later, Barcia was blowing minds in his outdoor debut. Then Canard and Barcia both went into a drought, while Tomac came in and won his first race! Adding to it, Tomac and Barcia were once fierce rivals on the amateur end, but they rode for different brands at the time. Integrating such hyper-competitive riders (and their families) into the same rig hasn't always been easy, but by last summer, when Barcia and Tomac were dueling on track nearly every week, you never heard a peep of drama from inside that truck. After each race, I'd see them both upstairs in the rider's lounge, no issues in sight. Then this weekend in Phoenix, I even saw Barcia's mom hanging around inside the GEICO rig, which was her racing home for several years. They're Muscle Milk Honda people now, but the Barcias have a lot of friends at their old truck, and zero bridges burned.
You don't see as much drama from Barcia as you would expect. He's not the wild, win-or-crash dude who hates his competition and wants to break everyone's legs Bob Hannah style (and look at that hair!). Barcia bangs bars because it's fun, not because he has a vendetta to hate and kill everyone on the track. And, he's really toned the rough riding down in the last year, anyway. Yeah, he lost his lid in that lapped-rider incident with Lance Vincent last year, but that wasn't a block pass incident. Beyond that, you'll rarely see Barcia get upset when another rider runs into him.
Hannah and Damon Bradshaw were said to not be intimidated by the competition because they hated them all. Barcia is not intimidated because he just doesn't care! He is having fun and racing his motorcycle, and he's been doing that for so long that even winning a 450SX can result in a programmed response: "Hey, it's 2 a.m. Eastern time. I'm tired."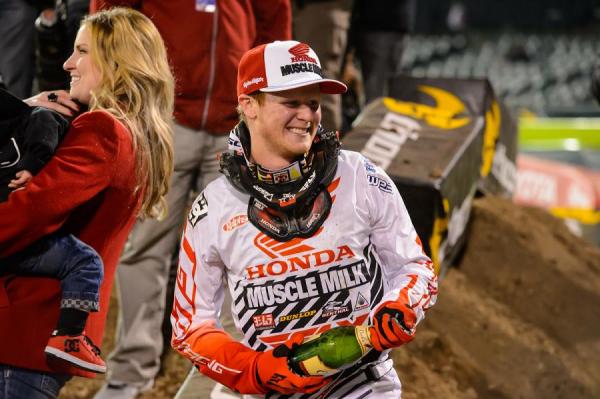 Meanwhile, Trey Canard has gotten off to a hot start in 450SX.
Simon Cudby photo
Canard is known mostly as the aw-shucks nice guy of the pits, the kinder, gentler racer who would do anything for anyone. Well, except himself. Behind-the-scenes stories of Trey railing on himself for making a mistake, or not riding better, are rampant. He is his own worst critic. However, his career-threatening crash last year has certainly changed that. Over the weekend I wrote about his new, "Just blessed to be here" outlook, and wondered if it would remain in tact if something went wrong. This weekend, it did, as a simple mistake dropped Canard from second to fifth on the last lap. So I asked him the big question after the race—was he mad at himself, or still happy?
"You know in the past I think I would have been pretty hard on myself for that," said Trey. "But I'm just happy to be here."
There you go. For Canard, the road to the top was rockier, and thus, he'll never take anything for granted. He'll no longer be angry if he doesn't win. For the other guys, it's best to just assume things are going to work out. That seems to take the pressure off, and so far, it's hard to argue with the results.