Chase Field
Phoenix

,

AZ
Phoenix
Monster Energy AMA Supercross Championship
One down, sixteen to go. Welcome to Racerhead, coming to you from the road to Phoenix, where Round 2 of the 2013 Monster Energy Supercross tour takes place. Last weekend's opener at Anaheim more than delivered in drama, excitement, and intensity. The 1-2 by Rockstar Energy Racing's Davi Millsaps and Honda Muscle Milk's Trey Canard was the big story, as preseason favorites like Ryan Villopoto and James Stewart struggled with crashes (RV) and injury (JS7) or did not show last year's speed yet (Ryan Dungey and Chad Reed). But there's nothing you can take away from Millsaps and Canard. Both rode hard and smart, and the back-and-forth at the end made this opener at instant classic. Can they repeat tomorrow night?
The 250 class had drama and intensity as well. The popular favorites—GEICO Honda's Eli Tomac and Red Bull KTM's Ken Roczen—delivered as expected, but behind them was a mess of a night for Monster Energy/Pro Circuit Kawasaki's Blake Baggett and Martin Davalos. TLD's Cole Seely also reached the box, but his teammate Jessy Nelson suffered a frightening crash off the start that marked an otherwise stellar supercross debut. More on that later.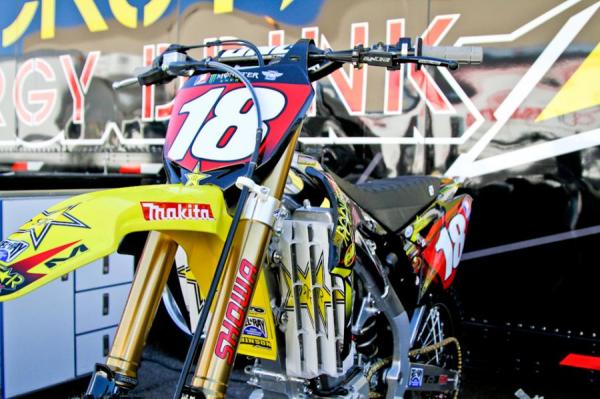 Take a look at that red plate!
Photo: Austin White
You can watch tomorrow night's Phoenix Supercross live on SPEED, beginning at 9:30 p.m. Eastern, 6:30 on the West Coast (remember, PHX is Mountain Time). Racer X Online will be working the pits, the press box, and likely the TGI Friday's that hovers above the left-field wall of the stadium—tough work, but someone has to keep an eye on things from above. Follow us on Twitter and Instagram (@racerxonline) and don't forget you can watch the live stream of practice tomorrow afternoon from 3:50-7:30 p.m. Eastern on www.supercrossonline.com
Let's get into the week that was and what you should be looking for tomorrow. (Pieces written by someone other than me will have bylines.)
RED PLATES
Nobody but maybe Travis Pastrana, Rockstar Energy's Mike Kelso, and Feld boss Charlie Mancuso could have guessed before the main event that Davi Millsaps would leave A1 with the points leader's red plate, but Davi put in the race of his career so far. Now the question is whether this will be a game changer for #18, as he looks fitter than ever, sounds more confident than ever, and certainly has a new perspective on everything. (Welcome to parenthood, Davi and Brittany!)
A hint that he was going to do something big came on Thursday during the press conference. Millsaps, second in the 2012 final rankings for supercross, was not invited to sit up front for the conference. In fact, he was barely mentioned, as they focused instead on RV, Reed, Stewart, Dungey, and even class rookie Justin Barcia. That oversight seemed to ignite some old fire deep inside Millsaps, and he went into Saturday's race with a purpose.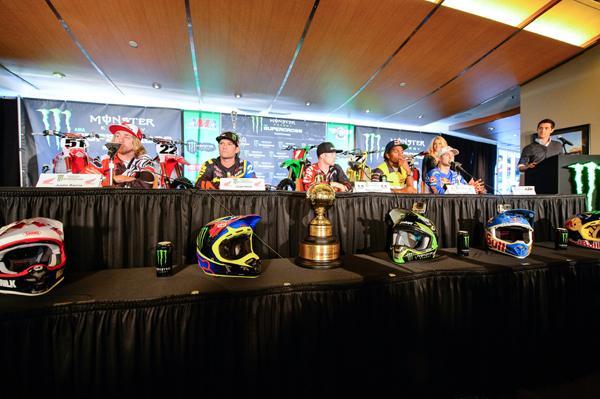 Although second overall in points last year, Millsaps was not invited to sit up front at the big table for the press conference at Anaheim 1.
Photo: Simon Cudby
He also had the inspiration of being on the least supported of the three Suzuki teams this year, as the pecking order seems to be Stewart's Yoshimura Suzuki first, then the RCH Racing bikes of Broc Tickle and Josh Hill. Millsaps' team boss, Bobby Hewitt, has invested heavily in Davi's team, as has Rockstar Energy, so seeing them win Anaheim was a very cool turn of events. Davi's dad was also there, and afterward he had tears of joy in his eyes.
As for the 250 class, Tomac looked fantastic from start to finish, and with good reason—Roczen was there with him in lap times during practice and qualifying, and riding with the same aggressive kind of fun that didn't really show last summer but was on full display at the Motocross of Nations. It will be interesting to see how both of these guys do this weekend, now that they have an idea of what the other man is about in 2013.
QUESTION MARK
What was missing from the Anaheim 1 podium? It certainly wasn't emotions—Millsaps and Canard were wearing those on their sleeves. It wasn't potential, as Tomac and Roczen and Seely could very well be on a 450 podium someday in the future. And it wasn't beauty, since Kelly Louch of The Connection has once again corralled a bevy of black-clad beauties who make Miss Alabama look like a county-fair runner-up. Turns out the missing ingredient on the podium for Monster Energy AMA Supercross' opening round was an actual Monster Energy-backed rider. With Villopoto going down often, Reed and Jake Weimer riding with opening-night caution, and the Monster Energy/Pro Circuit Kawasakis of Blake Baggett and Martin Davalos getting caught up in a first-turn exit crash, the only visible Monster claws on the Monster Energy Stage were on the stage itself.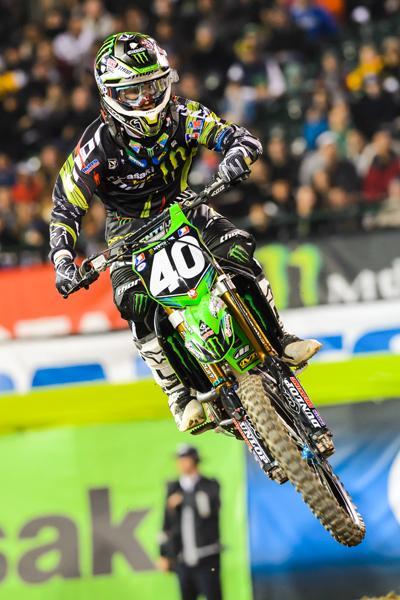 After a heat race win, Martin Davalos got caught in the first turn pileup in the main event.
Photo: Simon Cudby
Was Monster pissed? No, not really. The company was born through supercross, and they understand the nature of the sport—win some, lose some. They have also fortified the series presentation with more claw marks than you'll find on Ryan Gosling's back. (Sorry, I asked my wife for that reference.) So when you watch a four-hour TV presentation or you're sitting in the stadium grandstands enjoying the event, they're comfortable that you'll think of Monster Energy, with or without the trophies. And if even all of that added up doesn't work, there's always Dianna Dahlgren to ponder.
WHAT THE HELL?
And then there's Monster-backed Josh Hansen, who seemed to be in position to earn himself a transfer spot in the LCQ before he landed on a Tuff Block and crashed all by himself. For some yet-to-be-explained reason, Hansen apparently decided to take out his frustrations on an unsuspecting Alex Ray, who was riding out the LCQ in pretty much last place. Hansen drilled the kid in the last turn, literally knocking him off the track. The move caught the attention of a lot of folks, both on the floor and in the grandstands. Even Phil Nicoletti gave Hansen a piece of his mind after the checkered flag.
If you read Steve Matthes' Observations column on Wednesday, you saw this email from Alex Ray with the riders' own take on what happened.
"I've never had any problem with him. I've never even talked to the guy, so obviously he doesn't know me," wrote Ray, who hails from Milan, Tennessee. "I didn't even know that was him behind me. I wasn't expecting it at all. It was the last turn of the LCQ, nowhere near the front of the pack, so I don't know why he did it. After the race I went over to his pit to ask him what he was doing and why he did it and he couldn't give me an answer, so I don't know what his deal was."
Ray said Hansen hit his leg so hard with his front wheel that it broke his knee brace and knocked him over the berm. So what's going to happen? The AMA and FIM have a meeting in mind with Hansen in Phoenix today … as soon as he shows up. If there's a fine, I hope they use the money to buy Ray a new knee brace.

Now we're hearing whispers that his team may do something internally as well.
Photo: Simon Cudby
STATUS UPDATE
Andrew Short is still in the Chaparral Honda rig, as the team is still working on its sponsorship issues. James Stewart is racing this weekend but his knee is a very big question mark. Josh Hill is out for at least three weeks after his big crash in practice. Blake Baggett is questionable due to the wrist injury he survived in the main event. Tom Brady should be okay.
THE NUMBER: 4... or is it 5?
Last Saturday's upset win for Millsaps was a big one for Suzuki. It marked only the fourth time in the brand's history that they won the opening round of supercross, as my esteemed colleague Jason Weigandt pointed out in The Vault on Wednesday.
Tony DiStefano won the 500cc class at the '76 Daytona SX (the last year for that division), Kent Howerton won the '81 Anaheim opener, and Greg Albertyn shocked the motocross world when he topped the '97 season premiere at the Los Angeles Coliseum—and then of course Davi last weekend.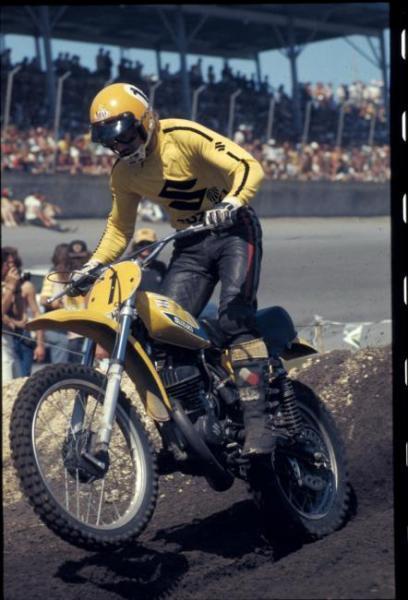 The Man himself, Roger DeCoster, won at the 1974 Daytona 500cc Supercross.
Racer X Archives
However, there is a season of results missing for the old 500cc Supercross class from some forty years ago, way back in 1974. At that race, reigning 500cc World Motocross Champion Roger DeCoster came across the pond from Belgium to compete at the Daytona race, which was part of what was being called the Yamaha Super Series. The Man won on the #1 Suzuki, then went back to Europe and suffered an off-song year on the Grand Prix tour, losing the 500cc world title to Husqvarna-mounted Heikki Mikkola. DeCoster came back to the States, won the Trans-AMA Championship, then went back to Europe and won two more 500cc world titles (and two more Trans-AMA titles, for that matter). We will get The Vault cleaned up and add that all-but-forgotten chapter of 500cc Supercross in America. Sorry, Weege!
BREAKING NEWS
Racer X Online has just learned from the AMA's Kevin Crowther that Josh Hansen will not be racing in Phoenix this weekend, as his team has decided to bench him as punishment for last Saturday night's hit on Alex Ray. Said Crowther: "The AMA has decided to fine Josh Hansen $4,000 for his actions at Anaheim and place him on probation for personal conduct for the rest of the series. He will not be suspended as his team is doing that on their own, and the AMA fully supports their decision."
THIS WEEK'S HIGHLIGHTS – By Aaron Hansel
The Monster Energy Supercross opener at Anaheim was action-packed, and as you'd expect, we had plenty of content. Here's a list of some of this week's highlights.
Digging Deep Davi Millsaps and Trey Canard going 1-2 at Anaheim was a surprise to just about everyone, but perhaps even more surprising was a very uncharacteristic sixteenth-place from reigning champ Ryan Villopoto. Check out DC's 450 Words writeup to get his take on the action up front, Villopoto's meltdown at the back, and everything in between.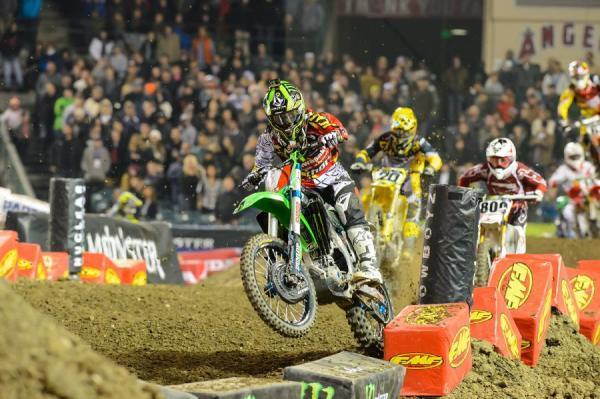 Photo: Simon Cudby
The Improvement Department From Martin Davalos' DNF to Josh Hansen failing to qualify for the main to the DNFs suffered by MotoConcepts' Mike Alessi and Jake Canada, the opener was one that a handful of racers would rather forget. For a look at some of the racers who are likely to improve their results tomorrow night in Phoenix, check out this list I put together.
The Ensemble Cast Jason Weigandt used his regular online column, Redux, to take a look at the returning cast of Monster Energy Supercross' heavy hitters this week. Weege examines how guys like Millsaps, Canard, and Justin Barcia stepped up in Anaheim to fill the void created when many of the familiar frontrunners weren't in their expected places.
Sounding Off Every Saturday night after the main events, the Racer X staff heads into the pits to get the riders' take on the race while events are still fresh in their minds. Check out this week's Open Mic, featuring mini-interviews from Trey Canard, Ryan Dungey, Ken Roczen, Cole Seely, Jake Weimer, Kevin Windham, and more.
A Day at Milestone. Finally, Chad DeRosa headed out to Milestone to get footage of Dean Wilson and Kevin Windham pounding out practice laps. Check it out!
HEY, WATCH IT!
Phoenix Animated Track Map:
DC Shoes: Moto Defined by DC Teaser Video
PRO PERSPECTIVE - By David Pingree

TLD supercross rookie Jessy Nelson was impressive in his Anaheim debut. He pulled the holeshot in his heat race and held off Cole Seely for second and then got the quick jump in the final and pulled the holeshot there as well [though Cole Seely was mistakenly given the award on the podium]. Unfortunately Jessy didn't hold onto the lead for long. As he entered the first set of jumps exiting turn one he hit neutral, flew over the bars and slammed into the face of a jump. The next several seconds after a crash like that are terrifying.
You know the feeling of flying off your bike and having a thousand things run through your head in the time between knowing you are going down and actually hitting the ground? Well, now add twenty adrenaline-filled kids charging right at you as you try to do a quick self-assessment to see what's broken. You switch into survival mode and even if your femur is fractured you quickly drag that limp tube of broken bones off the track. You can deal with getting your foot to point the right way once you know you aren't going to be used for traction by a competitor. Once you are safely to the side of the track or resting on a tuff block the pain starts to set in and you begin to realize the extent of your injuries. Thankfully Jessy just had the wind knocked out of him and he will live to holeshot another day. This weekend in Phoenix, actually. Good luck at Chase Field this weekend, guys. Maybe next Friday I'll tell you what it's like to break a bike into two pieces.
CLOSING NOTES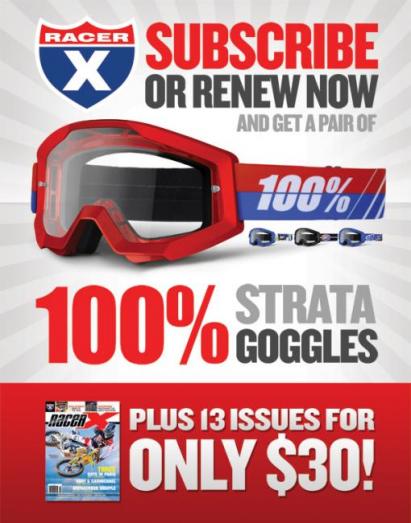 Do you plan on going to the Phoenix SX? If so, swing by the Racer X booth in the pits to see what colorways we have available for our killer 100% goggle subscription deal—subscribe and you'll get a free pair on the spot! It's an unbeatable deal, and it's only available at select rounds of 2013 Monster Energy Supercross.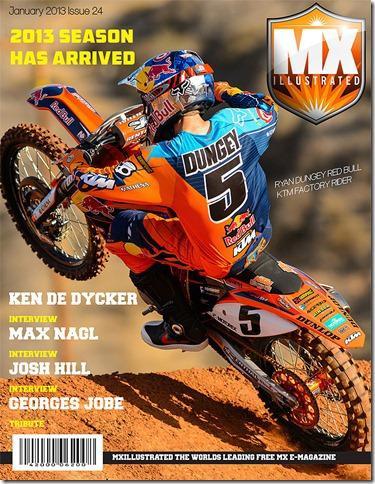 Ryan Dungey made the cover of the online Motocross Illustrated.
Cover photo by Simon Cudby
MX Geoff Meyer sent us the latest issue of Motocross Illustrated. It's now online for your perusal, with interviews, a special tribute to the late Georges Jobe from Joel Smets and David Thorpe, and a lot more. It's also got Red Bull KTM's Ryan Dungey on the cover, featuring a photo shot by our own Simon "Govnuh" Cudby.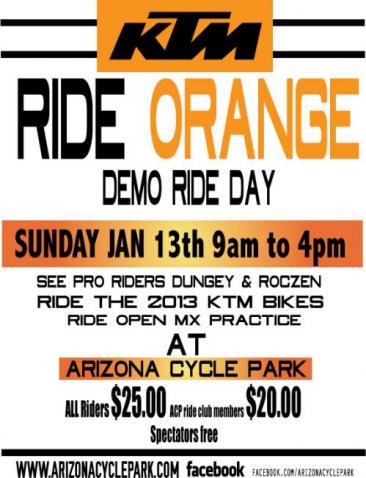 Okay, gang, that's all for this week. Thanks for reading. See you at the races.