Tour de Supercross, Part II
Thursday, January 10, 2013 | 11:00 AM Tweet

Drop your Fodor's travel guide and pull up RacerXOnline.com when you're trying to decide which cities to visit for Monster Energy Supercross this season. Our well-traveled staff has your back! Take a look at last week's opening rounds, and now, a look through the tour's mid-season swing through the Southeast and Midwest.

Atlanta

Hotlanta is the most highly attended race on the circuit. The 70,000 fans in the stands make for an awesome atmosphere. Since moving over to the Georgia Dome in 1992 from Fulton County Stadium, weather has been eliminated from the picture. With few supercrosses in the south, it truly is a regional event drawing from all of the surrounding states.

Atlanta airport is America's busiest airport, which sounds bad but in fact is great because there are so many flights per day to choose from. Once you land, the dome is a 15 minute drive or if you are feeling funky, you can ride the MARTA train from the airport right downtown almost into the pits. Wandering around on foot near the stadium may not be your best move, just trust me on that. Most everyone stays either in the downtown hotels or out near the airport. I recommend the aiport Marriott, you can't go wrong there. Friday night you can head over to the famous Buckhead area for good nightlife and dining.

The track in Atlanta is usually one of the best. I always loved the dirt even though in recent years it has been a bit more hard packed. You'll notice the "red" Georgia clay as soon as you walk in the dome, which for the riders also walks out of the dome with them and stains everything they wear.

Atlanta is one of my favorite races of the year and I certainly recommend checking it out. – Jason Thomas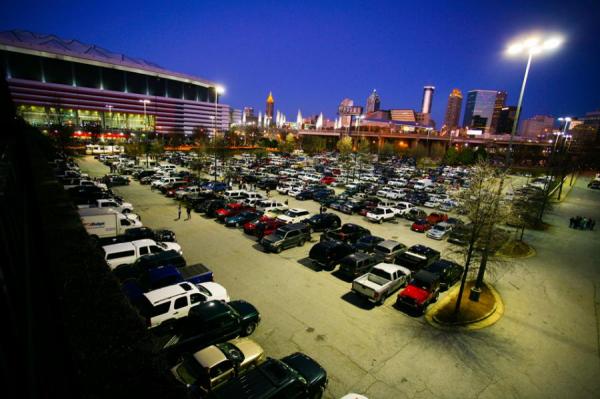 Georgia Dome in Georgia.
Andrew Fredrickson photo
St. Louis
Okay, St. Louis doesn't have the ring to it that the California races do. It's not the madhouse that Atlanta has become, and it's not unique like Daytona. But don't tell any of the St. Louis fans that. They are rabid and dedicated. Hey, they don't get many big races in their area.
The pits really make this event what it is. The Edward Jones Dome is so big that teams pit inside (thank God because it's usually freezing outside for this one), and you can walk from your seat to the pits in just a few steps. The pits are packed all day here. The race draws a good crowd, too, and as a bonus, most of the riders think this race has the best dirt on the schedule. The layout is usually pretty generic since this is one of the rectangular football stadiums—and the riders like it that way.
If you're looking for off-track stuff, you really can take an elevator up and around the St. Louis Arch. They'll also show you a video explaining how they built the thing, and the video is so old, you'll be more amazed that it still works than you will about anything it actually shows you.
Texas and parts of the Southeast all brag about their barbeque, but St. Louis takes it seriously, also, so check that out if you have time. Meet me in St. Louis! – Jason Weigandt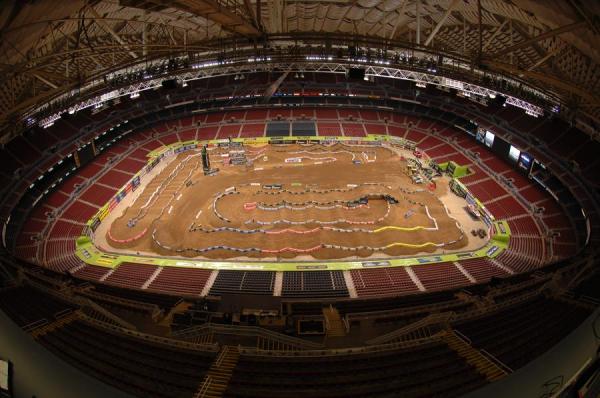 The Edward Jones Dome in St. Louis.
Carl Stone photo
Daytona
Daytona is totally different from every other supercross race. Yeah, the track is more similar to a typical SX now and they race at night instead of the in the daytime, but it's still way different. I'd say go to this one just for the experience. You can't fathom the size of Daytona International Speedway until you see it in person. You'll sit in the bleachers, look far in the distance and spot the other set of bleachers, and say, "Oh, I didn't know they had two tracks here." And then you realize that isn't a second set of bleachers for a second track—it's the same track, just a mile away. That's what they call a Superspeedway.
The night time thing seems to be working because the Daytona SX crowd is growing. They also let fans stand on the banked car track, right near the bigger jumps, and the atmosphere gets pretty crazy (and fun). Much more like a National hanging on the fence. That said, you'll never get the perfect overhead view you get from a stadium. Like I said, it's unique.
The bike week crowd has evolved far away from the SX crowd to where it almost seems like two totally different things happening in the same town at once, but if you wants-to-party, head downtown and prepare to have your mind blown. – Jason Weigandt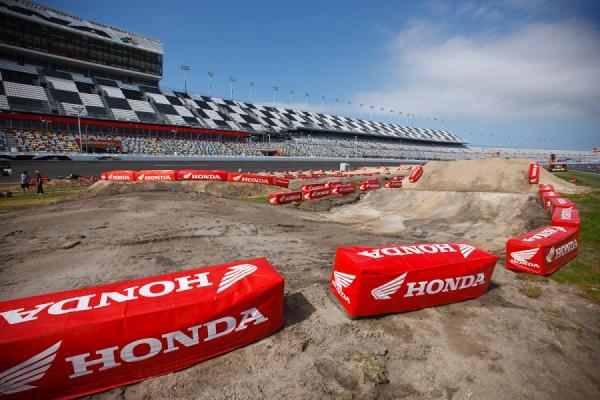 Daytona International Speedway.
Simon Cudby photo
Indianapolis
Indianapolis gathers one of the biggest turnouts of the year. Its central location draws from the Northeast, Midwest and even from the Southeast for the hard core fans. The new Lucas Oil Stadium is a great venue, giving spectators all of the bells and whistles you could ask for.
The dirt here can be really soft but in recent years has been getting harder and harder. Dirt Wurx has figured out how to dry the dirt out during the track build, so the ruts of yesteryear are no more.
Downtown Indy is actually a really cool place. There are a lot of nice restaurants and bars in the city center and if you can swing a hotel in the area, it's tough to beat. There is a nice mall practically connected to the dome and the above mentioned downtown area are all within walking distance. For those flying in, you could literally take a taxi downtown and be set for the weekend. Oh and one more thing, bring a jacket because the Midwest winter is no joke! – Jason Thomas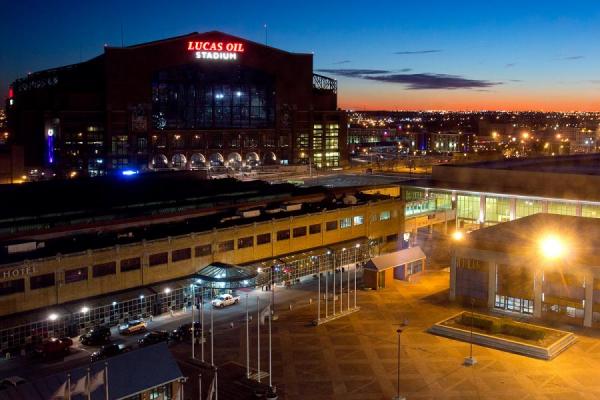 Lucas Oil Stadium in Indy.
Andrew Fredrickson photo
Toronto
Toronto gets award for Most Improved. When we first started going there (much to my joy--I am Canadian after all) I didn't know if it would last. But the northerners stayed strong, the crowd has grown and grown and it all looks pretty good now.
Toronto itself is a very multi-cultural city but it's the fifth largest city in North America. Yes, you read that right.
The dirt has caused controversy at some points, because it used to come in frozen and then melt on the floor, making the track look like something out of an EZ Bake oven left on too long. But those issues have been fixed. Last year there was even dust there! Because this is a race in another country, the Canadian racing organization called the CMA takes over much of the officiating and that's pretty hilarious all in itself. Do not take your eyes off the guys in the white suits. The crowd up in Canada loves Kevin Windham and his transfer jumps and they're all bummed that no Canadian stars show up but the regular guys seem to be okay for them.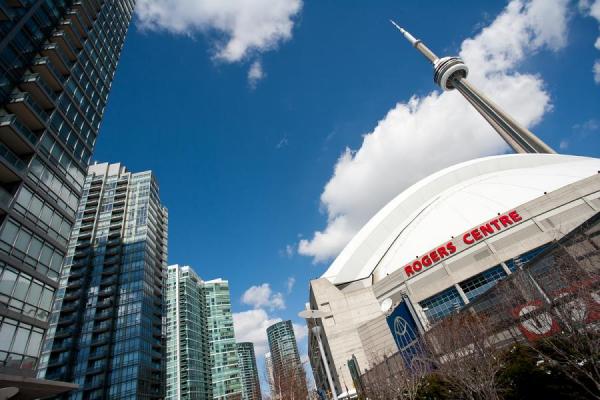 Rogers Centre in Toronto.
Andrew Fredrickson photo
It's a bit of a hassle for the teams to go across the border and it's usually pretty cold that time of year which makes the closed pits even worse for star sightings, but inside the Rogers Center, things are pretty good. For the people that are rich, there's nothing better than staying at the Renaissance hotel right there inside the Rogers Center. I remember one rider telling me that he only went outside one time in three days while staying there. There's a restaurant right in the dome to go along with the hotel. But as I said, it's a little pricy for this freelance journalist. Priceline usually puts me right downtown within walking distance of the Dome and that's just more time to enjoy the beautiful Canadian weather!
There's also the annual Friday night Directmotocross.com pre-race party at the Loose Moose that sees a lot of industry folks and fans show up right there on Front street.
Fly into Toronto and drive about 20 minutes (with no traffic) or fly into Buffalo, New York and it's a nice two-hour drive to the city. Either way, it's pretty easy to go in and out of another country- don't be scared. Come on up to what is now one of the up and coming supercross venues! – Steve Matthes
Share this article:
Did you like this article?
Check out MOTO GIFT GUIDE
in our Latest issue of Racer X available now.

Our annual gift guide has something (or maybe even a few somethings) for everyone on your holiday list. Page 146.
Look for the verified symbol
The Conversation