Chase Field
Phoenix

,

AZ
Phoenix
Monster Energy AMA Supercross Championship
Word leaked out in the early fall that a new Supercross team was forming, and that it would be based out of New England. The team was said to have hired riders Kyle Chisholm and Bobby Kiniry, but information was slow to come. However, when Yamaha announced their list of factory supported 2013 teams at the end of November, it soon became clear who was behind the mystery team –- Kenny Germain and Brian Berry.
Both Germain and Berry hail from Massachusetts and are accomplished race team mechanics. Between the two of them, they have won four Supercross Championships with riders Ernesto Fonseca and John Dowd. Both Germain and Berry had stepped away from the big leagues for a few years, but have figured out a way to jump back in, and in the process, have given two riders another shot. We sat down with Kenny Germain to find out exactly what the deal was with Velocity3 Racing and what they hope to accomplish this year.
Racing X: Kenny, what's happening? Your team is a new name in the pre-season hype. What is your program all about?
Kenny Germain: Well, Brian Berry and I have been friends forever. We were two guys from New England that were on the tour for many years. Brian spent most of his career as Dowd's mechanic and I was Ernesto Fonseca's mechanic for the majority of his career. After our riders retired, we both found our way back home. I opened a business in New England called Performance Tuning, and have helped out a bunch of local riders over the years. But then last year, in what was kind of a last minute deal, I went back to work for a pro team. I worked with Josh Hansen at Hart and Huntington for Supercross, and it was great to be back on the circuit again. Last year at the Vegas Supercross, I met someone who wanted to do a team, and we started talking. Brian and I have always talked about starting a proper team, and it just went from there! Our team owner is Sara Rosson, and the proper team name is Velocity3 racing. And the three is for the three of us!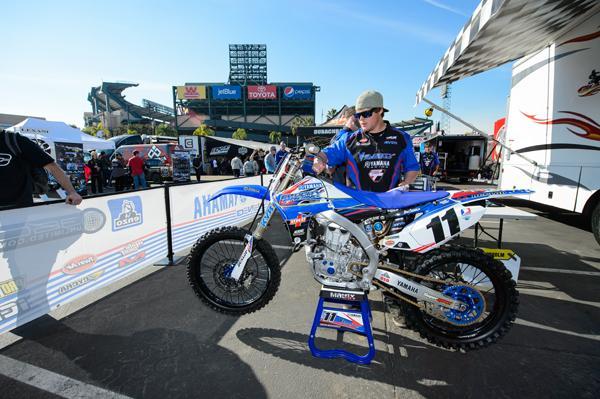 The Velocity3 Racing setup at Anaheim 1.
Simon Cudby photo
Well, it is great to see another team here in the pits, as it means two more riders get a ride and some support. What are your goals with the team?
Well, it is not easy at all, and it takes money to get the ball rolling, but it is our goal to build a team that is around for the long haul and that is self sustaining, and similar to a Factory Connection or Hart and Huntington setup. We have some good backers that have helped us get off the ground and we are really trying to build this program. Brian and I had a great relationship with Yamaha, so they have been a big help right out of the gate. But we are building for the future and we wanted to start out with riders who are capable of top ten finishes in the 450 class, as those are important for sponsors. A top ten rider in the 250 class just does not get the attention that the 450 guys get. We think we represent a really good value for prospective sponsors, and with our guys. Brian and I can build the bikes, and we will have some really good equipment.
How are things set up on the team? Who does what?
Well, Brian and I are equal partners in the team and Sara is the team owner. Brian handles a lot of the management stuff, while I serve more of a role of technical director. But we are 50/50 on things as much as possible and we both have our hands in many aspects of the team.
Do you have a race shop?
Yes, we are running out of my shop in Ludlow, Massachusetts. It is basically Velocity3 Racing DBA, Performance Tuning, which is my business. It also works well for us being a Supercross team, as I can focus on my other business and local stuff in the summer time, when things are busy back east. But during the winter, there is not much going on, so traveling to Supercross is perfect!
How are you guys handling the sponsorship end of things? It has become very tough to secure high level sponsors.
Definitely. Brian Berry is working really closely with Terry Beal on the marketing for the team. Terry is handling most all of our marketing stuff, and we are all hoping for some big steps forward as the season moves on.
Lets talk about your New England tie in. What about any of those riders?
We would love to have some of our local New England fast guys, but we needed some top ten guys in the premier 450 class, and right now, there is no one at that level from the region. Kiniry is from New York, but that's as close as we could get. However geography did not really effect our rider decisions, we just wanted to make sure we had two guys that could finish inside the top ten. But I would love to be able to get some extra support and help out a guy like [Jimmy] DeCotis, and hopefully in another year we will have some room for a 250 guy as well.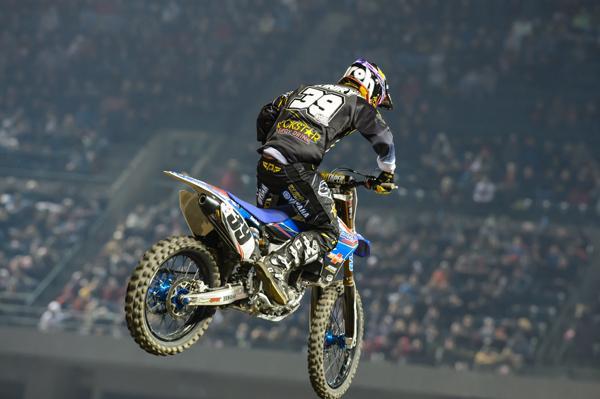 Bobby Kiniry (pictured above) and Kyle Chisholm make up the Velocity3 Racing team.
Simon Cudby photo
Can you give me an idea of how much it costs to run a team like yours?
Oh man, there are so many variables, its hard to say. But it is not far fetched to easily spend over a million bucks. But it really depends on what level you go to, and how much you have to pay your riders. If you have a 18 wheeler, that is a whole separate deal, as they are expensive and you have to hire a driver. If you have a straight truck or Fun Mover type, then it can be a bit cheaper. We are working out of a straight truck but have plans for an 18-wheeler as soon as we get things in order. It also depends how much equipment you carry, and how much of a crew you have. But once you have semi, you should expect to spend a million and up, and depending on if you are also paying rider salaries.
What are your short term goals this season?
Our goals the riders are to be in the top ten in the consistent basis. The biggest goal is to get the team on solid footing for the future. Bottom line: we got a late start, as things finally came together for testing the first week of December. We hit the test track at South of the Border with Kiniry and then came west and have also been using the Yamaha test track. But the riders are happy with the bikes with the limited time we had to get going, and we are still testing and improving with every day.
Who are your sponsors?
Number one sponsor was Yamaha. They are the main help, other than Velocity3, which is where a lot of our funding comes from. But we also get help from a lot of our friends at the following companies – Dunlop, Motoseat, Pro Taper, STS Motorsports, Motomaster, Ride Engineering, Ironclad, ARC, Works Connection, Hinson, Dr. D, Yamalube, Matrix, Renegade, Twin Air, Supersprox, Athena, GET, Cycra, GYT-R, 360 Unlimited and DID and Dubya.
Well, thanks for talking and good luck with both the season and the search for sponsors. I know it's a tough road!
Well, thank you. It is tough, but both Brian and I are up to it, and we have been around long enough to know many of the pit falls that can pop up. We are really looking forward to building this team for the long haul.