Justin Barcia Goes Live at JustinBarcia.com
Justin Barcia, one of the most popular motocross and supercross riders on the planet, is pleased to announce the launch of his new website at www.justinbarcia.com. Powered by Hookit, the site provides an easy way for Barcia's fans and sponsors to follow his posts, photos and updates all in one place.

Barcia is part of the new generation of racers who grew up in the digital age. He knows the importance of making a professional, yet interactive digital channel for fans to interact with his racing career.

"Self-promotion and taking care of your fans are just as important as having the right team, sponsors and trainers these days," said Justin Barcia. "I appreciate everyone's support and am just pumped to finally have a place to talk to my fans and promote my team and sponsors."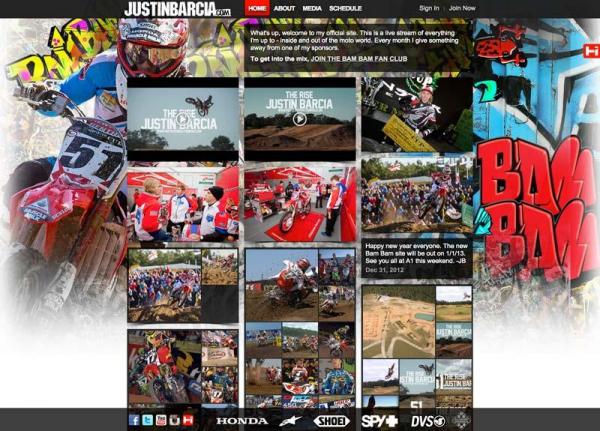 Now living in a "you tweet it and they will follow" era, JustinBarcia.com is the first pro athlete website that has incorporated content and activity from all his social channels mixed into one destination. JustinBarcia.com is the only place for fans to follow his tweets, Instagrams, videos and results and never miss an update. Content will be posted by Barcia himself, as well as his sponsors and fans.

Fans can expect exclusive monthly giveaways from Bam Bam and his sponsors. The layout is fun and easy to navigate with a look that matches the riding style and personality of Bam Bam himself.

Go to www.justinbarcia.com to follow Justin and wish him luck at Anaheim 1 this weekend!