Janniro Wins Monster Energy World Speedway Invitational
Monday, December 31, 2012 | 10:35 AM Tweet

Americans Shine at Inaugural Monster Energy
World Speedway Invitational in Front of Capacity Crowd
Record Attendance Inside Industry Racing's Grand Arena


CITY OF INDUSTRY, Calif. – The Monster Energy World Invitational lived up to expectations on Saturday night as 18 of the world's fastest riders took to the track inside Industry Racing's Grand Arena in front a record-setting, sellout crowd over 4,000 fans. After 23 events and a full night of racing, American rider Billy Janniro stood atop the podium for one of the biggest wins of his career.

"Monster did a great job tonight," said Janniro. "I don't know how many thousands of people were here, but it was awesome. To win in front of everyone and for these Europeans to be here, it was a big achievement. I'm very happy."

The 20 events that ultimately set up the pair of semi finals were full of drama, excitement, and the trademark competitive action that defines motorcycle speedway racing. Throughout each set of heats, the crowd stood on its feet, withstanding sub 50-degree temperatures and giving the riders all the support they could ask for.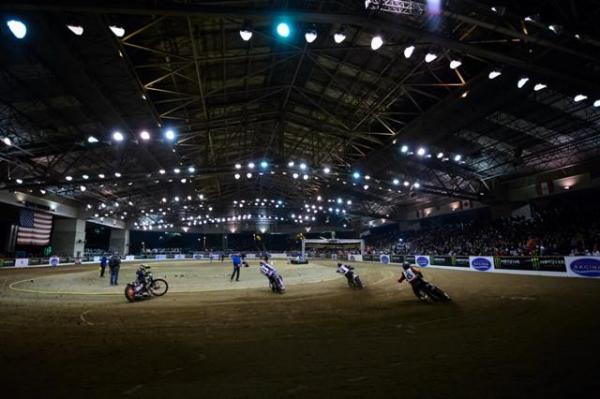 A capacity crowd filled The Grand Arena on Saturday night.
(Simon Cudby Photo)
Ultimately, American rider Ricky Wells garnered the top seed going into the Semi Finals, winning four of his five events. He was joined by fellow Americans Janniro, Billy Hamill, Greg Hancock, and Charlie Venegas, along with Brits Edward Kennett and Scott Nicholls, while Swede Antonio Lindback rounded out the top eight riders that featured just three international competitors.

"It was a good start to the night, I couldn't complain too much," said Wells. "I had a good setup and good people behind me and everything was just working really well for me. I think I started off the night really fast and carried it through."
With exceptional talent filling each Semi Final, the action was sure to be some of the best of the evening as only the top two finishers from each would advance to the Final and the chance to be named winner of the inaugural Monster Energy World Speedway Invitational.

In Semi Final 1, Hamill, a Monster Energy Athlete, made an impressive move coming out of the second corner to vault from third to first place heading into the third turn. He fended off Wells for the entire race, as the pair pulled away to solidify their spots in the Final.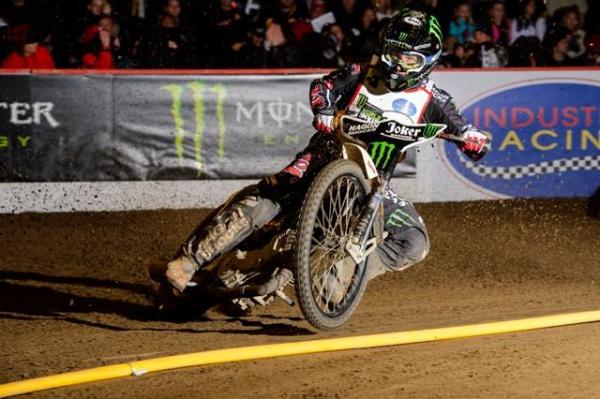 Billy Hamill battled his way into the all-American Final.
(Simon Cudby Photo)
Semi Final 2 became a showdown between Janniro and Hancock, with both riders battling for the win and leaving their fellow riders well behind. The duo crossed the line mere inches apart to make it an all-American Final.
The culminating race of the night became a battle of track position, with each rider's chosen lane at the start setting the foundation for a chance at victory in a four-lap sprint to the finish. As the top seed, Wells had first pick and selected the third lane, with Janniro lining up next to him in the second lane, Hamill on the far inside, and Hancock on the far outside.

As the starting ribbon rose, Janniro positioned himself in the lead with a quick move inside as the riders jockeyed for momentum. He was closely followed by Hancock, who put forth an impressive challenge throughout the entire four-lap race but couldn't generate enough speed to make a pass. Behind them, the battle for third was equally as exciting with Wells slipping past Hamill on the final lap to claim the third spot on the podium.

"I really wanted to win this one. This is the biggest event we've had here in the U.S. since the late 80's," exclaimed Hancock, a Monster Energy Athlete in the FIM Speedway Grand Prix. "This is one of the greatest events to be a part of for me, having Monster on board to support the sport here in the states. They have lifted this sport so much and for American Speedway this was a big hit. Just look at the crowd that turned out. I could talk all night about it. We're really grateful."
In addition to the star-studded international battle of pros, the future of American Speedway also put on a show on the packed crowd with Mini 150cc and Junior 250cc competition. Courtney Crone provided one of the most memorable moments of the evening when she took the victory in the Mini 150cc class. Max Ruml was dominant in the Junior 250cc class, winning each Heat and the Main Event.

"This was the start of something great for American Speedway," boasted Hamill. "Monster has come on board and revived speedway, recognizing it's a pure form of racing like we saw tonight. It's very promising for our young riders and I think more kids that do other disciplines will take a long hard look at racing speedway now and see it as a big opportunity."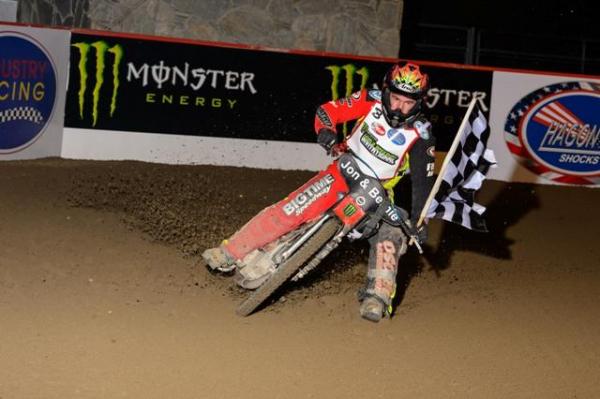 Billy Janniro takes a victory lap after his big win.
(Simon Cudby Photo)
With the biggest crowd ever seen at Industry Racing, it's safe to say that the Monster Energy World Speedway Invitational was a success and a fitting complement to the resurgence of motorcycle speedway in America. The fans welcomed the global group of riders with open arms and never left their seat, cheering on the world's best speedway riders through to the final checkered flag.

"This event was unbelievable and a huge lift for the sport in America," added Hancock. "This is going to be a long term thing and it's the beginning of something great. There were a lot of people here looking at what this sport could be on this scale."

"This is a great spectator sport," concluded Hamill. "There isn't a bad seat in the house, even with a big crowd like we had tonight. Its no-holds-barred racing and something I'm proud to be a part of, and I think this is something we will build off of here in America."
Monster Energy World Speedway Invitational
Industry Racing – City of Industry, Calif.
December 29, 2012

World Speedway Invitational Results
1.       Billy Janniro
2.       Greg Hancock
3.       Ricky Wells
4.       Billy Hamill

Junior 250cc Results
1.       Max Ruml
2.       Broc Nicol
3.       Dillon Ruml

Mini 150cc Results
1.       Courtney Crone
2.       Maverick Molloy
3.       Wilbur Hancock
Share this article:
Did you like this article?
Check out MONSTERBALL
in our Latest issue of Racer X available now.

Playing soccer on 250cc motorcycles might sound like a strange form of riding, but in Russia they do it with great passion—and for very little reward. Page 112.