by
Jason Thomas
250 Words: A Crazy Night in Germany
Wednesday, December 26, 2012 | 10:15 AM
GYTR (Genuine Yamaha Technology Racing)
is Yamaha's performance and racing accessory brand. GYTR products are developed and tested to the highest standards by Yamaha's in-house factory engineers. Used extensively by the Yamaha Race Teams, these factory parts are readily available to every Yamaha rider.
Tweet
Munich and Christmas go together like peanut butter and jelly. The Bavarian capital is famous for its beautiful Christmas markets, snow covered streets and the ever popular drink, Gluhwein. It is also one of the most competitive races in Europe, as it doesn't conflict with any other races on the schedule. The influx of French riders as well as appearances by American stars like Mike Alessi make it an all out dogfight.
With 20-25 capable riders, making the 12 man final each night was tough. The common phrase throughout the pits was that this was the deepest field ever seen at a German SX. After the smoke cleared and the final was set for Friday, it was time to get down to business. Cedric Soubeyras grabbed the holeshot followed by series points leader Florent Richier, German favorite Dennis Ullrich and then your narrator, Jason Thomas. Soubeyras pulled a three second lead early, and I made a few moves and got into 2nd by the fourth lap and set out after the Frenchman Soubeyras. Privateer hero Weston Peick had also moved forward into third by halfway. It looked as if this would be the podium order until I made a big mistake and went down. That moved Richier back to the podium and relegated me to a disappointing 8th. Rounding out the top five were Arenacross champ Tyler Bowers and multi-time Portuguese champion Joaquim Rodrigues.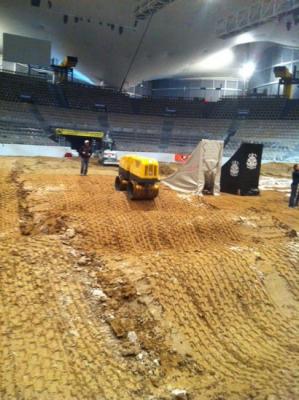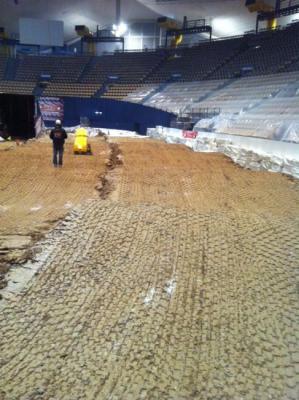 Not only did we get JT$ to write the story, but JT got fellow privateer Ben LaMay to shoot some pics! No action stuff, though. They were kind of busy racing.
Ben LaMay photo
Saturday night was sheer chaos. With three red flags thrown in five starts, obviously things were going awry. Rodrigues was involved in one of the biggest crashes I have ever seen, ending up with his bike being launched into the stands. The next red flag was the result of Mike Alessi jumping into another lane and hitting the entire field head on while they were mid whoop section. Luckily no one was hurt, but I am sure Mike needed a clean pair of Freeguns for the restart. The last red flag occurred when nine out of ten riders crashed in one rhythm section together with only the leader left unscathed. The track looked like a dirt bike junkyard for ten minutes while they re-united man and machine! Once the main event finally rolled around, six out of the twelve riders were new from the previous night's final. Soubeyras, however, was not to be denied and once again ran away with the win. Czech rider Filip Neugebauer rode to a strong 2nd with the consistent Richier once again on the podium.
With one weekend left in Dortmund, Richier has the title all but sewn up. It is also the same weekend as the Phoenix SX, leaving many riders with a difficult decision to make. Many of the French contingent will venture to America to try their hand on the world's biggest stage. Others like myself, Cole Siebler and PJ Larsen will once again cross the pond in search of international fortune. Dortmund is considered the prize jewel of the series and there are big bonuses on the line for the series as well. Hopefully I have good news when I check in after Dortmund!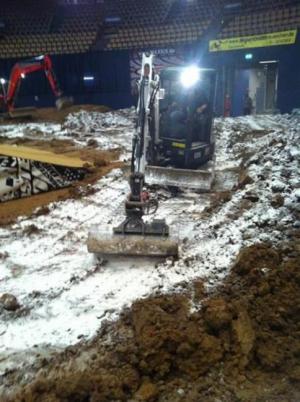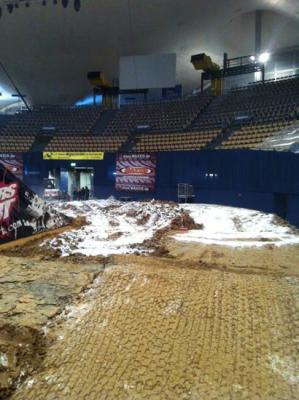 We should ask LaMay what's on the track there. Snow? Dirt drying agent? Magic dust? Use your imagination.
Ben LaMay photo
Share this article:
Did you like this article?
Check out KING CAIROLI
in our Latest issue of Racer X available now.

Americans know very little about seven-time FIM World Champion Tony Cairoli, but in Europe he's treated like royalty. Page 102.
Look for the verified symbol
The Conversation