If you plan on attending any Monster Energy Supercross races this year, you'll probably come across the Team Gus pits. With a huge canopy covering more bikes than any other team, it's nearly impossible to miss. The team itself, which is owned and operated by Gus Decker, doesn't follow a traditional team structure, and is more of a home for struggling privateers than anything else. We got in touch with Gus to find out more about his unique organization and privateer dedication, and what he has planned for 2013.
Racer X: Tell us about the purpose of Team Gus and the requirements for being on the team.
Gus Decker: There are no requirements. I want to help anyone I can and anyone who wants to be out there. If you show up at my tent, you're welcome to pit with us for free. For 2013, we'll have MotoPads and stands from MotoConcepts again, and Bell Helmets, FMF Pipes and VP Race Fuels are helping as well. We'll also have No-Toil Air Filters this year too. One of their representatives is actually joining us on the road to help out with product. All the product that we get from sponsors is given to the riders, not sold to them.
We'll have two mechanics coming from Spain to help out, as well as two local guys from my area in California that are MMI graduates. We're trying to have mechanics available for any reason, whether it's pushing your bike to the line or tightening a bolt. We'll do whatever we can to help the riders get their bikes ready or fixed in order to make the race. That also includes race prepping the bikes and taking them through tech inspection. The goal is so that all the rider has to do is show up, get the bike and race it.
Tell us about your transport program.
I charge $2500 to transport their bike, gear and small toolbox to all seventeen rounds. It's not a per round thing, it's a mileage thing. We go to Canada, too. You don't have to pay me to transport your bike to pit with us though.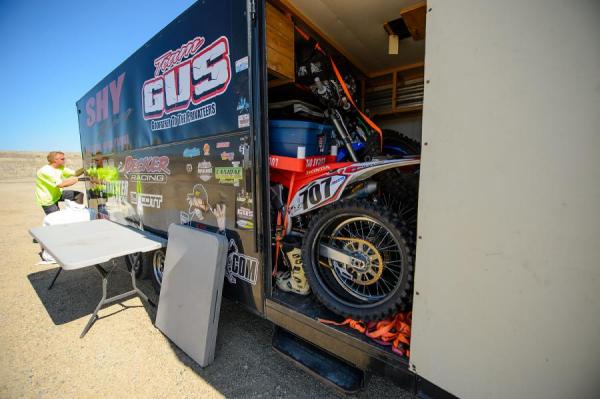 Team Gus will be avaliable to all privateers for the 2013 Monster Energy Supercross and Lucas Oil Pro Motocross Championship.
Simon Cudby photo
On average, how many bikes do you have under your canopy at any given round?
Last year, at the outdoors, our biggest day was twenty-four, and I'm hoping to have twenty. I'm hoping for more, actually. I kind of want to be like NASCAR. They all have garages to pit in, and I want to provide a place for all the privateers to pit in. Riders do better when they have a nice place to pit under. We have a 100-foot canopy, and I'm hoping to get 130 feet. I have a semi coming to the first round of supercross with me also, so if the money comes in from the sponsors I'll have 130 feet of canopy plus the semi and its canopy.
I understand Anaheim 1 will serve as a bit of a landmark for you?
Oh yeah, a big landmark and I'm really looking forward to it. I started doing this in June of 2009 at the outdoors. At my third race, I raced on amateur day and broke my femur, pelvis and finger. That was round three, and I still made it to the fourth round, and A1 of 2013 will be my hundredth round. I don't miss races. Some of the riders used to wonder whether I'd make it, but now everybody knows that I don't miss races. The only thing that'd keep me from missing a race is if the good Lord decided that it was time for me to go elsewhere.
Well that works because you've told me in the past that it's your goal to die at the races!
That's right! I want to do this until I die, and I want my ashes spread at the starting gate at all twenty-nine pro races. The seventeen of supercross and the twelve of the outdoors.
Wow! What has been your greatest accomplishment since you've started doing this?
Getting interviewed by Racer X! [Laughs] Seriously though, that's a good question. Everything I do out there is an accomplishment for me. I like that I'm known for helping the riders. It's an accomplishment for me that I'm still there, and that I'm not quitting. I have perseverance to no end. One of the other greatest parts of this is getting to meet Roger DeCoster, and that's still up there for me. I think he's the greatest rider in the world! Really though, every moment out there is a great memory for me, and the only reason I like being at home sometimes is because I've met the greatest woman in the world. Other than that, I want to be at the track. Fuel TV putting us on TV for two minutes and nine seconds during the outdoors was a great accomplishment, too. But I guess the absolute greatest accomplishment would be helping the privateers with their dreams.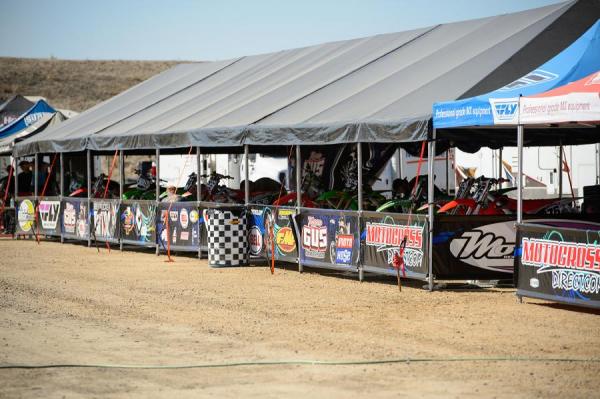 The Team Gus set-up at the Lucas Oil Pro Motocross Championship in 2012.
Simon Cudby photo
How can riders or potential sponsors get in touch with you?
I can be reached at teamgusmx@gmail.com.
Who has helped the team get to this point?
MotoConcepts, Lufo's Kustom Designs, Fly Racing, Bell Helmets, FMF Pipes, No-Toil, ODI Grips, MotocrossDirect.com, MotoHose, Stockton Honda Yamaha, Cathy Foster, Mike Lyons.