It's pretty standard to hear the rider's say,"they have been waiting to hang it out on the National track." Sometimes it's just an excuse to cover up poor results in the supercross portion and in other cases like Kawasaki's Thomas Covington, it's their time to wick it up. Covington came out and won the 250 A Class by holeshotting and leading every lap to dominate the first National moto of the day. That set the stage and built excitement for the fans to see who would step it up next. Club MX's Jace Owen is getting close to a win with the speed he gains every moto and seems to be improving every time he throws a leg over the bike. Don't be surprised to see Owen win a moto and possibly a title before the week is over.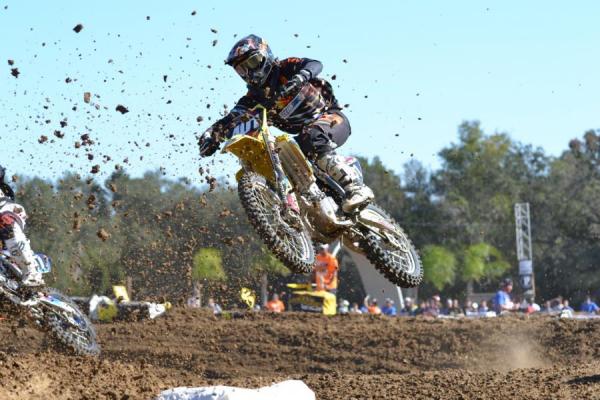 Club MX's Jace Owen.
The surprise in the B Class was KTM's Bryson Taylor taking the win over some highly supported, heavy favorites in the first qualifier. Suzuki's Matthew Burkeen and GEICO Honda's Jordon Smith won the other two qualifiers in the B Class with convincing rides, proving they are going to be the favorites going forward.
In the C classes we had new faces also winning motos and making a name for themselves at the 2012 Mini O's. New Jersey's Rocky Cagno came out with a bang by winning the first qualifying in the 250 C Stock Division, with Stephen Culleney and Matt Boyer close behind. Virginia's Kael Halloway and Georgia's Mason Beasley won the other two qualifiers, but the wins were earned with close racing all the way to the checkers.

Throughout the day there is a lot of qualifiers in almost every class, but the track maintenance workers are on top of things, preventing dangerous conditions and firing every race off like clockwork. It will be interesting to see what new names will be on top in the younger and older divisions as racing continues throughout the rest of the week.