Red Bull KTM's Mike Brown has been a busy guy lately. The gold medalist in the X Games EnduroCross has been down in Mexico pre-running for, and and then racing in, the Baja 1000. Right after that it was a flight to Las Vegas for the final round of the growing-in-popularity EnduroCross series. If you're in the business of Mike Brown, the 2001 125 National Motocross Champion, business is good right now.
We caught up to Mike yesterday to talk about his whirlwind racing career and get his take on the just-announced Muddy Creek Pro Motocross National.
Racer X: First off Mike, you're gnarly racing both Baja and EnduroCross right after each other. Let's talk about Baja and how that went.
Mike Brown: It went good, it was a lot of preparation beforehand, you had to be there for two weeks riding your section and trying to learn every bump on the trail. It was a long race, it was rough but it's not as bad as everyone thinks it is. You can get hurt and it is high speed for sure but you get your section down pretty good and you go for it.
How did you do?
Our team got second behind the Honda guys and there's one guy for the team, he's the main guy and our guy was Kurt Caselli. I liked racing it, I think I'll be doing more of the Baja races in the future. In the pre-running you're out there riding it doing sixty and then in the race, you're going 100 and it's crazy how your mind turns from practice mode to race mode. You've got to race it but you can't go at it 100 percent in case something goes wrong. I enjoyed it, the pre-running is fun, you take your time and it's like a trail ride. I'll do the 250, 500 and 1000 next year.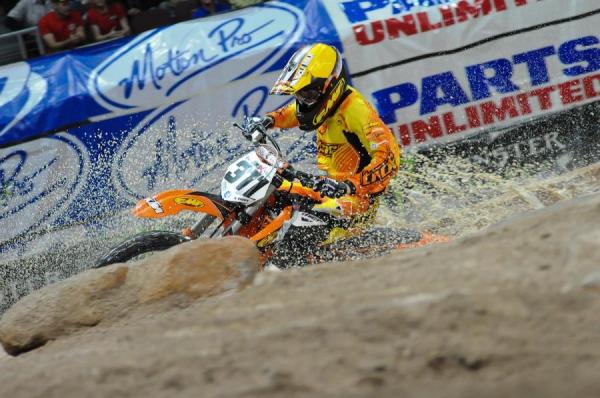 Mike Brown went 3-5 at the EnduroCross finale in Las Vegas.
Eric Narvaez photo
And EnduroCross, you went 3-5 in the two main events on Saturday night. How did that go?
It was okay, the rock section was the hardest one we've ever had. It was so hard and there were only two riders to get through there okay all night. One was Taddy [Blazusiak] and the other was a trails guy [Cody Webb]. The rest of the track was cool but I think that I was thinking about that rock section so much that it screwed up the rest of the track for me. At the end of the day, that was my problem. I just struggled with the track thinking of the rocks. They did fix it for the races, it was so much harder in practice if you can imagine that. I thought I rode better in the second main even though I did worse.
In the series, you finished worse than last year but you did win the gold medal at X Games so was it better or worse this year?
It was good, I missed the race before Vegas because I was sick and I was three points out of second. So that hurt, as Cody got second at the race I missed and pulled away. And I missed third by three or four points. I was up and down this season. It just didn't happen for me.
In talking to the riders and organizers, it seems this series seems to be growing. Do you see that?
From last year to this year, it's gotten bigger. Ever since the X Games it's picked up about ten percent. I think people seeing it on TV gets an awareness of what EnduroCross is and they go and check it out. I hope it keeps growing the way it is, that's be good for all of us. People want to see what it is all about.
You ride the 250 EXC and Taddy rides the 350EXC, what's the difference for you and why the 250?
I like the 250 for me, no linkage either which I think works better as you don't get hung up on obstacles. It's smaller and a bit lighter but works for me. I'm going to try the 350 and mine is pretty good, I get good starts on it. Next year the 350 and the 250 are similar in weight and I'll try it to see if it's too big for me. My bike is actually a 280 so it has a bit more torque in it. For me being lighter and less aggressive is better for me. Those other guys get on the throttle and are able to control it better than I can.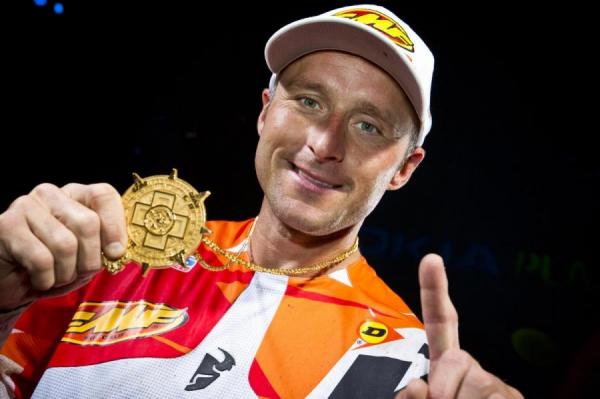 Brown also captured X Games Gold in 2012.
Garth Milan photo
Have you cleared your calendar for the just announced Muddy Creek National on June 1?
Oh man, I saw that and it's cool but I have a Baja 500 on the same weekend…
That sucks, they don't call you the Muddy Creek Assassin for nothing!
Yeah, I'm still pretty excited for those guys there, they've got a great track and it's like a mile and half from my house. Seriously, I could walk there. I've been racing there for years and it's going to be good for the area. I don't know how far south it is for the guys, it's further down than Mt. Morris I suppose. In this area, Sam [Gammon], the promoter is the biggest one in the area and he'll do great. The layout is nice, lots of hills and I'm sure it's going to be awesome. I couldn't believe it, after twenty years of hearing about how they're going to have a national and then checking the schedule and the year they have it, I can't go there!
You know what though? I've raced there so many times and nowadays they have these five lap races for the pro class and I never do that well. The kids always beat me, my arms pump up and the nerves get to me. So maybe it's for the best!