By: Alex Gobert
Cast your mind back and think of the 2008 season. That was when a brand new promoter, Global Action Sports, took control of Australian Supercross in a partnership with
Chad Reed
. They were going to turn the sport inside out, had some pretty modest goals, and had the runs on the board when it came to entertainment.
Live television was introduced, unique formats were set in place and a host of top-level US riders were called upon to race against our best. But four years later at the conclusion of 2011, the 'Super X' series was a thing of the past –- a bitter blow to the sport on Aussie soil.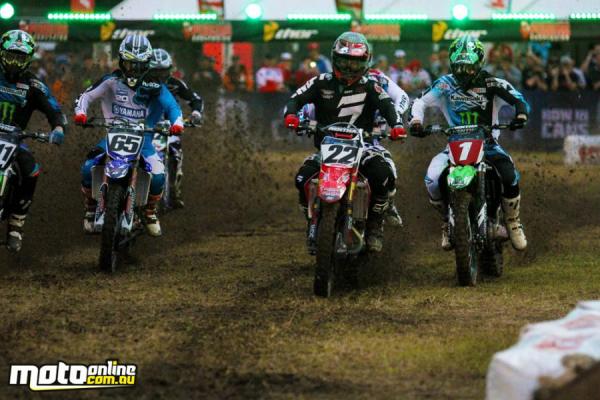 Chad Reed's (#22) return to Australian Supercross provided a huge boost in 2012.Simon Makker/Makkreative.com photo
This year, International Entertainment Group took charge, which is, funny enough, the same organizer (under a different company structure) that ran the series for a single year in 2007. IEG also has the rights to the Australian Superbike Championship and managing director Yarrive Konsky is the owner of the factory Honda team that
Ben Townley
rides for.
In short, 2012 was a promising season. Expectations were low, but what IEG delivered was comparatively huge. Traditional formats returned, live entertainment was massively increased and the tracks were phenomenal in front of four different regional towns. And in a pivotal move, hosting round two alongside the Phillip Island MotoGP was genius.
Under the committed running of Konsky and IEG, the sport's no doubt now in very capable hands. Sometimes getting back to the basics is exactly what's required to get back to our best.