Welcome to the post-election, post-division, post-Facebook-for-haters days of 2012. Our fractured political environment will hopefully now heal up and get back to the work of, well, whatever it is they do in Washington, D.C. And hopefully they will be doing it better. Racerhead is coming to you from a variety of places, the most relevant of which is Paris, where Simon Cudby and Steve Matthes have gathered for the three-day Bercy Supercross, the most famous SX race outside these United States. Below the border, Chase, A-Fred, and Jordan are in Mexico working on a story. I am actually in D.C., attending the funeral of a friend's father (and Naval Officer) at Arlington National Ceremony. There are also things going on all over the SX and AX world. I will let Aaron Hansel get into the AX stuff, but I would like to say that I love the new class names—450 SX and 250 SX—that Feld Motor Sports has adopted for the 2013 Monster Energy Supercross Series. I also understand there's some great news coming up, TV-wise, for viewers of next year's series.

Hats off for starters to Ryan Hughes, who put in a heroic effort at last weekend's MTA Vet World Championships at Glen Helen Raceway. Ryno, who had already won Mammoth Mountain's vet race as well as the individual overall at the Veterans Motocross des Nations in England back in September, added the Vet World Championship after a knock-down, drag-out battle (literally) with Travis Preston that left Ryno with as many stitches in his arm as Doug Dubach has Vet World Championships! (Doug won the +40 class last weekend for his 20th MTA title.) We talked to both Hughes and Preston this week to get their take on the race. It was as good as you would think it would be.

Tomorrow at 2:30 p.m. (EST), NBC will air a review of the 2012 Red Bull AMA Amateur National Motocross Championships at Loretta Lynn Ranch. The show was produced by none other than Wes Williams and his merry band of video artistes and is packed full of highlights of some of the absolute fastest young motocross racers on the planet. Make sure you catch it tomorrow, or at least set your TiVo to the NBC network.... And how cool is it that amateur and minicycle motocross is being shown on NBC?!
There's even more Loretta's coverage courtesy of NBC Sports Network shows this Sunday and next at 4 p.m. EST. These are all original shows--not re-airs--so make sure you catch them all.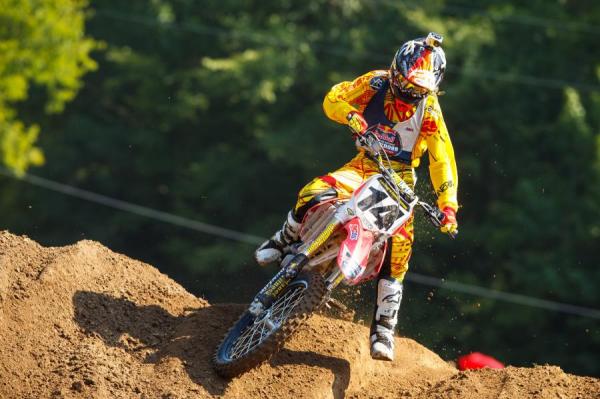 Zach Bell will be a big star of this Saturday's Loretta's coverage on NBC.
Cudby photo
By the way, Wes Williams and his Vurb team started off doing some stuff for us here at Racer X Films. Now you have a chance to get on the map. If you're planning on submitting an entry for the 2012 GoPro/Racer X Online Amateur Film Festival, well, you'd better get it done quickly, because it's due tonight at 11:59.59 p.m. EST. It's your chance to win recognition and some killer prizes from GoPro, Unit, and Racer X. Enter here.

Speaking of Loretta Lynn's, the bid on Ricky Carmichael's personal Suzuki RM-Z450—the one he won the Junior +25 title on at the 2012 Red Bull AMA Amateur National Motocross Championships—was at $17,000 on eBay last time I checked. The bike, built by Mitch Payton and RC's dad, Big Rick, is not only a collector's item, it's a helluva race bike if you want to take it out for a spin at your next big race. All of the proceeds go to charity, so check it out right here.
American Suzuki is having a tough week, though the future may not be so bad. The company filed for Chapter 11 Bankruptcy, which means they will try to trim debt and reorganize. According to the financial news reports, the plan is to quit selling Suzuki automobiles in America, and instead focus on motorcycles, ATVs and other small-engine equipment.

Suzuki of course has a long history in motocross, dating back more than forty years. They have had phenomenal runs over the decades, including the best years of riders like Roger DeCoster, Joel Robert, Gaston Rahier, Harry Everts, Kent Howerton, Mark Barnett, and more, all the way up to Ricky Carmichael's last five titles in the mid-'00s. But the car thing was something they never really seemed to get going in the U.S. I can say with all honesty that the only person I recall every having a Suzuki automobile was my mom, who had a Samurai for some time. Their cars have never been successful here in the U.S. like Honda's have been, and hopefully once that aspect of their business model changes, they will get back into a good situation.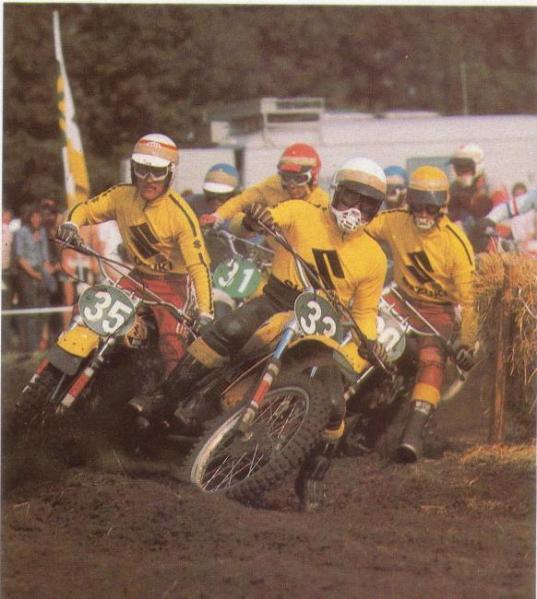 Suzuki's best days in motocross so far might still be the early seventies, when men like Joel Robert (33), Gaston Rahier (35) and Sylvain Geboers (30) joined Roger DeCoster and Gerrit Wolsink in leading the way.
Image from ozvmx.com

So how will this affect James Stewart and any current Suzuki riders?
Later that day, American Suzuki announced that it plans to "realign its business to focus on the long-term growth of its Motorcycles/ATV and Marine divisions. Following a thorough review of its current position and future opportunities in the U.S. automotive market, ASMC will wind down and discontinue new automobile sales in the continental U.S. The Company has determined the best path to achieve this realignment in an efficient and orderly manner is to restructure its operations under chapter 11. The case will be filed in the United States Bankruptcy Court, Central District of California in Santa Ana.

"ASMC remains firmly committed to Motorcycles/ATV and Marine products, and these divisions are competitively positioned in their respective markets, allowing for long-term growth as economic conditions improve. The realignment is intended to better position ASMC for long-term success and is a return to the Company's roots in the U.S. market, which began with motorcycles and has grown to include ATV and marine products. ASMC remains very proud of its high quality, high performance motorcycle, ATV and Marine products. The Company will continue to bring ASMC products to market, including its full lineup of sportbike, cruiser, touring, scooter, dualsport, motocross, off-road motorcycles and KingQuad ATV line..."
Wither Dean Wilson? Ever since news came out that neither he nor Jeff Ward were with Jeff Ward Racing for 2013 and beyond, there has been lots of speculation about where the very talented (and very funny) Deano might end up. We've heard/seen/read that he could end up on the Hart & Carmichael team, Chad Reed's TwoTwo Motorsports, and Matthes had a pretty good riff about him stepping back under the Monster Energy/Pro Circuit Kawasaki tent for at least SX in the 250 class, and then maybe ride 450 outdoors.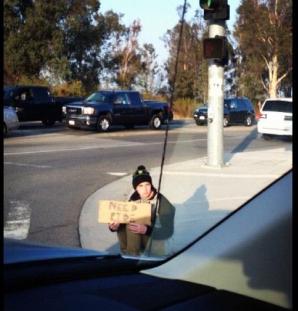 No matter where he ends up, he'll probably still have his sense of humor...

And here's an interesting tidbit: JWR's Oscar Wirdeman has apparently joined the Chad Reed TwoTwo Motorsports team that already includes Lars Lindstrom and Mike Gosselaar. That's three standout mechanics for one rider. Interesting.

Strange week for Christophe Pourcel. He didn't do so hot in Genoa, Italy, after DNFing one of the main events on his KTM. He also reported on his Facebook page that two of his bikes were stolen, along with two of his friends' bikes, from his home in France (and bikes are hard to insure in France when they do not have license plates). He's racing the Paris-Bercy SX tonight and all weekend, and then he's having a big after-party for his Three-Seven-Seven clothing line. CP377 has been struggling to find a ride that makes him happy, so here's hoping he has a great weekend in Bercy and that turns into a good gig for 2013 Monster Energy Supercross.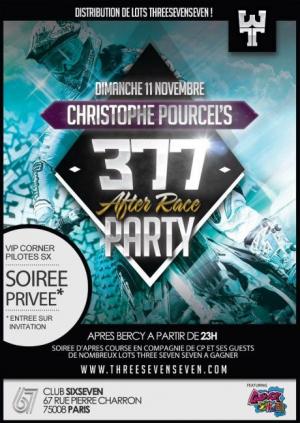 If you're reading this from Paris, go to this this weekend.
Speaking of Pourcel, this might be a good place to turn it over to Steve Matthes, who is in Bercy right now.

Ahhh, Bercy—on the heels of reading many angry Twitter feeds when it comes to the motocrossers I follow (who knew there were so many people like Ping?), I thought it best that I hike it out to Paris for the time being while everyone calms down. I don't have a horse (or donkey or elephant) in this race, but it amazed me the anger and hostility come from some people on Twitter. Everyone needs to just get along and support the guy who did win so things can actually get done in this country. But hey, I'm just a Canadian—what do I know?

This is five years in a row going to the annual Bercy SX (one year I went as a mechanic for Nick Wey—third OA behind Vuillemin and McGrath, by the way), and it's always a good time. Sure, by the third day you feel like you've inhaled enough smoke to fill up Jason Lawrence's motor home back in the day, but it's well worth it.

Today was the usual "get in early morning and just sort of hang out" day. Wil Hahn, his mechanic Shawn Irwin, and I went to Starbucks and enjoyed some coffee and catching up, and then it was back to the hotel for more hanging out. After that it was a nap and back down for dinner with the Chisholms and more hanging out with Justin Brayton and his wrench Patty.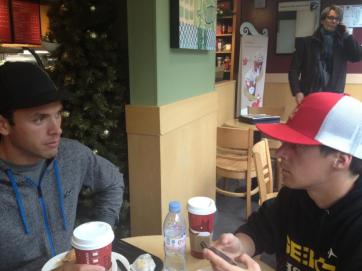 At a Paris Starbucks, Wilbur bros down with his new wrench Shawn, who worked for Blake Baggett last year.
Matthes photo
We're seeing a clash of the Kings here at Bercy with the 2009 King meeting up with the 2011 King as Brayton and Chisholm will go at it to see who the true King is. Eli Tomac will probably have something to say about that (by the way, Tomac's here on a full-works 2013 CRF450 with Honda's Gothic Jay helping him as Justin Barcia pulled out of Genoa and Tomac filled in and Honda just kept the bike over here) as will Jake Weimer (shipped full factory bike) and Hahn, who's on a stocker with some parts and as well. Did you know Hahn has never been to Europe before? Weird, right? Who knew?

Who also knew, looking through the stats of Bercy over the years (thirty years now for this race!) that Andrew Short and Larry Ward are tied for fourth all-time in wins at the race? A couple of underrated riders that have had some great success at the Palais Omnisports.

There really isn't one clear-cut favorite this year, which makes this race even better. Brayton's always done well here, as has Chisholm (who's on a BUD Racing Kawasaki by the way), but Weimer and Tomac showed serious speed here last year but were inconsistent. And then there's Euro-virgin Hahn, who's just happy to be here but could do well also.

And then there's Christophe Pourcel on the KTM also signed up to race and coming off his disappointing Genoa, where he had some bike problems. There's a lot of racing here at Bercy with the top guys (if they make it through all three five-lap elimination races) hitting the track five times a night. I'll be surprised if CP's able to make it though all three nights of racing, and frankly, some of the organizers will be also. It's always a more interesting race when Pourcel lines up.

Also lining up in the 250 class against a bunch of French riders is Tyler Villopoto, Ryan's brother, and he's making his Bercy debut. In speaking to Tyler and Ryan's dad, Dan Villopoto, it looks like Tyler may be doing some arenacross this winter along with going back to Canada to race for the Leading Edge Kawasaki team, but this time on a 250F.

So what's going on with Dean Wilson and the Jeff Ward Racing team? Well, who really knows to be honest. Dean's still going out to the track with the guys on a Kawi, as is 2011 rider Kyle Chisholm (well, when Chizz isn't in France). And I interviewed Paul Delaurier, the team manager, on Monday's PulpMX Show and he seemed to indicate that yes, things were in flux, but they were working on a solution. The latest word is that the JWR team, formally the L&M team, might be doing supercross only with Chisholm and one other rider. But I do believe that Wilson is looking for a ride (or may have already got something done) and that Jeff Ward won't be associated with the team any longer.
How could you not like Wilson, though, and his attitude (see photo above). This guy is a classic, I wish he was still Canadian.
Or they may just close the doors right up and call it a day. Mike Kranyak, the principal money man though all these years, is a fan of the sport and does want to try and hold things together but maybe scale it down a bit. We'll see as the days go on, and as usual, these things are in flux and change from day to day.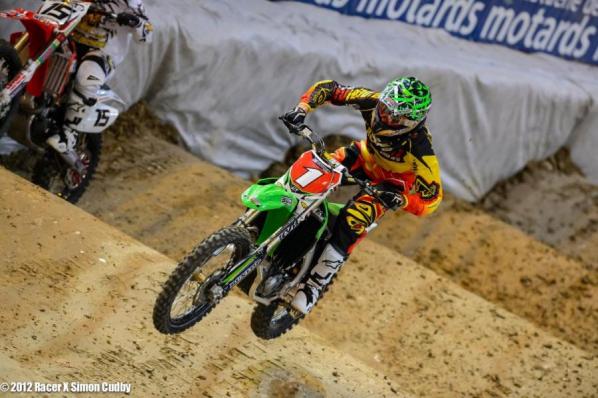 Here's Chisholm in Bercy practice, sporting the red one.
Cudby photo
Stay tuned right here on Racer X for the link to the MX Life TV program that will cover Bercy as well as the Racer X Twitter ( @racerxonline ) where myself and Simon "Tourist Man" Cudby will be filling everyone in on the comings and goings from Bercy.

Thanks, Matthes. Here is Jason Weigandt.

First, no one has been cut harder by the news of Suzuki Auto's demise than my dad, who surely holds the American record for most Suzuki-made automobiles owned. He's had six of them, including a Samurai, the super-odd-ball X-90, and his current ride, an Aerio. Ah, the memories of tooling around college with my dad's Suzuki-built, 3-cylinder Geo Metro convertible (in yellow, of course).

Seems like we've all been tracking the Dean Wilson rumor mill lately. WIth Ward out and a title sponsor still not found, I heard that it actually came from Dean's end to get out of the deal while there would still be time to find another ride (in case the whole thing went belly up). Whatever Dean gets next, it probably won't be for the big money JWR was offering, but he'll get something. And that's better than hanging on with JWR only to maybe get cut, say, in late December, or even during the season, when it would be impossible to make anything else happen.

But Wilson still likes Kranyak and Kranyak still likes Wilson, so much so that they're still letting Dean ride their bikes at their track so he can keep his training and practice program going. And I suppose if Kranyak's squad did find that elusive big sponsor, maybe they could get back together. I hear a lot of people saying "Kranyak's got money, so he could do this on his own," but remember, even in the high-water-mark days for this team (2008 and 2009, when they won the SX title with Chad Reed and James Stewart) they had San Manuel money. To produce this type of effort without a sponsor just doesn't make much sense. But they could do a smaller deal, maybe for Chisholm and someone else. So they continue to ride. And if you're wondering how Wilson got into this situation in the first place, remember that none of these sponsorship/Ward/Kranyak funding issues seemed to exist when he signed with them a few months back. Connect a team with multiple supercross titles with Ward's name and things looked rock solid at the time.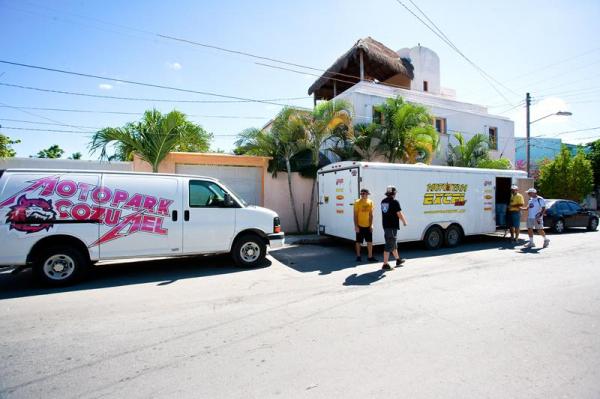 Here are our boys Jordan and Chase getting ready to ride way down in Mexico this week.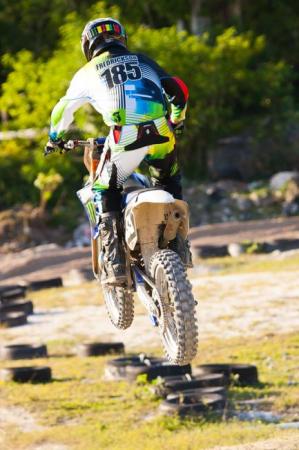 And A-Fred getting himself some down there, too. Always good when the West Virginia staffers can ride in November!

I talked to Brian Deegan yesterday about his pretty damned impressive success behind the wheel. Deegan won the premier-class title of the Lucas Oil Off-Road Series, Pro 2, for the second year in a row. He also finished a close second behind Tanner Foust in the new Global Rally Cross Series for rally cars. But he's still a motocross guy at heart. His Metal Mulisha is actually stepping up support of the Star Racing Yamaha team for 2013, as team riders Kyle Cunningham and Jeremy Martin will run full Mulisha-edition MSR gear at every race. Last year, only Nico Izzi ran the Mulisha stuff. Deegan takes a little extra pride in the Izzi signing last year, as he tells me he was the one who really pushed to get Nico one last shot. And Izzi made the most of it, and his career is now back on track. Good for Deegan and good for Nico.

Also chatted with Arenacross Champion Tyler Bowers this week (see more on Arenacross' new format below). He actually isn't signed with a team yet to defend his championship, but could certainly come back to the Babbitt's Kawasaki team he has won the last two championships for, or perhaps with another team. But he's always open to a full return to supercross, too. Tyler even says the revamped Hart and Huntington (now RCH) team took a glance at Arenacross, but wasn't ready yet considering all the moves they're making. Maybe, just maybe, we're starting to see some big teams have a look back into AX. A generation ago, they were all pouring big money into it.

That's it from Weege. Now we turn it over to Ping, the Southpaw typist.

I've been a little scarce lately due to a bizarre dog punching incident on Halloween that resulted in a broken right hand for me. It's a long, strange story and it would literally take me several hours to type it all out with my left hand. Let's just say I'm no longer a fan of pit bulls and I cry every time I see a Twix. Listen to last week's Ask Ping podcast I did with Steve Matthes for the whole story.

In the meantime, I have a cool project to tell you about. I'm involved in a two-day riding and training academy with Grant Langston and Sebastien Tortelli on January 3rd and 4th. It takes place at Perris Raceway on Thursday and Friday before Anaheim one. There will be bikes available to rent so if you want to fly in with your gear bag, improve your riding for a couple days and then take in the season opener you can. Check out the flier for the details: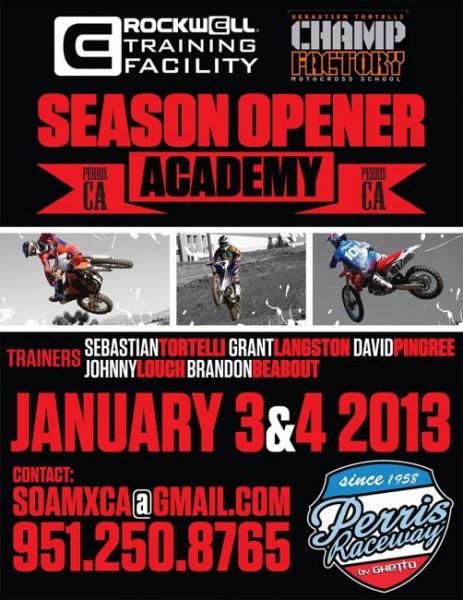 Ping and some friends you might have heard of have a school going before A1.
Now here's Aaron Hansel.

We might be in the middle of the off-season, but right now we at Racer X are also in the middle of producing the AMSOIL Arenacross souvenir book. Putting these mini-mags/souvenir programs together means more work for us, but it also offers the chance to get an inside line on the teams and riders as the new season approaches. With all the rule changes that are going into effect in Arenacross next year, it's been pretty interesting.

If you aren't yet aware of the rule changes, let me take a short paragraph to fill you in on some of the big ones. One of the biggest does away with the twenty-five-lap AX Class main event, instead running dual-twelve-lap main-event format. That's right, two points-paying races in one night. The regular points system has been  replaced with what's being called the Chase to the Championship. If you're familiar with NASCAR, it's very similar to how they do it. After the first six AX rounds, the points are reset and only the top ten riders are eligible to compete for the championship in the remaining four rounds. There are a few more notable changes as well, which you can read about right here.

In talking to some of the teams, it seems like opinion is split roughly down the middle. Some people are excited, but some are wary, believing that the new system may not lead to the best racer winning the title. But even those people are trying to stay positive and optimistic, and I have yet to run into anyone who is dead-set against the revamp. I myself was pretty skeptical of the Chase to the Championship. I mean, whoever gets the most points over the course of the season should win the title, right? But, how many times have we wished that a system could prevent a DNF from becoming a virtual death sentence to a rider's championship hopes? This just might be that system, and I'm definitely going to pay attention to see how Arenacross pans out this year. Who knows, if the new rules are a raging success, maybe we'll see them in other forms of motorcycle racing!

Thanks, Aaron. Here's one more update from Jen Kenyon, who works on the other side of the building with GNCC Racing and Loretta's.

We all know Loretta Lynn's as the proving grounds for amateur motocross for over 30 years but the famed track is actually used more than once in a year. In addition to the ATV Motocross event that immediately follows the dirtbikes in August, the ranch has been hosting thousands of off-road enthusiasts in the GNCC Series for 29 years now. Over the weekend, Loretta Lynn's hosted a head-to-head battle (times two!) in the Can-Am GNCC season finale. Rising star Kailub Russell, who grew up winning all the ranks in the series, held a one-point advantage over New Zealand's Paul Whibley heading into the finale. However, things quickly changed as the dead-engine start took off Saturday afternoon. Russell found himself peeling his KTM 350 off another bike in the first corner, setting the points leader nearly 20 seconds back from Whibley right away.
Russell spent a good portion of the race making up time on the leaders but after three-hours of playing catch up, KR wasn't able to catch the now two-time GNCC champ Whibley. Russell said that after the first-corner collision an resulting charge to try to catch up, his arms pumped up and he never was able to fully recover. There isn't much else to say about Whibley. He got the holeshot, rode a solid race and simply never looked back. That's how you perform under pressure!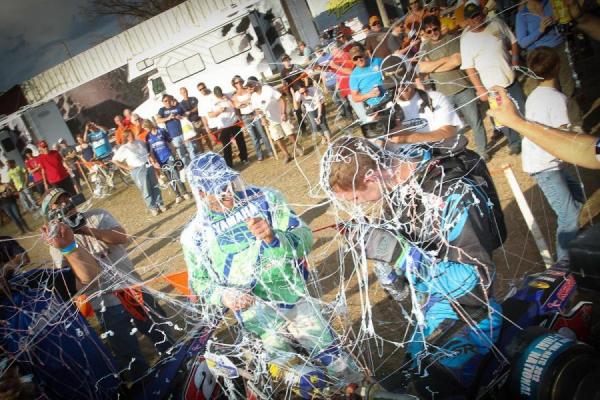 Whibley celebrates GNCC Title #2.
Krista Hooper photo
As if the drama-filled start of the XC1 Pro class wasn't enough, UK native Jason Thomas led defending XC2 Pro Lites champ Steward Baylor Jr. by just one point before the finale and it looked to be another head-to-head showdown. However, it turns out Baylor had broken his collarbone in a practice crash the week prior. He was keeping it hush, receiving a pain shot before the race that caused him to pull up only just a second before the class took off! Needless to say, Baylor—racing at about 70% but still fighting—wasn't able to make it happen. Jason Thomas (of Wales, not the JT$ we know from Supercross, who is racing in Germany this weekend) grabbed his first-ever XC2 championship and now plans to join the premiere XC1 division in 2013.

Okay. Let's wrap this up with some other notes.

Besides the Paris-Bercy Supercross, there's also a big race in Germany going on right now and tomorrow. The Stuttgart SX is one of the premier European supercross stops, and it's known for being a rough-and-tumble affair, as well as a lot of fun. CROSS Magazine is streaming the event live, and you can catch the action right here. If Friday's action is already over you can catch tomorrow's race beginning at about 2 p.m.

Among the U.S. riders entered are Arenacross #1 Tyler Bowers, Vince Friese, Bobby Kiniry, Cole Siebler, Teddy Maier, Ben Lamay, Kyle Engle, Austin Howell, P.J. Larsen, Jeff Alessi, and Racer X contributor Jason Thomas. (Mike Alessi had originally entered by the #800 has a shoulder injury and is on the mend.) And in the SX2 class will be new AMA #23 Jake Canada, Tommy Weeck, and Morgan Burger. There's also the seemingly ageless Colin Dugmore!

Besides the Americans, other names you might recognize include Canada's Tyler Megdalia, Switzerland's Julian Bill, South Africa's Gareth Swanepoel, and Mickael Musquin, the brother of Red Bull KTM rider and two-time world champ Marvin Musquin. And finally, leading the German contingent will be Markus Schiffer, a member of Germany's winning 2012 Motocross of Nations team. Ken Roczen is out in California testing and getting ready for 2013.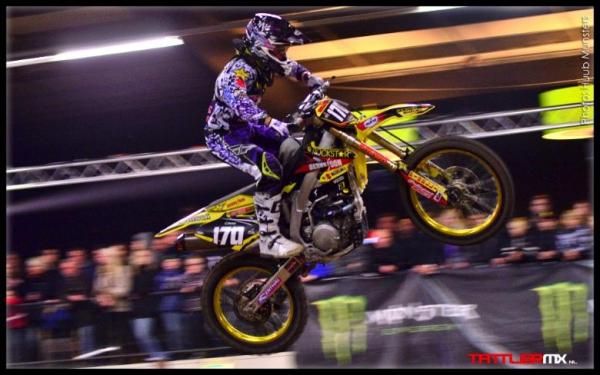 Michael Leib is racing a Suzuki at the Stuttgart SX in Germany today and Saturday.
photo by www.TattlerMX.nl
Also add Michael Leib, who raced a supercross in Holland last weekend, but according to www.TattlerMX.nl, it didn't go so well with bad luck for #170, who is riding now a Suzuki right now.

If you're looking for some good video to hold you over until the Red Bull AMA Amateur National Motocross Championships at Loretta Lynn's are shown on NBC, on the Bercy Supercross streams tomorrow on www.mx-life.tv, check out this exceptional Vurb Platinum film by AXOM and Vurbmoto on Chad Reed. It's a teaser for the bigger film to come of Reed's life today, the pressures of owning his own team, and some gorgeous shots of him working out on his private track near Dade City, Florida. Good stuff!
Matt Wozney of MXPTV was on hand for the Hog Heaven Pro Shootout at Hog Heaven MX in Godwin, North Carolina. The race was a great opportunity to catch up with rapidly-rising Carolina natives Jacob Hayes and Star Racing Yamaha recruit Cooper Webb, and TLD Honda's new prospect Shane McElrath, plus Alex Martin, Jace Owen, Luke Rezland, Robby Marshall and more as they all showed off their skills while vying for the $11,000 pro purse. Keith Monti sent us a solid race report that we posted earlier in the week as 450 Words, but if you want to see how it all looked on video, check out Woz's link.

And here's another episode of "SX Ed," the very funny video series starring Miss Supercross, Dianna Dalhgren.
There was some racing this past weekend at Hangtown: the Lilliputian Race. Not sure what that means, but it looks like they had a nice crowd!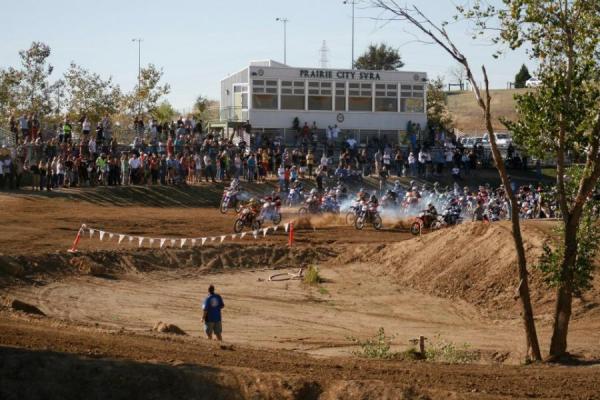 Hangtown Photo by Jim Ernest
Ever wanted to hop on a Harley and do a burnout inside a bar? Don't! You'll probably get beaten up, arrested, or both. Instead, check out this video the crew over at Cycle News posted of AMA Grand National Champion Jared Mees smoking the tire inside of Scott Parker's bar in Michigan.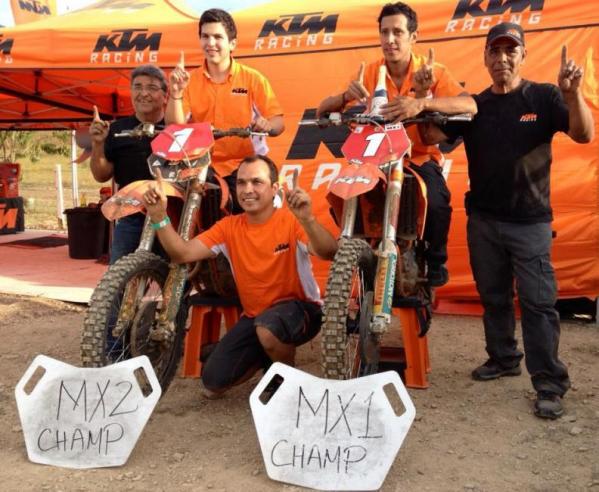 Pedro Gonzalez and his KTM swept the national championships of Mexico.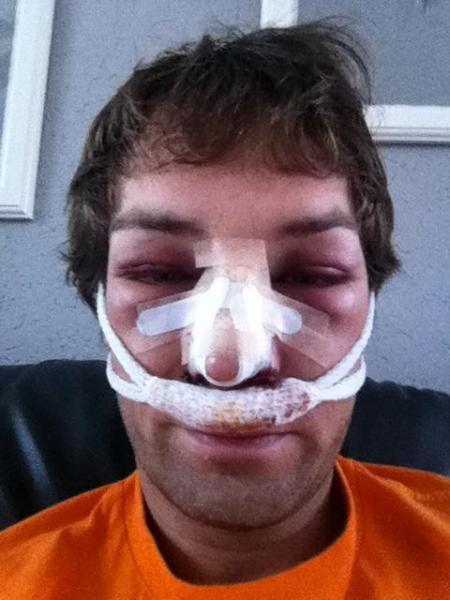 Looks like Marc "Calimero" DeReuver had himself a little off-season nose surgery....
That's it for Racerhead. Thanks for stopping by—see you at the races.