The 33rd Superbowl of Supercross in Genoa, Italy packed plenty of star power. Americans Justin Brayton and Eli Tomac joined the French duo of Gautier Paulin and Christophe Pourcel as the main attractions in the one of Europe's largest cities that hugs the Mediterranean Sea.

Tomac came in riding a surge of momentum after a dazzling podium performance—which included a win in the third moto—at the Monster Energy Cup. On the other side of the spectrum, Brayton was coming off a disappointing Lucas Oil Pro Motocross Championships, a return to JGR Yamaha and a subsequent discouraging performance at the MEC.
While many considered Tomac the heavy favorite entering the weekend, it was hard to discount Brayton in an arenacross environment—one in which he thrived in growing up on the plains of Iowa, and later in his professional career.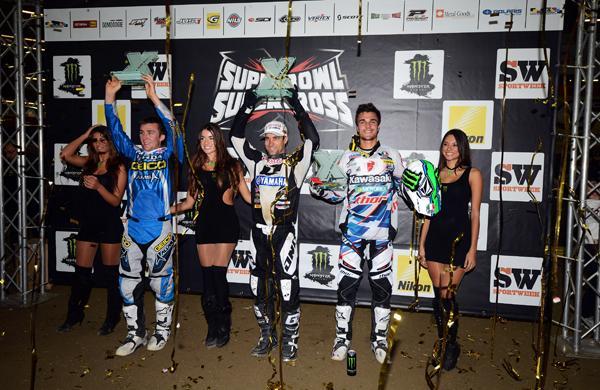 Brayton (center) won the King of Genoa title.
But the short track landscape played right into the hands of Tomac in the first main. It took a few laps, but he was able to get into the lead while Brayton had to slice through the pack after a dreadful start. After a second in the first main, Brayton, needing to finish ahead of Tomac in the second main, was left scrambling after Tomac pulled a holeshot. But Brayton remained patient. He applied pressure to the young phenom, which eventually lead to Tomac washing out in a corner. Brayton would go on to win the moto and the King of Genoa title.
Although Anaheim 1 is still two months away, this is a huge swing in momentum for Brayton compared with his Monster Energy Cup performance. Now, with Bercy on the horizon this weekend (a race he won in 2009), Brayton will look to continue his march through Europe, trying to build a plan toward strong results once racing returns to the U.S.