Track Preview: Georgia Practice Facility
By Iain Grae / realMotocross.com

The Georgia Practice Facility (GPF) is a southern U.S. motocross training facility located just 30 miles north of Tallahassee, FL. in Cairo, GA. This is not a race track or open practice facility. It is a limited membership, seasonal training facility for aspiring amateur and pro MX, SX and AX athletes. The overall aim of the facility is to provide riders and their families with a quality place to train and ride that will offer them the same opportunities as a factory sponsored rider.
GPF is owned and operated by the Woods family, and owner Josh Woods is on site to make sure that GPF is one of the best training facilities of its kind in the USA. Buying a membership at GPF gives you a full hook-up campsite with water, electric, and sewage.  Membership also includes use of all facilities including a 4,000+ square foot recreation room and gym.  First year memberships are a bit more in order to secure campsite and initial investment in GPF but memberships prices drop dramatically for returning members.
GPF
boasts a large, multifaceted riding facility that appeals to the upper levels of athletes in our sport, with four tracks. This includes a full replica supercross track which is for pro license holders only and a large motocross track for pro riders. It also has a large arenacross track which is more like a mini SX layout and a turn track. The tracks offer both dirt and concrete starts for practice.
The MX track has a mix of sand and clay that challenges riders lap after lap. The SX and AX tracks are updated and redesigned every year and are actual replicas of the real tracks built to the same specifications/measurements of the AMA SX/AX series.
Several pro riders have spent time training and riding at GPF over the years including Ezra Lusk, Brock Sellards, Ryan Sipes, Justin Sipes, Kelly Smith, Josh Woods, Jeremy Martin, Alex Martin, Travis Sewell, Shane Sewell, Josh Lichtle, Paul Veracka, as well as several others.
GPF membership season runs from October until the end of April. May and June GPF is open for day, weekly, and monthly rates. July is reserved for Loretta Lynn's boot camp run by Josh Woods. August and September are closed to attend amateur nationals and do maintenance on the tracks. GPF hours are Monday thru Saturday 9-6.
Josh also runs the schools at GPF and his background includes eight years of professional racing on the MX/SX/AX circuits, he is a two-time amateur national champion (125 Schoolboy and 250 Pro Sport) as well as a Canadian MX2 National Champion. His credits also include being a former factory KTM, Suzuki, and Kawasaki Team Green Rider and he has six consecutive years holding an AMA national number. His classes offer something for everyone and training for small groups, private, or semi private lessons are also available.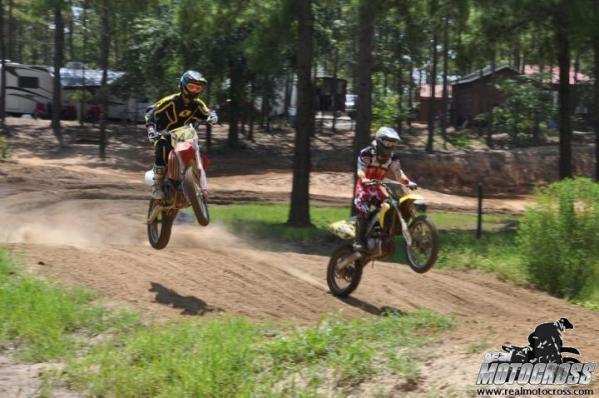 GPF is one of the realMotocross staff's favorite tracks in the country and were are told the yearly training costs are slated to increase when we last visited, so if you're serious about training take a look at what they offer right away. realMotocross.com CEO Iain Grae touted, "The programs that they offer allow you to live at the track and ride six days a week. The track is prepped daily and there are training sessions each day that you can participate in or you can ride on your own time - however most people choose to ride the practice sessions with the group."
You can find more information by checking out the Georgia Practice Facility on realMotocross.com