Ride Engineering Triple Clamps
Ride Engineering 2013 RM250Z/450Z & 2013 KTM SX/XC
Triple Clamps are in stock now: msrp $479.95
Ride Engineering has newly designed triple clamps for the 2013 RMZs to accommodate the larger 48mm SSF fork with a new feature that allows the installation of Showa steering Dampener. They are available in 20mm offset for the 450 and 22mm offset for the 250Z.
We also have a new clamp with our most popular 20.5mm offset available for the new 2013 front fender that is found on all KTM SX/EC models. And just like our previous clamps, a Showa steering dampener can be installed.
The material of the upper clamp (2024AL) has also been upgraded to match the lower clamp. This premium aerospace alloy has 25% more strength and 25% more flexibility than the 6061 aluminum used by most of our competitors (at a 25% higher cost).  This material allows us to keep our clamps looking sleek so they save weight without sacrificing strength. It also allows them to flex with the front suspension providing a better ride.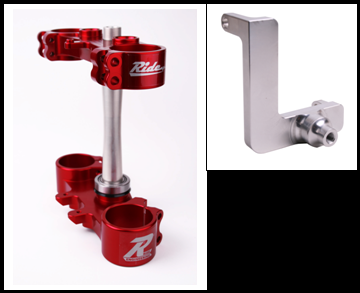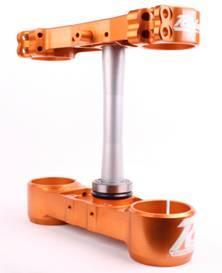 2013 RM450 STEERING
HEAD BRACKET
P.N.: RM-SHSB3-00
MSRP: $99.95
2013 RM450Z P.N.: RM-BTB43-RA RED               2013 KTM SX/XC P.N.: KT-BTB43-GE ORANGE
2013 RM450Z P.N.: RM-BTB43-BA BLACK         2013 KTM SX/XC P.N.: KT-BTB43-BA BLACK
2013 RM250Z P.N.: RM-BTB23-BA BLACK
2013 RM250Z P.N.: RM-BTB23-RA RED
CONTACT INFO: www.ride-engineering.com or info@ride-engineering.com 800 805 1516