Lommel
Lommel

,

Belgium
MX of Nations
Motocross of Nations
Why not Germany?

Motocross was born in Europe--Racer X Illustrated traced roots of the first-ever motocross race back to March 29, 1924 in England, but things really picked up thanks to a dearth of ex-military bikes available post World War II, and the (obviously) crumpled roads that existed after the war. Perhaps that's why the relatively small nation of Belgium--which historians says had more blood soaked into its soil via the two World Wars than any other--ended up having such deep roots in the sport. And England itself enjoyed great early success, running up a string of early victories at the Motocross des Nations. Oh, and about that "des" thing--it's French, and no doubt that nation has many roots in the sport as well.

In fact, quite a few countries have had their run. Sweden was a motocross super power through the 1960s and 1970s. The USSR won the MXdN Chamberlain Trophy twice. Italy has generated quite a few World Champions, including current dominator Tony Cairoli, and they scored their one and only MXdN triumph during the era of U.S. domination, in Brazil in 1999. Germany? Until 2010, they had not even scored so much as a podium in the event.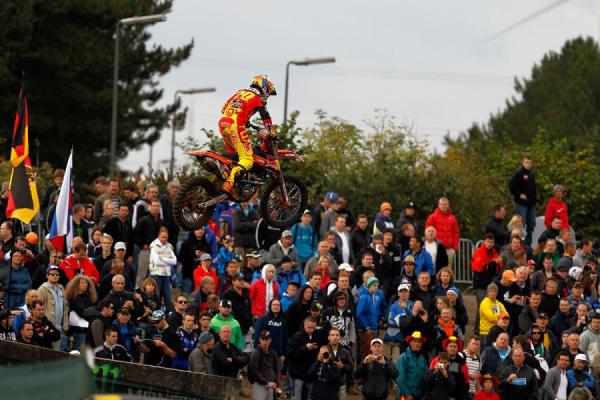 Over the last three MXoN, Ken Roczen has become a force in the MX2 Class. But in Lommel, he found another gear and lead Germany to its first overall.
Ray Archer photo
But that 2010 German team was quite good. After the U.S. cleaned house at the 2007 "home" race at Budds Creek, it was expected that the Yanks would dominate in similar fashion in Colorado. It was not the case. Trey Canard had a crash in the first moto, and then Andrew Short was cleaned out by Ben Townley in moto two, and Germany was suddenly leading the event in points heading into the third and final moto.

Most of that came on the back of the rider who has almost single handily made his nation a power in this sport, Ken Roczen. Roczen's MXdN performances should really rank him amongst the all-time greats, as he's now won the MX2 Class at the event three-straight times, and most often the next MX2 rider isn't even close. This year, his moto scores were 5-4, where the next highest MX2 riders in the motos had 10-6 scores.

Last year Roczen went 2-4, with the next best MX2 finishes at 8-11. In 2010, Roczen went 6-3 versus the next MX2 finisher going 8-6. That means Roczen has not only been the top MX2 rider in the last six motos at this event, no other MX2 rider has even finished right behind him. Back in the day, this event scored the classes separately, but nowadays everyone is scored on their overall result. When you can get an MX2 ace like Roczen shoving several 450s between himself and everyone else's MX2 pilots, you've got a massive advantage in points.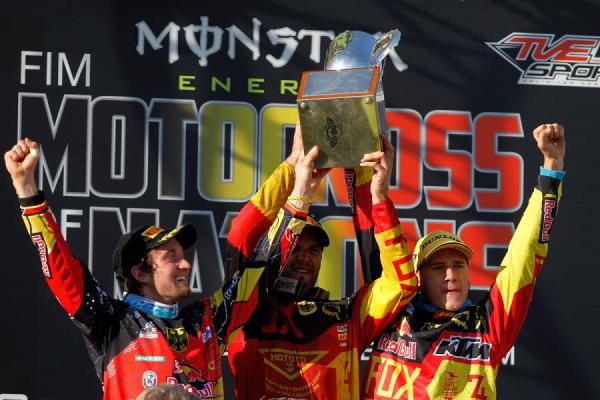 The Germans will return home for the 2013 MXoN with their first Chamberlain Trophy in hand.
Ray Archer photo
But everyone knew Kenny would be tough. Could his teammates hold up? The Roczen/Nagl/Schiffer team nearly pulled off that 2010 win, but Nagl and Schiffer ultimately couldn't hold up their end of the bargain, generating just one top-ten finish in their four results (Schiffer's 14-16, especially, didn't get the job done). Last year, Nagl missed the race with an injury.

Which brings us to 2012. Roczen did his thing again, but Schiffer and Nagl were much, much better. Nagl suffered through an injury-riddled season in the GPs, but he did show some form late in the season. He was on his game in Lommel with his clutch third in his first moto. Schiffer needed to get a top ten, and he did much better than that with a seventh. Suddenly they were in position to bring it home. And Nagl did with a pressure-packed sixth in the final race.

Where does Germany go from here? Home! They host the race next year, and coming in as defending champions is bound to make this a high-water mark moment for the sport in that country. It's about time they had it.