by
Adam Wheeler
Racer X Race Report: MXoN Qualifiers
Saturday, September 29, 2012 | 3:50 PM
Since 1968,
Thor
has maintained its position as a top motocross apparel brand. From trails, deserts, to the most famous racetracks in the world,
Thor
supports racing on the track and off with its sponsorship of race reports.
Tweet
"Tough", "difficult", "hard" were some of the words uttered by riders on the eve of the 66th Motocross of Nations in Belgium and this was in reference to the depth and demands of the Lommel sand rather than any notions of pressure, expectations or level of the competition. The flagship international race for the sport has been squeezed into a facility in the heart of this small country in northern Europe for the first time since 1981, where Team USA recorded a first and historic ownership of the Peter Chamberlain trophy.
The terrain was a big challenge for the Dungey-Barcia-Baggett axis that, to a man, admitted this was a culture shock compared to what they traditionally encounter in the States. Barcia claimed his upstate New York upbringing helped with a modified feeling of comfort in sand and many race fans can already testify to the Honda rider's capabilities in the wavey stuff; not least Roger De Coster.
Free practice threw sunshine on a busy attendance but also a heavy rain shower as some of the Lommel favourites – Tony Cairoli, Jeffrey Herlings and Ken Roczen – found their groove amongst the grooves. Their speed would provide an accurate preview of what was to come.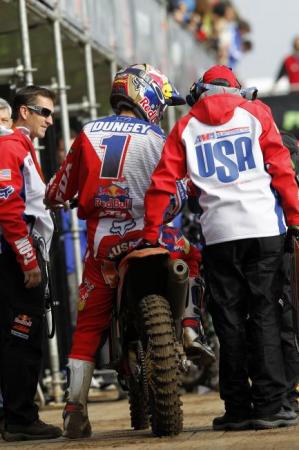 Tough day for the Yanks. Ryan Dungey got a bad start in his MX1 race, and then lost his goggles coming through the wet sand. He finished 6th.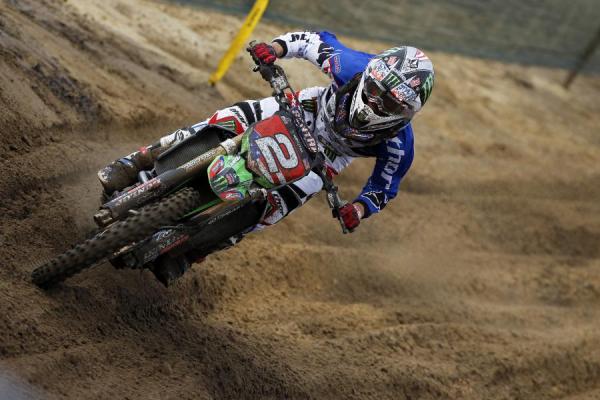 Baggett's run through MX2 traffic to pick up a third-place finish was the best ride of the day for Team USA.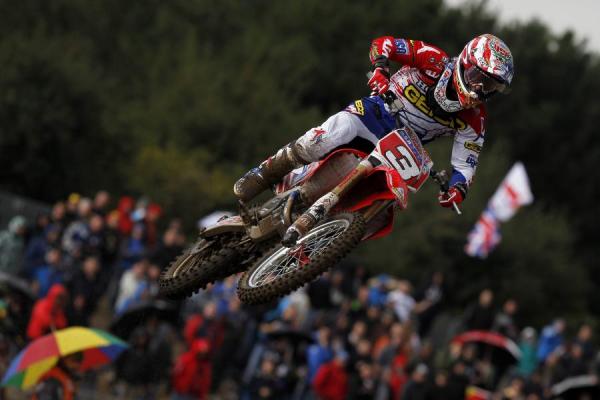 Barcia ripped the holeshot in the Open class, led for awhile, but was passed by Herlings. He tried fighting back, but then went off the track and into a fence....all heck broke loose after that. Eventually, he was DQed for outside assistance. Luckily, each team drops their worst score from qualifying so Baggett and Dungey's 3-6 scores were good enough to get Team USA into the main show tomorrow. Barcia was only DQed from today's race--he's legal and ready to race tomorrow.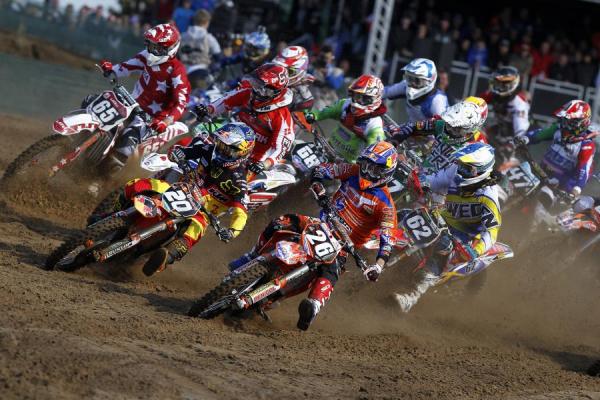 Ken Roczen (20) won the MX2 heat, helping boost Germany into the #1 spot in qualifying based on today's racing.
Ray Archer photos
The sessions also revealed that the smooth and graded Lommel terrain would not take many laps to start to chop-up and Team USA – fourth out of the ballot for gate positions for the quali races – worked out the trajectory with Dungey (in MX1 and facing the likes of Cairoli, Evgeny Bobryshev, Max Nagl, Gautier Paulin and Tommy Searle) 3rd fastest, Baggett (up against Roczen, Zach Osborne, Jeremy Van Horebeek and Marvin Musquin) 5th quickest and Barcia (the formidable form of Jeffrey Herlings, Ken De Dycker and Max Anstie) in 4th. Cairoli had the best lap of the morning but the three second difference to Herlings did not reflect to the full extent the track had morphed.
Cairoli and Nagl briefly disputed the MX1 heat race. The MX1 World Champion briefly conceding the lead as he believed his 350SX-F was throwing-up some strange noises and was wary of DNF-ing. Once the growl had cleared he promptly disappeared and gave a nonchalant look over his shoulder into the distance as he crossed the finish line. Behind him was Nagl (Germany), Clement Desalle (Belgium), Gautier Paulin (France), Evgeny Bobryshev (Russia) and Dungey – goggle-less and not appearing to be having much fun.
MX2 saw Roczen (Germany) showing a clean pair of heels to Jeremy Van Horebeek (Belgium) and Baggett riding a pretty solid outing in third and the best of the USA line-up.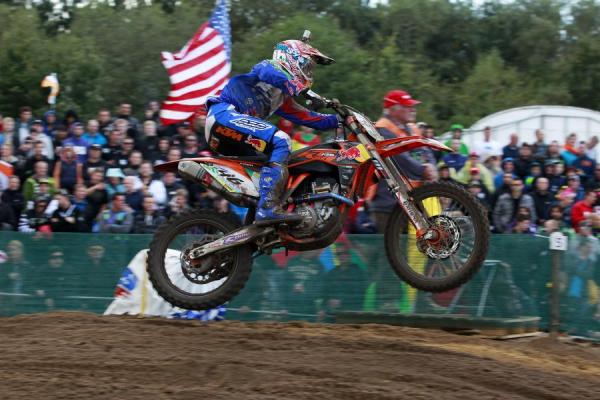 Tony Cairoli was on it in the MX1 heat, taking the win. Germany's Max Nagl was second, which combined with Roczen's MX2 win to secure first gate pick for Germany tomorrow.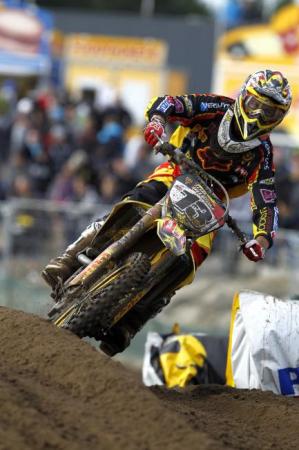 Clement Desalle was third in the MX1 heat for the home team.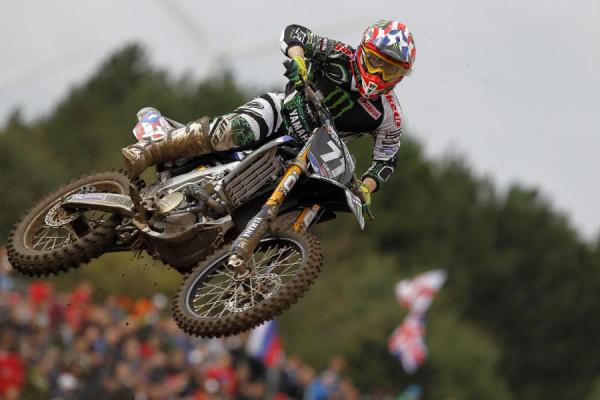 Zach Osborne was fast, but a crash dropped him back in MX2. Add troubles for late-entrant Kyle Chisholm, and Puerto Rico was relegated to tomorrow's B-team race.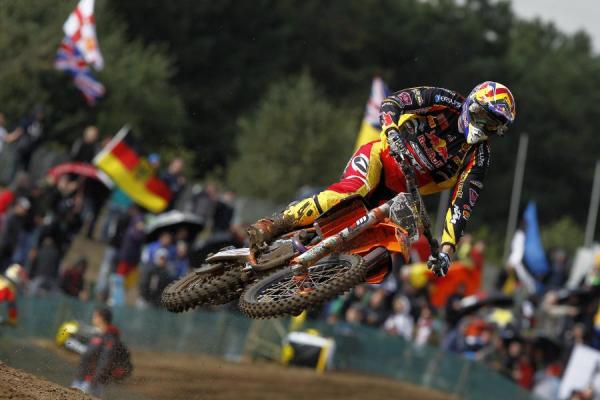 Ken de Dycker was second in the MX3 heat. Team Belgium didn't have the fastest riders today, but consistency over three motos matters more than that, anyway. The Belgian team went 2-2-3 in the qualifying motos.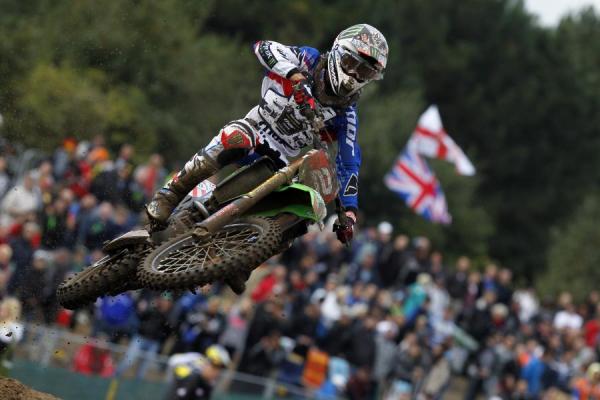 One more Baggett shot for ya.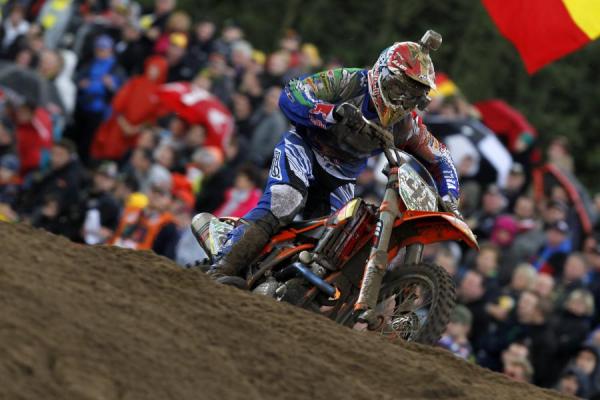 And one more of Cairoli. Big crowd at this race, and flags are waving everywhere.
Ray Archer photos
MX Open was the last sprint of the day and the most dramatic. Barcia ripped a holeshot by gassing the CRF450R all the way around the long opening left-hander but was tracked by Max Anstie (GBR) and De Dycker (Belgium). Herlings had hit the gate and was down in eleventh mid-first lap. He then started one of those startling flights in the sand that simply gobbles every rider on his radar. Anstie crashed (although would recover to fourth) and Barcia was soon in the Dutchman's range, trying to hold the lead. Herlings made the move, but to the Honda man's credit he switched up his game and stuck his front wheel alongside the KTM several times over the course of a lap, trying to get it back. But the first of two mistakes saw Barcia head off the track and straight into the fence. Ironically Bam-Bam was helped was none other than Chuck Sun (member of the US team that won here in 1981--but Sun was only on hand to watch, not as an offical part of the US effort). Barcia eventually almost looped the Honda again once he was facing the right way, as he tried to get over the fence and back onto the track. The 'outside assistance' by Sun earned Barcia a disqualification and straightaway signified Team USA's throwaway result. That means they go to the gate seventh tomorrow behind: Germany, Belgium, Italy, Holland, France and Great Britain.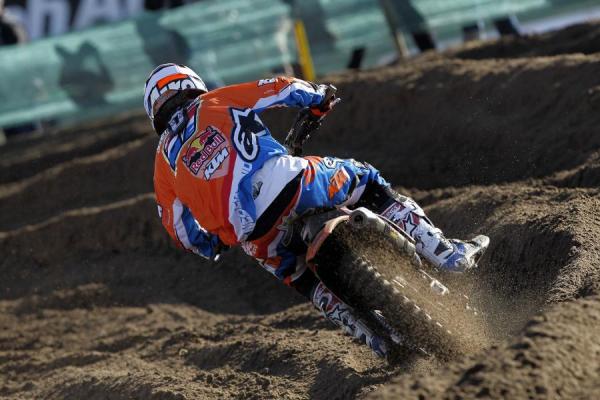 If you don't believe in Herlings' sand skills, a last-to-first charge (after getting stuck in the gate) during the MX3 qualifier should prove something.
Ray Archer photo

Other victims of the sand included Zach Osborne who flipped off his Monster Energy Yamaha and suffered a laceration to his neck and the American/Puerto Rican's Yamaha team-mate Arnaud Tonus (Switzerland) who is feared to have broken his lower right leg. Puerto Rico missed the cut of the top twenty teams as Kyle Chisholm (drafted in as a late replacement for Jimmy Albertson who tore a thigh muscle in a training crash two days before the meeting) rode to 25th in MX Open.

MX1

1. Antonio Cairoli (ITA, KTM), 25:24.630;
2. Maximilian Nagl (GER, KTM), +0:09.489;
3. Clement Desalle (BEL, Suzuki), +0:30.660;
4. Gautier Paulin (FRA, Kawasaki), +0:41.400;
5. Evgeny Bobryshev (RUS, Honda), +0:45.882;
6. Ryan Dungey (USA, KTM), +0:57.835;
7. Marc de Reuver (NED, Kawasaki), +1:05.243;
8. Rui Goncalves (POR, Honda), +1:06.462;
9. Joshua Coppins (NZL, Yamaha), +1:10.189;
10. Tommy Searle (GBR, Kawasaki), +1:36.040

MX2

1. Ken Roczen (GER, KTM), 24:24.394;
2. Jeremy van Horebeek (BEL, KTM), +0:09.837;
3. Blake Baggett (USA, Kawasaki), +0:20.057;
4. Marvin Musquin (FRA, KTM), +0:37.998;
5. Jake Nicholls (GBR, KTM), +0:44.152;
6. Glenn Coldenhoff (NED, KTM), +0:57.232;
7. Alexander Tonkov (RUS, Honda), +0:58.437;
8. Luke Styke (AUS, Yamaha), +1:05.699;
9. Priit Rätsep (EST, KTM), +1:08.215;
10. Even Heibye (NOR, KTM), +1:17.428

MX Open

1. Jeffrey Herlings (NED, KTM), 24:23.539;
2. Ken de Dycker (BEL, KTM), +0:02.024;
3. Tanel Leok (EST, Suzuki), +0:28.861;
4. Max Anstie (GBR, Honda), +0:46.358;
5. Davide Guarneri (ITA, KTM), +1:11.885;
6. Todd Waters (AUS, Suzuki), +1:23.898;
7. Marcus Schiffer (GER, Suzuki), +1:36.198;
8. Valentin Guillod (SUI, KTM), +2:10.253;
9. Luis Correia (POR, Yamaha), +2:11.165;
10. Filip Bengtsson (SWE, KTM), -1 lap(s)


Share this article:
Did you like this article?
Check out KING CAIROLI
in our Latest issue of Racer X available now.

Americans know very little about seven-time FIM World Champion Tony Cairoli, but in Europe he's treated like royalty. Page 102.
Look for the verified symbol
The Conversation