You have this Talladega turn. The track went into the stands last year, but this big banked turn looks much more spectacular.
Yeah absolutely. The Talladega turn came with some influence of that first corner at Glen Helen, if you remember that. It had that huge banked first turn, it was really open and allowed for great passing. I hope this works out, I want to make it the best that I can for passing. I want guys to get up there and not have to follow each other through there. We'll see if that works out--I'm not making any guarantees. But it will definitely have the wow factor. That thing is going really high up, something like 140 or 160 feet deep into the stands. I'm pumped for that!

Looks like there's a sand section that goes down a whole lane. Is that part of the hybrid motocross influence?
Yeah, that's definitely an element of motocross. But I think it's just fun to watch! That lane is so close to the fans, it will be kind of in your face, if you will. You don't have to follow there, as well. And from there, you race right up into that Talladega turn. The rest of the track after that is more like your traditional supercross course. We'll have a big finish line where the boys can really air it out. And we've incorporated a lot of 180-degree corners into the layout this year, which is always great for passing. We've shortened the track in the back section, as well. Huge changes this year and I'm excited for it, I'm glad Feld Motorsports let me be a part of all of this. Hopefully the riders will be pumped, the fans will be pumped, and we'll watch someone win a lot of money.

Hey, without a whoop section, could that change bike set up a lot? I know a lot of supercross set up starts with getting through the whoops, first.
I think not having a whoop section takes away that element some of these guys have to worry about. If they're gnarly and cupped out and brutal, you have to worry about that every time. If you don't have a lot of confidence in whoops, well, this is one less thing to worry about, and they end up riding better.

But you don't think guys will change their setup compared to a regular supercross track?
Yeah, the guys won't have to set their bike up for one section, and I think that will be good.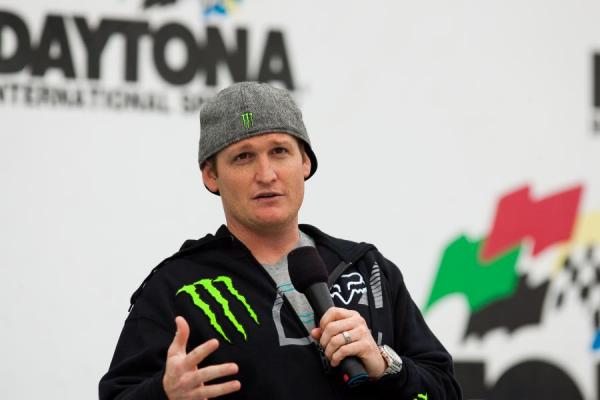 This is the second year RC has designed the Monster Energy Cup track.
Andrew Fredrickson photo
There's a really sharp left/right in the back.
A lot of that is to slow it down a little bit before they get to that back section. We're just switching it up.

This event was totally unique last year, and I'm sure you guys left with some good ideas on what worked and what needed some changes. You have to be pumped to get another shot at this.
Oh yeah, it's always easiest to improve from the first time to the second, and if you're not improving, you're not doing your job. I'm much more involved this year than I was last year, and I'm really excited about it. I'm hearing a lot of buzz. It's going to be good.

Last thing: do you wish you had a chance to race on this thing?
Yeah! It would have been cool. The hybrid track would have catered to me and what I like. And to just have the chance to win a million in one night! I was fortunate enough to win the U.S. Open and the hundred grand three times in my career, and hell, that 100 grand felt like a million way back when. So these guys should be excited to have this opportunity to win a million!