Racer X November 2012 Digital Edition Now Available
Get your November issue of Racer X Illustrated now!
The November Racer X Illustrated is here! Grab your copy and check out our new feature stories, such as this year's Moto-X 338 race, amateur stars at Loretta Lynn's, and new changes in Vurb Moto. You can also read about how minicycle prodigy Mike Healey is rebuilding his life, and Jason Thomas' experience at Holland's Zwarte Cross. These and more are featured in the October issue of RXI, and the digital edition is now available for only $9.98! Racer X Illustrated's October issue has been shipped to subscribers, is now available on Droids, iPads, iPhones, and iPod Touches.
Subscribers will be receiving it as early as today. If you subscribe digitally, it's ready for you now. Remember, not only can you read it on your computer, but it's also readable on Androids, iPhones, iPads, and iPod Touches via the free Zinio app.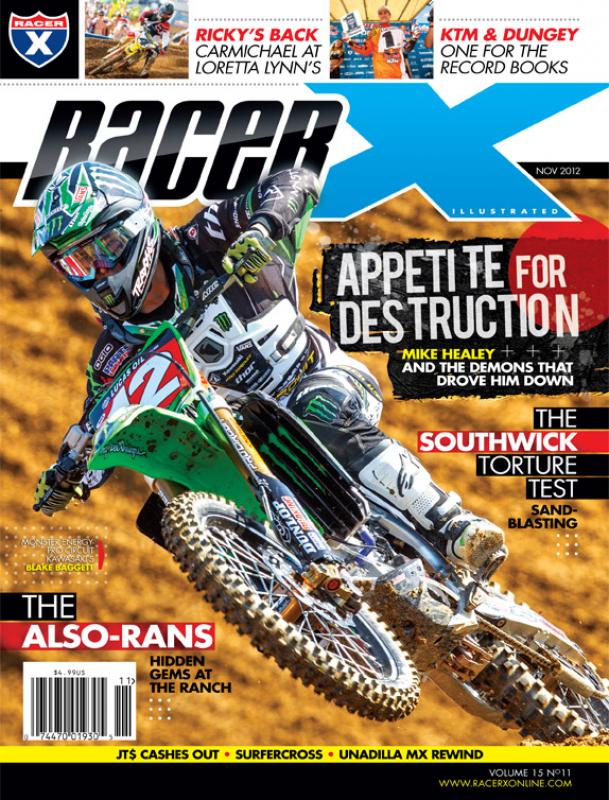 Learn more about what's in this issue here. Or view Current Issue under the Subscribe tab.

Subscribe now digitally and read it now here.

Subscribe now via print.

To download the free Zinio iPhone/iPod app, click here.

To download the free Zinio iPad app, click here.