Steel City Raceway
Delmont

,

PA
Steel City
Lucas Oil AMA Pro Motocross Championship
Welcome to Racerhead, coming to you from inside the press box at the FMF Steel City National in Delmont, Pennsylvania. Tomorrow's penultimate round of the 2012 Lucas Oil Pro Motocross Championship will again air live—all four motos, the first two on FUEL beginning at 1 p.m. and the second two on NBC Sports Network beginning at 3 p.m. Eastern time, so it's going to be four straight hours of live coverage for you. You will, however, have to change the channel at precisely 2:59 p.m. Eastern time to catch it all.
If you don't get FUEL, you can watch the first motos streaming live on www.allisports.com/motocross. And even if that's not enough, or you're unlucky enough to live in an area that decides to preempt the live coverage for local programming (sorry it keeps happening in Seattle—nothing I can do about a regional station manager's programming decision), all of the motos will be archived on www.allisports.com/motocross/archive-2012. In fact, the previous 40 motos are all up there right now, which someday will make our favorite MX archivist, Tblazier, smile wide when he goes to post this season in his excellent library of old-school videos.
Matt Wozney was out here yesterday for press day with his MXPTV truck. Check out his video of Blake Baggett, Broc Tickle, both of the Martin boys, the returning Tucker Hibbert, Mike McDade—everyone's favorite moto samaritan—and more.
Baggett, of course, is the 250 Class points leader, wearing the red plate just as he has been for every round since his opening-day win at Hangtown. Baggett, who admittedly struggled a bit at the last round at Unadilla, was part of press day here at Steel City, coming east two days early to help with some pre-race media. He looks and sounds calm, and he knows he will be going back to his home come next week for the series final at Lake Elsinore. There's no doubt that GEICO Honda's Justin Barcia and Eli Tomac will be giving it all they have to beat #12, and so will Red Bull KTMs Ken Roczen and Marvin Musquin, but he controls his own destiny now.
Blake was featured in local CBS affiliate KDKA's sports coverage yesterday.
The 450 title has already been decided—Red Bull KTM's Ryan Dungey is on an eight-race winning streak, which is approaching Ricky Carmichael and James Stewart territory—but the other guys are not giving up on stopping his run, even if the title is already Dungey's. At the last race, we saw, what, six different guys running up front: Michael Byrne, Jake Weimer, James Stewart, Broc Tickle, Mike Alessi and of course Dungey. Here's hoping we see more good racing, but fewer injuries, this weekend.
It's never too early to start bench-racing over the Motocross of Nations (though I still call in "des Nations" when I talk about it). My friend Geoff Meyer of MXLarge.com asked me if I wanted to have a Skype chat over the event and what to expect this year with Team USA, and we ended up talking a bunch for a podcast. If you have time this weekend and want to hear some Team USA stuff, check it out, as well as the pre-entry list that was released earlier this week.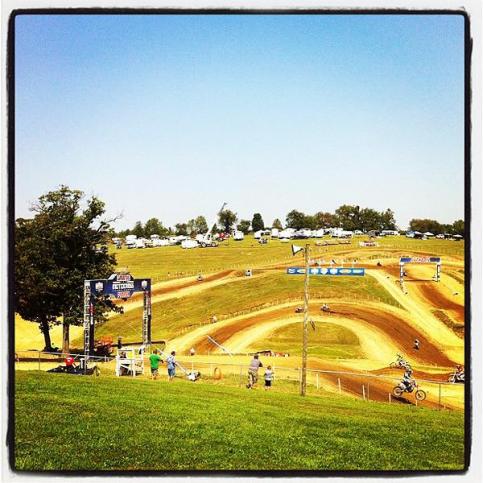 An early look at Steel City.
Also, the GPs are in Lierop in the Netherlands this weekend with the Grand Prix of Benelux. It's a pretty serious sand track, similar to what everyone will be facing at the MXoN in Belgium next month. For a glimpse at how good Jeffrey Herlings and Tony Cairoli are in the sand, check this video out from the Motocrossplanet.
The best we've been able to do so far is make sure Southwick Moto-X 338 was as rough as hell, and it was. And then Roger DeCoster is taking our boys over early to visit some of the old sand spots he knew growing up in Belgium to help get guys used to the soft silica of that corner of Europe.
This weekend's Legends & Heroes of Motocross honorary at Steel City will be none other than "Mad" Mike Jones, the gold-medal-winning FMX pioneer who happens to live right next to the front gate at Steel City (he married Kris Bellora, whose family owns the property). If you're thinking Jones might not be worthy, you have to remember that he was a top-notch 125cc supercross rider in the late eighties and, if not for Denny Stephenson, would have won the 1990 East Region title. But then he got moved up before he had a ride or was really ready for the 250 Class and became a journeyman pro, racing all over the world for start money as an American motocross mercenary.
I would direct you to to The Vault to see all of Mike's finishes, but we were working through a snafu. There are two Mike Joneses in there—one from Garland, Texas, who raced in the seventies, and then this Mike Jones, who's in there many times in the eighties and beyond. Here's a look, pardon the confusion.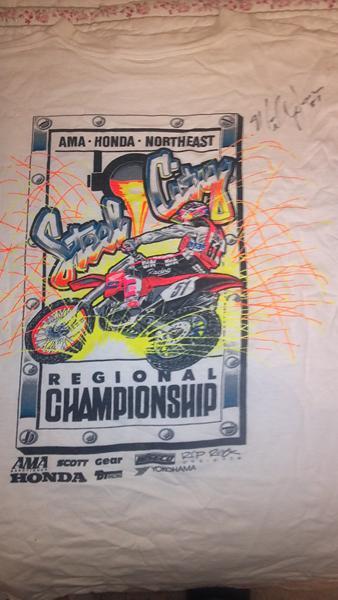 Our old friend Geoff Hardy sent a pic of this old Steel City MX shirt featuring Mad Mike Jones.
A couple of notes from the old school. First, a friend of mine in Europe named Gary Cartmell sent me an email with a photo of a very special bike he bought that has remained locked up for some thirty years, only about 10 miles from Lommel, Belgium, site of next month's Motocross of Nations. It's Roger DeCoster's 1977 RN Suzuki, which he used to defend his '76 500cc FIM World Championship. Cartmell also has rare old bikes that were raced by Gerrit Wolsink, Stefan Everts, Johnny O'Mara, Bob Hannah, Jeff Smith, Jaroslav Falta, Dave Thorpe, and more. Anyway, he just wants to show the bike to Roger next month when he's in town for the MXoN!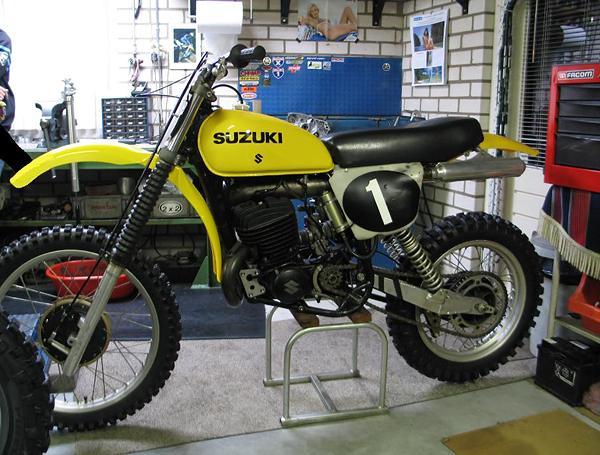 Check out this sweet 1977 works RN Suzuki that was raced by Roger DeCoster.
Next, Roger's old rival Heikki Mikkola got back on a bike recently when he participated in a memorial ride that included more than 100 riders and more than 3,000 people at the Hyvinkää GP track in Finland. We don't see much of Mikkola at the big races, as he's a very busy farmer and businessman now.
Before I get back out there on the track, looking ahead to Lake Elsinore next weekend, there's going to be a lot of stuff going on. There is a brand new track being built by Marc Peters (he sat out Steel City and Mark Barnett came in to do the track sculpting) and lots of activities around the weekend, including the amateur racing at Lake Elsinore and Ricky Carmichael University on Monday, the Road 2 Recovery Golf Tournament (check out this video), open houses at Langston Motorsports and Malcolm Smith Motorsports, the series-ending awards ceremony in Temecula, and even a Team USA press-day deal on Thursday that will give everyone a preview of what #1 Ryan Dungey, #2 Blake Baggett, and #3 Justin Barcia will look like when they land in Belgium the following week. If you're in the Southern California area, it's going to be a very big motocross weekend, so please check it out.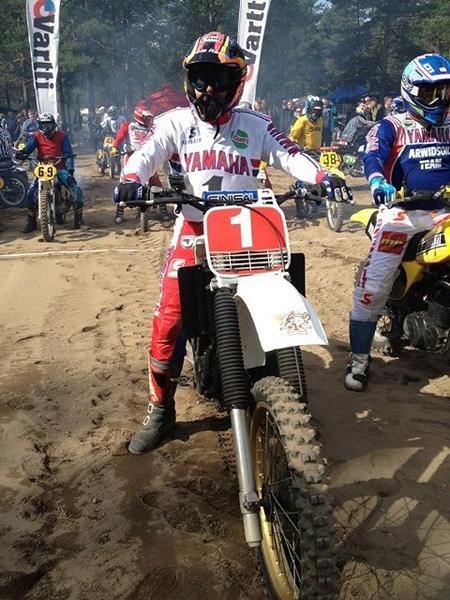 Heikki Mikkola, the three-time FIM World Champion, was back on a motorcycle for a memorial ride in Finland.
Juha Tirinen photo
Okay, here's Steve Matthes:
We're heading to Steel City this weekend, which also happens to be the iconic Jean-Michel Bayle's favorite American track. It's a great track for viewing, and with the weather supposed to be in the 80s with some cloud cover, it should be a great day out at Delmont ... unless demoted Hurricane Isaac (now Tropical Depression Isaac) takes a turn to the east.
One Steel City note: I'm with future GEICO Honda factory rider Zach Osborne, who tweeted that they never should have taken out the cool tabletop section. Some tracks just need to have a signature jump (or jumps, as it were) and these were it for Steel City.
Last year we saw an epic battle between Ryan Dungey and Ryan Villopoto there, RV making a pass for the win in the very last turn in a crushing moment for series momentum. But without Villopoto on hand, if Dungey rides like he did last year again, this thing is over before it began. Both racers pushed each other so hard that by the end, Dungey had a 1:22 lead on third-place Brett Metcalfe!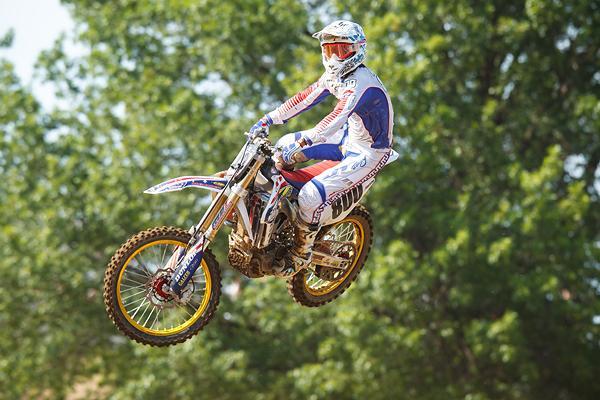 Mike Alessi is still looking for his first overall of the season.
Simon Cudby photo
So while Dungey will probably channel his 2011 self and whip up on everyone, I'd also look for Justin Brayton to bust out of his two-race slump and put it up front somewhere. Brayton's always good at this track—he even won a moto on an MDK KTM 450 (we missed that in our Famous KTM Moments list we did last week). With the badly kept secret of him going back to JGR Yamaha next year, Brayton's no doubt trying to give the Muscle Milk Honda guys some seller's remorse, and on a track that he likes, it's going to be a good one for him.
In the 250 Class, it's no longer just the four musketeers as KTM French fry Marvin Musquin won the overall at Unadilla. He's been picking it up lately and we're going to a track where he scored his first career U.S. podium last year. Steel City is perpetually off-camber and takes great throttle control and technique to ride fast around—a couple of things that are perfect for "Moving" Marvin. Look for another strong ride by him.
Last week on the PulpMX Show we had James Stewart, Chad Reed, Nick Wey, and Jimmy Button on. I wasn't sure how we were going fit everything in—Stewart talking about the MXoN team selections, Reed talking about how he's more into go-karting than moto right now, Wey talking about his recovery from his crash, and Button vigorously defending his client Tyla Rattray's supercross skills—but we pretty much packed all we can into one show, and we'll try to do it again this Monday. Go on over to Pulpmx.com and listen.
Also did a BTOSports.com Racer X Podcast with David Izer of DMXS Radio fame as well as Weege and it really was a conversation that went everywhere and anywhere, kind of like Clint Eastwood last night, only without the empty chair. Just three dorks bench racing on all things moto. Give it a listen if you can.
I hear that Ryan Villopoto back to Kawasaki is pretty much done and that they're just wrapping up the legalese and an announcement should be coming out real soon. Speaking of Kawasaki, Jake Weimer's fallen from third in the points into a tie with Broc Tickle for fourth after a couple of crappy races (his first-moto crash at Unadilla was brutal). Look for Weimer to rebound this weekend with the break coming at a perfect time for Jake.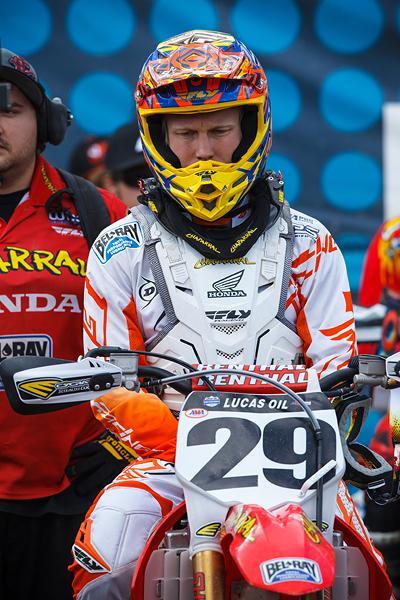 Andrew Short holds an 18-point lead over Jake Weimer and Broc Tickle for third.
Simon Cudby photo
It's never too soon to start thinking about Bercy, and it looks like Weimer's lined up to go back to Paris along with Tomac and Brayton. Not sure on Justin Barcia, though. I'd like to see him there, as he always brings the entertainment with him, and the French fans absolutely adore him, but now being a factory Honda guy, they're not fans of sending guys over to Europe to race....
Wait, this just in: the French fans abhor Justin Barcia, not adore. My bad.
Christophe Pourcel is also supposed to race in Bercy but I've been hearing that for two years now, so when I see him there, I'll believe it.
Thanks for reading. It's 5:37 a.m. here in the United Club in Houston, as I took a red-eye this week to the race. It seemed so good, so cheap when I booked it, but right about now I wish someone would just club me and put me out of my misery....
Here's Weege:
Matthes, anything that is cheap is worth doing. Enjoy.
First up, a pretty cool idea from Kawasaki to hand out some VIP tours for this weekend's race. Get your Twitter account dialed in and play along:
#socialcross is in full swing with Kawasaki, Pro Circuit and Thor having already given away four signed one-of-a-kind jerseys from this weekend and the event is still ramping up. On Saturday fans at Steel City (@SteelCityMX) will have the chance to tour the Monster Energy Kawasaki transporter as part of a morning #tweetup by following @kawaski_racing or have a #tweet&greet with Darryn Durham (@DarrynDurham) before the first moto by following @PCRaceteam. Finally fans can enjoy the race in style as Thor has hidden two sets of VIP Hospitality passes somewhere on site. Follow @thorMXOfficial to get clues on where to find the passes. Fans who are participating are encouraged to use the #socialcross hashtag on all of their tweets to help spread the word.
The riders will even run jerseys with their Twitter handles integrated into their names on the back—check out the Weimer and Baggett gear for the weekend.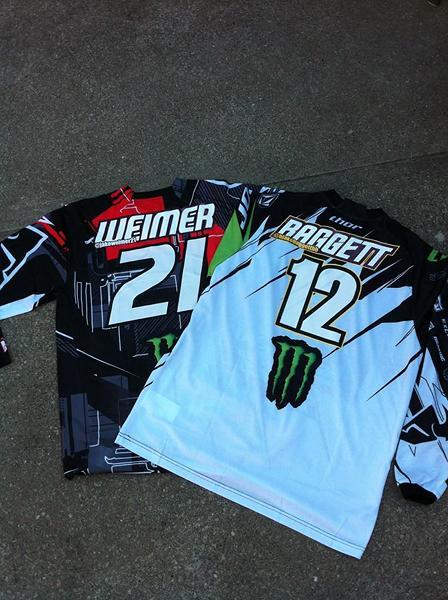 Photo by Gus from Thor
Most of the silly season team switches are pretty much complete by now, but not all the riders, agents, or teams are talking publicly. Normally when a deal gets signed (and that usually happens before the season is over) people will be straight up, but this year lots of people are saying "We can't say anything until the season is over, or until the current deal expires, out of respect to the current team the rider rides for."
But we have a counter move! Sometimes we'll disguise things we know by throwing in terms like "we are hearing" and "rumor has it." Sometimes the things we hear are totally true, and sometimes they are just rumors—by mixing them all up, we can't be held accountable. At least that's the way I see it.
So.... We are hearing things like Broc Tickle perhaps being inked to a revamped Hart & Huntington effort, Just Brayton going back to JGR, and Brett Metcalfe talking about staying with Suzuki but also being courted by Langston-Witt KTM. What are we hearing and what is actually, really signed? Out of respect to the teams, we'll have to let you guess. And by the way, Dean Wilson's Jeff Ward Racing deal had the same "we are hearing" status until the Monday Conversation this week, when Dean just decided to drop some truth on us here at Racer X Online. Much respect for that, Deano.
An added note: Deano got the go-ahead to really start working that shoulder and he is now in full prep mode for 2013. Also, Darryn Durham was here at Steel City yesterday and he's champing at the bit to get out there and ride, but he's still a month away. But he told us he was absolutely loving the look of the gnarly Unadilla track and really wishes he would have been able to race that one.
One of the most coveted spots in the pits remains open. With Dean-O moving up and Tyla Rattray looking for a 450 ride, Monster Energy/Pro Circuit Kawasaki will be shopping for two new Lites riders for 2013. Martin Davalos has one of those spots (or at least we hear he does), but who will be the fourth team member alongside Blake Baggett, Davalos, and Darryn Durham? Could it be someone from the amateur ranks? Most of the big deals (we hear) are actually done, but it will be interesting to see where this final piece of the silly-season puzzle falls. Is Adam Cianciarulo ready? He turns 16 in October.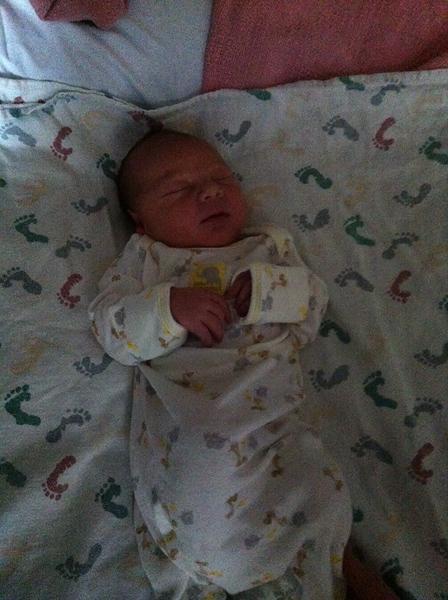 Congrats to John Knowles from SCOTT USA.
Finally, big congrats to SCOTT USA's John Knowles and his wife, Jillian, on the birth of Landen Thomas! Landen came in at 9.5 lbs and 22.5 inches. Knowles is obviously pretty busy this week, so if you see Scott riders like Blake Baggett and Andrew Short wiping their lenses during a moto (because they don't have tear-offs), it's understandable!
Wait, this just in from Knowles. "Now off to Steel City after being up for the last 24 hours." Those who know John know that NO ONE is more dedicated to the craft of building goggles than him!
Now over to Aaron Hansel:
Steel City will be a huge weekend for Blake Baggett, Justin Barcia, and Eli Tomac, and it happens at a track that has a history of serving up crazy finishes and upsets. Remember when Grant Langston saw his championship evaporate when his rear wheel came apart in the final moto in 2001? How about Mike Alessi proving there was some real truth to the hype in '04, rebounding from his disastrous pro debut at Millville with a top-three at Steel City? Travis Pastrana came through with a clutch 1-1 in 2000 to edge Stephane Roncada for the 125 National title, just as Jeff Emig did in his epic duel against Jeremy McGrath in 1996.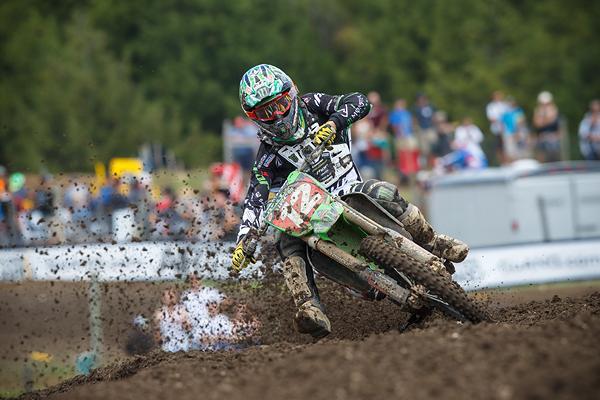 Blake Baggett will try to hold onto the lead at Steel City...
Simon Cudby photo
And what about 1995, where Steel City delivered one of the most poignant scenes in the sport's history when, despite knowing the title was lost, Ryan Hughes pushed his bike up the long, steep hill to the checkered flag after his chain failed on the final lap of the final moto of the year? Heck, Ricky Carmichael even made his pro debut at Steel City in 1996, wearing #768 on a Team Green KX125! I could go on and on, this venue is absolutely packed with history. Check out this feature we did earlier this week if you want to read about more Steel City's history.
Getting back to what I was saying about the 250 Class, it's a huge race tomorrow. Baggett leads Barcia by nearly a moto's worth of points, but like I said, crazy things happen at Steel City, and even a minor electrical problem (like the one Baggett had in practice this year at High Point) or a mechanical issue (like Dungey's broken brake rotor at Steel City in 2010) could put this points race back at bar-to-bar status. Baggett and Pro Circuit definitely have the upper hand out there, but if I'm part of that team, I'm breathing a lot easier when Baggett comes out of the day without any mishaps or big crashes.
If you are a John Dowd fan—and really, who isn't?—check out this fun interview I did with him earlier this week. Dowd bench races on a few subjects including rental-car mayhem with Kevin Windham and beating Vuillemin for the 125 Western Regional Supercross Championship in 1998. Funny stuff—check it out!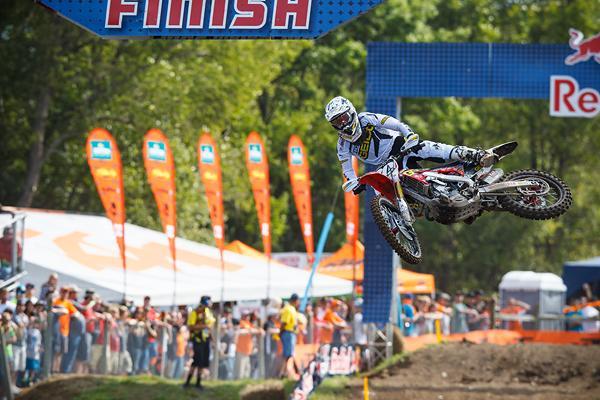 ...While Justin Barcia is left to play catch up.
Simon Cudby photo
Okay, here some random notes to round out the week:
Stone Edler's auction is live on eBay right now. He's the young prospective who was diagnosed with cancer right before Loretta Lynn's. Now his friends are rallying around Stone and his family.
There's also a Facebook page for updates on Stone and all of the auction information.
If you're around the Lake Elsinore area next Friday evening, September 7, make sure you stop by the Grand Open House that Langston Motorsports is hosting. It's from 4 to 8 p.m. and will include lots of product giveaways, VIPs like Ryan Dungey, Ken Roczen, Marvin Musquin, Malcolm Stewart, and Brett Metcalfe, and will help get the Lake Elsinore weekend kicked off. Langston Motorsports is located at 1622 Illinois Ave., Perris, CA 92570 (Phone: 951-471-8205). For times and directions go to www.langstonmotorsports.com.
Check out highlights of the Africa Continental Motocross Championship, which took place over the weekend at the Busiika Uganda Motorsports Arena. The host country of Uganda would capture the title, finishing 66 points ahead of second place Kenya.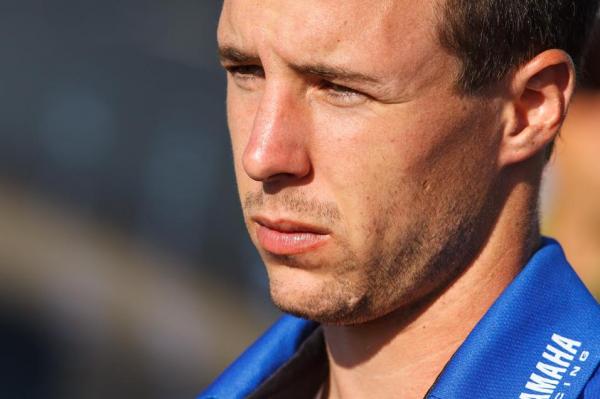 Star-Valli Rockstar Yamaha's Kyle Cunningham will be back in action at Steel City.
Simon Cudby photo
We got this note from Racer X reader Tim Caruso, who's interested in getting back into the sport as a transport driver:
"I started racing when I was 13 years old. Worked on my own bikes, so I have some mechanical knowledge of bikes. I turned pro in 1999 and fractured my back in 2001 and stopped racing. I started working for the Butler Brothers MX team at the end of 2005. I was their truck driver and a mechanic for Karsten Butler and Shaun Skinner during my time at BBMX. I pulled double duty. In 2009 I started working for MDK Jagermeister KTM as their truck driver. I had to come off the road for a couple of years to help my wife with our newborn daughter. Now that she is four I am ready to get back in the industry and drive for a team again. If anyone has an opening, please contact me at Tim.Caruso@carusologistics.com. Thanks!"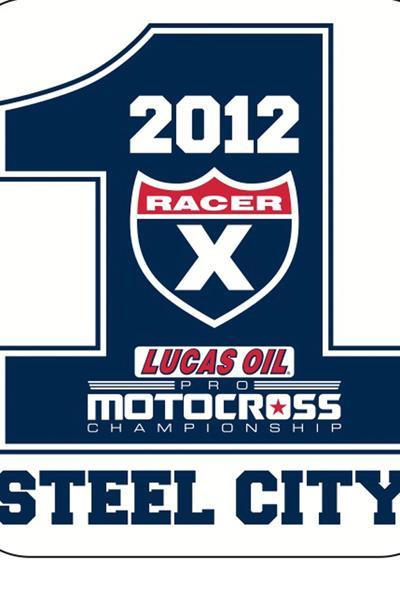 Don't forget to pick up your Steel City event sticker at the Racer X booth on vendor row! Spend the day at Steel City in the pro pits with the Racer X all-day pit pass, also available at the booth. There are a limited number of these passes available, and this is the only way for you to get into the pro pits past noon. Spend five more hours in the pits!
For $40 you get 12 issues of Racer X plus an all-day pit pass, good from 9 a.m. - 5 p.m. You can get the subscription for yourself or send it as a gift when you fill out the subscription information. If you need to buy more than one pass you can get a multi-year subscription to the same address.
If you already have a pit pass but would like to subscribe or renew at Steel City, we are also offering two pint glasses with a one-year subscription. Only $20 gets you Steel City and Racer X glasses.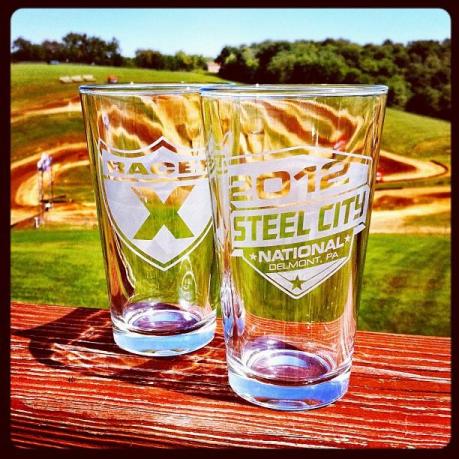 We're also selling various Racer X Brand items—tees, koozies, umbrellas, etc. If you're looking for some new RX threads, stop on by. Ask about our PITT package for Steeler fans!
That's it from Steel City. Thanks for reading Racerhead, see you at the races.