Steel City Raceway
Delmont

,

PA
Steel City
Lucas Oil AMA Pro Motocross Championship
At this stage, we're pretty sure most of our readers have checked out The Vault. After all, it's the largest and most comprehensive listing of results in the history of AMA motocross and supercross. If you're one of the stragglers who has yet to visit The Vault, what are you waiting for? It contains every famous and obscure result from every rider, race and season. Before you know you it, you'll kill a whole afternoon in there!

This week we're opening The Vault to highlight Steel City, the host site for this weekend's stop on the 2012 Lucas Oil Pro Motocross Championship. Regarded as one of the most picturesque venues on the circuit, Steel City is one of two Nationals held in Pennsylvania (High Point is the other), and is built by Marc Peters, the same track builder responsible for High Point, Lake Elsinore and the Red Bull AMA Amateur National at Loretta Lynn Ranch. For many years Steel City served as final round of the series, so plenty of down-to-the-wire showdowns have taken place there, as well as tons of other interesting races, as you're about to read. So, make sure your boss isn't walking by your cubicle, slip on your virtual motocross gear and get ready for the gate to drop on another motocross history lesson, courtesy of The Vault.

The first race held at Steel City took place in 1988. Erik Kehoe topped the 125 Class while Rick Johnson was victorious on a 500.
[Click to view 1988 125 results]
[Click to view 1988 500 results]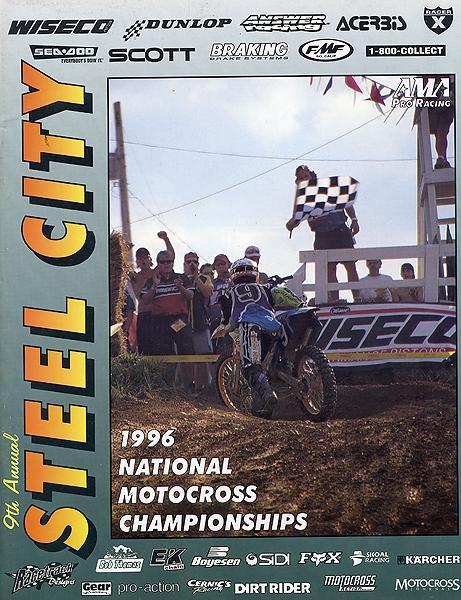 Heart and determination from Ryan Hughes in pushing his bike through the final two turns at Steel City in 1995.
Steel City is not a venue known for producing first time winners. In fact, Jeff Matiasevich and Tommy Hahn are the only riders who have recorded their first victories here. Matiasevich did it in 1989 on a 125, and Hahn did it on a 450 in 2009. Also Grant Langston scored his first-ever 450 overall win there in 2007.
[Click to view 1989 125 results]
[Click to view 2009 results]

The 1995 season provided one of the most exciting points races in the history of the 125 Class. Steve Lamson, who had missed part of the season with a knee injury, and Ryan Hughes lined up for the final moto of the year at Steel City tied in points. Lamson would take control of the moto, while Hughes' chain snapped on the final lap of the moto. Hughes knew his championship hopes were over, but that didn't stop him from dismounting and pushing his bike through the final two turns and up a steep hill to cross the finish line. It was a tremendous show of heart and determination that will forever live on in the memories of the fans that were there that day. The moto can be seen here. The footage of Hughes pushing his bike begins at roughly the 43-minute mark.
[Click to view 1995 results]

In 1996, Jeremy McGrath and Jeff Emig had been going at it all year. McGrath started the year out strong, but the momentum shifted in Emig's favor when McGrath cased a huge table-to-table jump and injured his foot at Spring Creek. Coming into the final race of the year at Steel City, just two points separated the sport's biggest rivals of the era. Emig holeshot both motos and rode to a flawless 1-1 on the day to take the 250 National Championship.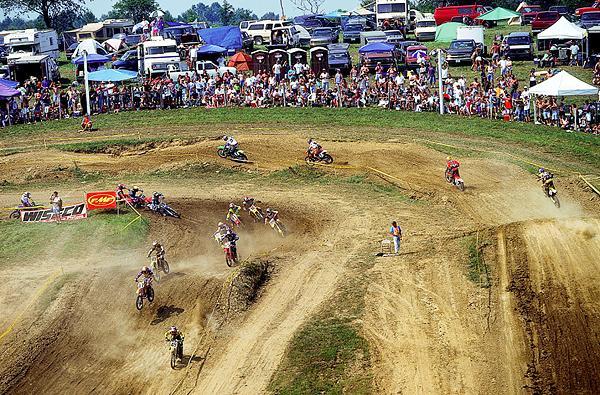 Jeff Emig would come out on top of Jeremy McGrath at the 1996 finale at Steel City.
Jim Sanderson photo
Early in the 2000 season, the 125 National title looked like it would be Stephane Roncada's to lose, but thanks in part to a knee injury, Roncada would see his points lead shrink dramatically. By the time the final round at
Steel City
arrived,
Travis Pastrana
was well within striking distance of Roncada. Pastrana had to win both motos in order to win the title, which he did, despite pressure from Roncada in the second moto.
As previously mentioned, Steel City served up heartbreak for Ryan Hughes in 1995. In 2001, it did the same thing for Langston. The 125 National Championship had come down to the final moto between Langston and Mike Brown, and when Brown suffered a crash early in the second moto, Langston put it on cruise control and was looking good to bring home KTM's first AMA National Championship. Then, spokes started coming out of Langston's rear wheel. The wheel eventually collapsed, and Langston was left sitting in the dirt in tears while Brown celebrated a National Championship.
[Click to view 2001 125 results]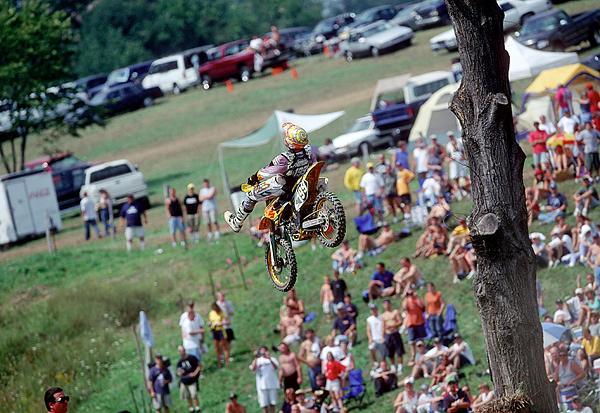 Travis Pastrana ignites the fans in 2000 en route to the title.
Jim Sanderson photo
Due to a perceived arrogance coming from his camp, young Mike Alessi was wildly unpopular when he made his pro debut in 2004. Several riders hinted that they wouldn't hesitate to take Alessi out if they had the chance, prompting his crew to wear shirts that had a picture of a target on the back. The shirts also bore the now infamous line, "Believe the Hype." Alessi ended up finishing thirtieth in his pro debut on a 450 at Spring Creek that year, but he rebounded and really turned heads at his next race at Steel City by going 5-4 to land on the podium in just his second race as a pro behind behind Ricky Carmichael and Kevin Windham.
[Click to view 2004 250 results]
Much like this year, Ryan Dungey was dominating the Nationals in 2010, but a victory at Steel City would elude him when a broken front brake rotor forced him to retire from the first moto. Kevin Windham ended up taking the moto win, and went on to take second in moto two for the overall. Windham, Dungey and Chad Reed were the only riders that stood on top of the 450 box that year--and it appears that race will mark the final AMA National Motocross win of Windham's superb career.
[Click to view 2010 450 results]

Head over to The Vault and share your own interesting findings and special memories from Steel City in the comments section below.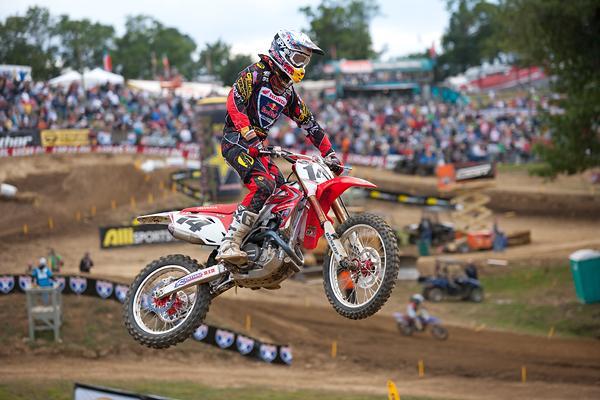 Kevin Windham won, maybe, his last National at Steel City in 2010.
Andrew Fredrickson photo