Steel City Raceway
Delmont

,

PA
Steel City
Lucas Oil AMA Pro Motocross Championship
It's hard to find a time when Munn/Ankle Savers KTM's Tevin Tapia isn't smiling. And the Washington native with a contagious smile is quietly having a good season. Since making his professional debut in 2010, Tapia has been a fixture for Munn KTM, forming a bond with the team and his teammates. As the 2012 Lucas Oil Pro Motocross season draws to a close we caught up with the Tapia earlier this week as he was preparing for Steel City.
Racer X: You are nearing the end of your third year as a professional. How would you rate this season compared to your first two professional seasons?
Tevin Tapia: I would probably rate this season as my second best, I guess. My rookie season was probably my best, but my second season was good at all. I wish I could take that season back and just redo it all together. This season has been going good. I'm still healthy and haven't really had any problems. I'm still learning a lot and still having fun, which is the best part. We have two more rounds left and hopefully I can get a few top-15 finishes like I want and show everyone that I can get there.
Unadilla proved to be a tough track for many riders, including yourself—you had a pretty nasty get-off in practice. How did the track measure up for you?
It was different. I have never ridden Unadilla like that. It would catch you really quick; you definitely had to be on your toes the whole time. It was challenging for sure, and as you could tell a lot people got hurt. I actually could of gotten hurt myself—I had a bad crash in practice and also the first moto. I even called my dad after the practice crash and told him I haven't crashed that hard since I was on 80s. I rag dolled and flipped two times while pinned wide open on the mechanics straight. I was lucky enough to walk away from that with no injuries. Overall though, the track was challenging, but it was fun. I'm from the Northwest and I like ruts, and it was "Rutopia" out there so it was pretty awesome.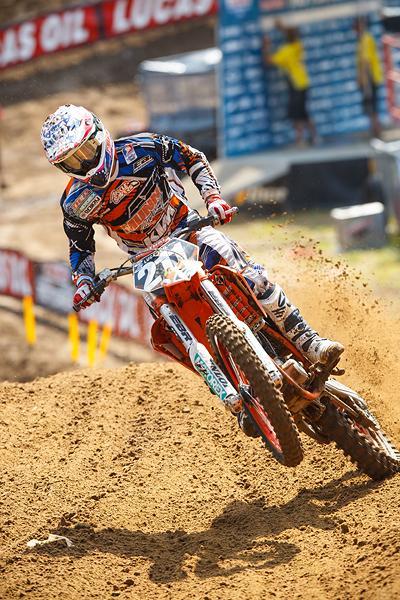 Tapia currently sits 29th in points through ten rounds.
Simon Cudby photo
Let's back track and talk about your deal with Munn/Ankle Savers KTM. You didn't start the season with the team, correct?
No I didn't. I was with Munn for two years and then they kind of changed up their program and I wasn't on the team—which was a bummer. But Chip Munn, from Munn Racing, cares a lot about me and I spent a lot of time with him and he always does what he can do for me. There was a spot available for me to race the 350 on the East [Monster Energy Supercross season] and he gave me the okay. I went out there the next weekend without any practice on it and raced it. I did okay, I didn't make any mains but I learned a lot and it was a great experience. I had never raced the 450 Class, so being able to line up with [James] Stewart, [Chad] Reed, [Kevin] Windham and those guys was crazy. The deal carried over into outdoors, which I was happy about. I was really happy that he stuck with me for this season and hopefully into next year.
A lot of guys are starting to sign or re-sign with their respective teams. Have you been in talks with Munn/Ankle Savers about returning for next year?
At the moment I don't have anything together. Munn is the type of team that kind of goes race by race. We just like to focus on the next race. Hopefully we can get something going for next year. I wish I had something together for next year or not so that I know whether I need to a get a bike or not. It's a stressful environment but I know God has a plan for me and I'm just waiting for it.
Do you feel that adds extra pressure these last two rounds?
No pressure. I know what I have to do. I look at it as motivation. I try my hardest every time on the track and I'm working hard. Hopefully my work ethic and motivation can get me to the next level.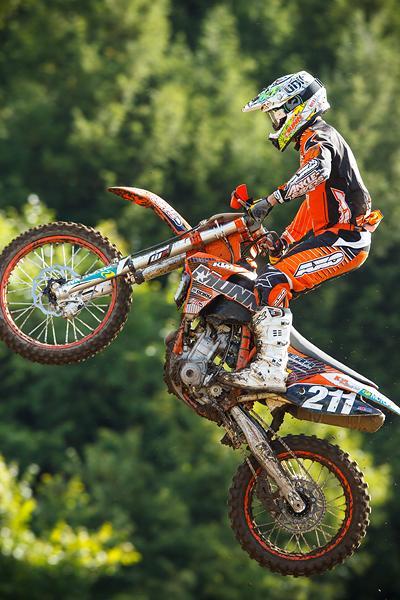 After a big crash in practice, and the first moto, Tapia struggled to 34th overall at Unadilla.
Simon Cudby photo
Earlier this season you caught some heat for holding up the leaders while being lapped on two occasions. Can you give us your take on it and how you felt about situation?
I keep telling people it's there fault because they're going so fast!  [Laughs] I'm battling for 16th place and they're lapping me. [Laughs] When [Ken] Roczen was lapping me I didn't even know he was coming until I jumped down the downhill and he was there. Me and Ken talked about it and he was mad at the time, but I apologized for it and he knew that I didn't do it on purpose. With Justin Barcia it was his fault, I'm sorry. I got way out of the way and I don't know what he was thinking. Justin can get mad about that stuff but I talked to him after the race and he wasn't mad about it. That was actually the same bike that took him out in supercross with Lance Vincent, so I think that bike is magnetized to him or something. [Laughs]
You have a reputation of being on of the nicest guys in the pits. Always flashing a smile. You always seem like your enjoying yourself even on your bad days.
I just feel that I'm really blessed with my life. You are never promised tomorrow so you have to live everyday like it's your last. You don't want to go out being a jerk. I'm happy whenever I'm at the track racing and hanging out with my friends.
It seems like you also have a great relationship with some of the other guys at KTM, specifically guys like Malcolm Stewart and Sean Hackley Jr.  Does it make it easier to enjoy being at the races on your bad days?
Yeah, it really does. Especially with Malcolm, he helps me out a lot. My team isn't able to get me a hotel every weekend and Malcolm is there to help me out. He is definitely a good friend to have.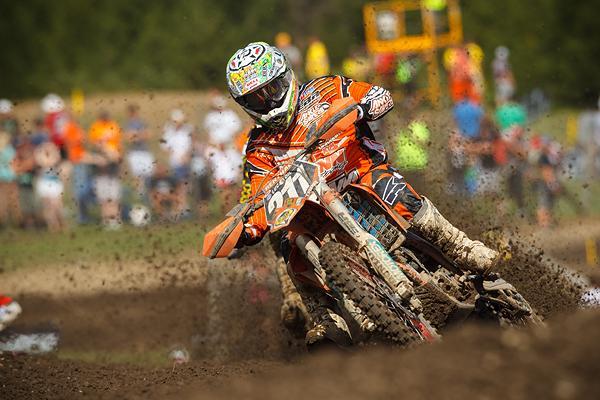 Tapia has yet to sign a contract for the 2013 season.
Simon Cudby photo
You just celebrated a big milestone in your personal life, turning 21. What did you do to celebrate?
Yeah, I just turned 21 yesterday. [Tuesday] To be honest, I didn't really do too much. Malcolm and I went to a hibachi grill and then went and caught a movie. I did have some sakai at the hibachi grill which was pretty cool.
We are in the midst of a two-week break. Is it rest and relax for you, or business as usual?
Well, I guess yesterday [Tuesday] was a relaxing day. But you have to get back on the ball. I'm actually about to go training right now. Going on a run and then getting some motos in, so I guess its business as usual.
Who would you like to thanks for helping you out this season?
Munn Racing KTM, Ankle Savers, EBR, Motorex, Enjoy Graphics, DEP Pipes, ODI Grips, Cycra Plastics, DC Shoes, Unit Clothing, Dragon Goggles, Bell Helmets, Novik Gloves, AXO Gear, Kicker, my mom and dad, and Jesus Christ.