Unadilla Motocross
New Berlin

,

NY
Unadilla
Lucas Oil AMA Pro Motocross Championship
Welcome to Racerhead, coming to you from the press tent at a presently saturated Unadilla Motocross Center in New Berlin, New York. Tomorrow's Red Bull Unadilla National will be live on TV all day long, starting at 12:30 p.m. Eastern Time on FUEL TV, switching over to NBC network TV at 3 p.m. for the second 450 moto, and concluding at 4 p.m. on NBC Sports Network (thank God the Olympics are finally over).
You can also watch the first motos as they stream live on
www.allisports.com
. Now I know someone will grumble that it's hard to keep switching the channel, but that's what happens when you try to show four different races, in two different championship classes, across one four-and-a-half-hour window. In a perfect world this would be streaming live right now on the Motocross Network, but we're just not quite there.... So be careful of the arm-pump and just be ready to make all three of those clicks to see every lap of
Unadilla
on live television, and then go do some racing yourself on Sunday!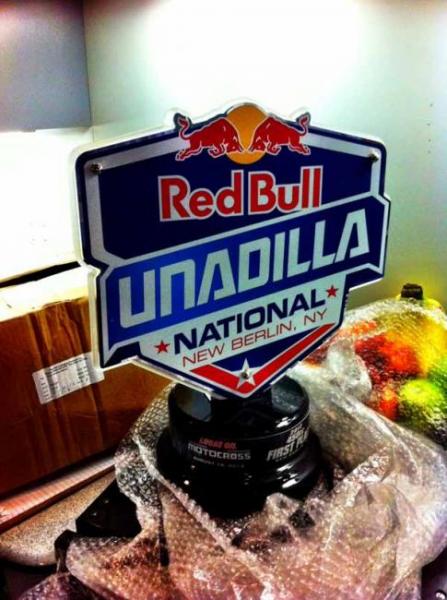 Tomorrow's races will be live all day long on FUEL, then NBC, and then NBC Sports Network.
DC photo
You certainly know by now about all the drama that happened at Southwick, from Ryan Dungey's bizarre second moto (for the second year in a row!) to another hunting-down-and-bagging of Ken Roczen by Blake Baggett in the 250 Class. If you missed any of the motos from the dramatic Southwick National, here's the archive of all four motos.
This week, it could all be completely different. Roczen and his teammate Marvin Musquin, a solid second in the first moto, are on the track with the most European roots, so they should feel right at home at 'Dilla. And I'm sure Eli Tomac knows he threw that one away last week when he clipped the same tree that tackled both his GEICO Honda teammate Justin Barcia and Eleven10 Mods' Alex Martin and crashed away the win. (Note to Ralph at Southwick: We need to move the tree out at the Buckley Berm, or move the berm out; it was cut too close this year and the track was so gnarly rough that the riders kept going farther and farther in.... And why was the track so rough? Think of it as a group practice under race conditions for Team USA.)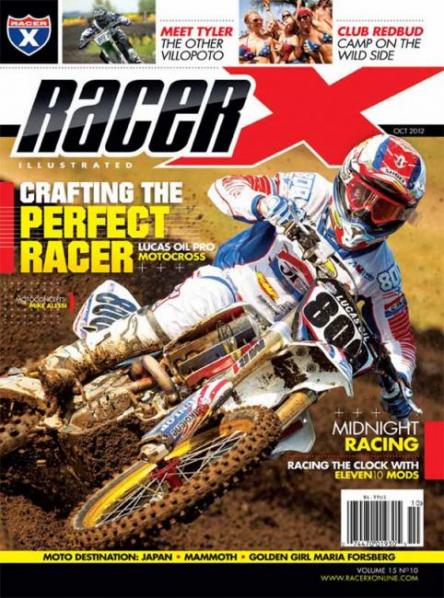 Mike Alessi graces the cover of the latest issue of Racer X Illustrated.
Simon Cudby photo
Ryan Dungey is getting very close to wrapping this 450 Class title up—his third Lucas Oil Motocross title in four years—but it's about to get much more interesting because James Stewart is back and hoping to regain the form that carried him to wins in each of the first four motos of this championship. Stewart was riding this week at Lake Elsinore with the Yoshimura Suzuki team and Racer X Films' Matt Francis was there for this cool video.
Speaking of Stewart, I'm not sure, but it seems like it's been since James's perfect run through 2008 that a series champion has held the points lead from start to finish. We didn't have a red plate for the points leader back then, but we do now, and it's been on Blake Baggett's bike since the end of the first day at Hangtown....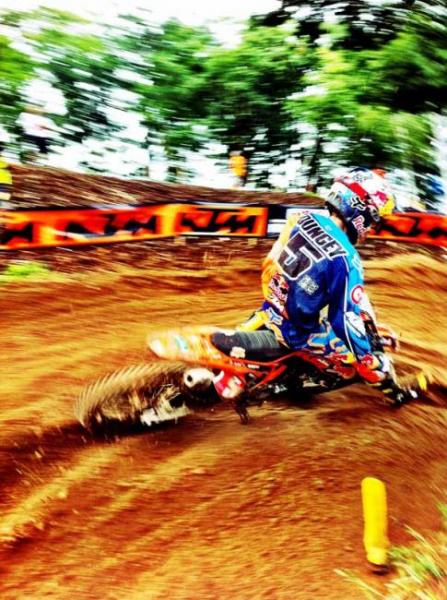 Ryan Dungey rails to the inside of the old Buckley Berm.
DC photo
Interesting point that Jeff Emig made about the first moto, where Zach Bell holeshot and then held the lead for nearly twenty minutes over his GEICO Honda teammate
Eli Tomac
: "The two of them really came together at right about the eighteen-minute mark, which is the length of most amateur races...."
I don't know what Mike LaRocco and the rest of the gang tell kids like Zach Bell before they make their pro debuts, but Zach is the third GEICO Honda rider in the last four years to lead his first pro race, and Josh Grant also did it way back when he debuted! Justin Barcia was incredible at Glen Helen '09 and Eli Tomac actually won Hangtown '10. Bell is back again this week on the #167 Honda after dropping out after his crash, so look for another fast start from this light-as-a-feather teenager.
Now it's Jeremy Martin's turn to be the new kid on the track as he makes his delayed debut aboard the Star Racing/Valli Motorsports Rockstar Yamaha. Jeremy was out here for press day yesterday, and he was putting on quite a whip show on the #144 Yamaha YZ250F. I can picture him doing very well tomorrow, because like his big brother Alex, he's a hard trainer who won't get tired, even if he has been off for a few weeks with a tweaked shoulder.
We've been doing Match-Up Week with our Moto Plates over on the American Motocross Facebook page, finding similar plates from our vast library of motocross-inspired plates and placing them together with a Diptic program. But we didn't have room to run all of the "Braaaaps" we have in the file, so here are a few: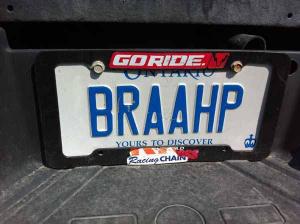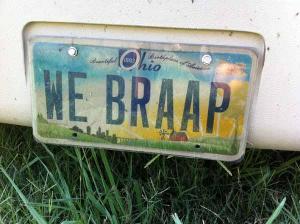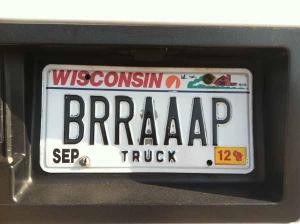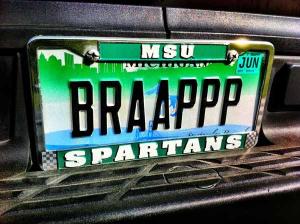 And one more!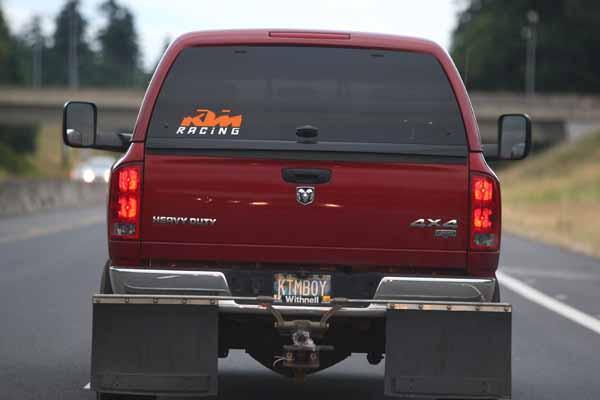 BrownDog Wilson caught this Moto Plate on the way to Washougal,
The other big announcement at
Southwick
was the 2012 version of Team USA, which will be seeking an eighth straight Motocross of Nations win in Lommel, Belgium, next month. Roger DeCoster decided to tab points leaders Dungey and Baggett, of course, but he went outside the box by passing over 450 series runner-up
Mike Alessi
and even the sidelined
James Stewart
to move
Justin Barcia
up to a 450. The Man pointed out that he needed all the guys to work together as a unit, and also wanted to make sure they had full support from their various OEMs, which Dungey, Baggett, and Barcia all do. (And yes, Roger called the injured
Ryan Villopoto
to see if he might be ready, but RV1 had to pass on the chance in order to continue rehabbing his knee.)
If there was a Team USA for good guys, I think it's safe to say that Mike McDade would be getting a whole bunch of votes right now. What he did last week in helping downed fellow rider Wil Hahn after their second-turn pile-up was downright impressive on many, many levels. We focused on McDade for The Moment this week.
As the Team USA lineup was being rolled out, I asked a few guys what they thought about the importance placed on team chemistry.
"For Americans, the whole thing is to win and to bring the trophy home," offered Jake Weimer, a veteran of the 2009 MXoN. "From everything I've seen, and from what I saw when I went, you're pretty much secluded together anyway, so it's easy to put your differences aside and help each to win the thing, because that's why you're there."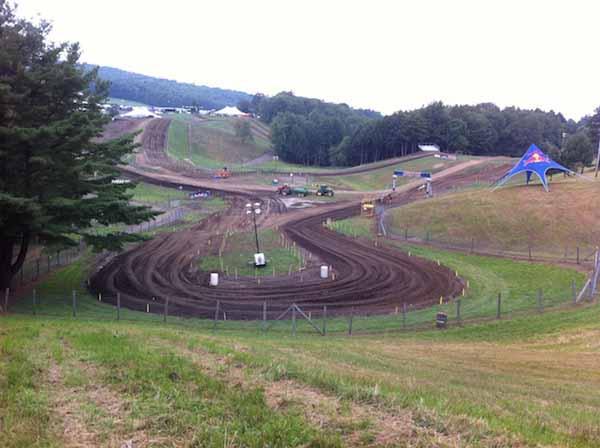 An early look at Unadilla.
DC photo
I asked Jake if he really thought Baggett and Barcia were going to go tour Belgian castles and museums together. "I don't think they will be going on any fairy rides together, but I believe on race day they will be doing what they need to help each other be successful and win."
Baggett told me he's been staying at Villopoto's place and riding all of his sand tracks, along with
Tyla Rattray
and
Jake Weimer
. I asked if Villopoto himself was actually riding now. "Oh, man, I can't give that away," he laughed. "Okay, I can tell you this: There were four guys on the track last week." But RV has been riding bicycles since "day three after surgery."
I asked Rattray to explain the differences between the sand in Southwick and the sand at Lommel. He would know, because he's one of the few guys who have raced both tracks, and he always does quite well at the 'Wick: 250 Class wins in '10 and '11 and a first-ever 450 moto win for both himself this time around.
"They have their similarities in that they both get really rough, but Southwick has a hard base and it does get slippery, whereas at Lommel the sand keeps going down and down and down—there is no hard base," Rattray said. "It is tricky to ride [at Southwick] because we're running practically a scoop tire on the back, so where it's hard it doesn't work so well."
Oh, and here's the TV ad for the 2012 Motocross of Nations.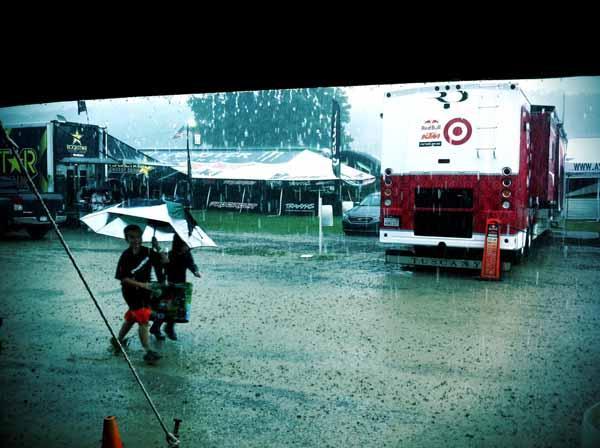 We have gotten some rain today at Unadilla.
DC photo
Speaking of the MXoN, the home team was quietly announced this week: Clement Desalle, Jeremy Van Horebeek, and Ken De Dycker. While it lacks the star power of someone like Stefan Everts or Roger DeCoster, the Belgians will be formidable in the sand. Don't count them out—they've been waiting thirty-one years to avenge their defeat at Lommel to the Americans back in 1981.
Also, according to his tweet,
Chad Reed
will not be lining up to race at the MXoN. He is still on the mend from his huge crash back in February and is getting himself fit for 2013 Monster Energy Supercross—though we may see him back by the Monster Energy Cup in Las Vegas in October. Reed won a moto at the MXoN for Australia last year and helped get them on the box for the very first time. Now, with both him and
Brett Metcalfe
out, it's going to be a tough go for whomever the Aussies send.
Another very fast man to count out of the MXoN is Tyla Rattray. He told me at Southwick that he's going to get the plate taken out of the hand he fractured back at Hangtown. Rattray is a superb sand rider, as he showed in winning that last moto at the 'Wick (and the two previous Southwick Nationals in the 250 Class). I was stoked to see him add his name to visiting foreign riders who have won premier-class motos here going all the way back to 1972. Here's The List of men he's joined.
You'll notice that Brett Metcalfe is not on the list—he's never won a moto in the 450 Class, but he did win the Southwick overall last year, so he probably should have made it on there! Sorry, Metty, and good luck with that baby.
Of course Team USA did not include Ricky Carmichael, whom I mentioned to be a very, very distant long shot last month. But he will be doing something cool in September: He's taking his highly acclaimed Ricky Carmichael University to Lake Elsinore Motorsports Park on the Monday after the finale for the 2012 Lucas Oil Pro Motocross Championship. Carmichael, who showed everyone at Loretta Lynn's that he's still very capable and competitive on a bike, will be offering daylong instruction, riding, and bench racing to everyone who signs up for this unique opportunity. No matter how fast you are, how old you are, or what your future moto plans are, if you're up for a great afternoon of riding and hanging out with the likes of RC, Jeff Emig, Jeff Stanton, and more, check this out.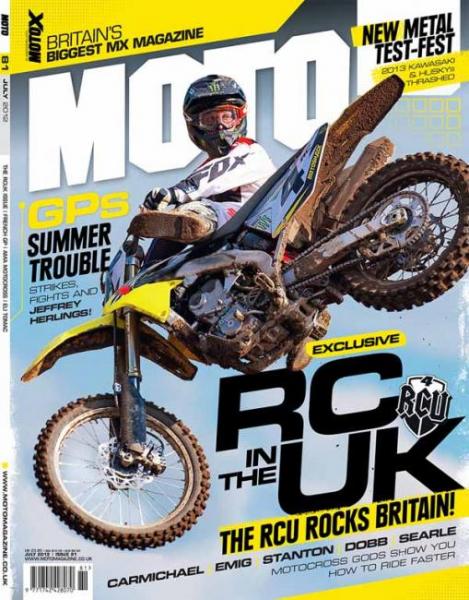 Ricky Carmichael graced the cover of MOTO in the UK after visiting there in June with his RCU program.
More on Team USA: I asked Monster Energy Kawasaki's Jake Weimer whether he thought Blake Baggett and Justin Barcia would be able to get along as teammates over in Belgium for two weeks. (All of our guys are leaving the Monday after Lake Elsinore so that they can get some sand-riding in and also work out the new FIM spec fuel they have to use.) Weimer answered, "In my experience, no matter what color bike you're on, that whole race is a such a big deal that everyone puts their differences aside and really works together."
There are actually three versions of Team USA for motocross this season. There's the real Team USA for the Motocross of Nations in Belgium, which will be preceded by the Veterans MX des Nations—with Ronnie Lechien, Ryan Hughes, Jeff Ward, and Jeff Stanton—at Foxhills in England the week before.
And then there's Team USA Junior, six young riders who will take on the world next weekend at Sevlievo, Bulgaria. The American kids will race 65cc, 85cc, and 125cc (two per class) in an attempt to win a third straight FIM Junior World Team Championship. The 65cc team members are Conner Mullennix and Parker Mashburn. Both riders will race KTM Orange Brigade 65s. Monster Energy Kawasaki Team Green rider Austin Forkner and Suzuki amateur support team rider Jake Pinhancos will race the 85cc ranks. And Jerek Balkovic and Jordon Smith will be aboard the 125cc bikes. Balkovic rides for Cernic's Racing Yamaha; Smith rides a Farren/PR2 Racing Suzuki. These kids are hoping to follow in the footsteps of Team USA alumni like James Stewart, Ryan Villopoto, Broc Hepler, Davi Millsaps, Blake Wharton, Eli Tomac, and Joey Savatgy.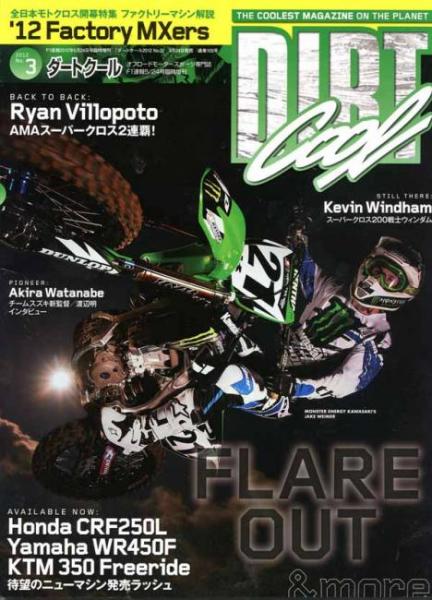 Jake Weimer scored the cover of Dirt Cool in Japan.
The AMA's Kip Bigelow and KTM North America Amateur Motocross Support Coordinator
Mike Sleeter
will organize and manage the team in Europe, and Sleeter himself is coming off a Red Bull AMA Amateur National Championship win in the Two-Stroke class at Loretta Lynn's. The AMA and the FIM North America, along with team sponsorship from Cernic's Racing, Super Sketch, VP Fuels, Dunlop, and Dirt Shirts, are all backing the team. Also, the kids will keep fans up to date with daily updates on
the team's Facebook page
and
Twitter account
, as well as on their Instagram account (Teamusjrmx).
If you would like to donate to the Junior World Motocross U.S. team, you may do so by contacting Kip Bigelow at the AMA by email at kbigelow@ama-cycle.org. You can also look for a full feature write-up on the event coming up in the pages of Racer X Illustrated.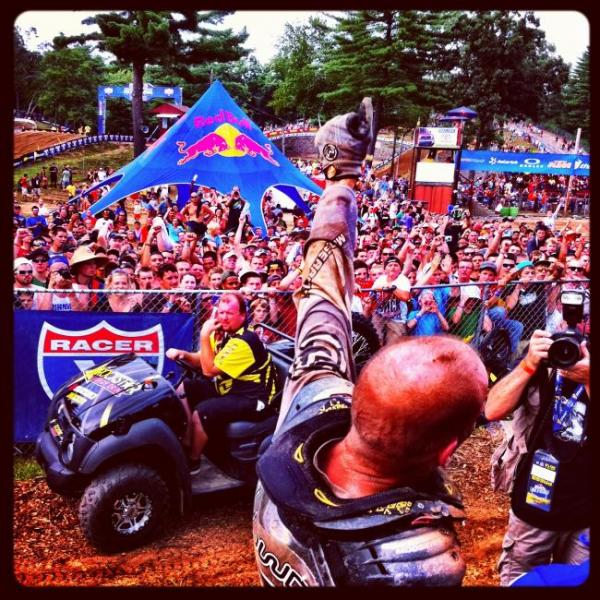 The old man put on quite a show last week for the Southwick faithful.
DC photo
Both
Mike Brown
and
John Dowd
put on quite a show last week at
Southwick
, and both have surpassed the 25-point mark to maintain their national numbers for another year. And I just saw Kenny Germain pushing his old buddy Dowd's #16 through tech, so John is signed up for tomorrow's race for sure.
One man we won't likely see is Tommy Hahn, who, according to reports on Twitter and VitalMX, got himself banged up pretty good yesterday while practicing in Texas and had to catch a ride to the hospital in a helicopter. Tommy looked great last week in the first moto, so I hate to hear that the Muscle Milk Honda fill-in rider is back out.
Make sure to check out highlights from press day courtesy of Matt Wozney of MXPTV.
Let's start with Ping:
I think if Blake Baggett wins this championship he will look back at the Southwick round and count that as a turning point in the series. Not that he wasn't getting it done prior to that, but Barcia had been putting on a run and closing the points gap. He was headed to his hometown race for Factory Connection and the GEICO Honda team. It was his race to win. But Justin had his struggles and Blake came out with a big, big win and a larger cushion in the points chase. I spoke with Bones at Pro Circuit this week and he said the PC guys were all kind of surprised with the way the weekend went.
"We thought for sure that
Southwick
was going to go Barcia's way, and we just wanted to minimize the points loss," Bones explained. "To come out of there with a win was amazing. We're still walking around the shop surprised about it." No time for counting chickens, though—there are still three rounds left to race. Bring on
Unadilla
.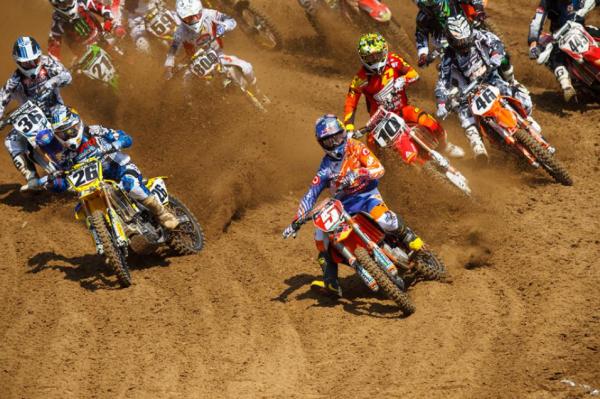 Ryan Dungey looks to make it eight straight this weekend at Unadilla.
Simon Cudby photo
Who thinks Stewart can run down Ryan Dungey on one of the roughest, toughest tracks on the circuit? I'm not sure how it will go down, but I'm glad to see Stewart back in action, and I think even Dungey fans will agree with that. Speaking of Dungey, he can potentially wrap this title up this weekend. How huge is this for KTM? Well, it would be like Jamaica winning the bobsled competition at the Olympics. It's a pretty big deal. I'm guessing you'll see a lot of KTM brass from Europe at Unadilla and one heck of a party if he clinches it.
For those in Southern California interested in seeing Beaumont Hills turned into a legal riding area, you will want to attend this meeting:
"The OHVR Commission will hold its regular quarterly meeting on Wednesday, August 15, 2012 at 6:30 pm at the Park District Headquarters located at 4600 Crestmore Road, Jurupa Valley, CA 92509."
All meetings are open to the general public. Beaumont is one of the proposed sites and the others are so far out in the desert you would never use them.
Anybody remember how awesome the R&D minibikes used to be back in the 1980s? George Holland, Larry Brooks, Mike Healey, Jimmy Gaddis, Buddy Antunez, and many of the other Suzuki-supported riders had some incredible machinery, thanks to R&D Racing. Dean Dickerson is still at it, and his latest creation is being used by one of the best 250 teams in the business, GEICO Honda. These throttle bodies are supposed to improve throttle response as well as torque and horsepower down low. I'm anxious to try one of these things out.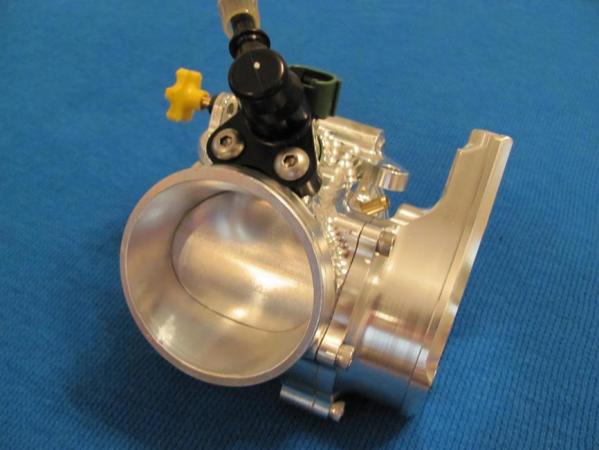 We got a chance to ride the 2013 Yamaha YZ250F this week. The bike is largely unchanged from last year, but Yamaha wanted to reiterate the changes that were made to the 2012 model that made it a competitive machine. Those included going to a 39mm carburetor, optimized CDI, lighter piston and piston pin, revised crankshaft web design and air filter cage, among a long list of changes. They matched those engine upgrades with a revised frame that added rigidity and it did significantly improve the handling of the new machine and completely revised suspension settings from KYB.
We had our standby test rider, Phil Lawrence, come out and ride the 2013 YZF and he looked right at home. Matt Francis shot a video with "Factory" Phil but here are a few of his thoughts on the new Yamaha.
"I didn't get to spend much time on the 2012 bike and I'm surprised how many changes were made to it last year," explained Phil. "I was really waiting for a bog or something since it still has a carburetor, but it never did anything. The engine was strong and it was for sure the best-handling and cornering Yamaha I've ever ridden. I was so comfortable through my turns—it made them a lot of fun. I know there weren't many changes for 2013 but this was like riding an all-new bike to me. It's more than capable of winning races, I'll tell you that."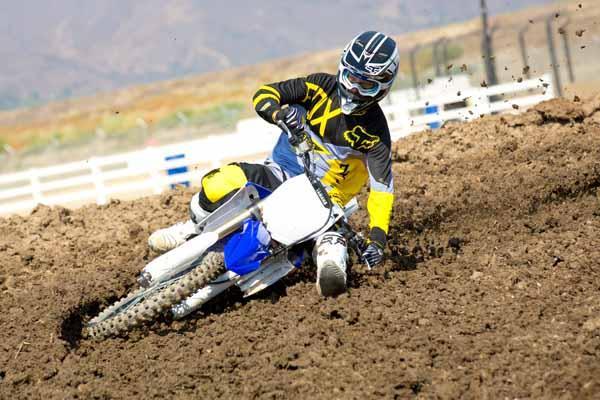 Phil Lawrence tested the 2013 YZF for Racer X this week.
Matty Fran photo
One last bit of silly-season info that I came across today:
Christian Craig
to Langston Motorsports Racing for 2013 on a 450 full-time. KTM is stepping up their support of the fledgling team and Craig is a good hire to help them get to the next level. Nice work, GL.
Here's Aaron Hansel:
Earlier this week I found myself thinking about how important proper bike setup is at the pro level. For the average burger-scarfing, freedom-fry-munching, beer-swilling weekend warrior like myself, a few clicker movements or an extra half-pound of pressure in the tires isn't going to make a difference, but at the highest level, it's a much different story. Proper setup is key, and a big part of that is tire selection, which, thanks to slick dirt and a multitude of rocks, is especially challenging at Unadilla. Wanting to know more about how the pros rubber up at 'Dilla, I grabbed the phone and gave Broc Glover a call. In addition to working for Dunlop Tires, the Golden Boy also has six AMA Motocross titles under his belt, more than anyone else besides Ricky Carmichael.
Talk about Unadilla a little bit, and why finding the right tire setup can be so difficult there.
Unadilla is difficult in general. It has topsoil that appears to be full of traction and kind of loamy, but because that area of the country is full of rocks, there's a often stones that are embedded in the surface of the hard-pack ground that's underneath it. When a rock moves or slides out underneath you, it's like standing on marbles. There's nothing that's going to stick to it, so that's part of the problem. Another problem is that it's got all that topsoil on top, and it looks like it has a lot of loam, but underneath it's really hard-packed. Then when they put water on it you just have slippery stones under the surface and you don't always see what you're sliding on.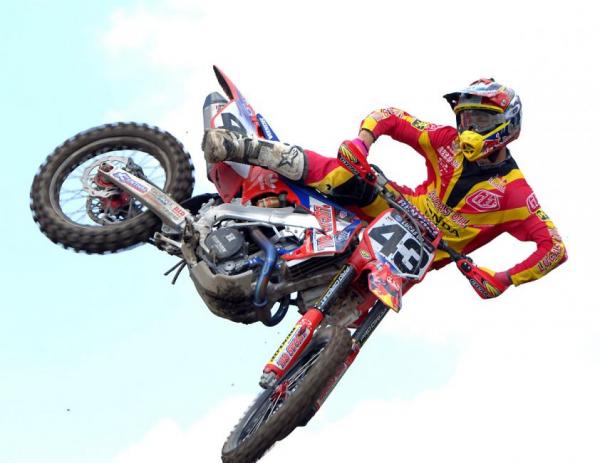 Carl Stone snapped this shot of Christian Craig off at Thursday's press ride at Unadilla.
Carl Stone photo
Is Unadilla the most difficult track to get tire selection right?
I think it's the most difficult track in general for the riders to get traction on because of all the aforementioned things. Washougal is very similar; it's very hard-packed underneath. It looks like loamy dirt on top, but it's like concrete underneath.
On a track Like Unadilla, where finding the right tire can be difficult, do you go through more tires than usual while chasing setup?
We probably do, but we have enough experience, and most of the riders have been to Unadilla enough to know. The first moto a lot of them will run intermediate tires, but in the second moto most of them switch over to a more hard-pack tire or just learn to ride around the slippery sections. There's not a tire that's going to work in every section of the track. We see a lot of intermediate rears and hard fronts. We have our MX71 for the front, whereas the rear will be a combination of a lot of different things. That's kind of normal, because nobody wants to give up the start. If they're on the cusp of deciding between two different tires, they'll choose the more aggressive in the rear because the start is so important.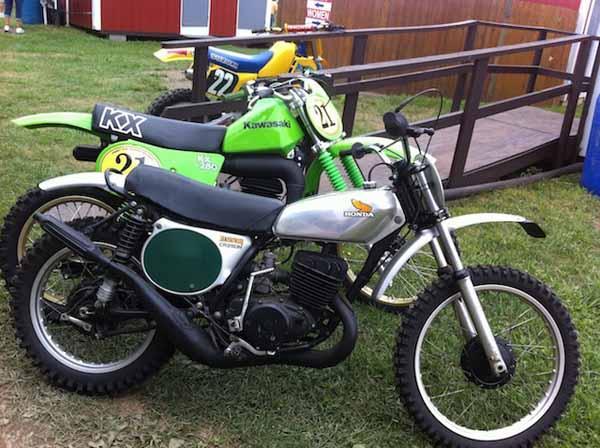 Check out the sweet machinery that Alex Moroz unloaded from the Legends & Heroes semi-hauler.
DC photo
And speaking of legends, first-ever outdoor national winner Barry Higgins will be honored by the Legends & Heroes of Motocross Tour tomorrow. Barry was a superstar before motocross was very big in America—he was born a few years too early to have been in the great mid- to late-seventies group that included Hurricane Hannah, Marty Smith, Tony D., the Jammer, and more. Barry is here, as always up for a good bench race!

Another view of Unadilla.
DC photo
And finally, Team USA 1987 will join the Unadilla Walk of Fame tomorrow, as Jeff Ward and Roger DeCoster will be on hand representing the absent Hannah and Rick Johnson as they are inducted into Unadilla's pantheon of heroes.
Here's Haley:
I could say all I wanted about how awesome the racing in the 250 Class is this year (yet again) and how important these last three rounds are to Blake Baggett, Justin Barcia, and Eli Tomac. But everything I would say would just be a reaffirmation of something that has already been said dozens of times by now. So, instead, I wanted to know what some of the other riders thought about the biggest battle in the 2012 outdoor series who have had the time to watch it.
Both Jimmy Decotis and Darryn Durham have ties to the three who are battling it out for the 250 championship. They've also been plagued with the misfortune of being injured all summer long. Neither of them will be able to get back on the bike before October, but they are both working up to it in therapy. In their free time, the two keep up with the racing that's going on without them.
Decotis was very open about who he wanted to see on the top at the end of the season. "I'd like to see Tomac get [the championship] just because, you know, I've stayed with him and he's my buddy and he's definitely a good kid," he said.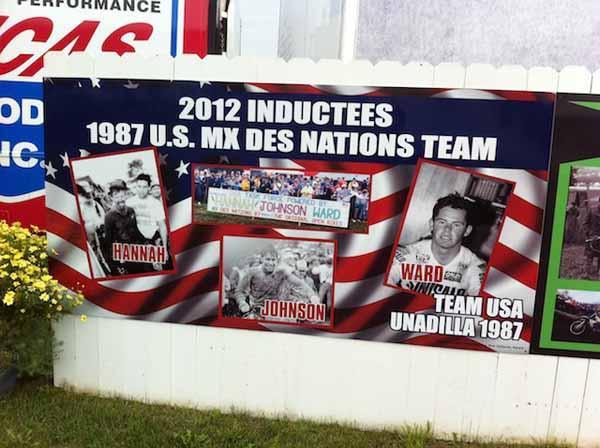 The 1987 version of Team USA will enter the Unadilla Walk of Fame tomorrow: Jeff Ward, Bob Hannah, Rick Johnson and team manager Roger DeCoster.
DC photo
Though he's no longer with the GEICO Honda squad, he still likes to see the team on top. After spending almost two years there, it was only natural for him to become friends with some of his teammates. However, he didn't ignore the clear force Baggett has been showing all season.
"I think Baggett's just been strong. He's always been strong outdoors, and I think he's going to be hard to beat. I think [Barcia and Tomac] just need to put it down and win motos. If GEICO wants to win that championship, they need to win motos and start doing it now and see where it goes."
Durham, on the other hand, wasn't quite sure what to think about the 250 season. Having joined the Monster Energy/Pro Circuit Kawasaki crew for '12, he had an obvious choice in the group. However, he still found it difficult to really pick a top guy, especially after having raced each and every one of them last year on his privateer Eleven10 Mods bike.
"Blake's been really strong all year, so that's nice for me because he's on my team and I'll get to ride with him a lot next year," said Durham. "But Barcia and Tomac have been riding really well, and even the KTM guys. Those five guys have been battling every week. It's been cool to watch."
Both guys were intrigued by the title bout but, more than anything, they were wishing they were out there riding with them. With another month and a half at least until either of them sees their bike again, watching their friends and teammates race without them only fuels their fire to prove themselves in 2013. To find out more about Durham's and Decotis' recovery, as well as discover what they do with their spare time and what we'll see them riding next year, be sure to check out Pro Moto Talk's "On the Mend."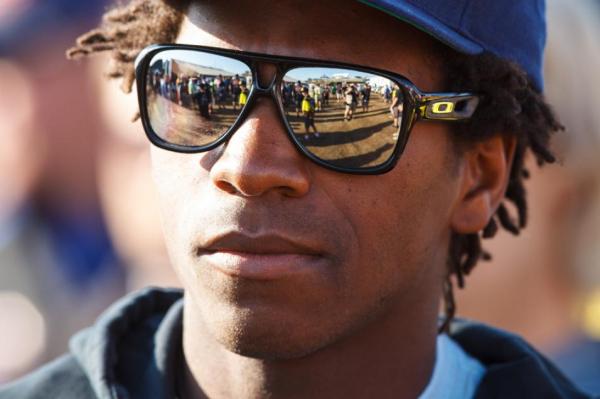 James Stewart makes his return to racing this weekend at Unadilla.
Simon Cudby photo
As for me, all I can hope for is some good, dramatic racing at this point. Not rough riding or kicking another rider while he's already down, but similar to what we've been seeing all season. I want to see all three of these guys up front and battling it out, just like they should be. Starts are more crucial than ever for these three guys and, especially with the relatively short starting straight at Unadilla this weekend, it's all or nothing.
MISC:
Congratulations to Adam Cianciarulo on getting the cover of this week's Cycle News. The Team Green standout won all six of his motos at Loretta Lynn's. In fact, he pretty much led every inch of the way!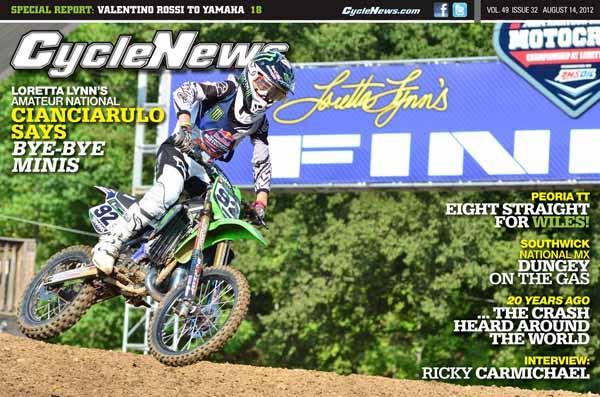 Speaking of Loretta's. The final episode of Road to Loretta's dropped today. Check it out here.
While the Red Bull Unadilla National is going off on one side of New York, there's a different kind of dirt bike activity taking place at the other end, in The Bronx. New York City's northernmost borough has a growing problem, according to local reporter Jessica Snyder: "Citizens being terrorized by these brazen bikers." The Baltimore crew of street boys is being challenged now by the Bronx, where I'm guessing a few stolen motorcycles have ended up. Check out the report here.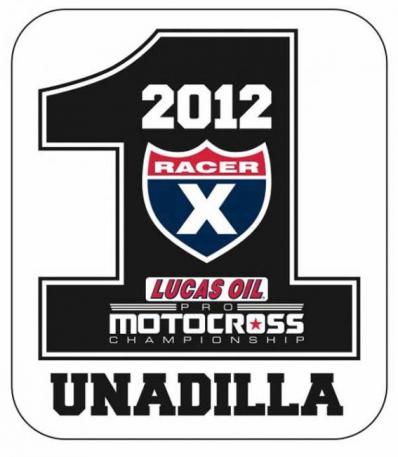 Wish you could spend the whole day in the pro pits at
Unadilla
? You can with the Racer X all-day pit pass! You will have access to the pits from 9-5, five hours longer than the regular pit pass, plus you'll get a one year subscription to Racer X, for $40.
Need more than one pit pass? No problem! We can send a multiple year subscription to one address, or you can give it as a gift to a friend. Don't miss out - limited quantities available! Visit the Racer X booth on vendor row.
If you already have a pit pass you can still subscribe to Racer X at Unadilla - we're giving away a Racer X/Unadilla pint glasses and 13 issues of Racer X for only $20! We're also selling various Racer X Brand items - tees, koozies, umbrellas etc if you're looking for some new RX threads.
Oh, and don't forget to stop by the Racer X booth to pick up the collectible Unadilla 2012 sticker, too!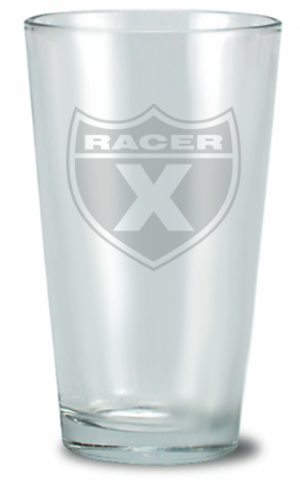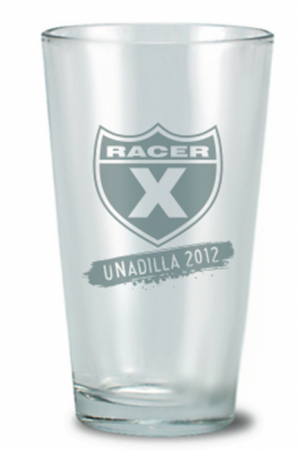 Rich Trevelise, the longtime announcer at Englishtown, dropped me a note about a cool opportunity for his oldest son, Richie. He ended up in the August issue of GQ magazine, along with his younger brother's bike. They needed some moto-inspired pages and Trevelise got the call!
Cool news: On September 12, two-time defending Snocross World Champion and former Lucas Oil Motocross racer Tucker Hibbert will throw out the first pitch at the Minnesota Twins game against the Kansas City Royals.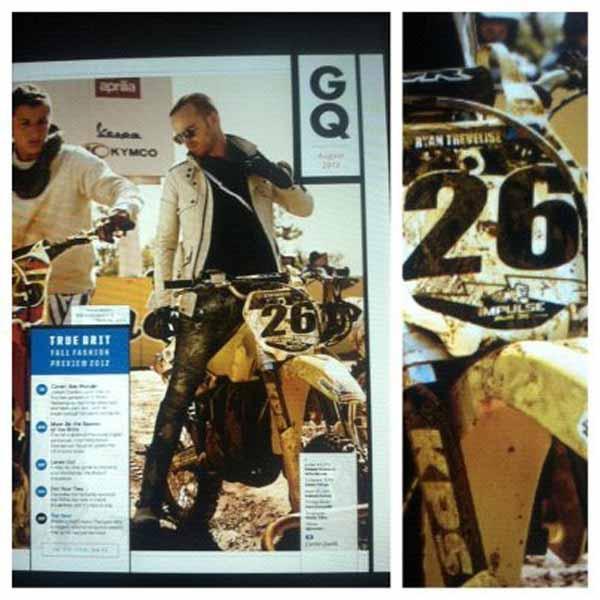 Richie Trevelise does some part-time modeling for Gentlemen's Quarterly
The Red Bull Pro Nationals in England made the trip across the Channel to host a race at Mill, Holland, one of the sandier circuits in Europe. Here's a look at the action, including some glimpses of rising young Spanish rider Jorge Prado (#61 on the KTM 85), who will be competing in the FIM Junior World Championships next week against some fast young Americans. (Video by Mikey Rutherford.)
The Racing Paper went digital! Go here to view the latest issue, and make sure to click the Subscribe button if you'd like to be notified when new issues are available.
Don't forget all you Southern California racers to come on out tomorrow for round 2 of the West Coast Classic Lucas Oil race series at Lucas Oil MX Park. Races will be on MAVTV! Come on out and have some fun racing your buddies on TV!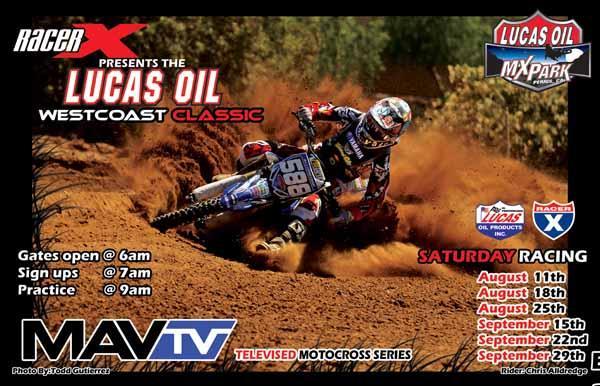 Okay, time to get out on the track and help the track crew—they're behind a few hours due to a fierce storm that blew through here. Here's hoping for a great big crowd and some good, safe racing tomorrow here at Unadilla. Thanks for reading Racerhead, see you at the races!