But no day will ever top the 1998 version of the Southwick National. There, not one but two local products ran up front, and, they held on to win both the 125 and 250 classes!

Of course, John Dowd and Doug Henry were no strangers to wins at the National level. They used their work ethic and determination to become much more than Southwick specialists, eventually landing factory rides and AMA National wins at a variety of tracks. But when the Nationals rolled into their home track, they didn't forget how to go fast there--especially in 1998.

Dowd and Henry were teammates on Team Yamaha that season. Dowd was racing the 125 Class after a strong 1997 season on 250s (he won a few Nationals and finished second in 250 points to Jeff Emig) and Henry was tabbed as the first factory rider to race the all-new production YZ400F four-stroke (he rode a full-works model of the bike in 1997).

It took Henry and Dowd a few rounds to get up to speed on their new machines. But by the time Southwick rolled around, they were ready. For Dowd, challenging for wins meant challenging sophomore pro RIcky Carmichael, no easy task. In moto one at Southwick, RC's Pro Circuit Kawasaki KX125 blew up, leaving him with a rare DNF. Dowd went on to win the moto. But could he do it against the uber-fast RC straight up?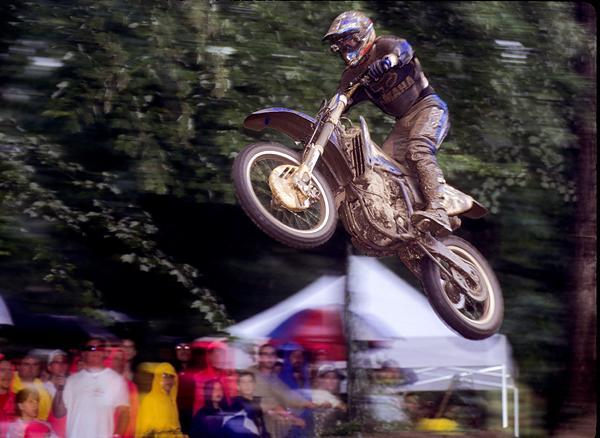 Doug Henry powered his way to the 250 Class overall at Southwick in 1998.
Matt Power photo
He took no prisoners in moto two. Using his experience to handle the rainy weather and rough track, Dowd plain and simply pulled away from Carmichael--it's one of the few outdoor races ever where someone stepped up to a pace Carmichael couldn't match. The fans were loving it.

But they had even more to love in the 250 Class. Carmichael's training partner Ezra Lusk was ready to challenge for the win, as RC talked about the "Military-like motos" they had been putting in down in Florida. Lusk was super fast and strong on his CR250, but when Henry was on, there was a certain magic that was hard to beat. He and Lusk went at it in both motos, and both times Lusk rolled right up on Henry and looked poised to make a pass. He couldn't, and Henry went 1-1 for the first overall victory ever on the production YZ400F.

Better yet, both Henry and Dowd left the races that day as the points leaders in their class! It was a special day probably never to be duplicated again. But you can bet a whole bunch of local fast guys--including even Dowd himself, still--will be trying to get it done this year.