Yamaha Wake-Up Call
Monday, August 6, 2012 | 6:00 AM Tweet

Lucas Oil Pro Motocross Championship



450 Points Standings

Ryan Dungey 383pts. KTM
Mike Alessi 303pts. Suz
Jake Weimer 280pts. Kaw
Andrew Short 247pts. Hon
Broc Tickle 220pts. Kaw
Justin Brayton 183pts. Hon
Josh Grant 169pts. Kaw
James Stewart 151pts. Suz
Brett Metcalfe 142pts. Suz
Kyle Chisholm 137pts. Kaw
Michael Byrne 122pts. Suz
Nico Izzi 95pts. Yam
Ryan Sipes 94pts. Yam
Davi Millsaps 85pts. Yam
Tommy Hahn 81pts. Hon
Cole Thompson 64pts. Hon
Jimmy Albertson 61pts. Suz
Matt Lemoine 61pts. Kaw
Tyla Rattray 58pts. Kaw
Vince Friese 58pts. Suz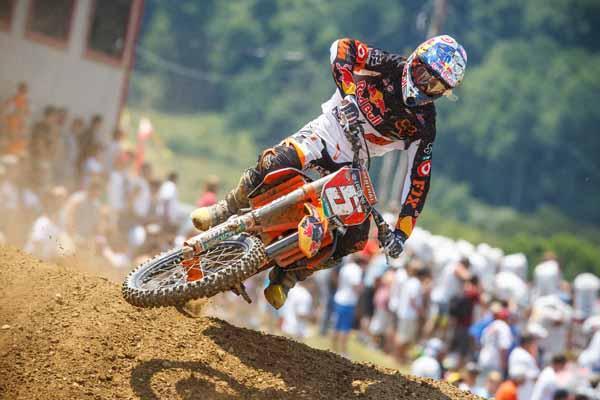 Ryan Dungey leads the 450 Class.
Simon Cudby photo
250 Points Standings
Blake Baggett 355pts. Kaw
Justin Barcia 344pts. Hon
Eli Tomac 323pts. Hon
Ken Roczen 305pts. KTM
Marvin Musquin 256pts. KTM
Wil Hahn 218pts. Hon
Blake Wharton 185pts. Suz
Jason Anderson 168pts. Suz
Jessy Nelson 144pts. Hon
Travis Baker 134pts. Hon
Jake Canada 132pts. Hon
Gareth Swanepoel 106pts. Yam
Ivan Tedesco 105pts. Kaw
Kyle Cunningham 96pts. Yam
Malcolm Stewart 94pts. KTM
Alex Martin 81pts. Hon
Kyle Peters 73pts. Yam
Justin Bogle 66pts. Hon
Martin Davalos 52pts. Suz
Dakota Tedder 40pts. Kaw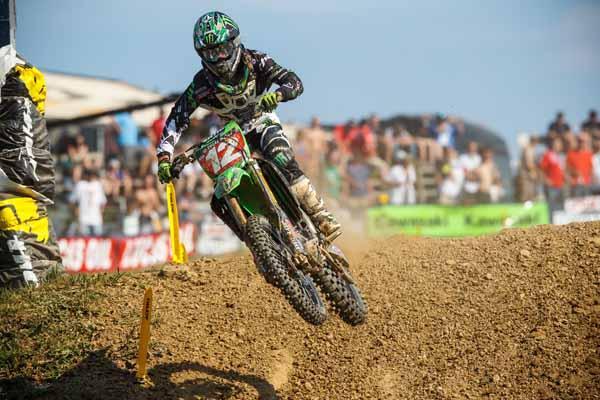 Blake Baggett leads the 250 Class.
Simon Cudby photo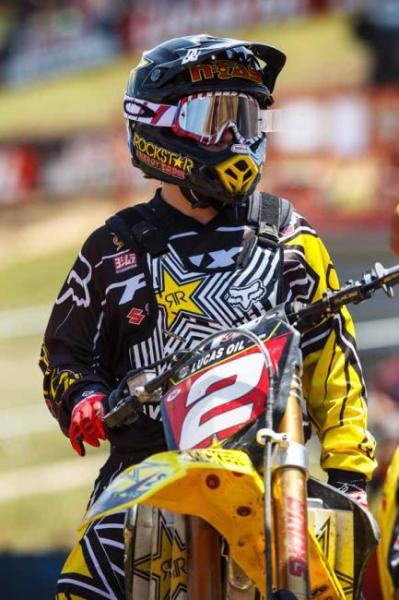 Jessica Patterson leads the WMX Class.Carl Stone photo
2012 Red Bull AMA Amateur National Motocross Championship presented by Amsoil
Loretta Lynn Ranch - Hurricane Mills, Tenn
Open Pro Sport
1. Jessy Wentland 1-1-2 KTM
2. Mitchell Oldenburg 2-5-3 Kaw
3. Zach Bell 3-7-1 Hon
250 A
1. Zach Bell 1-1-1 Hon
2. Dillan Epstein 2-2-2 Kaw
3. Joey Savatgy 3-3-3 Suz
250 B Stock
1. Cooper Webb 2-1-1 Yam
2. Shane McElrath 1-2-2 Hon
3. Dakota Alix 3-5-4 KTM
250 B Mod
1. Matt Bisceglia 2-1-1 Hon
2. Cooper Webb 3-2-2 Yam
3. Luke Clout 4-3-5 Hon
250 C Stock
1. Axell Hodges 1-1-2 Hon
2. Addison Emory 2-2-1 Suz
3. Cody Herzog 3-5-5 Hon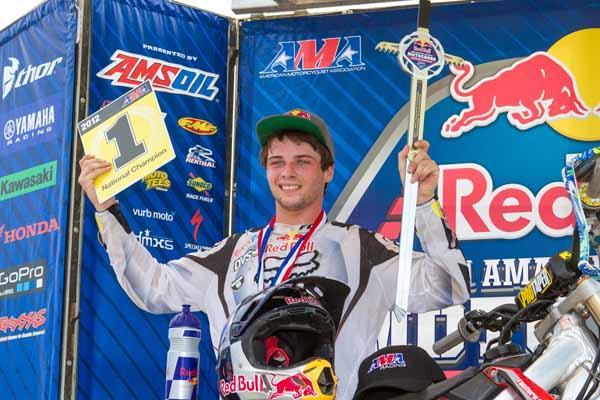 Matt Bisceglia won two titles at Loretta's.
Mark Pearson photo
250 C Mod
1. Garrett Schnepp 6-2-4 Hon
2. Drake Evans 14-1-3 Hon
3. Cody McDonough 5-8-10 Kaw
450 A
1. Zack Williams 4-2-2 Hon
2. Jesse Wentland 2-4-3 KTM
3. Joey Savatgy 9-1-1 Suz
450 B Stock
1. Matt Bisceglia 1-1-1 Hon
2. Luke Clout 2-2-2 Hon
3. Dawson Draycott 5-3-3 KTM
450 B Mod
1. Anthongy Rodriquez 1-1-2 Yam
2. Shane McElrath 2-2-1 Hon
3. Paul Coats 4-3-3 Yam
450 C
1. Cody Herzog 1-1-1 Hon
2. Ryan Robles 2-2-5 Suz
3. Gunnar Johnston 4-3-11 Suz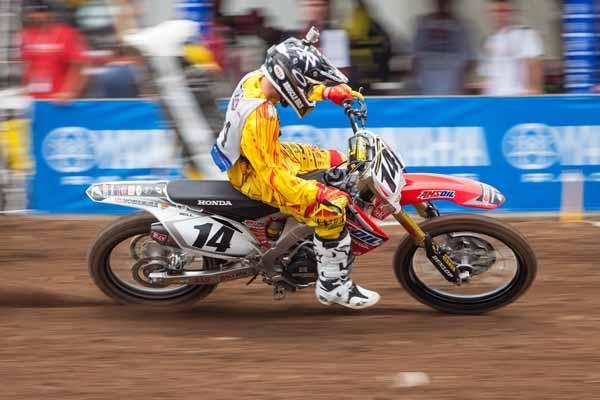 Zach Bell took home the Horizon Award.
Mark Pearson photo
Two-Stroke
1. Micheal Sleeter 2-1-1 KTM
2. Ty Siminoe 1-3-2 KTM
3. Sean Cunningham 4-6-5 Yam
College B/C (16-24)
1. Gregory Gehrer 2-3-1 Yam
2. Mathew Toth 3-1-2 Hon
3. Tyler Enticknap 1-4-5 Hon
Junior 25+
1. Ricky Carmichael 1-1-1 Suz
2. Andrew Matusek 2-3-4 Suz
3. Robbie Reynard 8-2-3 Yam
Vet B/C 30+
1. Dustin Walker 2-2-1 Kaw
2. Ryan Tow 3-3-2 Kaw
3. Kevin Smith 1-9-3 Kaw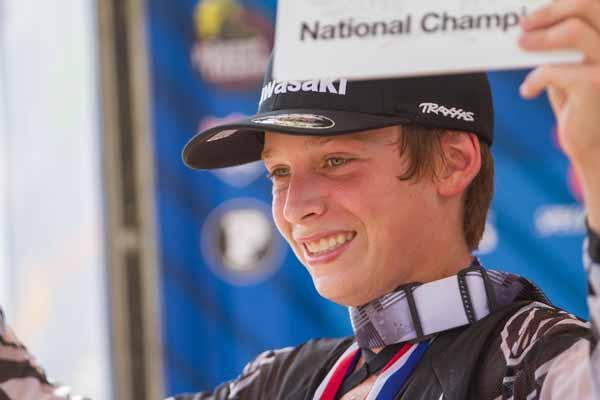 Adam Cianciarulo dominated the Super Mini classes at the Ranch.
Mark Pearson photo
Vet 35+
1. Robbie Reynard 1-1-3 Yam
2. James Povolny 2-5-1 Kaw
3. Clark Stiles 4-3-2 Kaw
Senior 40+
1. Doug Dubach 3-1-1 Yam
2. Michael Treadwell 1-3-2 Kaw
3. Destry Abbott 4-2-3 Kaw
Senior 45+
1. Doug Dubach 1-1-2 Yam
2. John Grewe 2-2-1 Kaw
3. Earl May 4-3-3 Kaw
Masters 50+
1. Gary Semics 1-1-1 Kaw
2. Matt Tedder 2-4-5 Kaw
3. Phillip Oveland 4-3-6 Kaw
51 (4-6) Stock Limited
1. Codee Samples 2-1-3 KTM
2. Elijah Schaidt 1-2-6 KTM
3. Alexander Brion 3-6-1 KTM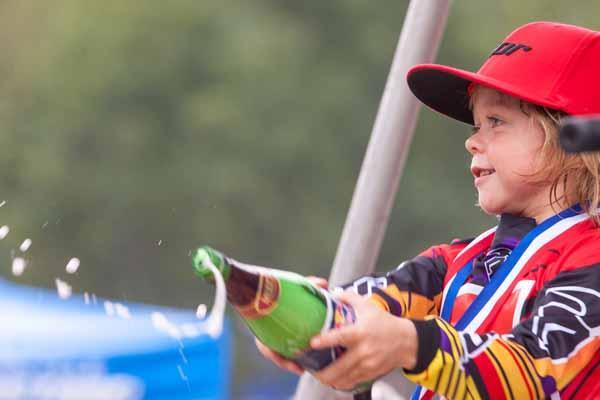 Ryder Difransesco celebrates his 51 (4-6) AMA 1 Stock title.
Mark Pearson photo
51 (4-6) Stock Shaft Drive
1. Braxton Brown 3-1-1 Yam
2. Jude Kozel 2-8-4 Yam
3. Levi Bolton 4-12-2 Yam
51 (4-6) AMA 1 Stock
1. Ryder Difransesco 1-1-1 Cob
2. Nicholas Romano 2-2-2 Cob
3. Noah Geyer 3-3-3 Cob
51 (7-8) AMA 2 Stock
1. Jaiden Taylor 1-2-4 Cob
2. Reed Cooper 3-3-3 Cob
3. Kaden Parmely 5-7-6 KTM
65 (7-9) Stock
1. Pierce Brown 1-1-1 Cob
2. Stilez Robertson 3-6-2 Kaw
3. Jace Kessler 2-2-7 KTM
65 (10-11) Stock
1. Conner Mullennix 1-1-6 KTM
2. Kobe Heffner 3-6-1 Suz
3. Carson Mumford 5-3-4 Kaw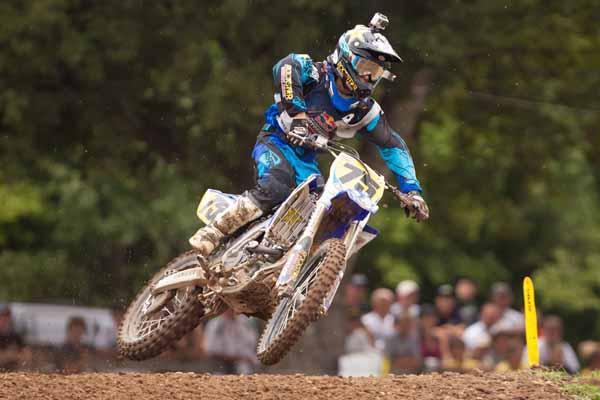 Cooper Webb won the 250 B Stock title at Loretta's.
Mark Pearson photo
65 (7-11) Mod
1. Carson Mumford 1-1-2 Kaw
2. Caleb Grothues 2-2-1 KTM
3. Brandon Matula 4-5-4 KTM
85 (9-11) Stock
1. Jordan Bailey 2-1-1 Suz
2. Garrett Marchbanks 1-2-2 Kaw
3. Brock Papi 4-3-4 KTM
85 (9-11) Mod
1. Jordan Bailey 1-1-2 Suz
2. Carter Halpain 3-3-1 Kaw
3. Garrett Marchbanks 2-2-6 Kaw
Mini Sr. (12-14) Stock
1. Justin Hoeft 1-1-1 Yam
2. Braxton Prieto 6-2-2 KTM
3. Luke Purther 2-7-4 KTM
Mini Sr. (12-14) Mod
1. Justin Hoeft 1-1-2 Yam
2. Tanner Stack 4-5-3 Kaw
3. Sean Cantrell 3-4-7 Kaw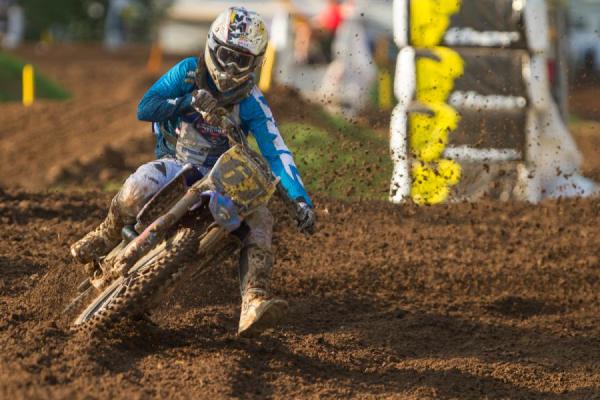 Anthongy Rodriquez won the 450 B Mod Class at the Ranch.
Mark Pearson photo
Super Mini 1 (12-15)
1. Adam Cianciarulo 1-1-1 Kaw
2. Mitchell Harrison 2-4-2 Kaw
3. Tristan Miller 9-5-3 Suz
Super Mini 2 (13-16)
1. Adam Cianciarulo 1-1-1 Kaw
2. Mark Worth 2-2-4 Kaw
3. Tristian Miller 4-3-3 Suz
Schoolboy 1 (12-15) B/C
1. Jordan Smith 2-1-4 Suz
2. Ryan Surratt 4-8-1 Yam
3. Colton Ford 6-5-2 KTM
Schoolboy 2 (13-16) B/C
1. Troy Graffunder 4-3-4 Hon
2. Josh Osby 1-2-8 Hon
3. Thomas Covington 3-11-1 Kaw
Girls (12-15)
1. Brandy Richards 2-2-1 Kaw
2. Kaitlyn Morrow 3-1-2 Yam
3. Hannah Hodges 1-4-4 Suz
Girls (9-11)
1. Jazzmyn Canfield 1-1-1 Yam
2. Jordan Jarvis 2-2-2 Kaw
3. Kennedy Lutz 4-3-3 Yam
Women 14+
1. Taylor Higgins 2-2-3 Yam
2. Mackenzie Tricker 3-1-4 Yam
3. Marrissa Markelon 5-3-5 Yam
FIM World Motocross Championship
Grand Prix of Czech Republic

MX1 Overall
1. Antonio Cairoli 1-1 KTM
2.
Christophe Pourcel
2-3 Kaw
3. Clement Desalle 4-2 Suz
4. Max Nagl 3-4 KTM
5. Xavier Boog 6-7 Kaw
6. Ken de Dycker 7-8 KTM
7. Rui Goncalves 11-5 Hon
8. Gautier Paulin 5-11 Kaw
9. Tanel Leok 12-6 Suz
10. Gregory Aranda 10-9 Yam
11. Evgeny Bobryshev 9-10 Hon
12. Shaun Simpson 8-14 Yam
13. Davide Guarneri 13-13 KTM
14. Kevin Strijbos 15-12 Hon
15. Cedric Soubeyras 14-15 Hon
MX1 Points Standings

Antonio Cairoli 492pts. KTM
Clement Desalle 462pts. Suz
Christophe Pourcel 435pts. Kaw
Gautier Paulin 402pts. Kaw
Ken de Dycker 368pts. KTM
Kevin Strijbos 319pts. KTM
Xavier Boog 306pts. Kaw
Tanel Leok 277pts. Suz
Rui Goncalves 273pts. Hon
Shaun Simpson 223pts. Yam

Evgeny Bobryshev 217pts. Hon
David Phillippaerts 212pts. Yam
Jonathan Barragan 180pts. Hon
Sebastien Pourcel 171pts. Kaw
Davide Guarneri 152pts. KTM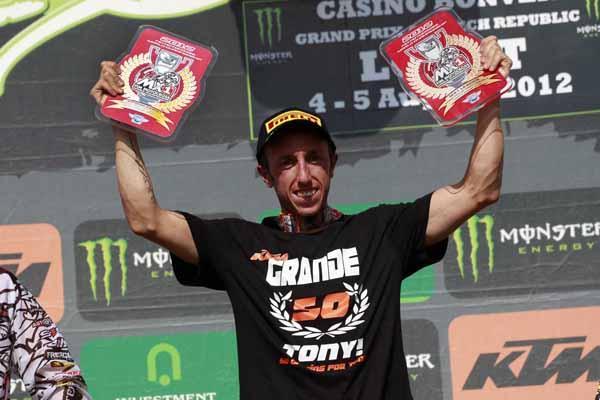 Antonio Cairoli went 1-1 for the overall in the Czech Republic.Ray Archer/KTMImages photo
MX2 Overall
1. Jeffery Herlings 1-1 KTM
2.
Tommy Searle
2-3 Kaw
3. Zach Osborne 4-4 Yam
4. Jake Nicholls 3-5 KTM
5. Romain Febvre 8-6 KTM
6. Valentin Teillet 9-7 Kaw
7.
Max Anstie
5-12 Hon
8. Joel Roelants 10-9 Kaw
9. Jose Butron 6-13 KTM
10. Jeremy van Horebeek 31-2 KTM
11. Dylan Ferrandis 14-8 Kaw
12. Glenn Coldenhoff 13-11 KTM
13. Alessandro Lupino 7-17 Husq
14. Alexander Tonkov 34-10 Hon
15. Valentin Guillod 16-16 KTM
MX2 Points Standings

Jeffery Herlings 528pts. KTM
Tommy Searle 471pts. Kaw
Jeremy van Horebeek 439pts. KTM
Joel Roelants 367pts. Kaw
Jake Nicholls 325pts. KTM
Jordi Tixier 319pts. KTM
Max Anstie 263pts. Hon
Jose Burton 241pts. KTM
Dylan Ferrandis 233pts. Kaw
Alessandro Lupino 214pts. Husq
Glenn Coldenhoof 193pts KTM

Romain Febvre 146pts. KTM
Harri Kullas 132pts. Suz
Christopher Charlier 131pts. Yam
Petar Petrov 131pts. Suz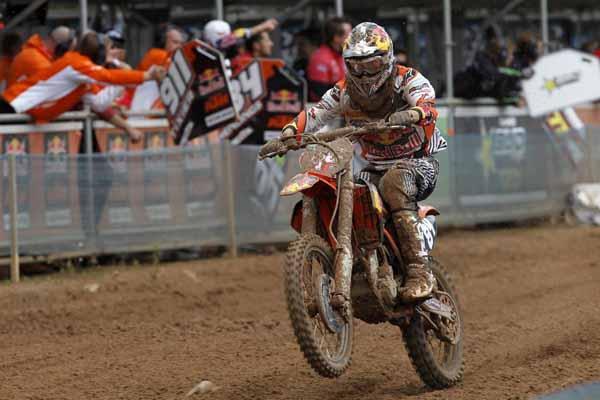 Jeffery Herlings won the MX2 Class with 1-1 moto scores.

Ray Archer/KTMImages photo
Can-Am GNCC Championship

XC1 Points Standings
Paul Whibley 225pts Yam
Kailub Russell 216pts KTM
Rory Mead 167pts KTM
Thad DuVall 138pts Hon
Jordan Ashburn 132pts Yam
Charlie Mullins 129pts KTM
Chris Batch 123pts BET
Garrett Edmisten 116pts Kaw
Nathan Kanney 101pts Hon
Takeshi Koikeda 100pts. KTM


Paul Whibley leads the XC1 Class.
Ken Hill//GNCCRacing.com photo
XC2 Points Standings
Steward Baylor 200pts KTM
Jason Thomas 188pts HSQ
Andrew Delong 172pts. HSQ
Jesse Robinson 155pts HSQ
Jedediah Haines 153pts YAM
Brad Bakken 130pts YAM
AJ Stewart 107pts. Yam
Cody Gragg 91pts. Yam
Scott Grills 87pts. Hon
Zach Nolan 84pts. KTM
Monster Energy Canadian Nationals
MX1 Points Standings
Matt Goerke 292pts. Kaw
Bobby Kiniry 253pts. Yam

Dusty Klatt 190pts. KTM
Tyler Medaglia 182pts. Hon
Colton Facciotti 175pts. KTM

Gavin Gracyk 156pts. Kaw
Tyler Villopoto 155pts. Kaw

Morgan Burger 136pts. Kaw

Jason Burke 123pts. Hon
Shawn Maffenbeier 76pts. Yam

Matt Goerke holds a big points lead in the MX1 Class.
James Lissimore photo
MX2 Points Standings
Teddy Maier 278pts. Kaw
Jeremy Medaglia 251pts. KTM

Jared Allison 177pts. Yam
Kyle Beaton 168pts. Kaw

Topher Ingalls 166pts. Hon
Brad Nauditt 163pts. Hon
Parker Allison 143pts. Yam
Dylan Kaelin 141pts. Yam
Spencer Knowles 138pts. Yam
Richard Grey 122pts. Yam
Maxxis British Motocross Nationals


450 Points Standings
Kevin Strijbos 388pts.
Shaun Simpson 339pts.
Matiss Karro 308pts.
Gert Krestinov 264pts.
Martin Barr 243pts.
Kristian Whatley 201pts.
Jamie Law 200pts.
Stephen Sword 198pts.
Alex Snow 186pts.
Dorron Coutts 170pts.
250 Points Standings
Mel Pocock 343pts.
Elliott Banks-Browne 327pts.
Nev Bradshaw 271pts.
Steven Lenoir 254pts.
Nicolas Aubin 239pts.
Graeme Irwin 239pts.
Bryan MacKenzie 235pts.
Stu Edmonds 174pts
James Cottrell 152pts. .
Lewis Tombs 141pts.
GEICO AMA EnduroCross
Expert Points Standings
Taddy Blazusiak 69pts. KTM

Mike Brown 61pts. KTM
Taylor Robert 57pts. Kaw
Cody Weeb 57pts. Beta
Colton Haaker 51pts. Kaw
Kevin Rookstool 44pts. Husq

Destry Abbott 36pts. Kaw
Cory Graffunder 32pts. KTM
Bobby Prochnau 25pts. KTM
Justin Soule 25pts. Kaw

Taddy Blazusiak continues the Expert Class
.
Garth Milan photo

Monster Energy MX Nationals Austrailan Nationals

MX1 Points Standings

Josh Coppins 480pts. Yam
Todd Waters 468pts. Suz
Lawson Bopping 420pts. Yam
Brad Anderson 412pts. Hon
Cody Cooper 388pts. Suz
Jake Moss 311pts. Hon

Jay Marmont 288pts. Kaw
Dan Reardon 278pts. KTM

Dean Porter 257pts.
Daniel McCoy 249pts. Suz
MX2 Points Standings
Luke Styke 477pts. Yam
Ford Dale 446pts. Hon
Josh Cahcia 429pts. KTM
Kade Mosig 395pts. Kaw
Adam Monea 374pts. Suz
Cheyne Boyd 366pts. Hon
Kirk Gibbs 347pts. Yam
Scott Columb 286pts. Hon
Justin McDonald 282pts. Hon
Lewis Woods 255pts. Suz

Share this article:
Did you like this article?
Check out 10,000 MILES FROM HOME
in our Latest issue of Racer X available now.

Australian Dean Ferris hopes to follow in the footsteps of some of his legendary countrymen. Now contesting the FIM Grand Prix series, he made a huge impression at the Motocross of Nations. Page 138.
Look for the verified symbol
The Conversation