by
Jason Weigandt
Loretta Lynn Custom Moments, Saturday
Sunday, August 5, 2012 | 3:20 PM
Tweet
1. Bisceglia Doubles Up: The 250 B Modified Class is the most stacked of the week, and Factory Connection Honda's Matt Bisceglia held the edge with 1-2 scores heading into the third and final moto. Moto three ended up showcasing another superb Bisceglia/Cooper Webb battle, but the two lap board and white flag came out late and Webb missed it. He put in a hard charge, but ran out of time. Bisceglia's 2-1-1 scores gave him his second championship of the week, making him the top B rider at the event.
2. The Real Amateurs: All of the age classes at Loretta's except the 30 Plus B/C class allow ex professionals to return to the Ranch. But the 30 Plus is reserved for riders with B or C status, so workaday types get to be heroes. Dustin Walker was this year's star. "This is the greatest day of my life!" he said after using 2-2-1 scores to win the title. "I wish my dad could be here for it, but I have to give a shoutout to my sister, who is giving birth to twins right now. So dad had to miss one miracle to see another."
3. Best Moto of the Day: The 450 A title fight featured four riders. Vann Martin led coming in with 1-3 scores, but Zack Williams, Jesse Wentland and Joey Savatgy also had a shot. In an incredible third moto, Savatgy took off with the win, but his 9-1-1 scores left him third overall. Williams and Wentland, a pair of Minnesota riders, went at it for the overall, battling for second in the moto, and whoever won would win the title. Battling the whole way, Wentland made the pass on the last lap, but Williams struck back and repassed him, taking the title with 4-2-2 finishes.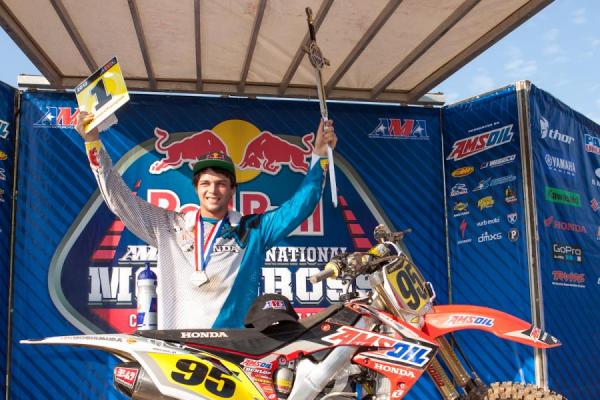 Matt Bisceglia won the 250 B Mod Class on Saturday.
Mark Pearson photo
4. Super Duper: Adam Cianciarulo ended his minicycle career with one of the most dominant weeks ever seen at the Ranch--in fact, it's not possible to be any more dominant! The Monster Energy Team Green star grabbed every holeshot and led every laps of his motos. He was then given the AMA Youth Rider of the Year Award. There are no doubts that AC is the real deal.
5. Down to the Wire: Kawasaki's Brandy Richards won Womens moto one, but then crashed back to 12th while leading moto two. She came back to win moto three, but that second moto gaffe erased her title chances. Yamaha riders Mackenzie Tricker, of Australia, and last year's Girls (12-15) Champ Taylor Higgins squared off in a tremendous battle, and Higgins came out on top. Higgins, by the way, is hearing impared--meaning she has a lot more in common with Ashley Fiolek than just winning a Loretta's title.
6. Digging Out: Kawasaki's Carson Mumford looked to have the 65 (7-11) Mod title on lock after winning the first two motos, but he found himself way back at the start of moto three. From 13th, he rallied for second, edging Australia's Caleb Grothues' 2-2-1 scores.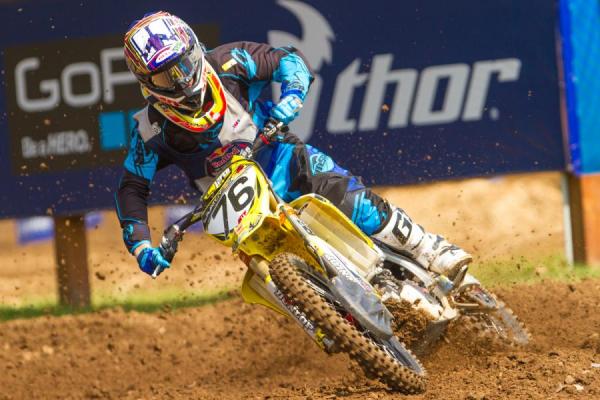 Joey Savatgy won the second and third motos in the 450 A Class, but a 9th in the first moto would cost him the title.
Mark Pearson photo
7. Fast at 40: The Senior 40 Plus class came down to a Mike Treadwell/Doug Dubach showdown, as both held a third and a first in the first two motos. Treadwell got a better start in the final-moto showdown, but his goggle lens broke loose. Dubach made the pass and Treadwell waited until the final two laps to mount a last-ditch effort. Then Dubach's front brakes began to go out! Dubach held on by just a bike length in a great duel to the finish.
8. Best for Last: It's fitting at Loretta's--home of the best motocross racing you'll see--that the even the final moto of the week would be a barn burner. In Schoolboy 2, the last lap decided the title.  Josh Osby was clinging to seventh in the final moto after carding 1-2 scores in the first two, but he was passed on the last lap, allowing Troy Graffunder to slide into the overall win with 4-3-4 scores.
Share this article:
Did you like this article?
Check out MONSTERBALL
in our Latest issue of Racer X available now.

Playing soccer on 250cc motorcycles might sound like a strange form of riding, but in Russia they do it with great passion—and for very little reward. Page 112.