Last Thursday, for the first time in 96 days, Monster Energy Kawasaki's Ryan Villopoto went to the farm outside of Clermont, Florida and kickstarted his KX450F to life. The long road back from an ACL reconstruction begins now for the six-tme AMA National and Supercross champion. RV's got a lot going on these days with the comeback, his contract situation up in the air and of course, the upcoming Motocross of Nations looms if he can come back and is feeling it. We caught with Villopoto just as he was grilling up some turkey burgers for dinner yesterday.
Racer X: RV, it's been 96 days from your injury to you going riding the other day. It must feel pretty good.
Ryan Villopoto:  [Whistling]
It's crazy how ACL injuries used to be 6-8 months, then 4-6 months and here we are, just over three months and you're back at it. How was it?
Well yeah, the key word is "used to be" Matthes. Things have changed now. But how was it? My riding?
Yeah.
It was good, it was fun to be back and probably wasn't the best time to come back with how hot it is here in Florida. The first day I went out there and did a couple of twenty minute motos, the next day went back out and did a couple of thirty's.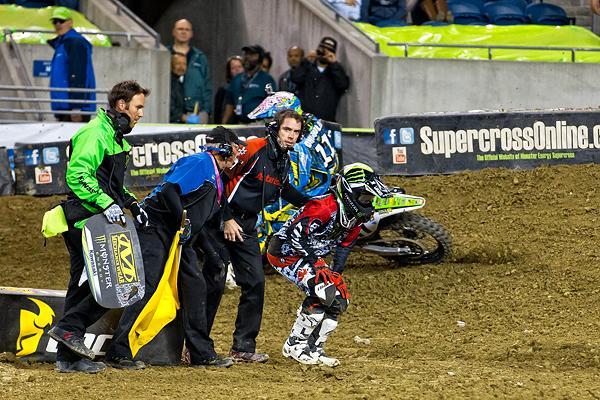 RV has begun riding, just 96 days after tearing his ACL at Seattle Supercross.
Garth Milan photo
Nothing like easing back into it!
Yeah! But it was all good. That was the plan and I felt pretty good to be honest. It was tough on my hands—they're all tore up. But everything else went pretty good. Just trying to get back into the swing of things. The knee is fine, it's good but I still don't want to dab it on the ground or stick it out there you know? I have to think about it a bit out there and keep it out of harms way when I'm riding.
Is that the only concession you have to make, other than that you feel normal?
The first day, speed-wise was pretty close to normal and the second day Aldon [Baker, his trainer] was pretty impressed with my speed and the level I was able to get back to. He was happy that I was still pretty fit from before and my level now is close to before my injury.
Is your rehab right on schedule or is this early?
It just all goes off how strong your leg is. Aldon says every knee he went through with Ricky [Carmichael], James [Stewart] and [Ben] Townley is about three months and we're right there now. It's pretty standard really.
Do you do some sort of leg strength test and you have some old notes from before you were hurt to see if you're close to your old level?
That's one way of doing it. You can do it that way. I went to the doctor and he looked at my leg and told me I could ride if I braced it and was careful.
So now that you're riding, it is wide-open or are you taking it real easy?
No, no, it's the regular program now—the standard stuff that I was doing before. The races will be here before you know it.
I know it's early and we don't want to get all the fans excited but is there any hope to make some Nationals and then make the MXoN?
I got a call this week to see how I was, how my progress was and if I was going to come back to race so that I could be in the running for the MXoN team. So I guess for myself, there's nothing to gain for me by going but there's a lot to lose as well. There's no money involved, there's no anything really other than my pride. Coming off a serious knee injury, you don't want to come back just for that race. I don't think it would be that smart on my part.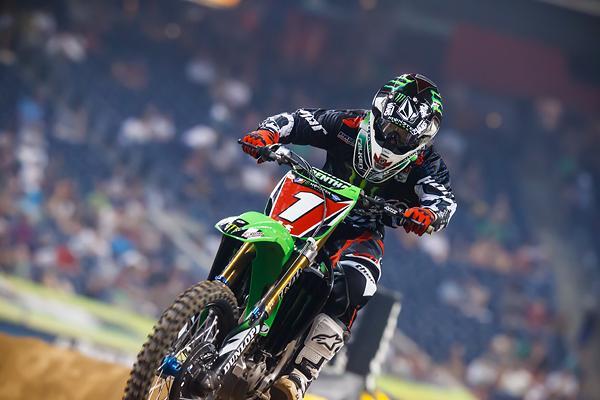 With contract talks still in the air, everyone is chasing after RV.
Simon Cudby photo
I don't think anyone expects you to go and would be upset if you announced that you couldn't do it. To me, it's a wonder you're even in the running.
You don't think so? I don't know about that. I don't think people would be mad but there are people wanting me to go and ride for Team USA. We'll just have to see. It's not that money is the big deal and it's why I would want to go but it's a pride thing and I have to be careful about that. To even go, I'd have to race two or three races to qualify to go and that's a lot. That's what I was told and that's going to be tough.
Lake Elsinore
, I think I can make that one if I everything went well, but the others? That's going to be tough.
What about your contract?
Working on it my man. Working on it.
That's all you ever tell me.
That's the truth. We're working on it. I'm waiting to hear back from those guys right now.
Give me the chances that you stay at Kawasaki?
Oooooooooo, the chances? I don't know, pretty high I guess.
Well Chad Reed got everyone all excited by saying he'd like to sign you to his team.
Yeah, I saw that. I don't know why everyone got all excited over that. All he said was that he would like to have me on his team and he's working on putting something together to get me on his team. I don't understand all the people after that saying it was a done deal. Chad never said that! I don't understand that. He never said, "I signed Ryan." And people turned it into something that it wasn't.
Trust me, I understand what you're going through. Sometimes peoples reading comprehension is pretty low.
There's always a chance I go somewhere else, there are lots of possibilities out there right now. We'll see soon enough.
And Larry Brooks is also going at you hard. Look at you, everyone wants you to ride for them!
I'm the only major guy left right now. I guess it is nice. It's good to have options.
No one's ever been after me to do anything for them, ever. Must be nice.
Well let's be honest, there's not much to fight for there.
Your mechanic and I went back and forth yesterday, Tyla Rattray's on your old bike and he struggled a bit last race but Mike is calling for a podium at Southwick. He's very excited.
Yeah, Tyla didn't do that great at Washougal but let's not forget that he's basically been out since Oakland. He got back from that and broke his hand on the first lap of his first race back. That was another six weeks and now he's got to get used to the bigger bike, the team and racing itself. I'm not worried about him, he'll be fine. He's had tough odds to come back and put great results in.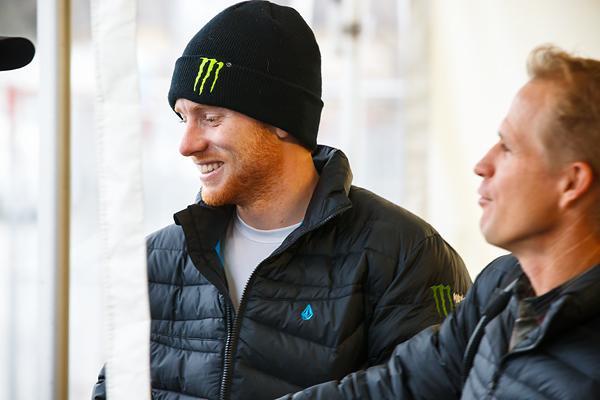 The MXoN is a long shot for Villopoto after ACL surgery earlier this year.
Simon Cudby photo
All right, thanks for your time.
I'm cooking turkey burgers right now.
I switched to ground turkey in my spaghetti sauce, thought you'd like to know.
Yeah, but why are you eating pasta?
You don't eat pasta?
Occasionally I'll eat it but not really too much.
What about when you were a kid, didn't Dan make you eat pasta before a race so that you could carb up and have energy?
Are you for real right now? Do you really think you need to carb up right now? Are you a kid?
No. But I'm just saying, our parents probably made us pasta all the time and it's a tough habit to break.
Ask your wife if you need to carb up.
I will. If carbs are bad what are you eating your turkey burger on?
I eat a bun but you shouldn't eat a bun right now. I'm allowed to.
Okay, whatever. See you under the TwoTwo awning at Anaheim1.
Yeah, that's it.