In the 450 class, MotoConcepts' Mike Alessi got the day going by nailing down yet another one of the patented holeshots in the first moto. Behind him sat Jeff Ward Racing's Josh Grant, who has waited all season to get a good start. Series' points leader Ryan Dungey sat third on his Red Bull KTM, with Monster Energy Kawasaki's Jake Weimer fourth. Weimer passed Dungey, but it wasn't long before Dungey let the power loose on his KTM450 and motored around the outside of Weimer to take over third. Then Grant had a big crash, putting Dungey into second. At this point, the outcome of the race seemed predictable. After all, time and time again we've seen Alessi get out to a large and early lead, only to have an inspired Dungey get into second place and systematically start cutting away at the gap until it's completely gone, move into the lead, and check out for the win. Well, today was a different story. When Dungey caught up to Alessi, Alessi responded by turning it up a notch and of course, riding a wide bike. Dungey kept the pressure on, but lap after lap, was unable to make any kind of move on Alessi. Something had to give, and it ended up being Dungey, who uncharacteristically slid out on a sweeper and went down, giving up roughly ten seconds to Alessi.

At that point it looked like Alessi had the win in the bag, but he made several big mistakes, and Dungey was able to erase the gap again.  But when he reattached himself to Alessi's rear fender, it was the same story as before; Dungey just could not make the pass. Alessi would hang on for the moto win, his first since Hangtown in 2010, followed by Dungey, Weimer, Andrew Short and Justin Brayton.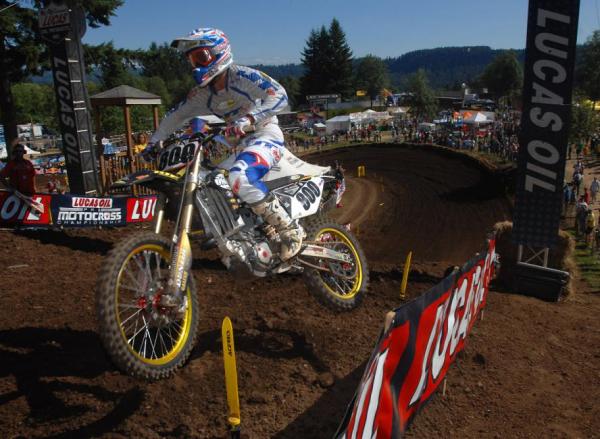 Mike Alessi ended Ryan Dungey's 10-moto win streak.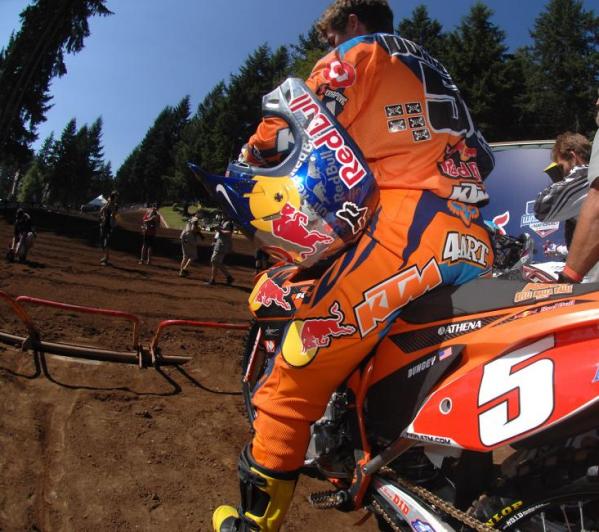 Fired up for moto two, Dungey quickly grabbed the holeshot and checked out.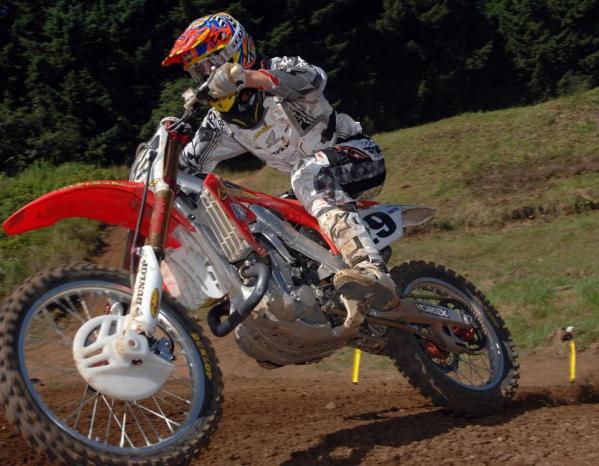 Andrew Short snagged the final 450 podium spot.
Carl Stone photos
The second 450 moto wasn't as exciting as the first. Dungey holeshot and disappeared, while Alessi and Short rode to a lonely second and third, respectively. Other than that, there wasn't much happening in the top ten this moto. Brayton crashed out, and Weimer had a fall that he was able to recover from. His fifth-place finish knocked him off of the podium, with Short's 4-3 taking the spot.

Dungey's quick recovery from a loss in moto one gave him the overall win with a 2-1 compared to Alessi's 1-2. That's six-straight overall wins for Dungey.

In the 250 class, Dungey's Red Bull KTM teammate Marvin Musquin looked good early. After collecting the fastest qualifying times, he nabbed the holeshot in moto one and proceeded to put in what was probably his best performance of the year so far. Despite heavy pressure from Eli Tomac and Justin Barcia, Musquin, who started the season out with a broken hand, held the lead for eleven of the moto's sixteen lap. Barcia was applying heavy pressure, though, and when he finally found an opening late in the race, he made the move. Then Tomac got past Musquin  on the next lap and set after his teammate Barcia. Tomac couldn't make it happen, though, and Barcia hung on for the win.  Musquin took the final spot on the box behind Barcia and Tomac, with Ken Roczen fourth.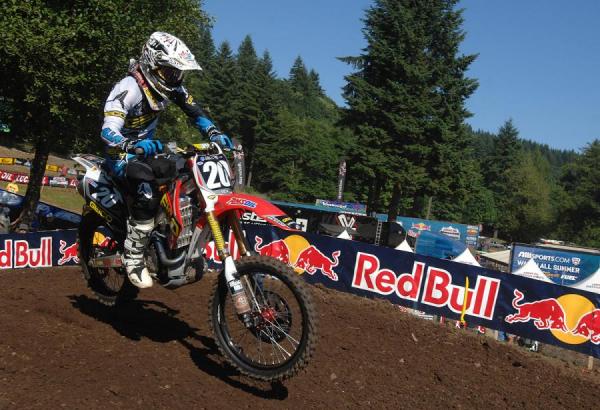 Justin Barcia rode strong to capture the first-moto win in the 250 Class.
Carl Stone photo
Barcia's win was his fourth of the year in a first moto, and he narrowed his 18-point deficit to Blake Baggett in the standings down to 8. And that's because Baggett faltered in this moto. He was running with the lead group in the beginning, but a crash and a couple of small mistakes caused him to slide backward, and then a bigger crash late in the moto dropped him even further back. He would end the moto in sixth behind Wil Hahn.

The second moto provided a little more of the spice and excitement we've started to expect from the 250 Class. As a crowd of fans huddled expectantly behind the jump at the bottom of Horsepower Hill, it was Barcia who exploded over it first and roosted up the Washougal mountainside. Behind him was Baggett, but he was soon passed by Barcia's teammate Justin Bogle. After a few laps, the freight train of Baggett, Musquin and Tomac went back past Bogle. After a few laps, Baggett was back to his usual El Chupacabra form, and he slowly ate away at Barcia's lead. Barcia responded at times and pulled back away, then Baggett stepped up even further late in the race and closed the gap back down. With two laps to go he made a daring pass on a downhill and stole the lead from Barcia. Barcia tried to retaliate but couldn't make the pass, and then he fell just before they reached the white flag. He got back up still in second, and his 1-2 scores were still enough to win the overall for the day.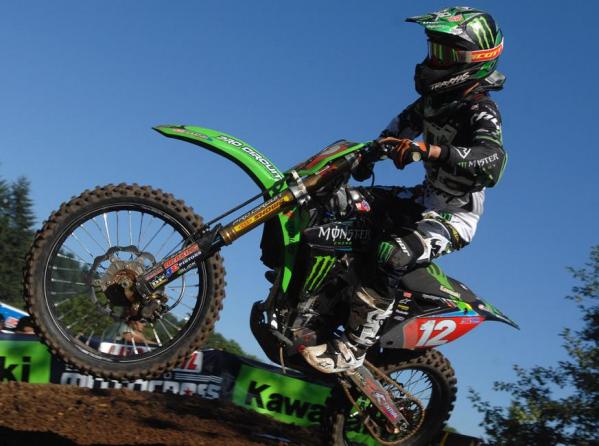 Blake Baggett bounced back to win moto two.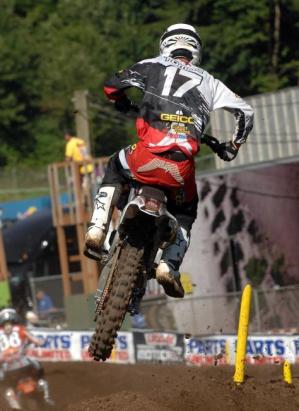 Eli Tomac took second overall behind Barcia.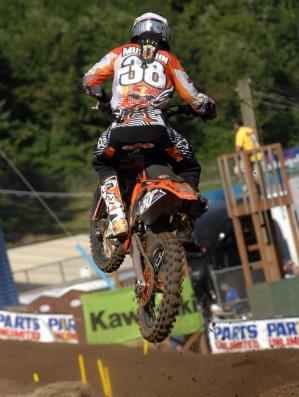 Marvin Musquin led plenty of laps during the day but landed just off of the podium.
Carl Stone photos
Behind the Barcia and Baggett battle, Tomac and Musquin were having a pretty heated battle of their own. Tomac had closed a sizable gap, but Musquin wasn't giving up without a fight and the two found themselves drag racing side by side up Horsepower Hill for several laps. In the end, Tomac made the pass and dropped Musquin to take third. The final order was Baggett, Barcia, Tomac, Musquin, Bogle, Wharton, Ken Roczen, Ryan Sipes, Jason Anderson and Hahn.

Barcia's 2-1 gave him the overall win, his second of the year, with Tomac and Baggett rounding out the overall podium. Baggett's points lead now stands at 11.

In the WMX motos, Ashley Fiolek won both of them, although Jessica Patterson, who is racing with a  broken hand, didn't make it easy on her. In the first moto, Fiolek led every lap, but Patterson kept her in sight most of the way, and  keeping Patterson in check was Tarah Gieger, who was able to show Patterson a wheel several times. When the checkered flag flew, it was Fiolek, Patterson, Gieger, Mariana Balbi, and Sara Pettersson. After the moto, Gieger said she had a hard time seeing after accidentally grabbing all of her tearoffs in early in the moto.

In moto two, it was Fiolek who once again got the start and the early lead. Then, Patterson was able to make a move stick and took over the lead. Several laps later, disaster struck when Patterson stalled the bike while leading and lost a ton of time. Fiolek went on to win, followed by Gieger, Balbi, Pettersson and Jacqueline Strong.  Patterson finished the moto in eighth, giving her fourth overall. The points situation in the WMX is now incredibly tight, with Patterson retaining her lead by a mere two points over Gieger. Fiolek sits eleven points back in third.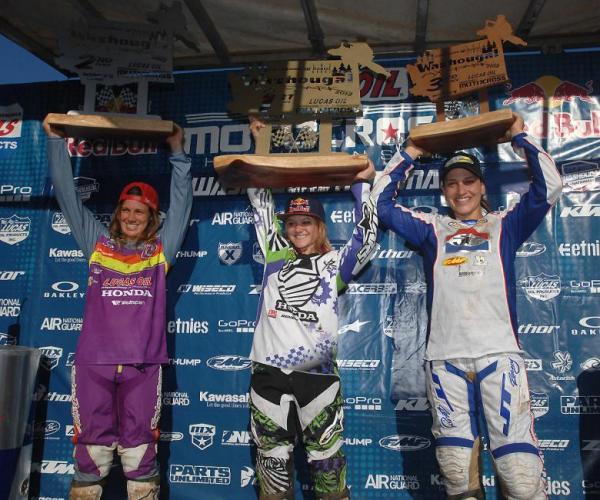 Ashley Fiolek (center) scored her second-straight WMX win. Tarah Gieger and Mariana Balbi rounded out the podium.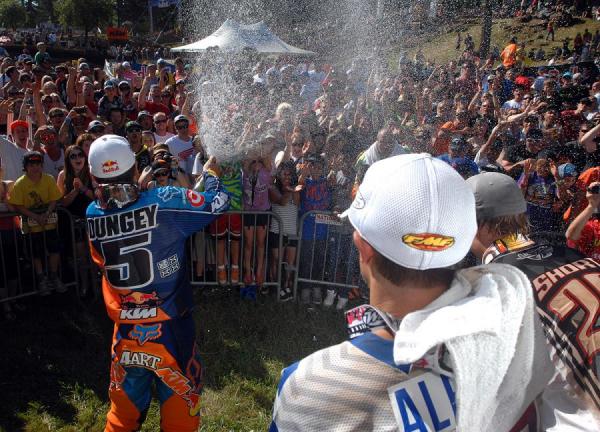 Dungey's win was his fifth-straight at Washougal.
Carl Stone photos

The series takes a few weeks off until round nine, the Southwick National in Massachusetts.


Lucas Oil Pro Motocross Championship
Peterson CAT Washougal National
Washougal MX Park - Washougal, Wash.
July 21, 2012
Round 8 of 12

450 Class (Moto Finish)
1.    Ryan Dungey, Belle Plaine, Minn., KTM (2-1)
2.    Mike Alessi, Victorville, Calif., Suzuki (1-2)
3.    Andrew Short, Smithville, Texas, Honda (4-3)
4.    Jake Weimer, Rupert, Idaho, Kawasaki (3-5)
5.    Broc Tickle, Holly, Mich., Kawasaki (6-4)
6.    Tommy Hahn, Great Bend, Kan., Honda (7-7)
7.    Kyle Chisholm, Valrico, Fla., Kawasaki (8-10)
8.    Christian Craig, El Cajon, Calif., Honda (10-9)
9.    Weston Peick, Wildomar, Calif., Suzuki (9-11)
10.    Josh Grant, Riverside, Calif., Kawasaki (17-6)
450 Class Championship Standings
1.    Ryan Dungey, Belle Plaine, Minn., KTM, 383
2.    Mike Alessi, Victorville, Calif., Suzuki, 303
3.    Jake Weimer, Rupert, Idaho, Kawasaki, 280
4.    Andrew Short, Smithville, Texas, Honda, 247
5.    Broc Tickle, Holly, Mich., Kawasaki, 220
6.    Justin Brayton, Ft. Dodge, Iowa, Honda, 183
7.    Josh Grant, Riverside, Calif., Kawasaki, 169
8.    James Stewart, Haines City, Fla., Suzuki, 151
9.    Brett Metcalfe, Mannum, Australia, Suzuki, 142
10.    Kyle Chisholm, Valrico, Fla., Kawasaki, 137
250 Class (Moto Finish)
1.    Justin Barcia, Monroe, N.Y., Honda (1-2)
2.    Eli Tomac, Cortez, Colo., Honda (2-3)
3.    Blake Baggett, Grand Terrace, Calif., Kawasaki (6-1)
4.    Marvin Musquin, La Reole, France, KTM (3-4)
5.    Ken Roczen, Apolda, Germany, KTM (4-7)
6.    Blake Wharton, Pilot Point, Texas, Suzuki (7-6)
7.    Justin Bogle, Cushing, Okla., Honda (9-5)
8.    Wil Hahn, Decatur, Texas, Honda (5-10)
9.    Ryan Sipes, Vine Grove, Ky., Yamaha (8-8)
10.    Jason Anderson, Edgewood, N.M., Suzuki (10-9)
250 Class Championship Standings
1.    Blake Baggett, Grand Terrace, Calif., Kawasaki, 355
2.    Justin Barcia, Monroe, N.Y., Honda, 344
3.    Eli Tomac, Cortez, Colo., Honda, 323
4.    Ken Roczen, Apolda, Germany, KTM, 305
5.    Marvin Musquin, La Reole, France, KTM, 256
6.    Wil Hahn, Decatur, Texas, Honda, 218
7.    Blake Wharton, Pilot Point, Texas, Suzuki, 185
8.    Jason Anderson, Edgewood, N.M, Suzuki, 168
9.    Jessy Nelson, Paso Robles, Calif., Honda, 144
10.    Travis Baker, Temecula, Calif., Honda, 134
WMX Class (Moto Finish)
1.    Ashley Fiolek, St. Augustine, Fla., Honda (1-1)
2.    Tarah Gieger, Aguadilla, Puerto Rico., Honda (3-2)
3.    Mariana Balbi, Belo Horizonte, Brazil, Honda (4-3)
4.    Jessica Patterson, Tallahassee, Fla., Suzuki (2-8)
5.    Sara Pettersson, Sweden, KTM (5-4)
6.    Jacqueline Strong, Sedona, Ariz., KTM (9-5)
7.    Hailey Larson, Mill Valley, Calif., Honda (8-6)
8.    Kasie Creson, Vallejo, Calif., Honda (7-7)
9.    Alexah Pearson, Sacramento, Calif., KTM (6-9)
10.    Amanda Brown, Baltimore, Md., Honda (10-11)
WMX Class Standings
1.    Jessica Patterson, Tallahassee, Fla., Suzuki, 236
2.    Tarah Gieger, Aguadilla, Puerto Rico., Honda, 234
3.    Ashley Fiolek, St. Augustine, Fla., Honda, 225
4.    Mariana Balbi, Belo Horizonte, Brazil, Honda, 193
5.    Jacqueline Strong, Sedona, Ariz., KTM, 176
6.    Kasie Creson, Vallejo, Calif., Honda, 174
7.    Sara Pettersson, Sweden, KTM, 173
8.    Sayaka Kaneshiro, Osaka, Japan, Honda, 137
9.    Alexah Pearson, Sacramento, Calif., KTM, 127
10.    Sade Allender, Sanford, Maine, Honda, 118