Washougal Motocross
Washougal

,

WA
Washougal
Lucas Oil AMA Pro Motocross Championship
Oh what a glorious time for Canada in motocross! Our own Cole Thompson, from Ontario, was rewarded for his efforts (three top-tens in the last four motos in the 450 Class) with a ride on the Star/Valli/Rockstar Racing Yamaha team. On top of that, our expat/part-Scot/we'll-take-him-anyway Dean Wilson looks like he's headed to the Jeff Ward Racing Team in 2013 for a full-time 450 ride with a works Kawasaki. With that in mind, Racer X Online asked me to lead the committee to unearth 10 Great Moments of Canadians-in-America motocross history. With a nod to pioneers like Zoli Berenyi, Molson and Labatt Beer (early motocross sponsors for pioneers like Doug Hoover and Jeff Surwall), here's our list. Please feel free to add more in the comments.
1.) Dean Wilson wins the 2011 Lucas Oil 250 Pro Motocross title.*
Dean has done some amazing things for Canadian moto over the years and a couple of them are: a) Depressing an entire gate of Canadian racers when he showed up as a B rider to ride the Canadian Nationals and promptly smoked every single rider for six straight motos, and b) Representing Canada at the Motocross of Nations in 2009 in Italy, and although his teammates let him down and failed to qualify for the A main, Wilson still smoked everyone in the B-main final on a 250F on Sunday morning before the big race. It was shortly after this trip for Canada that Wilson started drifting to the "dark side" of the United Kingdom, and I can't help but think him looking at the way Team Canada "does" the MXoN as one of the reasons fish-n-chips started getting appealing to him.
But the biggest news for Wilson was getting a Monster Energy/Pro Circuit Kawasaki ride and taking the 250 Nationals last summer. He won the outdoor championship and his future in the sport as one of the stars seems assured.
* Yeah, I know Wilson went "off the reservation" as they say and converted back to his Scottish roots after racing for Canada that year at the MXoN, but I don't care; we still sort of claim him even though Dean himself seems to be a bit irritated by this. But c'mon, when you think about your life as a human being, what are some of the most treasured memories? Childhood, right? Well, Wilson spent his childhood (from age 6 on up) in Canada, and therefore, whether he likes it or not, his memories—the real key ones—are from Canada.
So what does it say that I as a Canadian haven't let go of Wilson as a Canadian when he seems to desperately want to let go of it? Well, I'm not sure really but I'll let you know what it is as soon as my therapist here in Las Vegas accurately diagnoses it.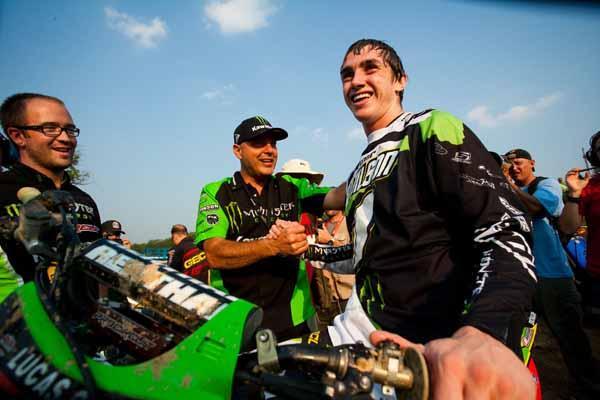 Dean Wilson's 2011 Motocross Championship tops the list.
Andrew Fredrickson photo
2.) Can-Am's Glorious Era
Once upon a time the Montreal-based Bombardier company build great motocross bikes and finished 1-2-3 in the 1974 AMA 250 Motocross Championships, with Gary Jones leading Marty Tripes and Jimmy Ellis to the sweep. Sure, all three are Americans, and Tripes only rode the white lightning for the last round, but Canada still claims this moment of dominance, kind of like how we sorta won the French and Indian War by being on both the British and French sides, as well as the Indians, who also played in down the middle, though they would ultimately lose big. But I digress.
One year later, Jimmy Ellis dominated the '75 AMA Supercross Series on a Can-Am. The bike never won a race in America again, and they soon stopped making dirt bikes, though Can-Am is still thriving in the SUV and ATV markets, among many others. Can-Am is the title sponsor the Grand National Cross Country Series.
3.) The Rollerball
Now most of you know about my love for the Rollerball, who in the 80s and early 90s won an astounding forty-two Canadian championships. (If you want to learn more about him, I urge you to check this out) but to me, as a Canadian motocross fan it was what Roller did in America that was the biggest achievement. Ross reached heights of fame in America against the very best riders. He scored three podium finishes in the AMA Nationals, collected numerous top-tens indoors and out, earned low national numbers for years, top-fives at a couple of U.S. Grand Prix races (250 and 500), and is, simply put, the very best Canadian rider of all time. Just the other day on the Pulpmx Show, longtime factory Suzuki mechanic Tony Berluti was recalling a story where Pederson's remote reservoir on his shock broke at some race and the hose was flailing around hitting Pederson while spraying him with oil. And he never quit. And the training stories of Pederson are legendary!
Dave Gowland, who manages the Rockstar Suzuki team right now, used to be his mechanic, as did Dunlop's Marshall Plumb. So in a way, the legacy of Rollerball still lives on at the Nationals today!
Ross rode with heart and passion and at a very high rate of speed. He held his own down in America and there won't be another rider like him ever. I even chronicled how in my mind Pederson was better than Ricky Carmichael right here. This article made many, many people mad. But it's all there.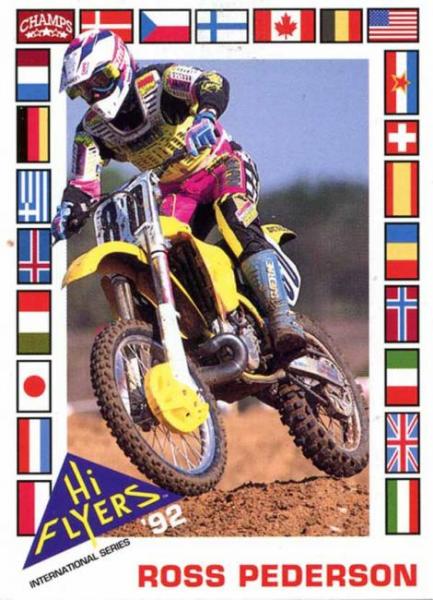 The Rollerball won forty-two Canadian championships.
4.) The French-ish Invasion
Jean-Sebastian Roy ranks second in my mind to Pederson when it comes to the best riders born in Canada. JSR could've won many more Canadian championships than the six he did, but he was often racing full-time down in the USA, often as a privateer with teams like Planet Honda and Jolly Rancher Suzuki. Roy was a fixture around the top ten in the nationals and a main-event guy most weekends in supercross. Along the way he earned a career best national #21.
Perhaps the greatest almost-moment for JSR took place at the annual Englishtown, New Jersey, Kawasaki Race of Champions in 1997. He led the 250 MX and SX champion Jeff Emig for the entire moto until about three turns to go when he crashed and hurt his shoulder. Granted, Emig might not have been in tip-top shape at this point after a night out in Manhattan, but we'll still take it—JSR (almost) beat FRO!
JSR's still involved in the sport up in Canada working for Oakley and the KTM Canada guys. And here's a tip of the cap to the first French-Canadian invader, Carl Vaillancourt. who was sponsored by Canadian petrol company ESSO in the late '80s and finished top ten in the 125 East SX series a bunch. Carl also held a low national number for many years and even got a ninth at Gainesville 1993 in the 250 class.
5.) Darcy Lange Comes Oh So Close
Mitch Payton at Pro Circuit had an injury on his team going into the 2007 Lites East SX series and plucked Lange out of the smaller arenas to be his guy. Lange had been racing in the National Arenacross Series and won a bunch of titles but wasn't thought of as much of an SX contender when the series started. But a contender he was! Lange made a couple of podiums as he got into a dogfight with teammate Ben Townley and Yamaha of Troy's Ryan Morais for the championship. In the end, a third was his placing, but it was an incredible achievement. Lange never really devoted himself to the American SX and MX scene full-time, so we never got to see what he could do, but in the winter of '07 he was so close to getting the plaque you could smell the back bacon. Lange's other finishes of note were in the 250 MX series in 2002, where he just finished outside the top ten a couple of times in limited action.
6.) Great Mechanics and Hot Monster Girls
There were a bunch of mechanics like former pro Shane Drew, Alan Brown, Paul DeLaurier, Dan Worley, Derek and Darrin Sorenson, and even yours truly who populated the circuit since the '90s as factory spanners. Really not sure why we seem to make good mechanics. But we all know and appreciate what the Monster Girls bring to our sport—a vast knowledge of how the universe works and great Halloween-costume ideas for every pro rider's wife/girlfriend—and it originated from Canada, more or less. Three girls from north of the border—Christina, Valerie, and Sylvia—were counting down from 30 long before it became par for the SX/MX course. They also did a Racer X fashion shoot back at the 2006 U.S. Open. Just another example of talented Canadian imports finding a home here in America.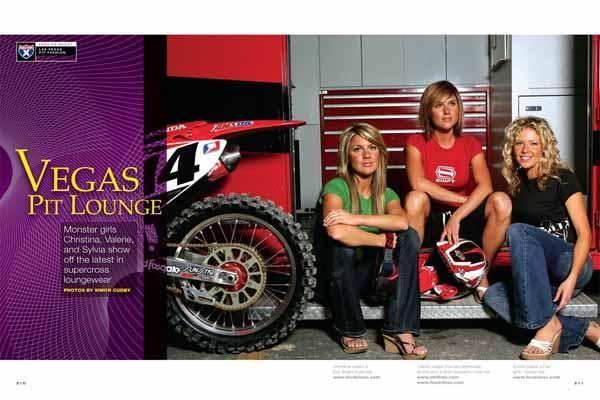 Monster Girls are from Canada too!
7.) Doug's Detour
When I was racing in Canada, one of the hottest amateur phenoms ever to hit the scene (think Robbie Reynard-level hype) was Ontario's Doug DeHaan. This kid was going to take over Canadian motocross like we've never ever seen before, and Dougie was indeed very, very fast. He was another guy who took the harder and less traveled road to America, as DeHaan probably left some Canadian titles on the table in an effort to chase AMA glory. All in all, Doug raced thirteen years in America with more than a few top-tens in 125 SX along the way. He's currently a Fox Racing rep up in my home province of Manitoba and still racing here and there.
8.) World Cup Dominance
Well okay, maybe dominance is not quite the word, but absent any real MXoN results (an eleventh in '86 and an eighth in 2001, I believe) Canada can only look back fondly at the one-off 2002 World Cup of Motocross. When the 2002 Motocross of Nations went up in flames due to I-don't-have-enough-space-to-get-into-it, the World Cup of Motocross was arranged at Glen Helen for the countries that were already here already getting ready for the race. And what a day for the red-white-and-maple-leaf people! Suck on these results:
1. Australia: 20 Points (Chad Reed, Craig Anderson, Michael Byrne)
2. USA: 24 Points (Kyle Lewis, Sean Hamblin, Tim Ferry)
3. Canada: 60 Points (J. S. Roy, Blair Morgan, Marco Dube)
4. South Africa: 64 Points (Grant Langston, Greg Albertyn, Kevin McGovern)
5. Japan: 67 Points (Akira Narita, Yoshitaka Atsuta, Kazuyoshi Idagiri)
Yeah, that's right, third-best country in the world! Take that, Belgium! I worked for Tim Ferry this day for Team USA and was at a loss for words when he yelled at me after Canadian Blair Morgan cleaned him out at the bottom of a hill. I didn't know what to do, so I think I just started crying. But we were there. We were on the box. "We're number three! We're number three!"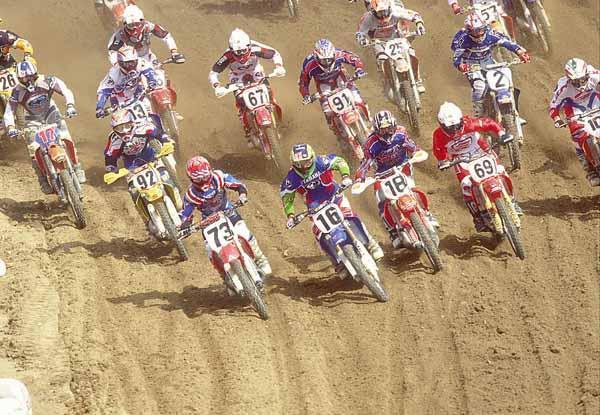 Canada somehow found a way to get third at the one-off 2002 World Cup of Motocross.
9.) The Klatt-A-Puss Attacks!
Dusty Klatt, a kid from the Vancouver Island, had a meteoric rise to stardom in Canada. Klatt was on his game up north in capturing three straight titles and dethroning the mighty JSR. I'm not going to say there was a bidding war down south for Dusty's services, but there were multiple teams that were interested. Eventually he chose Star Racing on a Yamaha 250F and hopes were high back home. Klatt was the first guy to sort of have the social-media age behind him as Racer X Canada magazine and all the internet forums knew about this kid. Everything was set for Klatt to do well and then, like lemmings, the American teams would start snatching up Canadian kids left and right, a la Aussies after Chad Reed went to the U.S. and won.
But Klatt struggled right off the bat. Many Canadians still have sleepless nights wondering what could been when Klatt, running fourth in his second supercross that year, was cleaned out by Jason Lawrence and DNF'd. This was on the heels of cartwheeling in the whoops and burning the crap out of himself one week earlier at the opener. Klatt could never regain his confidence and produced mediocre performances the rest of the way.
Three-quarters of the way through the nationals, Klatt and Star parted ways. And the teams down here have never looked north again—until right about now with Thompson. As for Klatt, he rebounded from this to get a ride with his old team a couple years later and is still one of the very best riders Canada has ever produced, but just did not show it down here.
10.) Cole Thompson Renews Hopes
And here we are, with Sarnia, Ontario's Cole Thompson scoring a couple of top-tens in Lites East Supercross and three top-tens in the last four motos in 450 motocross. Forgoing a salaried ride up in Canada, Cole and his family are shelling out the cash in order to try and make it on the biggest stage, the AMA Supercross and Motocross series. And as we said at the top, Thompson's got a shot with Star Yamaha now for the last five nationals and … no pressure at all, Cole, but the entire country of Canada is watching you waiting for the proverbial piano to fall on us. This is our chance to make a mark with a real, true-life Canadian. Just some words of advice Cole.: Don't blow it, #160! Because you're #1 in our hearts right now!
BONUS: Some other highlights were BC's Al Dyck getting top five at a Golden State National in '87; Danny Brault cartwheeling a Racer X CRF 250 test bike at Steel City; JSR holeshotting the crap out of a moto at High Point on a CR250 two-stroke; Jason Frenette scoring a fill-in ride alongside THE Damon Bradshaw in 1997 on the MHR Honda team; Klatt holeshotting an MXoN moto in the sand at Leirop; Blair Morgan getting ninth at Steel City in 2002; Mike Harnden, seventh overall at Millville in the 500 class in '85; Lawrence Hamm scoring a Hi Flyer card in '92; Jolene Van Vugt not getting herself killed in a Nitro Circus accident.
Hope you enjoyed this. Email me at matthes@racerxonline.com to tell me that yes, you also believe Rollerball was better than Carmichael.