Spring Creek Motocross
Millville

,

MN
Spring Creek (Millville)
Lucas Oil AMA Pro Motocross Championship
A big get well soon to TiLube/Motosport/Foremost Insurance rider Nick Wey, who went down hard in the sand whoops. Everyone loves Wey! We hear he's suffered from hip, rib and back injuries. Get well son, Nick!
We've been seeing riders leaving and coming back from injuries the past few weeks. This week marked the return of GEICO Honda's Justin Bogle, among others. He was supposed to make his return at RedBud, but wasn't quite feeling ready. Now that he's back, he reminded everyone that he's got serious potential. He ran toward the front for most of the day and finished 10-8 for 8th overall. "It wasn't what I was hoping for, but I'll take it," Bogle said. "It'll get better."
Star-Valli Rockstar Yamaha's Gareth Swanepoel had an awesome first moto, until he broke his leg! Though he still managed to finish the moto in 15th, he'll be out of the series for a while. That's yet another blow to the team, which has been suffering from injuries to just about every one of its riders.
Cole Thompson had an awesome run in Millville, finishing 15-7 for 8th overall. His top-10 finish caught the attention of Star-Valli Rockstar Yamaha, who brought him on for the next few rounds. Though he isn't being referred to as a replacement rider, he isn't a fully-contracted member of the team either.
Speaking of awesome weekends, Langston-Witt Racing's Les Smith had his best race this season. He was feeling the track, finishing just behind Albertson in eleventh the first moto and getting his first top-10 moto finish of the season in the second moto.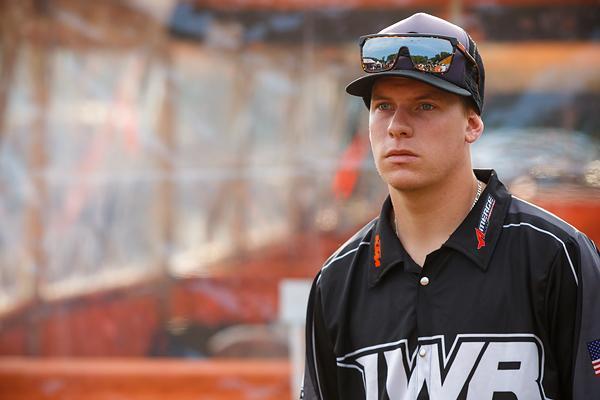 Les Smith had his best result of the season with a 7th overall at Millville.
Simon Cudby photo
It was looking like this might be a good weekend for Monster Energy Kawasaki's Tyla Rattray. He finished strong in sixth the first moto. But difficulty struck second moto as he collided with Jimmy Albertson, who had crashed in a corner. From about last, Rattray managed  to get up to about 12th when he collided with Mike Brown and busted his front brake disc and front wheel--and ended his moto. But since so many other riders had dropped from the moto, he still took 28th, and finished 9th overall.
Front brake troubles in moto two also led to a DNF for DNA/Jeff Ward Racing's Josh Grant. He was 8th in moto one.
That second 450 moto wreaked havoc on a lot of riders. The inconsistency really showed when Lucas Oils Troy Lee Design's Honda rider Christian Craig went 14-14 to earn 10th.
Word on the street is that JGR/Toyota Yamaha is out of the race for Dean Wilson. We already know that they'll be keeping the Yamaha in 2013 and with riders getting snatched up left and right, it's got to be a little nerve wracking for the team whose top prospects are dwindling. On the Wilson front, rumors this week are linking him to Jeff Ward Racing.
Home track boy Alex Martin rode 16-9 for 13 overall on his Eleven10 Mods Honda. It was his second-best race this season. His best was at High Point, where he finished 11th overall.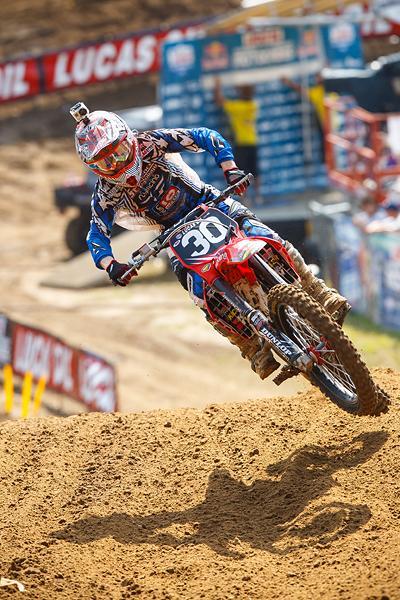 Martin finished just outside the top ten at his home track.
Simon Cudby photo
Kyle Regal still had no luck. He got some good starts, but fell to the back quickly. He went 35-33, putting him at 38th overall. As the only rider for JGR right now, his results haven't been reflecting well on him or the team.
Complete privateer Cody Lackore from Farmington, MN finished 30-26 for 28th overall in the 250 Class. What's even better is that Lackore started moto one with thirty-eighth gate pick after finishing second in the 250 consolation race. Congrats to Cody!
Lackore wasn't the only happy privateer. Ronnie Stewart went 21-11 for 18th, Jake Loberg went 25-15 for 22nd and Heath Harrison went 16-22 for 23rd.
Mike Brown (15th overall) and John Dowd (19th) were out representing the older generation yet again. Both of them finished in the top 20 and even got some serious TV time.
Rockstar Suzuki's Blake Wharton found himself in top five for the second time this season. Despite struggling for the last few rounds, he managed to find his groove at Millville, finishing in sixth just three seconds behind Wil Hahn in moto one. He was all by himself in moto two.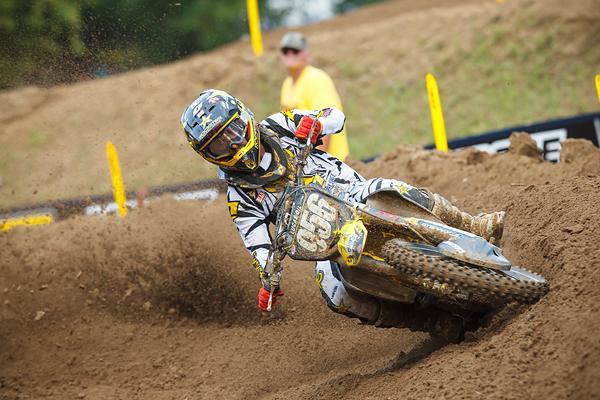 Blake Wharton scored his first top five moto finish, at Millville, since the second moto at Freestone.
Simon Cudby photo
BTOSports.com/BBMX/Palmetto Suzuki's Jason Thomas managed to salvage four points out of the day, despite his chain breaking in the first moto, forcing him to head back to the pits. He came back out for the second moto looking for redemption, finishing seventeenth for twenty-fourth overall. Those four points are....four more than he has scored all season. Yeah JT$!
Tommy Hahn returned from a broken finger for Team Honda Muscle Milk, and finished a solid seventh in moto one. Then, he broke out in a sudden allergy attack before moto two and couldn't race! He still finished 11th overall.
The infamous Whoop Monster was missing from the Spring Creek sand whoops sidelines for the second year in a row. His absence really made a difference in the atmosphere around what was described by riders as one of the trickiest sections on the track.