Spring Creek Motocross
Millville

,

MN
Spring Creek (Millville)
Lucas Oil AMA Pro Motocross Championship
At
Millville
, the BTOSports.com/BBMX Palmetto Suzuki team was looking forward to having one of its best weekends of the year. And it looked good for awhile before it all went to crap so, so quickly. The team, consisting of
Michael Byrne
,
Jimmy Albertson
and
Jason Thomas
, has been having a so-so Lucas Oil Pro Motocross Championship. Byrne is starting to get back to his old form after missing supercross with a broken neck, Albertson is probably underperforming a bit and Thomas, well he's been better, let's put it that way.
At Millville though, Albertson qualified third, perhaps signaling a turnaround. The team had a possible breakthrough in the first moto when Byrne very nearly pulled the holeshot and ended up a respectable ninth, and Albertson came through the pack from outside the top twenty to a tenth. It was the first time the team had placed two riders inside the top ten all year. The only downfall was Thomas who broke a chain early in the moto and DNF'd.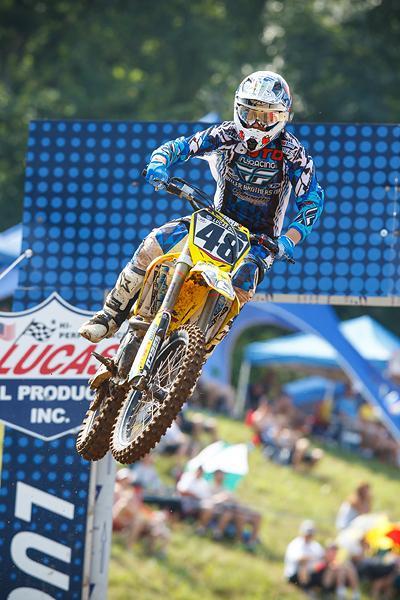 After qualfying third, Jimmy Albertson fought his way to his first top ten of the season in the first moto at Millville.
Simon Cudby photo
And in the second moto it was more of the same, the tides were turning and the BTOSports.com/BBMX Palmetto Suzuki team were ready to roar! Byrne got another incredible start and this time Albertson was right behind him! Both riders were looking to again get some top tens or maybe, just maybe, a top five. Even Thomas, him of the bad starting spot based on his first moto DNF, was just outside the top twenty which for him this year was promising.
But soon, as the motocross gods are wont to do, things started to go sideways fast. Kyle Regal of the JGR Yamaha team got a little buck wild at the end of the sand whoops and Albertson, trying to avoid him, got hung up and then whiskey throttled his bike. Down he went (also taking Kawasaki's Tyla Rattray with him) and Albertson remounted in last.
Out front Byrne hung tough and was holding strong in fifth when Honda's Justin Brayton singled up a hill while Byrne unfortunately doubled. That was it for the hopes of the team in repeating its first motos. Byrne crashed in a heap and his bike was run over. The good news for Jimmy Albertson was he was no longer dead last, that honor now belonged to Byrne and his crumbled up RMZ450!
Albertson pulled off and admitted afterwards that he never should have done that, he should have soldiered on and tried to score some points. Byrne would do just that was rewarded with one point for 20th place. Worse yet, he maintained the pace of the riders he was battling with before he crashed, except he was now doing it from a lap down!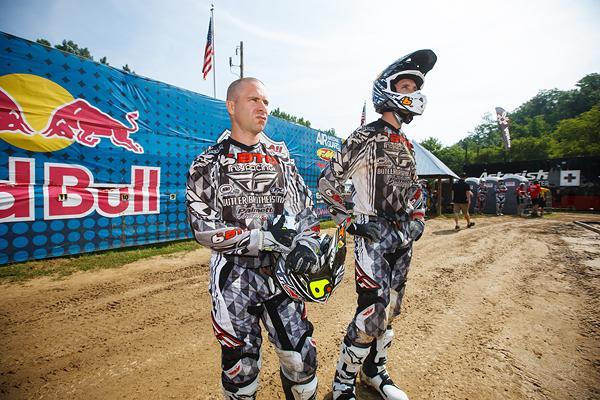 Jason Thomas (left) scored his first points of the season in the second moto, while Byrne suffered a crash and had to settle for 20th.
Simon Cudby photo
The bright spot (if you want to look for one) was Thomas who battled hard and ended up with a 17th in the second moto. That's good for four points on the day, and four more than he had earned up to that point all season.
After the first moto and for about a half of a lap in the second moto, the team was poised for its best race of the season. But then it all fell apart and the results don't show how good it could have been. For that, we're awarding the whole team the Racer X Unsung Hero(s) of the day.
Onward they go to Washougal in hopes of putting it all together once again. And this time, for two motos.