Spring Creek Motocross
Millville

,

MN
Spring Creek (Millville)
Lucas Oil AMA Pro Motocross Championship
On the surface, the Lucas Oil Pro Motocross Championship looks so similar from week to week. Ryan Dungey crushes the 450 comp, and the 250 riders duel through every inch of every moto until Blake Baggett drops the hammer, blows by 'em and wins. That script was in play again this week at Millville until Baggett threw it away while leading the second 250 moto. Still, it was just a minor scene change, not an earth-shattering event.
Should we really expect the unexpected anymore? Now 40 years into this series, the main players understand the winning formula. Every element is maxed out—the top riders are raised as champions, riding and racing non-stop from an early age. Then once they turn pro, they're trained to the limit by some of the gnarliest dudes ever known. The riders are machines, and the machines they ride are incredible, too. They are reliable rocket ships, with no element left to guess. Every single variable is measured, understood and managed. Heck, even the tracks are similar, with deep, sandy, watered and prepped courses each week (this weekend, Washougal will present one of the few non sandy/deep tracks, and the riders will complain that it's too slippery). It's all homogenized, pasteurized, perfected. Race strategy? Different approaches each week? Ha. Every rider will just claim they need better starts, and will say they ride the full 35 minutes flat out the whole way. The personality, style and individualism have been removed, and everyone sticks to the same script.
It reminds me of a conversation I once had with renowned trainer Jeff Spencer, who told me, "At this level, it's not about heart. It's about preparation." Spencer's point is that sports have evolved to where you're finding the limits of the human body, to the point where pure determination can't add massive gains to your performance. You have to be fully prepared, first, or you have no shot at winning no matter how badly you want it during the moto. And, chances are, someone else on the track also wants it really, really badly. Watch these 250 motos—the desire meter is pegged full-max by Barcia, Baggett and Tomac. If it came down to who wanted it more, they'd all cross the finishline in a deadheat.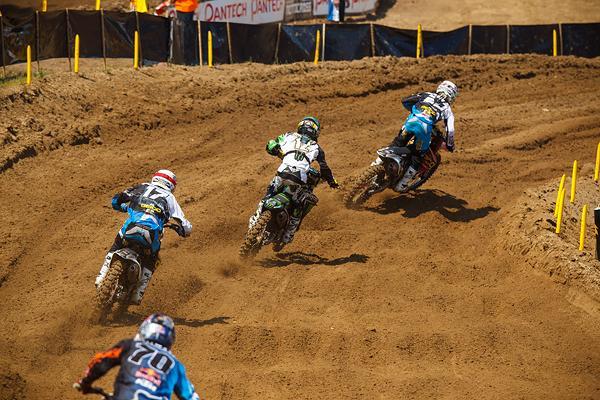 The quartet of Roczen, Tomac, Baggett and Barcia are pushing the limits, but is there a strategy involved?
Simon Cudby photo
We are way past the days of some dude coming out of nowhere and winning. Bob Hannah's dad never wanted him to race motorcycles, so young Bob just hauled through the desert until he was old enough to race on his own. Soon, ass kicking would commence. Today, if you're not packaged and schooled through the amateur ringer at Loretta's and such (and, most likely riding and training at a facility full-time, or at least living in warm weather all year) you're not going to make your mark. Gone are the days of Guy Cooper or Doug Henry skipping the amateur stuff, turning pro, pitting out of a car and winning. Gone are the days of a dude like John Dowd not even racing until age 21, working at a junkyard, figuring this all out and running…wait a minute, Dowd was STILL racing at Millville and running up front?
Beyond that, racing has boiled down to the smallest, subtlest of things, and with so many of the variables taken away, chances are you won't see anything crazy or anything different or….wait a minute, did Nick Wey's bike just go flying into Spring Creek!?
Here's a get well soon to Nick, who will be on the mend for quite awhile after that one. For Nick, this crash totally sucked. But if he hadn't been hurt, this crash would have been awesome! The crash was not quite as spectacular as last year's Chadapult, but it was still awesome. Crashes like this just don't happen in motocross anymore. The sport has evolved enough, become sterile and predictable enough, to where bikes don't go flying into water. This crash takes you back to when a sport is new, no one knows exactly what to do yet, and anything really can happen. Every track has huge jumps, but all of the riders know how to nail them clean from the first lap of practice until the final lap of the day…wait a minute, the Chadapult? Oh yeah, didn't Reed launch some 30 feet without his bike at Millville last year?
It all reminds me of this, the greatest monster truck crash of all time.
Oh yeah! King Kong gets sideways, crashes through the giant Union 76 gas station sign, flips over onto two brand-new police cars and then sets them on fire! Crushes and then lights two police cars on fire! Greatest crash ever!
And of course, this crash dates back to like 1989, when monster truck racing had really just gotten started. Surely from that moment on, they haven't parked police cars so close to the track. Today, with 20-plus years of experience building these trucks and laying out these events, they have to artificially build this stuff back in, by holding a freestyle segment and bringing out old school buses to jump.
Motocross started as a race in an uncontrolled environment. It was called scrambles, and the goal was to get a motorcycle over whatever beat up terrain they could find. It was about reliability and endurance back then, for both man and machine. Now, reliability and endurance is a given for each. It seems like we're locked into the same old, same old each week. But just when you think the fun is gone, a race like Millville comes along and gives the spark.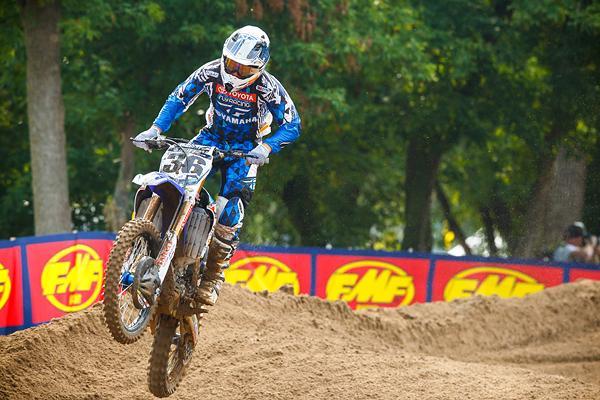 Kyle Regal had a bizarre day at Millville, along with a number of other riders.
Simon Cudby photo
Take Wey's crash, for example. Then, take a crazy 450 second moto where only around 25 of 40 riders were still circulating at the end. Weird stuff was happening everywhere. Tyla Rattray crashed on the first lap, fought back to about 14th, then ran into Mike Brown so hard that he broke his Kawasaki's front brake disc and ended his day. And Brown didn't even crash!
Look at the BTOSports.com/BBMX boys. After our buddy Jason Thomas pulled through and scored national points for the first time all year in one moto (17th!), but he derailed a chain in the other. Michael Byrne, carrying an average start of 14.4 heading into the race, nailed both holeshots! Jimmy Albertson, carrying an average qualifying position of 18.9, qualified third. On went the oddities. Kyle Regal, still struggling huge for JGR, was just 20th in qualifying. He picked the very inside gate in moto one and pulled an awesome start, hung up front for a few laps, then dropped back before a huge crash. How huge was his crash? After the Chadapult, he got bounced around in the rollers at the base of the next hill, came off of his bike, and completed the uphill double without his bike. The bike also made it up to the top, without him. If you're keeping score at home, we had a dude pitch his bike into the creek, and another ghost ride his bike to the top of a hill in the same race. What's this, the Blackwater 100?
Normally, the 250 Class provides the crazy stuff. Instead, this year it's merely providing epic battles in nearly every moto. Those battles are far from formulaic, though. Baggett's come-from-behind charges defy all the racing logic that we have seen for the last 20 years. You just don't wait until the halfway mark to make things happen! For some reason, Baggett now denies that he does this on purpose, even though he clearly rides much better in the second half of the race (and, he admitted that was his strategy last year). Such charges make it appear like Baggett is in way better shape than everyone else, but it's not that simple. Yes, he's strongest in the final laps, but isn't that partially because he saves something at the beginning of the race? Barcia, Tomac and Roczen are in "go to you blow" mode from the drop of the gate, and by the time Baggett gets to full steam, they don't have much left for him. This is called pacing, and it's a term we haven't heard in motocross circles since the 80s. Riders used to (admit they) pace(d) themselves at certain points in the moto.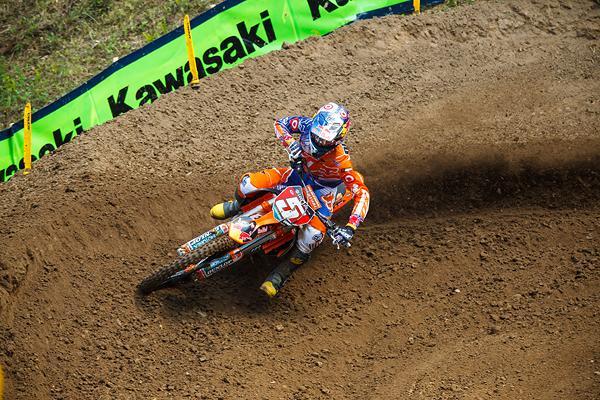 Meet the model of consistency, Ryan Dungey.
Simon Cudby photo
Today, everyone still does it, but it's more subtle and never, ever talked about in public. This year's superb 250 races have brought pacing to the forefront. While Baggett now denies that he's waiting, the lap charts say otherwise. And Tomac, after battling Baggett, said, "He seems like the kind of guy that knows when to go, and when to hang back. So when he passed me, I was like, 'Okay, let's go now!' You hear that? There's actually a little bit of race craft and strategy there! The riders aren't just pinning it and sprinting all-out for 35 minutes. Somewhere, deep down, there's a lot more going on than it appears.
Well, except for the leader in the 450 Class. Dungey has come as close as anyone to eliminating the variables, the guesswork and the unexpected from the game. He's the same rider every lap, every week and every year. Except for the final lap of the race at Millville, where, to acknowledge the cheers from his home-state fans, The Dunge threw in a few big whips and one handers. It was something uncharacteristic for him, and something a little different. Sometimes, it's refreshing to know that's possible.