Racer X September 2012 Digital Edition Now Available
Get your September issue of Racer X Illustrated now!
Pick up the September issue of Racer X Illustrated and get on the set of Gymkhana Five with Ken Block and Travis Pastrana, learn about Broc Golver's impressive end to his racing career, get an inside look at where Eli Tomac lives and trains, see how the manufactures pull out all the stops when introducing new bike models, and how the 2012 Lucas Oil Pro Motocross Championship is as intense as ever! These and more are featured in the September issue of RXI, and the digital edition is now available for only $9.98! Racer X Illustrated's September 2012 issue has been shipped to subscribers, is now available on Droids, iPads, iPhones, and iPod Touches.
Subscribers will be receiving it as early as today. If you subscribe digitally, it's ready for you now. Remember, not only can you read it on your computer, but it's also readable on Androids, iPhones, iPads, and iPod Touches via the free Zinio app.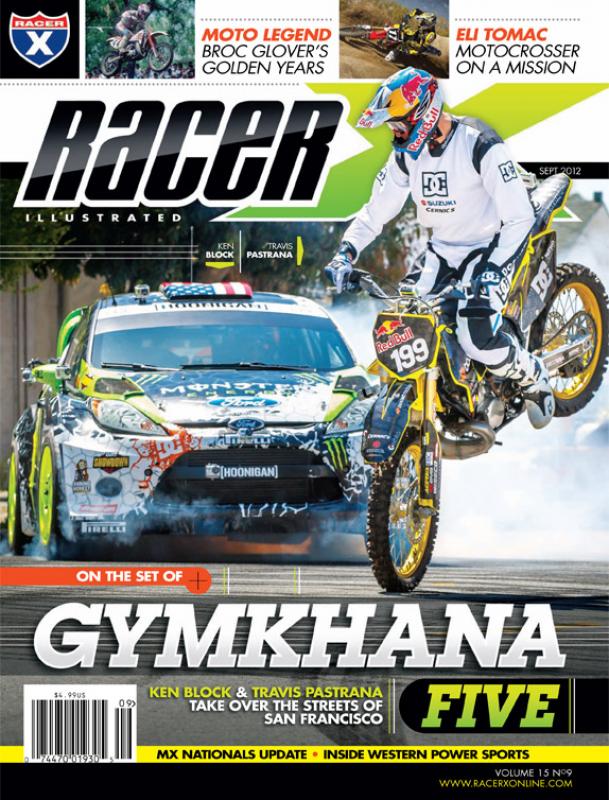 Learn more about what's in this issue here. Or view Current Issue under the Subscribe tab.

Subscribe now digitally and read it now here.

Subscribe now via print.

To download the free Zinio iPhone/iPod app, click here.

To download the free Zinio iPad app, click here.