RedBud Track 'n Trail
Buchanan

,

MI
RedBud
Lucas Oil AMA Pro Motocross Championship
RedBud
. Yes, one word, no space. Says it all: America. Motocross. Summer. Party. Racerhead is back and we are already well into another great year here at the biggest motocross race on the Lucas Oil Motocross circuit, the Red Bull
RedBud
National. The Ritchie family and their staff once again went over the top in preparing their land in Michigan for a lot of company, and the place is already filling up.
You can watch RedBud tomorrow live on FUEL beginning at 1 p.m. ET, and the first two motos will also stream live and free on www.allisports.com. Then the second 250 moto will also be live on NBC Sports, after their Tour de France coverage. The network is holding on to the second 450 Moto to air on Sunday after the Wimbledon tennis finals.
In case you haven't been outside for the last week or so, you probably know that most of the United States is undergoing a serious heat wave. On the drive across Ohio yesterday my dashboard thermometer was going back and forth across the century mark. The athletes and mechanics here have all been given cooling instructions and suggestions for how to beat the heat, and the Marion County Disaster Unit is out in full force with massive cooling tents, "ice chairs" for emergency situations, and Red Bull has put up lots of shade tents. Out on the racetrack every flagman and official will have jugs of water to help cool down any athlete or photographer who might struggle in the heat. It's all in hopes of making sure everyone has as safe and enjoyable an afternoon as they can at RedBud.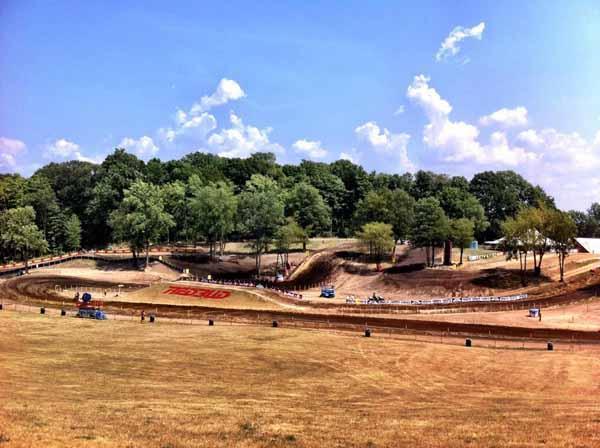 RedBuuudddd is on the horizon.
DC photo
It's been exactly one year since the sport lost Josh Lichtle, the Michigan professional racer who struggled in the first 450 moto here, crashing three different times. The last time, at the very end of the moto, he could not get his bike kickstarted, despite repeated attempts. Medical help and race officials assisted him almost immediately, and he was transported by ambulance from the racetrack to a trauma center. Unfortunately, he passed away two days later—the first and only death in the history of this series. Josh will be remembered tomorrow during opening ceremonies, along with Nick Hoffman, the mechanic for BBR/BTOSports.com Suzuki, who passed away last October. The Lichtle Foundation will also be at the event with their message of proper preparation for heat-related activities.
It's hot, but it's always been hot in motocross. We race during the summertime all over the country, and we've always had hot days. Tomorrow will be no exception. The athletes know it, and they prepare for every condition. In fact, the long hot spell will probably help many tomorrow in that they're probably used to it by now, their bodies acclimated to the temperatures. No matter, two thirty-minutes-plus-two-laps motos will be a test of endurance and stamina for everyone.
Just when Yoshimura Suzuki lost Brett Metcalfe to injury, James Stewart is back this weekend to chase after Red Bull KTM's Ryan Dungey. Tyla Rattray is also back after breaking his hand in the first moto at Hangtown, but then we got the email that JGR/Toyota Yamaha's Davi Millsaps is out too, having torn his foot up pretty good. It's just been a tough year on seemingly everyone in the 450 Class.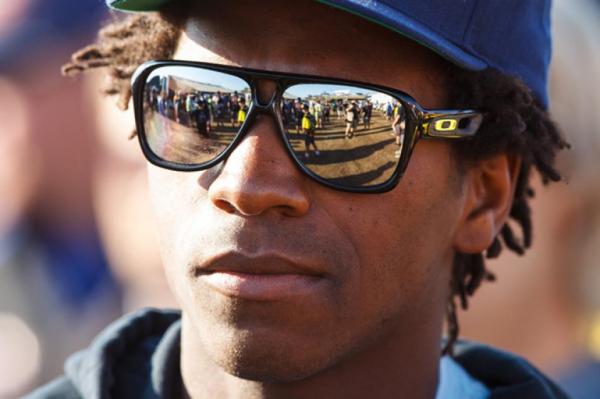 James Stewart is back and looking to give Ryan Dungey a run for his money at RedBud.
Simon Cudby photo
In the 250 Class, it's anyone's guess. Monster Energy/Pro Circuit Kawasaki's Blake Baggett will have the double threats of GEICO Honda's Eli Tomac and Justin Barcia, as well as KTM's Ken Roczen and Marvin Musquin. Neither Ken nor Marvin has ever raced RedBud, so it will be cool to see them out there and trying to get that red plate out of Baggett's hands. This class has delivered excitement every time this year, and tomorrow should be no different!
The guys down below will have some other news, so let me talk about the X Games for a little bit. If you watched, you might agree with me that the best competition by far was Step Up, where Racer X contributor Ronnie Renner edged out Matt Buyten for the gold at a remarkable 47 feet. It was also painful to watch. Renner told me last weekend he thinks his wrist is maybe broken, but he was ecstatic about the chance to win in front of such a huge audience.
One of the lowlights of that contest, however, was the even more painful to watch front endo of Myles Richmond. His bike literally quit at the peak of his near-forty-foot jump. Jeremy McGrath (who was excellent in the booth that night, along with Cameron Steele and Tes Sewell) pointed out that the bike seemed to just stall, leaving Richmond with no chance to use the throttle and inertia to even his bike out. But there's more to it, as Myles pointed out to me in an email he asked me to share on Racer X Online:
I recently competed at the X-Games in the step up division If you didn't see it I ended up crashing pretty good unfortunately. My bike ended up stalling mid-air and basically made me endo and have to jump off therefore getting injured.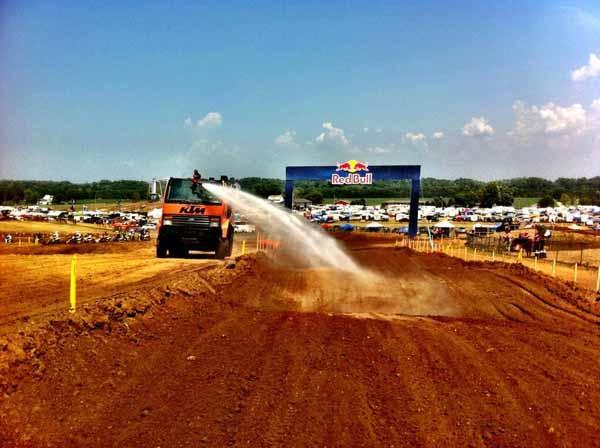 RedBud getting some much needed water due to the hot temperatures.
DC photo
Hinson Clutches in the past has given me clutches for my bikes. Before the X Games I purchased a brand new 2012 Honda CRF450. I was an alternate and therefore didn't really try too hard to get my bike setup for Step-Up since the likeliness of me being in the event wasn't very good. Well, one day before the event I ended up getting a phone call saying I was in. Not even thinking about how important the clutch was in this kind of competition I didn't get an aftermarket clutch installed, but since Hinson has helped me out in the past, I had a Hinson Clutch cover so I put it on my bike to get them some love, or so I thought it would be.
I basically ended up getting the stock clutch too hot so at the top of my mid-air flight, when I went to tap the brake, I pulled the clutch in and it wasn't enough to disengage the motor from the clutch, therefore stalling the bike and then obviously led to where I am now.
I just want everyone from the industry can understand it wasn't Hinson's fault and it was my fault for putting there Hinson Clutch cover on my bike without a Hinson Clutch.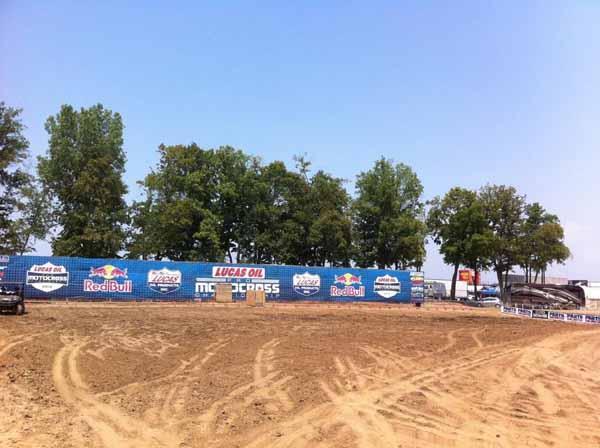 This will be a busy spot tomorrow.
DC photo
Christophe Pourcel has a new lease on 2012—as does Clement Desalle—after Tony Cairoli's terrible luck in the mud in Sweden last Sunday. Pourcel is now just 12 points out of the MX1 lead, which Desalle now holds after the reigning champ and series points leader suffered a rare double DNF. Has that ever happened before? Last time I remember it happening here was when RC went 0-0 at the '06 season-ending Glen Helen National....
At any rate, the Grand Prix circuit just got a whole bunch more interesting! Pourcel and his team put together this cool (and very personal) video called An Endless Return.
By the way, check out the "Tough Mudders" I pulled together for The List. It's got some great old mud moments, as well as some new ones.
And here's a best wishes from everyone at Racer X Online to Todd Jendro, Vice President of Feld Motorsports, on an unfortunate injury: a broken hand (and almost the other wrist) in a crash at Jolliett, Illinois. Jendro is a lifelong racer, and he used to be pretty fast! But like a lot of us who work in the sport, he hardly gets any time to do his own racing. Nevertheless, get well soon, Todd!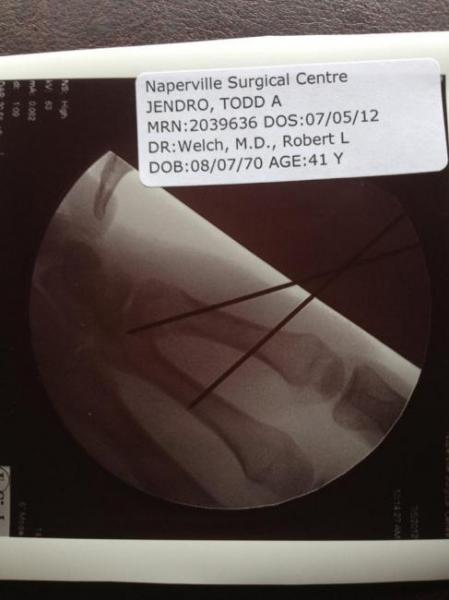 Supercross boss Todd Jendro's summer just got slower.
Okay, here's Ping:
RedBud. That place was the site of my second-ever national motocross event all the way back in 1994. The first national I ever competed in was the year prior at Glen Helen when the promoters tried a one-moto format for television. It was a forty-minute race and the temperature was hovering around the 180-degree mark, if memory serves. So RedBud was actually the first time I had gone through a regular race-day program at a national. I started it off right by getting pushed wide in the first turn and cartwheeling into the banners. My bike was stuck in one of the monstrous trenches dug by the plowing equipment on-site and my mechanic at the time, Randy Lawrence, had to run out and help pull my bike out of the trench in which I was stuck. It was a humbling welcome to pro racing.
This weekend they will roll out the same big tractors that swallowed me up all those years ago and prep what is arguably the best motocross track in the country. The dirt is amazing, the crowd is loud, and the scenery is as beautiful as it gets. It makes for the perfect place to celebrate the Fourth of July. There are usually a few teams that get into the spirit for this race and show up in some red-white-and-blue gear or graphics.
Andrew Short
will have a patriotic pit board being shown to him in the signal area this weekend.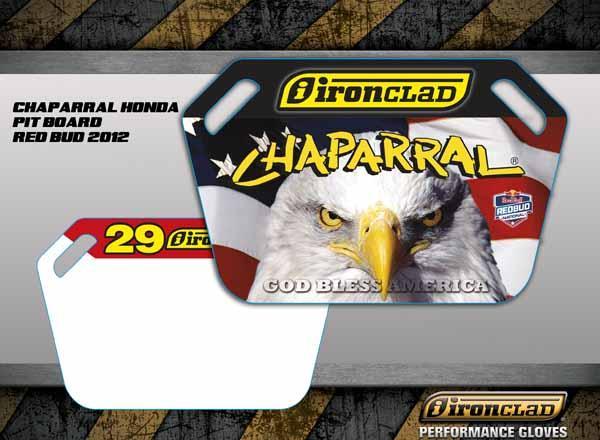 Of course the big question is where does James Stewart pick things back up after his wrist injury in Colorado? The easy answer is that a healthy James Stewart goes right back to winning the way he did in the first four motos this year. But you have to factor in that Dungey has been winning motos for a month straight and improving his bike, his fitness, and his racecraft as the season progresses. I think it's going to be a much bigger challenge for James to step back in and beat Ryan again. Of course you could argue that Ryan has such an enormous points lead that he isn't going to engage in any battles with James when he doesn't have to. I know those guys have their eyes on the big prize and winning KTM its first title, but something tells me Dungey isn't going to just roll over. I think we could see some great racing from here on out.
And let's not forget about Tyla Rattray, who makes his return to racing this weekend. Tyla is a beast outdoors and if he is 100 percent healthy he could find his way to the podium. He is also racing for his life right now since he is searching for a 450 ride for 2013. A few good rides now could solidify a contract for him in August. Same goes for his Monster Energy/Pro Circuit Kawasaki teammate Broc Tickle, who was super fast at Budds Creek.
The two big players in this year's silly season are Ryan Villopoto and Dean Wilson. RV is unhappy about his offer from Kawasaki and has been shopping around a bit to see what else is out there. Obviously, Kawasaki doesn't want to lose him, but he wants big dollars for three years. That's his big push right now: three years and out. We shall see how the saga plays out, but I would guess he stays put at Kawasaki, where he has had a whole lot of success.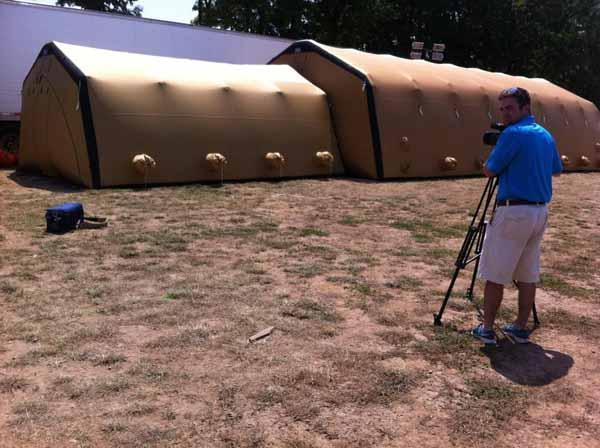 The fan cooling center, provided by Marion County Disaster Response Unit.
DC photo
Dean Wilson just wants to ride a 450. Rumors have him talking with JGR (who have money to spend right now) and over at factory KTM. That could work out well for both of them, as Deano is clearly one of the next major players in the premier class and KTM needs a backup rider for Dungey. But I want to know where the talk is about Deano-to-TwoTwo Motorsports? Those guys are good friends and Reed has said he wants to invest in a good rider that will be capable of winning races. Dean, meet Chad. Chad, Dean. Let us know when the contract is finalized, guys.

The annual Surfercross event is coming up on July 26-27 at Lucas Oil Motocross Park and Trail 6 at San Onofre. If you've done this event in the past, I don't need to tell you how much fun it is. If you want to do it, get in touch with Jeremy Albrecht right now. Call his phone, email him, and send him text messages. He loves hearing from people. You can also follow them at @surfercross on Twitter.
Next up is Jason Weigandt, who will be hosting tomorrow's TV coverage from RedBud for NBC and FUEL TV:
I'm sure I'll be real original here if I start this out by saying "Red Buuuuuud". Yup. There it is. It has been a good day here at the track—after two weekends off a lot of the folks that don't know what to do without a race to race in finally get what they want—a race to race in.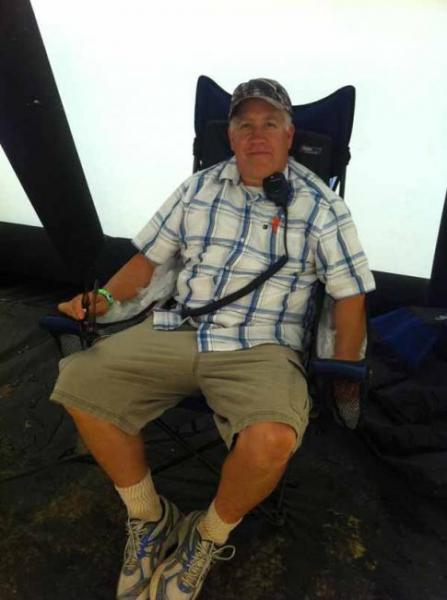 Our pal Pat Schutte sits in one of the "ice chairs" that are on hand in the cooling tent at RedBud.
DC photo
Bad news over at the JGR camp, as Davi Millsaps jacked up his foot a few days ago and is out for the weekend. Millsaps had just gotten back into action after a crash kept him out of round two of this series in Texas. 'Saps has had trouble running the full 24 motos outdoors healthy before, and at Hangtown he said his first goal was to just be consistent and make all the races. Unfortunately, after a great supercross season, he wasn't able to carry that plan forward here.
Now JGR's hopes lie with Kyle Regal, who is now a home-state favorite at RedBud. Regal has been known as a Texan since he has lived down south for most of his racing career, but he and his family recently packed up and returned to their roots. Since Budds Creek, Regal has been up here riding and even racing some local events in hopes of turning around what has been a rough summer so far.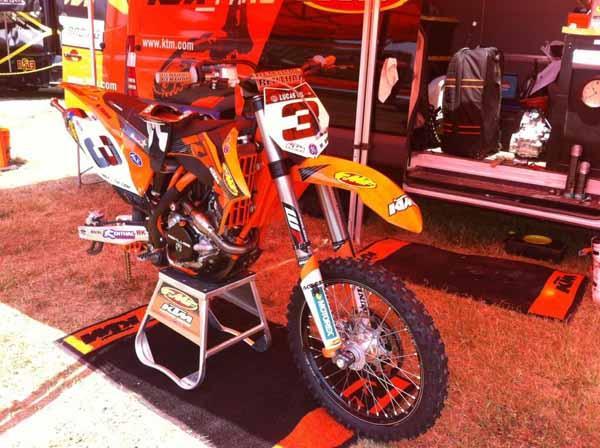 Mike Brown is in the house at RedBud.
DC photo
Regal is not the only Michigander here looking to make a splash, remember that Nico Izzi is also Michigan-born and has had a great summer going (save for a bad weekend at Budds Creek). This could be a big weekend for him. Also, Izzi's Star-Valli Yamaha team has a familiar face back under the tent this weekend in Bobby Kiniry, who was, of course, all smiles this afternoon when I saw him.
One battle that could potentially be tightening up is in the WMX class. Points leader Jessica Patterson finally got through an X Games healthy, but then, well, you'll see tomorrow. Tarah Gieger could capitalize if Patterson falters, and Ashley Fiolek is expected to return to the series after missing some time with a concussion. This could get interesting.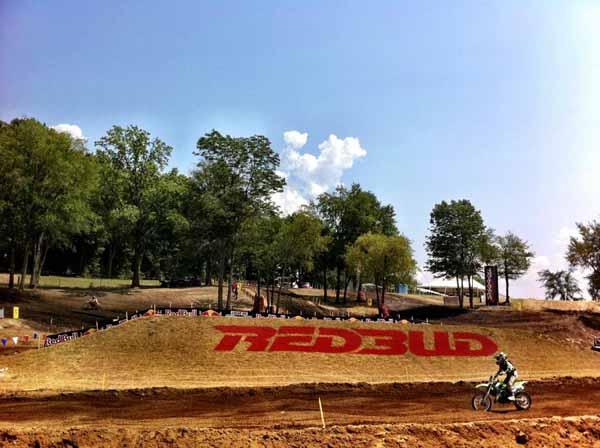 Another look at RedBud.
DC photo
Of course, everyone is looking forward to the continuing battle in the 250 Class and James Stewart's return and expected challenge for Ryan Dungey in 450s. This has been talked about plenty. For the 250s, I spent some time this week talking to my broadcast partner Jeff Emig about this battle, and how critical RedBud could be to that title chase. Perhaps you read This Week in Yamaha History earlier today, where we outlined Emig getting his first national win, at this race in 1992, then rallying to win six of the last seven nationals and win the 125 National Championship.
We've repeated several times on the TV show that the last two 250 champions, Dean Wilson and Trey Canard, had not won an overall at this time last year. Canard won here as a breakthrough, and he launched and Emig-like late-season surge. But Wilson actually lost to Blake Baggett in both motos last year and left feeling frustrated. He turned his season around soon after, but anyone who watched this race last year was convinced Baggett was tops in this class. History points out that these are pivotal races in the series, perhaps even more important than the ones that come at the beginning and the end. And that makes Red Bud, already one of the best races you can watch, even more critical—hopefully you'll all be watching this weekend.
Here's Steve Matthes:
RedddddddddddBuuuuuudddddddd! Good times this weekend as the series marks the halfway point with a race at what might be the crown jewel of the series in Buchanan, Michigan. The 250 guys are just bananas right now and there's no telling what's going to go down in that class. And the 450s just got interesting again with the return of Stewart. James has been out since High Point nursing a bruised-up hand but he's hopefully going to be 100 percent or close enough to it so that the great Ryan Dungey has some competition this weekend.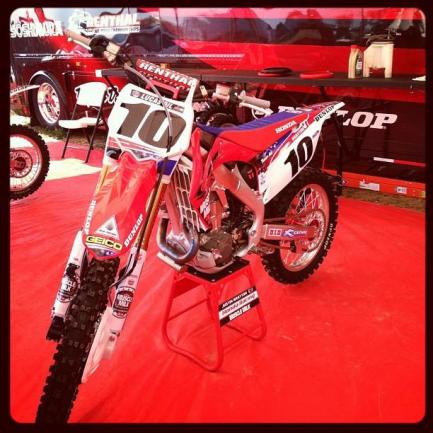 Justin Brayton and American Honda are going with the red, white and blue graphics in honor of Independence Day.
Justin Brayton Instagram photo
It's been the Dungey show since Stewart left and the Minnesota kid has a nice handle on the points chase. Can Stewart return to his previous level? It's going to be tough this weekend with the heat and in full race mode but I'm sure he'll be close and right now, it would be great to see a race in that class.
Mike Alessi has won a moto at RedBud before, so I'd expect him to be strong along with returning-to-the-series Tyla Rattray. And what about Josh Grant? In 2009 he put in one of the all-time great rides on the JGR Yamaha to win here. Can he come close to that again? Grant could be a sleeper for you fantasy-league dorks.
I also have a good feeling that Canada's Cole Thompson is going to enjoy a good weekend. This privateer kid grew up just over the border, no doubt raced at RedBud a ton, and has had two weeks off where he worked on getting better. I'm going to call it right now: 14-12 finishes for the #160. Stamp it.
Yesterday we did a "Going for the W" column on BTOSports.com BBMX's Jason Thomas with our tongues FIRMLY planted in our cheeks. Thomas himself was fine with it and Weigandt and I discussed the concept. And when I wrote it, I figured that everyone could tell that there wasn't anything serious about it. But once again, the human race surprises me. How anyone could think that we were serious with that is beyond me. This is why we'll never have world peace or political parties seeing things in one way. The world is just too different and too vast. For proof, read some of those comments.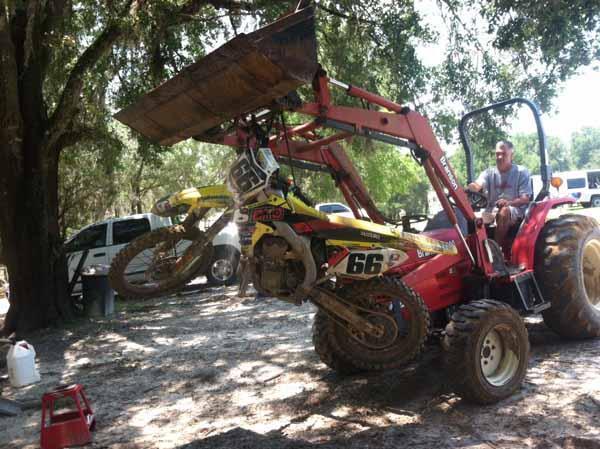 JT uses some easier ways to get around the track.
I saw the PR that the Throttle Jockey guys are celebrating twenty years in the sticker business this weekend at RedBud. And for this I say, congrats to Matt and Robert Davis. I've stayed in the metropolis of Kokomo, Indiana, a few times over the years and the hospitality has always been tremendous. The brothers Davis are longtime supporters of Racer X as well and two of the funnier guys in the business. So again, congrats to those two yahoos on twenty cool and funny years.
When I get to RedBud I'll be sure to try and find out why Michigan's own Eddie Warren was two years and done in America. What a strange career for Eddie. He was one of the best amateur riders in the country, joined Kawasaki and won two nationals for them over two years, and then poof, gone. Dropped from the team and he didn't get picked up by anyone else—didn't privateer it, nothing. I did a podcast with longtime Kawasaki team manager Roy Turner and asked him about Eddie. He really didn't have much to say about Warren's time there, and the last anyone heard about Eddie, he moved to Australia years and years ago. Ah, the mystery of the riddle that is Eddie Warren. He's the sport's Bigfoot.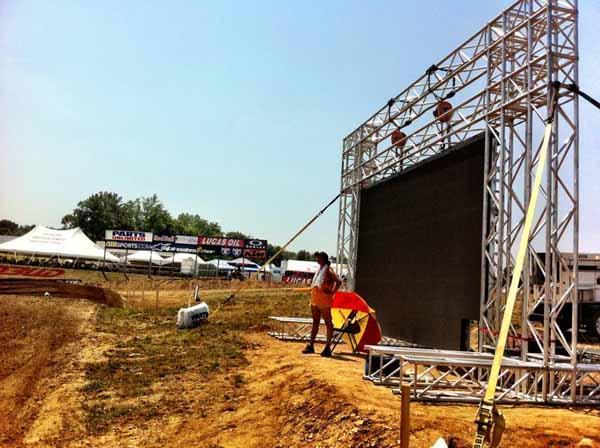 Trackside flatscreen? Check.
DC photo
Here's Haley, checking in from another hot spot, Colorado:
Last week, the Waldo Canyon Wildfire broke the Colorado Springs city limits, forcing thousands of the city's residents to evacuate. To date, two people have been killed and more than 340 homes have been destroyed. Among these homes was one that belonged the Turner family. They are fellow motocross enthusiasts and made a hobby of collecting assorted memorabilia from the sport. Along with several signed t-shirts, posters and photos, the family lost all of their race bikes and equipment to the fire. Brock, my friend and former co-worker, also lost his signed Chad Reed number plate, which I know from the many times he bragged about it, was one of his favorite possessions.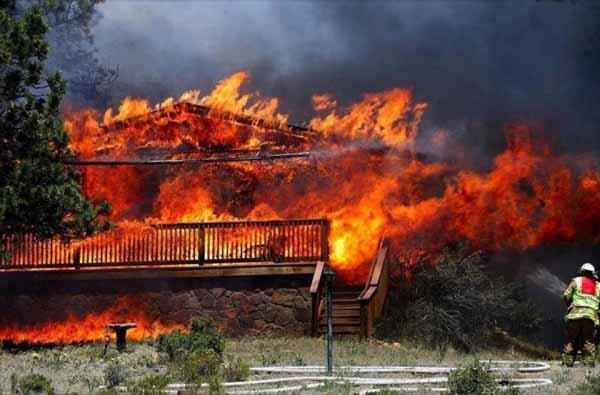 The fire has since been driven out of the city and is now 95 percent contained. Being a Colorado Springs native, I managed to compile quite a collection of images from when the fire was in the city limits from pictures that my family and friends sent me. I'm glad that so many people are safe, but there are a lot of families that now have no home or possessions, like Brock's family. I wish the best for all those people that are in that position right now and hope they have a smooth rebuilding process.
Thanks, Haley, and here's hoping the worst of those fires is finally over.
Our man in England, Matt Allard, spotted something interesting in the Tour de France:
"The Tour de France passed over some hallowed motocross ground today: Namur. Looks like they may have crossed the Citadel!"
The new Fortune magazine has a very interesting story of Mark Kvame...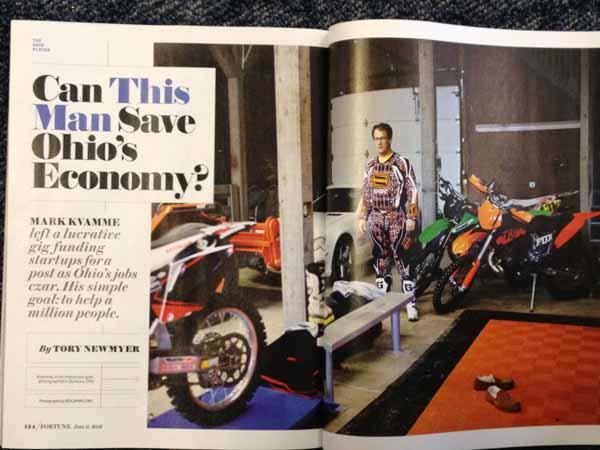 FLY Racing just released their 2013 line of gear and clothing. Check out the video HERE.
Heading to RedBud? Spend the day in the pro pits with the Racer X all-day pit pass, available now online. There are only 300 of these passes available, and this is the only way for you to get into the pro pits past noon. Spend 5 more hours in the pits! For $40 you get 12 issues of Racer X plus an all-day pit pass, good from 9 a.m. - 5 p.m. You can get the subscription for yourself or send it as a gift when you fill out the subscription information on the order page. If you need to buy more than one pass you can get a multi-year subscription to the same address.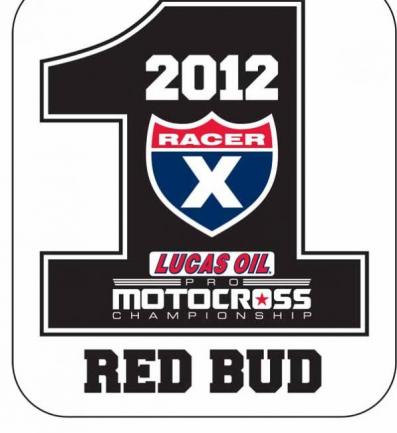 Stop by the Racer X booth on vendor row to pick up your collectible RedBud 2012 sticker!
If it's time for you to subscribe or renew your subscription to Racer X, we have a special offer at RedBud! For only $20 you get 13 issues of Racer X plus a RedBud and Racer X pint glass.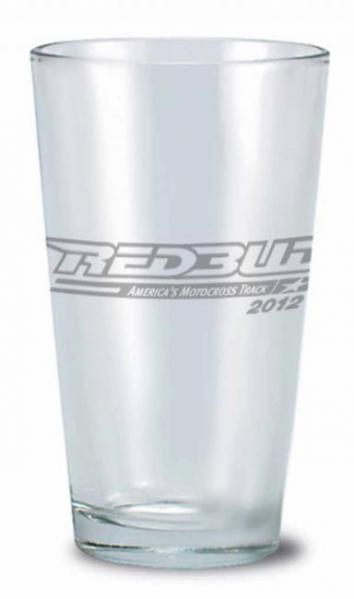 Okay, I've got some hydrating to do, followed by rehydrating. Here's hoping for a great and safe day of motocross at RedBud. Thanks for reading Racerhead, see you at the races.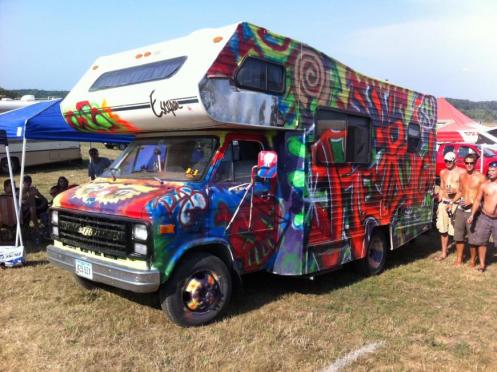 DC photo