RedBud Track 'n Trail
Buchanan

,

MI
RedBud
Lucas Oil AMA Pro Motocross Championship
This moment pretty much sums up Tony Cairoli's day in Sweden, where he got stuck in the mud and scored zero points—twice! Mud has been a wild card in this sport ever since the first time someone rode a dirt bike in the rain. Jammin' Jimmy Weinert became the first American to win a Trans-AMA race in 1973, and he did it in shin-deep mud in Texas. That's a high note. But what about some of history's low notes, like Cairoli's day in Sweden?
Then riding a San Manuel Yamaha, Chad Reed was out front and easily in control of the 2008 Daytona Supercross by Honda, which had been shortened to twelve laps due to monsoon-like rain showers. Reed had the race in hand when, with just a couple of corners to go, his bike gave up the ghost. It literally came to a stop within sight of the finish line, allowing the ever-steady mudder Kevin Windham to snatch a surprise win. Even more surprising was the career-best third-overall finish by Jacob Marsack, a friendly, hardworking privateer from Michigan. Reed was robbed of this win, but he bounced back to snatch the 2008 Supercross Championship.
At the 2009 Budds Creek National, the 30-second-card girl decided she'd had enough after just seven seconds, turning the card sideways and walking off just before the start of the last 250 moto. Rain was pouring down so hard that the two infield ponds seemed ready to break their levees, but the race had to be red-flagged nonetheless, much to leader Christophe Pourcel's chagrin. He would not do as well in the restart and ended up finishing third in the race, which was shortened by a couple laps due to lightning and the imminent overflow.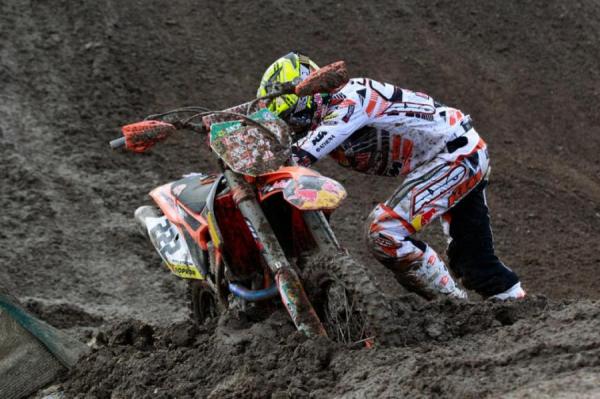 This moment pretty much sums up Tony Cairoli's day in Sweden.
Ray Archer photo
But Pourcel's worst wet-weather day in America would come at the next round, at Southwick MX338, where he would crash in the first turn off both starts and then have his engine fry itself the first time out. He would end up just eighteenth overall, while title rival Ryan Dungey went 2-4 to gain 30 points on the Frenchman. Dungey would take the title two weeks later by a total of 11 points over Pourcel.
The 1976 Trans-AMA, held Oct 24 at Cycle World USA in St. Peters, Missouri, featured a mud hole that got so deep in the second moto that it buried the entire field of riders except Frank Stacy and Rich Eierstedt (spectators pulled a fence away so they could get around it). The AMA canceled the moto and paid everyone based on their first-moto scores. The 500 International class was run after they re-routed the track to avoid that spot.
The 1997 High Point National was an astonishing mudder that is remembered as Damon Bradshaw's thirtieth and final win—and the first for Manchester Honda, which later became the Factory Connection Honda team and then GEICO Honda. It was also Scott Sheak's one and only professional win—but that's not what made it notorious. Instead, it was young rookie Ricky Carmichael's meltdown as he struggled in the mud—this after sweeping the first three rounds at Gatorback, Glen Helen, and Hangtown. RC's thirteenth overall marked one of his absolute worst days as an outdoor national rider, topped only by the double-DNFs at Glen Helen in 2006 when he crashed and landed on his shoulder. This defeat helped earn Carmichael a reputation for being weak in the mud, but through hard work, he definitely changed that reputation—he lapped everyone at the '06 Millville mudder in the 450 Class!
(Here are the results of RC's bad day at High Point, courtesy of Racer X's The Vault, presented by Kawasaki.)
A lowlight in weather but a highlight for Team USA was our win at the 1987 Motocross des Nations at Unadilla—the first time the event was held in the States. Jeff Ward, Rick Johnson, and Bob Hannah (on an RM125) got the job done despite a horrific September storm that nearly drowned the event. Wrote the great Italian journalist Gianni Prandi in his World Cross report of the event: "Moments during the race tensed riders and spectators. Immersed in a muddy basin the principle players slip and slide in the first heat borne by an imaginary current of mud. A setting provided by surroundings of Dante's Inferno..." That's good stuff, especially with English as a second language!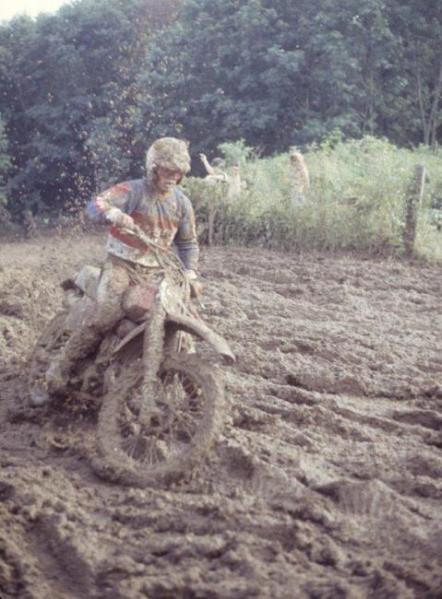 The late Rich Eierstedt finished 3rd overall on his factory Honda at the '76 500 National at Castle Point, Kentucky.
Maybe the most notorious mud moment of all was when Edison Dye, the pioneer who basically brought professional motocross to America, canceled a race at the last second when it became obvious that the rain wasn't going to stop and he was going to take a financial bath. The riders were furious that they couldn't race for the prize money after driving all the way to Missouri, and Dye's reputation never recovered. He was basically run out of the sport.
There was once a Canadian National where the weather was so bad and the mud so deep that the factory teams decided not to ride the second moto! I asked our resident Can-Expert Steve Matthes to tell you more:
"It was Morden, Manitoba 2007 CMRC National. After heavy rains came in the intermission, the top teams and riders staged a coup and decided that they would not take to the track despite the CMRC pleading with them and the privateers already in staging. The rain had stopped but then but costs of the replacement parts and the tracks condition were cited as reasons the guys did not want to ride despite the booing from the crowd. Eventually a compromise was reached where there would be a second moto for anyone who wanted to go out there but they would not be eligible for points. And with that, about ten local guys took to the track for a shortened moto which was quickly nicknamed the "good times" moto. It was a black eye to the teams and riders and for the sanctioning body as well for folding up."
At the '98 Motocross des Nations in England, Stefan Everts stomped everyone and Team USA lost when John Dowd struggled on a hill that became so bad they rererouted the course in the second moto around an impassible hill. Carmichael was also on that team and struggling. What's been almost lost to history, however, is the fact that Doug Henry won the first moto outright in his one and only performance on Team USA.
No matter what you consider to be a privateer now, Ricky Ryan certainly was one in 1987. That's the year he somehow won the Daytona Supercross in muddy conditions as factory rider after factory rider either crashed or broke down. But it wasn't a gift: Ryan was a NorCal pro who knew how to race a motorcycle in bad weather, and on that day, he did it better than everyone else. It remains the ultimate underdog win in AMA Supercross history.
At the 2006 Spring Creek National, Ricky Carmichael proved just how good of a mud rider he'd become by lapping the entire field in the second rain-infested moto. The crazy thing was seeing extraordinary riders like James Stewart and Chad Reed simply unable to crest one of the short hills in the axle-deep mud. Here's a home video of some of that mayhem.
Every rider who has ever been to Loretta Lynn's for the Red Bull AMA Amateur National Motocross Championships knows that you will likely have at least one super-muddy moto each year as late-summer thunderstorms come crashing over the trees across Hurricane Creek. The race has never been fully rained out, though Hurricane Fred in 1985 very nearly washed it out—the event was shortened to just two motos rather than the usual three when it became obvious just how bad the storm was going to be. But if we had to pick one really notorious moto, it would be 1998, and like many things in minicycle racing back then, it involved Mike Alessi. He got stuck in the mud just like did Cairoli last Sunday, but he was DQ'd for getting outside assistance from someone on the infield (his then-coach Kurt Henrickson). It caused quite a tempest in the pits afterward, but then—like everything still in minicycle racing—everyone moved on.
Ryan Dungey did not lose last year's Lucas Oil Motocross title to Ryan Villopoto at Southwick—it was really the first-moto pass in the last turn at Steel City the following week that did it—but he almost did when he missed the start of the second moto because his bike was still being worked on up in the pits. Dungey's start-to-seventh ride on his Rockstar Suzuki was astonishing, as he started almost a full lap behind the eventual moto winner, Justin Barcia, eating wet Moto-X 338 sand all the while. Afterward, he wasn't happy about the race starting without him, but he did realize that the fans truly appreciated his efforts.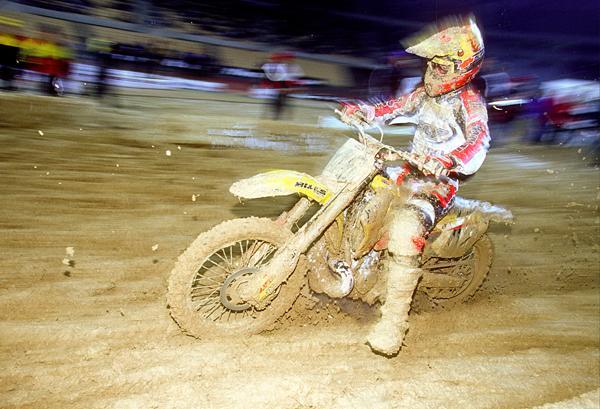 Darryl Hurley won the muddiest Supercross race we've ever seen.
At the 1976 500cc National at Castle Point, Kentucky, the mud was so deep that it took seven minutes for a lap, and only thirteen riders finished the second moto. Those forty minutes plus two laps ran a full 54 minutes, and it caused Honda factory rider Pierre Karsmakers to run out of gas in moto one (several other riders wisely stopped for gas). According to our publisher, Scott Wallenberg, Rex Staten was the last man to finish and his factory Harley-Davidson weighed over 300 lbs. with the mud added after the race! Here are the full results.
Finally, my two favorite mud races.

I wasn't at the 1991 Hangtown National, the only race in Lucas Oil Motocross history to be forced to just one moto due to bad weather, but they had no choice—the track was flooding! According to then-AMA Series Manager Roy Janson, Jeff Ward nearly drowned in the creek bottom that is normally dry but was a river on that day. The winners, for the one and only time in motocross history, were both privateers: Doug Henry and John Dowd.
And then there was Seville, Spain, the opening round of the 2004 FIM World Supercross Championship—even though the race was held in December. It literally rained on the plain in Spain for seven full days, and the riders almost didn't race, but with a global TV audience watching, the show had to go on. The winner that day was Darryl Hurley, a super-nice kid from New Zealand who outlasted Grant Langston for the rain-shortened win. It was the closest Langston, a multi-time champion, would ever come to win a premier-class supercross win.
Okay, those are some notorious mud moments we remember. Let us know about some other notoriously tough mudders and their moments below.