RedBud Track 'n Trail
Buchanan

,

MI
Race Center: RedBud
Lucas Oil AMA Pro Motocross Championship
There's not much there in our sport for guys who finish second in the series points. We have a bad habit as fans and media to carry the attitude of "If you're not first, you're last." I've tried to not be that guy, but then when you don't spend enough time in a column or show talking about the winner, you get the whispers that you're a "hater" or don't like the guy who is winning. It's evitable that you can't please everyone, but my point is that the racers who finish second (sometimes by a scant few points) aren't looked at any better than the guy who say, finishes, fifth. As I said, if you're not first, you're last.
A lot of great racers have finished second in a series. Seventeen supercross races, twelve outdoor races (sometimes fewer than that of course depending on the year) is a lot of races to think about where you could have picked up those few points that would have made you the champ. Other times, it's truly an ass whupping and you finished way back, but you still beat everyone else!
I feel like we should honor these guys for getting second a little more, so we'll do it right here. With a big assist to the Racer X Vault website, let's take a look at the guys who have gotten second the most times (not counting the 125/250 regional supercross series, only the National Championships, as in Supercross, and 125/250/500 Motocross) in a championship:
Kevin Windham, 10 times: 1996 125MX, 1999 250MX, 2001 250MX, 2003 250MX, 2004 250SX, 2005 250MX, 2006 450MX, 2008 450SX, 2010 450SX

Windham's ten times as a runner-up (five times to Ricky Carmichael) is phenomenal and a heartbreak all at the same time. In '99, it was a great chance for KW to win the 250 MX title but he came up a tad short of Greg Albertyn despite winning a bunch of races. And the next year RC came into the class and well, we know how that went for K-Dub and everyone else.
He's never won a major title in his career as he came up in the at the tail end of the McGrath era, and then had to deal with RC. But he has won a lot of races. To the surprise of no one, he's the career leader in supercross races won without winning a title (surpassing Damon Bradshaw). He won't go down as a champion in the sense that he doesn't have the plates, but really, he's got the wins, the money, the adulation of fans and I bet he wouldn't trade any of it for a title.
So while the ten runner-ups are amazing and heartbreaking all at the same time, we're sure he sleeps well at night.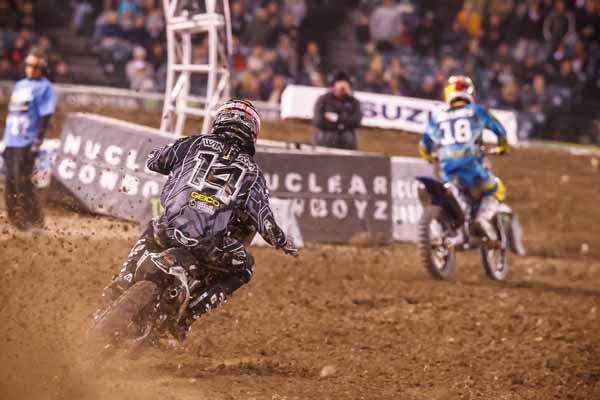 Kevin Windham has finished runner-up a record ten times.
Simon Cudby photo
Chad Reed, 7 times: 2002 125MX, 2003 250SX, 2004 250MX, 2005 450SX, 2007 450SX, 2009 450SX, 2011 450SX
Reed lost the supercross title by seven points (2003), four points (2009) and then four points again (2011). Think about that for a second - Reed could easily be a four-time sx champion (we think the 2003 title would've been tough to win, Reed was racking up the wins at the end of the season but RC was in second as the whole field was decimated with injuries. It's a three point gap from first to second to Reed would've needed an extra three races to pass RC, and that would require a nine-race win streak, which is a big if). While that '03 title would have been hard to get,  just a few different points here in other years could have changed Reed's legacy. What about 2011 when he was cruising in third at Dallas and Stewart launched into him? There's your four points right there. Reed also has the 2009 AMA MX title, and if you added a few more SX crowns, he'd rank right there with the all-time greats, statistically. But like Windham, we doubt Reed loses sleep over titles lost. He's still one of the very best racers to ever come into the sport and he's in the title hunt each and every year no matter what.
Jeff Ward, 5 times: 1983 125MX, 1987 250MX, 1989 250MX, 1990 250MX, 1991 500MX
Reed and Windham sleep easy, but I talked to Jeff Ward for this story, and he mentioned the '83 125 title and the '90 250 MX title as two that still haunt  him to this day. In '83 he battled Johnny O'Mara for the 125 title, and O'Show won by nine points. In '90 he finished 16 points back of Jeff Stanton, but he had a mechanical DNF along the way that would have more than made up those points. Wardy is a seven-time AMA champion but he's also got five second places which might make a case for him being one of greatest ever. In '87 and '88, he and Rick Johnson were 1-2 in pretty much every one of the six title chases over those two years except for when Jeff missed the last supercross in '88 with an injury which allowed his teammate Ron Lechien to jump over him and get the runner-up spot.
Ward's actual closest second place was the '91 500 nationals where he finished a mere nine points back of Jean Michel Bayle but this never came up in talking to Jeff. He must not have thought he had a chance against the mighty JMB.
Rick Johnson, 4 times: 1982 250MX, 1986 500MX, 1987 250SX, 1988 250MX
Ward's arch-enemy, Johnson, lost one title in true heartbreaking fashion when he DNF'd a moto at the final 250 round in 1982 and lost the title to Donnie Hansen. In '86 he lost by six points to teammate David Bailey in the 500's (on another note, in the opening round of this series, Honda's Johnny O'Mara won the opening moto- his one and only 500 victory of any kind. Weirdm, huh?). In '87, Johnson injured some fingers and missed some races, potentially costing him a supercross title, and in '88 a radiator hose fell off his bike and he DNF'd, which allowed Ward to win the 250 MX crown by a small margin. In the short series they had back in the mid-80's, that was all it took to lose a title. Especially when your main competition was as solid as Ward.
Ron Lechien, 4 times: 1984 250MX, 1988 500MX, 1988 250SX, 1989 250SX
The Dogger came up eight points shy in '84 to Johnson for the outdoor title despite a pretty big competitive advantage on his works Honda compared to RJ's production-based bike. It came down to the last moto at Washougal and Johnson ran down and passed Lechien to earn the title. Lechien admits he didn't do much training in this year other than riding. The other runner-ups that Lechien got was pretty far back, he was a country mile away from Johnson (in '88) and Stanton (in '89) in the supercross series but he was always good for a couple main event wins a year (but, unfortunately, some off nights as well).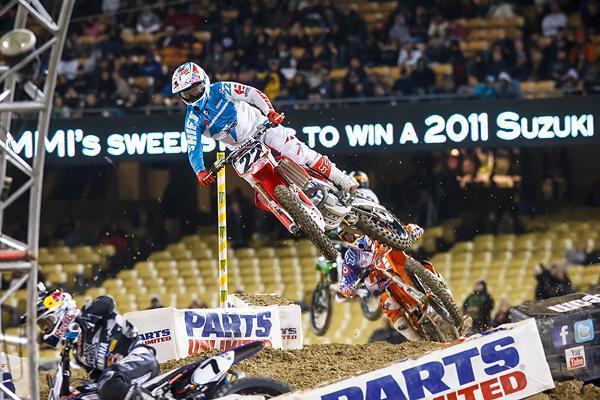 Chad Reed is next on the list with seven runner-up finishes.
Simon Cudby photo
Johnny O'Mara, 4 times: 1981 125MX, 1982 125MX, 1984 125MX, 1985 250SX
The O'Show wasn't really close in any of his runner-up finishes. He was far back of Mark Barnett in two 125 title chases and then in '84, Ward got revenge for '83 with a healthy points cushion over O'Mara on his blazing fast Kawi works 125. In '85 he had a shot at the outdoor title and Honda moved David Bailey down and Ron Lechien up to the 250 Class to try and get between Johnny and once again, Jeff Ward (Sweet Jesus these two guys raced each other a lot huh?). O'Mara did his part by winning with a 2-1 score but Wardy came through in the clutch with a 1-3 ride.
I don't think O'Mara stays awake at night wondering might have been if he'd been able to capitalize on his chances to win. As it is, he's a two-time AMA champion and cards a ton of respect in the pits even to this day.
Kent Howerton, 4 times: 1975 250MX, 1979 250MX, 1980 250SX, 1983 500MX
The Rinestone Cowboy is a multi-time champion, but in his four second place finishes, Howerton wasn't close in any of them. The closest he got was 30 points in '75 to DiStefano in the 250 outdoors. Kent was a rider that at his peak won outdoor titles and his one chance at supercross glory was thwarted by Mike Bell in 1980.
Mark Barnett, 3 times: 1979 125MX, 1982 250SX, 1983 250SX
The Bomber is a guy whose career would look a little different had he been able to come up with a few more points here and there. Barnett only finished second three times (five if you count his two runner-ups in the Grand National Championships, which was total points scored all year). In '82 he suffered a few mechanical problems and Donnie Hansen captured the SX title by 21 points. The next year it came down to the final main event and Bomber fell in the first turn at the Rose Bowl. He came all the way from last to second but it wasn't enough as he ended up seven points back of David Bailey. Bomber is a four-time AMA champion. I've asked him about his career, and I can safely say that he's let any close finishes go.
Jeff Emig, 3 times: 1993 125MX, 1995 250MX, 1996 250SX
Emig's two SX runner-ups to Jeremy McGrath in '95 and '96 weren't really that close, MC was the man in both of those series. But in '93, Emig was the defending champion in the 125 class and went to the Glen Helen national which held an experimental one-moto format on a scorching hot day. And oh yeah, it also counted for double points! This was a very crucial race for the series and Emig ended up fourth (while battling carb problems all day long) while Henry won. This was the nine points that Fro needed to try and be a two-time 125 champion on his Yamaha.