by
Davey Coombs
The List: Ten Moto Gestures
Thursday, June 28, 2012 | 3:00 PM
Developed in the USA and tested on the toughest tracks in the world, Maxima Racing Oils are proven to increased horsepower, prolong engine life and offer unsurpassed engine cleanliness. Maxima has been committed to MX & SX for over 30 years and is used by more factory teams, engine builders and racers. Know you're running the best with championship winning products. Maxima – Race Grade Formulas.
Tweet
A gesture can be something as small as the late Jim Pomeroy's Bultaco-styled "thumbs-up" or as deep and permanent as the Sharky tattoo Chad Reed wears in honor of his late friend and fellow Aussie legend Andrew McFarlane. With this being another off-weekend, we got to thinking about some other famous gestures from motocross' past. This is not a complete or ordered list; if you have some to add, please share them in the comments below!
1.) Jeremy McGrath's signature move in supercross was the nac-nac, and he uncorked it at the end of many of his seventy-two main-event wins. But in 2006 he came out of retirement to race a Honda CR250 at the Phoenix Supercross. He somehow snagged the holeshot ahead of Ricky Carmichael, James Stewart, Chad Reed, Kevin Windham, and everyone else on 450s, and then he did something incredible: Jeremy did a nac-nac off the first triple!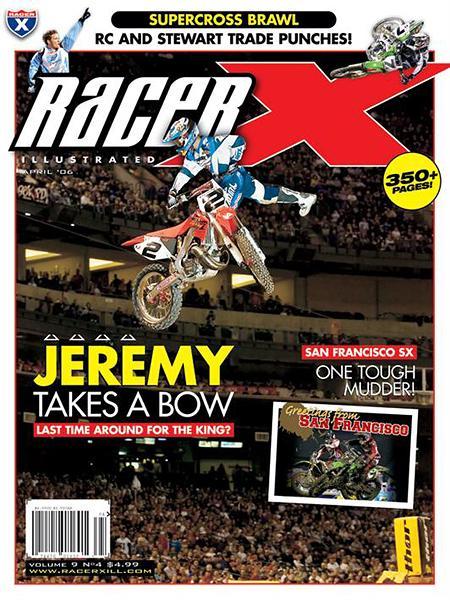 Jeff Kardas snapped this cover photo of Jeremy McGrath doing a nac-nac at the 2006 Phoenix SX—he pulled another one off while leading the start of the main event!
While we didn't know it at the time, it would be the last lap led not only by the great McGrath, but by a two-stroke at all, in the AMA Supercross class.
2.) More notorious than Jeremy's gesture was Brian Deegan's infamous ghost-ride off the finish-line jump at the Los Angeles SX when the Moto XXX Suzuki rider, future high overlord of the Metal Mulisha, won the 125cc main event over all the factory riders. Deegan literally blasted his bike off the finish-line double and went across on his feet. He was fined $500, but he should have been handed a bonus instead—the footage became a staple for TV commercials!
3.) At the 1991 Japanese Grand Prix, the final round of the FIM series, KTM rider Mike Healey was battling with Honda-mounted Trampas Parker for the world title when U.S.-based superstar Jeff Stanton showed up to race. He tangled with Healey, and Mike was none too pleased, as his one-fingered salute showed....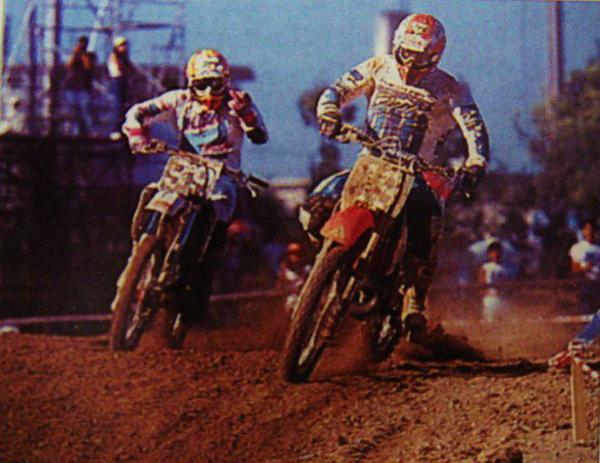 Mike Healey let's Jeff Stanton know what he thinks of him at the 1991 Japanese GP...
4.) An oldie but a goodie: At the end of his last Grand Prix at Namur, Swedish motocross legend Hakan Carlqvist was running away with the win when he stopped on the last lap along the road that was part of the track, was handed a beer, and chugged it! Here's the video.
Carlqvist's gesture was respectfully repeated by Stefan Everts, the favorite son of Belgian motocross, when he raced at Namur years later, just before the most epic track in the history of our sport was shut down.
5.) Team USA's David Bailey and Rick Johnson rode across the finish line arm-in-arm at the '86 MXoN, the day Team USA laid down the law at Maggiora, Italy. The move was replayed twenty-five years later when Ryan Villopoto slowed down on the last lap of the 2011 Motocross of Nations and waited for his teammate Ryan Dungey, who was holding down second place in the decisive final moto, so they could cross the finish line together.

Ryan Villopoto and Ryan Dungey celebrated Team USA's seventh straight win in the MXoN the same way David Bailey and Rick Johnson did back in 1986.
6.) Steve Lamson launched a first-lap heel-clicker on the first lap of practice at the '96 MXoN after many of the European riders complained about the big downhill quadruple jump in Jerez, Spain (which was, to be fair, pretty sketchy).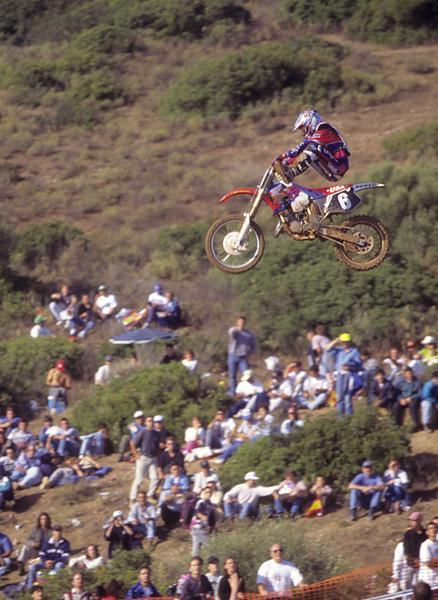 Steve Lamson lets the rest of the world know that downhill quadruple jumps are no big deal on the first lap of practice at the 1996 Motocross of Nations in Jerez, Spain.
7.) While riding the 500cc Support class at the U.S. 250cc Grand Prix at
Unadilla
in 1983, Danny "Magoo" Chandler spun around on his footpegs and rode his bike backward across the finish line to protest a fine and penalty the AMA had placed on him at a previous race for riding directionally backward on the track after a crash.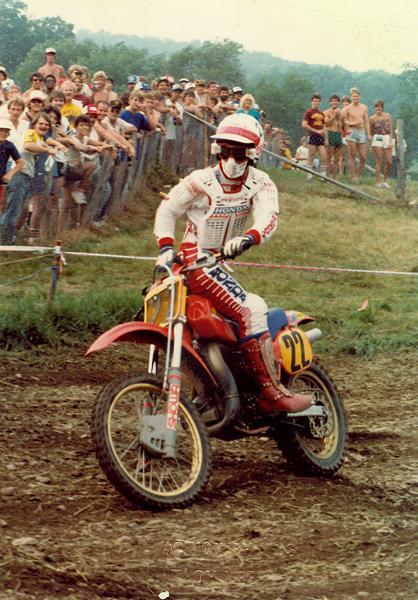 Thom Veety of Action Photos snapped this gem of Danny "Magoo" Chandler letting the AMA know how he felt about the fine for riding backwards on the track at Unadilla.
8.) After his close friend Ernesto Fonseca suffered a career-ending injury,
Ricky Carmichael
asked
Fox Racing
to place Ernesto's signature on his jerseys throughout the end of his career as a heartfelt gesture to his fellow racer.
9.) Top riders in the eighties used to wear the name "PAT" on their Camel bibs or across the tops of their helmets at big races in Europe, in honor of Pat Boulland, the charismatic photographer who helped make the U.S. stars bigger than life to young European fans with his brilliant images. In fact, Jean-Michel Bayle wore "Pat" on his helmet when he won the '89 Gainseville 250 National, and David Bailey even wore it on his Camel bib at the game-changing 1986 Motocross of Nations at Maggiora. Sadly, Boulland lost his life a few years later while swimming in the ocean off the coast of Africa.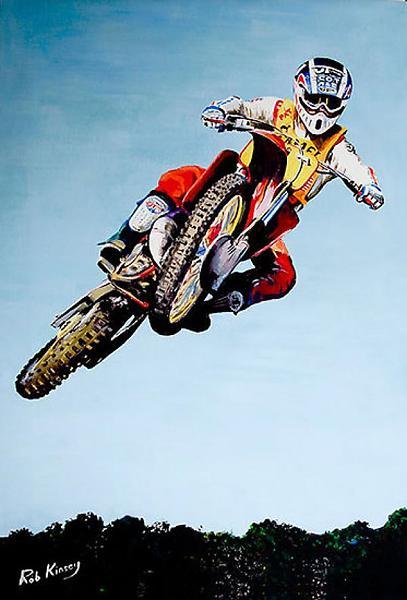 You can see "PAT" on the Camel bid of David Bailey at the 1986 MXoN, in this brilliant painting by Rob Kinsey.
10.) At the end of the recent Rewind Vintage Motocross event at
Unadilla
, Jeff Stanton, winner of several U.S. Grand Prix races at 'Dilla, smoked everyone in the first moto and appeared to be doing likewise the second time out. But then on the last lap he slowed down and started high-fiving fans along the fence, then waited for his longtime friend, fellow legend, and former teammate Guy Cooper (Honda 1989) so they could cross the finish line together arm-in-arm. It was pretty cool!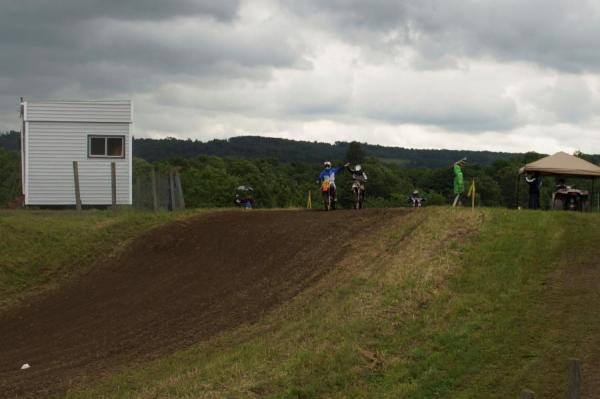 That's American motocross legends Jeff Stanton and Guy Cooper sharing a moment at Unadilla's recent Rewind Weekend.
Heather Collis photo
BONUS:
After
Chad Reed
's incredible crash at
Spring Creek
last year, where he launched himself into orbit moments after taking over the lead on what's now called "The Chadapult," he slowly got up, collected himself, and then immediately blasted up the hill and jumped the huge double atop. He was half a lap down at that point, but it was obvious he was not giving up, so as he came around to the mechanics' area, pretty much every mechanic under the tents leaned out and gave him a respectful round of applause. It was an incredibly cool, spontaneous gesture to a true motocross hero.
BONUS: Valentino Rossi vs. Max Biaggi: While this particular gesture didn't take place on the dirt, it's still one of the most famous in the history of two-wheeled motorsports. When the MotoGP series stopped at Suzuka Circuit in 2001, Rossi found himself being pushed wide and off the edge of the track at triple-digit speeds by fierce rival Max Biaggi. Rossi responded by coming right back and putting a very aggressive pass on Biaggi and flipping him the bird in the ensuing corner. Although Biaggi no longer races MotoGP and it's been quite some time since Rossi has won a race, it's a move that is still talked about to this day. To see for yourself, go here.
Share this article:
Did you like this article?
Check out KING CAIROLI
in our Latest issue of Racer X available now.

Americans know very little about seven-time FIM World Champion Tony Cairoli, but in Europe he's treated like royalty. Page 102.
Look for the verified symbol
The Conversation