Round 1 of the Racer X Senior Championship Series
Tuesday, June 26, 2012 | 9:00 AM Tweet

Round 1 of the Annual Racer X Vet Series was held at Motosports Park in Byron, Illinois. They have been hosting races at Motosports every year since opening in 1970.

The first Senior event that inspired other similar events and eventually the RacerX Senior Championship was held at Mt Morris, Pennsylvania back in the early 90's. The race was held on a Saturday before the Pennsylvainia Amateur MX Championship. A group of older guys from the midwest saw the small ad in Cycle News, loaded up an old Travel Craft and trailer, made the trek and had a great time.

A year or so later,  the Aztalan Cycle Club, in Lake Mills, Wisconsin held the 1st Annual Dirty Old Blasters.  In 1998 and 1999 events were held at Hardrock Cycle Park in Ocala Florida.  2000 and 2001 saw.... 2 more Dirty Old Blasters and the first 2 Motosports Park VET OPENs.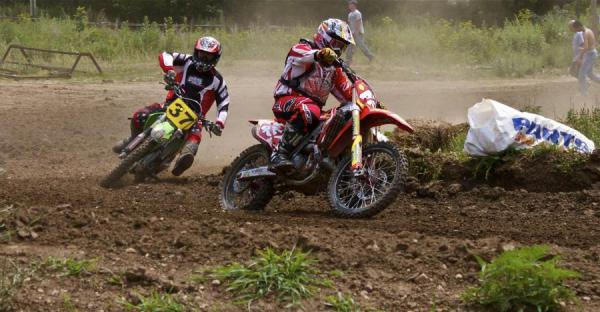 #45 Dave Antolak holds off Steven Sorge in +55 class action
During the 2000 season, the same old guys that attended that Vet race in Pennsylvania had the idea that since there were already two races every year there should be a series for the Vet guys.  A long Friday practice, NO MINI bikes, no minors, no 14 hour race days and the Series began to take shape.
This year Round 1 featured the new Marc Peters designed track and over 160 entries came out to do battle. Roy Nafzger from Juda, Wisconsin was the hero of the day as he won the +40, +45, and +50 A classes
For more information and series schedule, go to:
http://www.mxvets.com/index.html
Share this article:
Did you like this article?
Check out MOTO GIFT GUIDE
in our Latest issue of Racer X available now.

Our annual gift guide has something (or maybe even a few somethings) for everyone on your holiday list. Page 146.
Look for the verified symbol
The Conversation