RedBud Track 'n Trail
Buchanan

,

MI
RedBud
Lucas Oil AMA Pro Motocross Championship
Transitioning from the more subdued amateur level to the ultra competitive, bloodthirsty professional ranks comes with a very unique set of challenges. While most 16 and 17 year olds are consumed with girls, the latest fashion, and how cool their new ringtone is, rising stars entering professional supercross and motocross are burdened with having to produce results early and often in hopes of keeping their job in a 'what have you done for me lately' sport. For North Carolina native Kyle Peters, injuries have added extra weight to an already trying task. Just days before his Monster Energy Supercross debut, Peters suffered a collarbone injury impeding his rookie campaign.
Looking to wash away the memories of an unforgettable supercross season with a solid campaign outdoors, the Rockstar Star-Valli rookie went to work. But another setback would hinder Peters, as he was stricken with an illness through the first two rounds. Now, with the Lucas Oil Pro Motocross Championship in the midst of a two-week break, the 2011 Loretta Lynn 250 A Champion is hard at work getting ready for what he hopes is a breakout second half of the season. We caught up with Peters yesterday to talk about his rookie season, injuries and more.
Racer X: We are five rounds into your rookie season outdoors and while you have shown some flashes of speed you have yet to show the consistency many expected. Have we seen the real Kyle Peters yet?
Kyle Peters: No, definitely not. I've definitely struggled. I was really sick for the first two races and I'm finally starting to recover and gain some weight back. This is definitely not where I should be, I feel I should be inside the top ten every weekend pushing for top fives.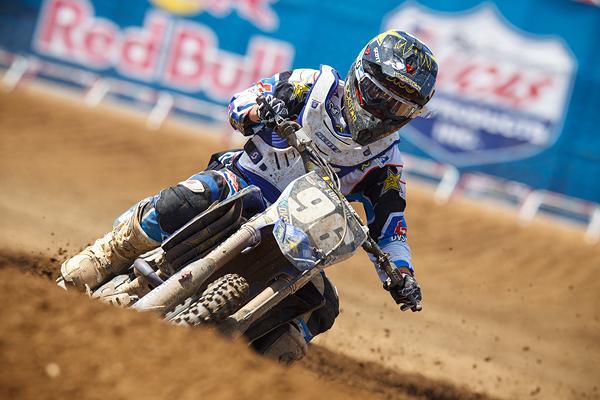 Injuries have slowed Kyle Peters during his rookie campaign.
Simon Cudby photo
Injuries have played a big part for you over the last year. You got hurt right before your professional debut last year and then suffered another setback just before your maiden supercross campaign. How much have these injuries set you back?
It's been a big difference. Getting hurt right before supercross set me back a lot. I pretty much rode all of supercross hurt and I didn't get to really show my true potential. I've felt a lot more comfortable outdoors and I feel like I have a lot more in me. I think this next half of The Nationals should be much better.
We're in the midst of a two-week break. Is it business as usual for you, or are you taking some time to recuperate?
I took a little bit of time off to recover and get over this little thing I got, but it's definitely back to business now and I'm hitting it harder than ever. Every one is working hard so I need to come back stronger. And to be honest, it's gnarly; everyone is going super fast.
You're seventeenth in points, three behind Malcolm Stewart. Where do you expect to be at years end?
If I can be inside the top ten for the rest of outdoors I would feel pretty good about that. Wherever I am in points, it is where it is, but I think the most important thing is to be inside the top ten every moto and then see where that puts me in points.
Justin Bogle and yourself, along with a few others, were considered the top prospects coming out of the amateur ranks last season. Has that added any pressure for you to produce early?
No it hasn't really produced any pressure. Any time I'm on the track I give it 100 percent and try my best. But just being hurt and little nagging things have held me back this year and have not allowed me to show my true potential.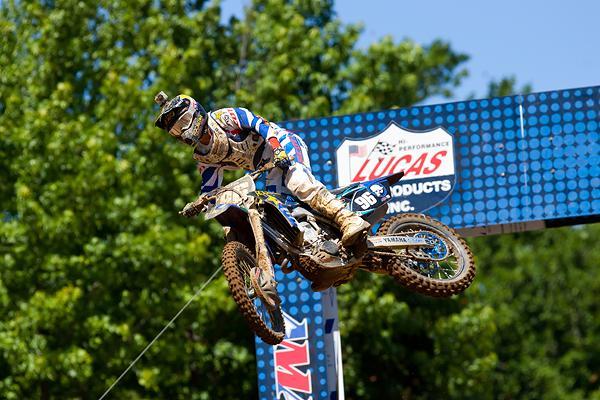 Kyle Peters currently sits 17th in the 250 Class points standings after five rounds.
Andrew Fredrickson photo
The 250 Class is lined with champions from all over the world. Can you talk about the depth of the class this year?
In the amateur ranks you maybe only have three or four guys but now everyone inside the top twenty is going really fast. You definitely can't come through the pack like you used to in the amateurs, so if you get a bad start you are kind of stuck. I've really been working on my starts; I feel that one of the most important things is getting a good start. I think we are starting to figure things out, and we should come out at RedBud strong.
Your teammate, Nico Izzi, is having a career year. What, if anything, have you been able to learn from him?
Nico is a great guy. He has really helped me out a lot this year. He has really shown me how to do things and how things work in the professional ranks. He's an awesome guy and I can't thank him enough.