RedBud Track 'n Trail
Buchanan

,

MI
RedBud
Lucas Oil AMA Pro Motocross Championship
Motocross is full of ups and downs, something Tyla Rattray knows all too well. After winning four overalls and finishing second in the 250 Class of the Lucas Oil Pro Motocross Championship last year, Rattray was looking for more success in 2012. Unfortunately, he ended up sitting out most of the supercross season after sustaining a serious injury in Oakland, and broke his hand in his first race back at Hangtown. Rattray, who has been busy preparing for RedBud, took some time out of his training schedule to give us an update on how things are going in the recovery process.
Racer X: It's been a tough year so far, huh?
Tyla Rattray: Definitely. With getting hurt in supercross and then getting ready for outdoors and coming back to the first one and having a rock get roosted into my hand and breaking it. Other than that it's been good though. I'm actually down in Florida right now at Ryan's [Villopto] farm getting ready for these last few outdoor races.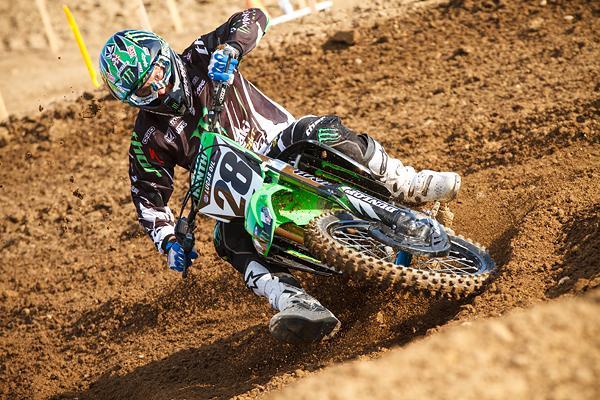 After missing the past four rounds with a hand injury, Tyla Rattray will make his return at RedBud.
Simon Cudby photo
Was it your left or right hand?
It was my left hand. A rock hit my knuckle so hard that it shifted back and broke the bone on top of my hand. I had to get surgery and have a plate put in, and now I'm getting ready for the last seven Nationals. Hopefully I'll do well.
Is the hand still bothering you?
No, it's not bothering me at all. I've done a lot of rehab and strength building. There's still a little bit of scar tissue that needs to break down, it's still pretty big. I wouldn't say it's swollen; it's just scar tissue.
Was jumping up to the 450 Class this year something you were excited about doing, or were you looking forward to another year of chasing the 250 National Championship?
I really wanted to race the 450, and especially after the result I had at the MXoN (Rattray finished fifth in MX1 + MX2, and third in MX1 + Open), I really wanted to race 450 motocross. At Hangtown, I just wanted to get through it, not having been on the bike for very long. I wanted to see where we were at and work from there, and then I got roosted with a rock. What are the chances of that? Especially on that track on the first turn. I was really looking forward to racing the whole season, but at least I can still come back and race the last few, which will be good. We've been testing and getting the bike better, and I'm definitely looking forward to it.

Your teammate over at Pro Circuit, Broc Tickle, has been doing really well so far this summer. You guys have ridden together a lot, and you know how you stack up against him, so do his finishes serve as a marker of where you think you might have been finishing if you were out there?

Yeah, I think my speed will be good when I come back. I've been out at Ryan's track training, which is super rough. I think it's a good move on my part, there aren't really any distractions out here, you've got a good track to ride on, you can practice turns, you can practice starts, you've got the whole track to yourself. Jake [Weimer] has also been out here riding, and I think it'll be good for both of us to push each other.
What's your plan for when you come back at RedBud?
My plan is to go there, get good starts, and just see where I'm at. I know my speed is pretty good, my fitness is going to be good, and so I'll just go there and see how I do. If I leave RedBud with a podium, I'll be happy with that.
I need to thank everyone that's in my corner, too. Last year was a good year, and this year has been a crap year. It's crazy, last year I was out there racing for wins, and this year I'm on the couch watching from home. It sucks, but I'm lucky enough to be able to come back for these last seven rounds and see what I have.