Motocross is a bitch. Not because of the long, grueling schedule and life on the road that every professional racer must deal with -- that stuff is just part of the territory. And not because of the countless hours of training and sacrifice the pros go through every week; this is something that's common for top athletes in almost every sport. Motocross is a bitch because just when it seems like all of the hard work is about to pay off, just when you're about to reach out and grab that carrot that's been hanging in front of you, tantalizingly close for so long, along comes something unexpected. Bones snap, muscles tear, ligaments rip. Suddenly, that shining, glorious glare at the end of the tunnel is reduced to a small candle flame in the distance. This is something that
Kyle Cunningham
has become all too familiar with this year.
In 2011, Cunningham looked like he wasn't too far away from putting together a string of podium finishes, and perhaps even taking a win. He had the speed, but experienced frequent crashes. Sometimes they were his fault, sometimes they weren't, but regardless, they were preventing him from riding to his potential. Then, something seemed to click, and the crashes became less severe and stopped happening as often. KC finished off supercross with a third place in Las Vegas, and started building momentum at The Nationals. He took third overall at round two in Texas, and halfway through the season at RedBud, he started a streak of fourth place finishes that he maintained for four straight races. When the season was over, Cunningham sat an impressive fifth in points, just a few points back of Eli Tomac.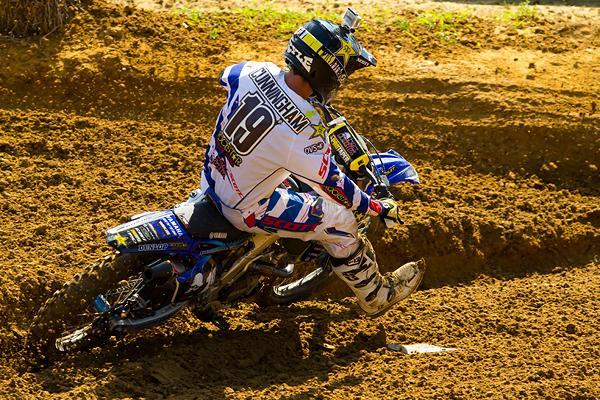 Cunningham would reinjure his ankle in the second moto at Budds Creek.
Andrew Fredrickson photo
Things were obviously coming together, and Cunningham was excited for the start of 2012. He'd be returning to action on the same bike with the same team, which meant that everything he and his team had learned in 2011 would carry over. After bouncing from team to team for several years, Cunningham would not have to start from scratch. Cunningham was hoping that would help propel him to the podium early and often in 2012. Unfortunately, things didn't quite work out that way, as KC kicked off the Eastern Regional Supercross series with a first-round DNF in Dallas.
"I got in a first-turn pileup [in Dallas] and ended up fracturing a bone in my wrist. I thought it was just sore so I went ahead and raced three weekends," Cunningham says. "I finally went and got an MRI on it, and they told me it was broken from my Dallas crash."
The injury wasn't getting any better, but it wasn't getting any worse, so Cunningham made the decision to soldier through the pain and race the Indy Supercross, which didn't end up working out well.
"I went to Indy and went down pretty hard in the whoops and decided to take a power nap for about two-and-a-half minutes," Cunningham recalls.
Cunningham missed the next race in Toronto, and with his year already marred by two DNFs and an absence, started looking forward to redemption in the form of the Lucas Oil Pro Motocross Championship. Regrettably, the opening round of the motocross series wound up going only slightly better than the year's first round of supercross several months prior.
"I got prepared for the outdoors, and I was feeling good on the bike and my motos were going good. Then I went to
Hangtown
and I caught a rut with my toe about three laps into the second moto," Cunningham says. "It ripped my foot off the peg and twisted my ankle pretty good, but I somehow I finished the moto in a decent position. I was landing half the jumps with one foot off the peg! It's been bumpy from then on."
With races scheduled every weekend for four more weeks, Cunningham, who was having to have his ankle wrapped before each race, simply wasn't able to take the necessary time to rest and recover, and at the Red Bull Budds Creek National last weekend, things took another turn for the worse.
"At Budds Creek I think I was up to seventh or eighth after another bad start, and I caught the toe of my boot again and my ankle popped pretty bad, and I couldn't put my foot back on the peg," Cunningham explains. "I went home and went in for an MRI and went and saw my doctor and found out that my ankle is beat up. I have a couple tears in there, so they put me in a boot and I'm on crutches right now. He [the doctor] pretty much told me that I need to rest my ankle for three weeks and come back in and see him, and go from there.
"It's one of those things, it feels like the wrist all over again. At Dallas I was riding with confidence, I was feeling good, and I put in a really good heat race. I felt good, I was fast in the whoops, everything was going the right way, and in the blink of an eye you go through the first corner in the main event and you end up with an injury that's making you change your whole program and not be able to train the same way that you were. It was a setback, and the ankle happening is the same way. Not only are you struggling on the bike, but you're not able to do the things during the week that you need to do."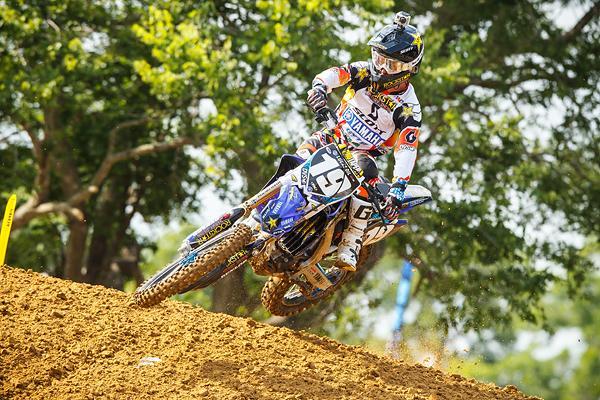 Amidst all of his injuries, Cunningham still sits an impressive 10th in points.
Simon Cudby photo
Whether or not this is the end of Cunningham's season is yet to be decided, but at this point it's pretty safe to say that his hopes of breaking through to the next level in 2012 are over. Even so, Cunningham, who still has another year left in his contract with the Star Valli Rockstar Yamaha team, is keeping a level head, and while the light at the end of the tunnel may be farther away than it was before, it's still there, and Cunningham's eyes are still intently focused on it.
"I can't frown on what happened to me, I'm a believer that things happen for a reason, and I could have been walking on the side of the street, riding a motorcycle or playing golf on that day, and if that was meant to happen, it was meant to be," Cunningham explains. "If the ankle is weak, and it's torn, I'm taking a chance of catching my foot and snapping my ankle in half. I need to prevent something worse from happening, and if this is the way it's gotta be, then I have to deal with it and take it for what it is and come back swinging whenever I get back on the bike."