Budds Creek Motocross
Mechanicsville

,

MD
Budds Creek
Lucas Oil AMA Pro Motocross Championship
Monster Energy Pro Circuit Kawasaki's Blake Baggett has done what he could not last year—maintain the 250 points lead with solid finishes even when he wasn't winning, so he could extend it the next time he grabbed an overall win. At round five's Red Bull Budds Creek National, he went 2-1 to grab his first win since the opener at Hangtown. He talked about it post race.
Racer X: It was better than last year.
Blake Baggett: Yeah, last year I crashed in both motos. This time not only did I not crash, but I got the overall with a 2-1, and got some of the points back that I lost last week. That's about it.
You struggled here last year, not just with the crashes but we never really saw the same crazy pace at this track you had at some others. Some of us thought maybe this was a bad track for you. But now you've won it—the track is the same, so, what changed? What did you do differently?
I don't know. I think I just got all of my crashes out of the way last weekend. In one moto, in one lap! If you're gonna' get them done, you may as well get them done all at the same time. I got in one front flip, and one crash on the left side and one crash on the right side. So I even balanced it out pretty good.
At one point, Ken Roczen was around nine seconds ahead of you in moto two. But, you've come from behind and won a few when you were that far down, and he's given up a few of those leads. Was that running through your mind? Does that give you confidence to think you can do it—nine seconds is a lot to make up.
Every race I think I can, but sometimes the little "I think I can" doesn't work. But I knew [Ken Roczen and I] were going to be catching lappers because, in the first moto, we lapped up to like twelfth or something and it got messy in the first moto when we got into them. I knew we were catching them and then you never know. Like Kenny [Ken Roczen] says, it's kind of like rolling the dice. It'll either work with you, against you, or take you out.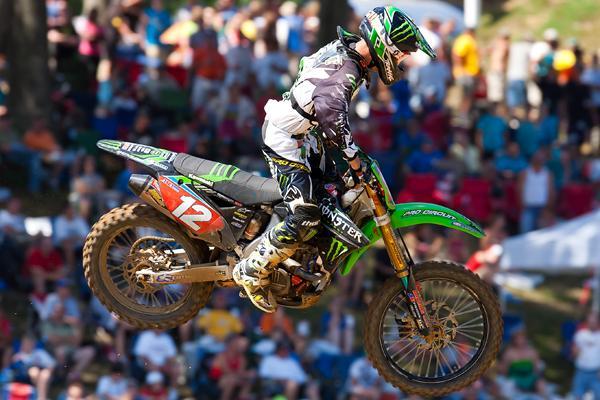 Blake Baggett used 2-1 moto scores to capture his second victory of 2012 at Budds Creek.
Andrew Fredrickson photo
We've seen some pretty amazing charges from you. Do you prefer to chase people down, or would you be okay getting the start and being the rabbit?
I don't think I really have a preference. I'm okay coming from the back, but starting off at the front is good, I can save SCOTT goggles some money on tearoffs. To start up front is cool, but it seems like even when I do get a good start, I make mistakes right off the bat and get passed anyway. So it doesn't seem to matter!
Last year when you didn't win races, you didn't do so well. The last few weeks, you didn't win, but they weren't that bad, either, and you held onto the points lead. Is there something different you're doing this year to be more consistent on the days when you don't win?
Not really. Just trying not to make retarted mistakes. I've got some secret sauce that you helped blend up for me [laughs]. Yeah, I thank you for that. No, I really don't know—we put helium in the frame to make the bike lighter. A bunch of crazy stuff. We're trying everything!
Describe the first moto today. It was close with all three of you guys and went down to the last lap.
First moto today, it was tight pretty much the whole moto, maybe not right off the bat. From the halfway point, it was pretty tight. [Justin] Barcia was able to get past Roczen and then I saw that little opportunity. I just gassed it and was able to get past him [Roczen] on that off-camber. Then everyone's wheels were touching each other front to rear. I looked back a few times because I was like 'Oh, well now Roczen doesn't have anyone behind him, so is he going to open up his lines? Is he going to get going to try and capitalize?' So I was trying to capitalize on Barcia, but not get capitalized on by Roczen. So it was definitely tight. It was gnarly. That's kind of how it's been since Hangtown.
Last year, the battle for the title was with your teammates. You had four riders over there and three of you were winning all the races and trading the points lead. Is it different this year? Now there's only two of you even racing this class.
I don't know because last year Tyla [Rattray] and I traded off a lot of wins, and we were riding together a lot during the week, and road biking together, and going to the gym together and everything. I got to see his strong points and his weak points, where as this year, I guess you could say I just have to guess what the other guys are going to be bringing every weekend. I would say it's different, but not better or worse. All three of the guys I'm battling out here have won not only races, but championships, and I haven't gotten one. Hopefully I can get one of my own this year.
We have a break coming up, and you're holding the points lead. Are you going to taking a break?
We're going to ride Monday.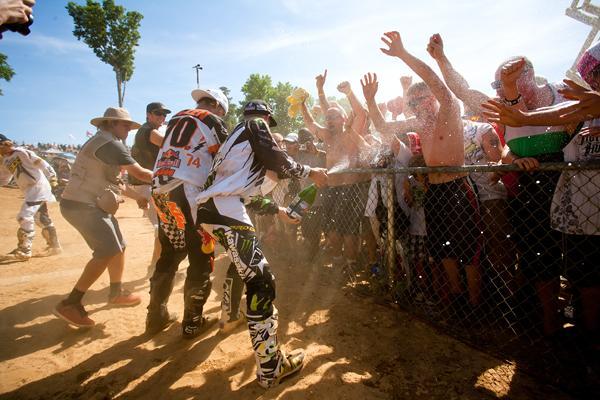 Baggett and Ken Roczen celebrate their 1-2 finishes with the fans at Budds Creek.
Andrew Fredrickson photo
So, business as usual?
Yeah, we're going to ride Monday, Tuesday, Wednesday and Thursday. IT [Tedesco] probably won't ride this week since he had a pretty good get off, he was right in front of me. We're going to so some more testing this week, but it's too bad he probably won't be able to ride because we've got a pretty good thing going with testing, with his knowledge and, I guess you could say my wildness or something. We've had a pretty good thing going, working together. Hopefully over these next few weeks we'll find some more in testing and get another half a second or something to help us out with these guys.
Thoughts on RedBud?
That track is awesome. I only raced it once, last year, and I went 1-1, so that's good. But I'm pretty sure GEICO Honda goes there every year to get some press day action. Maybe I need to get some eyes and spies out there to see what's going on [laughs}! No, just kidding. The track is always good, it changes from the first moto to the second. The inside lines get really deep, so deep that it's actually slower than if you go the long way around on the outside.
It says RedBud's press day will be American Honda, which is the 450 team, not GEICO Honda.
Dude, they ride Hondas. If it says Honda, it's Honda. Doesn't matter! If I find out they're there and you were lying, I'm coming for you [laughs]!
Last question: Henry Hill, in practice you were scrubbing it, in the motos you were jumping long over it. Can you talk about that?
Sometimes I'll try to jump out further and see if I can hop over the next braking bump. Even if you can't jump all the way over it, sometimes you can kind of bounce and get over the top of it, so you'll hit the next one on the top, too, and it's not so big, even if you don't get over it. At that point I was just running that outside line and jumping. It was working so I was sticking to it.