by
Chase Stallo
Racer X Race Report: Budds Creek
Saturday, June 16, 2012 | 7:15 PM
Since 1968,
Thor
has maintained its position as a top motocross apparel brand. From trails, deserts, to the most famous racetracks in the world,
Thor
supports racing on the track and off with its sponsorship of race reports.
Tweet
As the rising sun briskly pushed its way through the trees and over the hills of Budds Creek Raceway round five of the Lucas Oil Pro Motocross Championship began under the most pristine of conditions. The typical sweltering, humid southern heat was diluted, and instead the riders were graced with temperatures hovering in the low to mid 80s with a nice brisk wind furthering the ideal temps.
Red Bull KTM's Ryan Dungey decided to show up and take a nice stroll around the racetrack on Saturday. At least that's what it felt like, as Dungey put on a clinic in Mechanicsville. Another 1-1 performance from the Minnesota native now gives Dungey six straight moto wins since James Stewart injured his wrist at Thunder Valley.
While Dungey's 1-1 performance stole the headlines, some of the spotlight also belonged to Monster Energy Pro Circuit Kawasaki's Broc Tickle. The 450 rookie has continued to thrive with each passing moto and put together a career performance at Budds Creek with 2-2 finishes for second overall. MotoConcepts' Mike Alessi would capture his fourth overall podium in five races with 4-3 moto scores.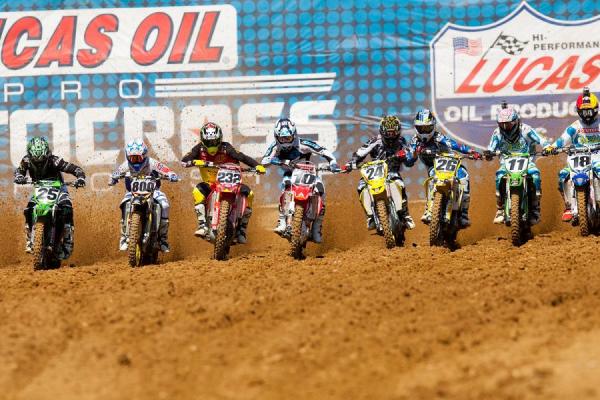 The 450 pack blasts off in moto one. Justin Brayton (10) would get the day started right with a holeshot.
Andrew Fredrickson photo
In the 250 class the four thoroughbreds of Monster Energy Kawasaki's Blake Baggett, the GEICO Honda duo of Justin Barcia and Eli Tomac and Red Bull KTM's Ken Roczen, continued to gallop around the racetrack, pushing the limits to new highs at each turn. Points leader Baggett continued his usual tricks—patiently waiting and striking late—to outlast Ken Roczen, who once again was stripped of a chance at his first Lucas Oil Pro Motocross victory. After a first moto win, Barcia had a bad start in moto two, and combined with a small crash mid-way that would relegate the GEICO Honda rider to a fifth in the moto and third overall on the day.
With all four motos being live on various networks throughout the day the race schedule was shortened, which allowed little time for rest between motos. With Red Bull as the title sponsor, you knew the opening ceremonies would get an added kick. Before the drop of the opening 250 moto, the Red Bull Sky dive Team plunged from the sky in an unbelievable display of acrobatics.
When the gated dropped for the first moto it was Red Bull KTM's Ken Roczen grabbing the early lead. With championship rival Justin Barcia in tow, Roczen was immediately thrown into a haze of pressure. Behind Barcia it was Eleven 10 Mods' Alex Martin along with championship contenders Blake Baggett and Eli Tomac lurking in fourth and seventh, respectfully.
An early crash would take Martin out of contention, which left the gate open for Baggett to slide into third and begin to pressure the leaders.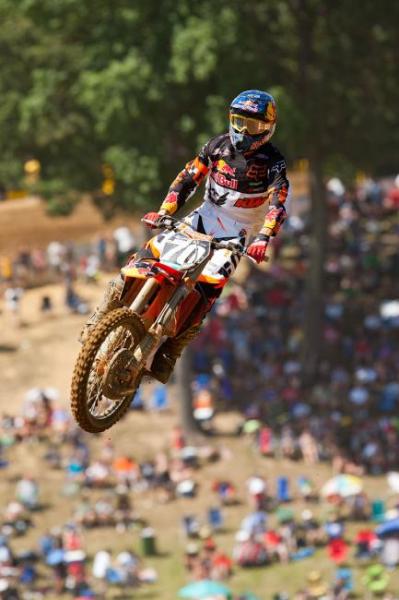 Once again, Roczen led a ton of laps. Once again he came up short of a moto win.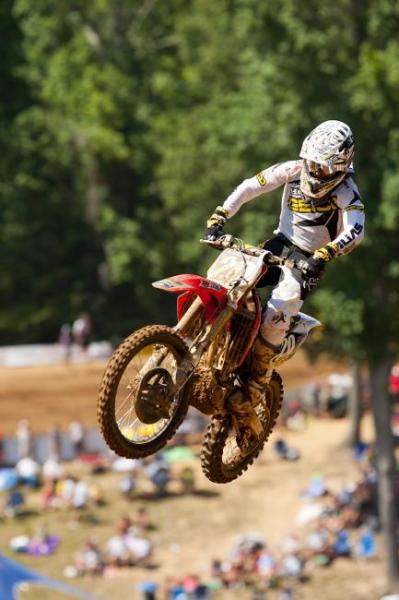 Barcia kept the heat on Roczen for most of moto one before striking late to get the lead.
Andrew Fredrickson photos
Out front Roczen was fighting off every advance that Barcia was throwing out. Barcia would slice to the outside only to have Roczen slam the door. As the laps began to tick away Barcia knew he had to make a move, and was finally able to make a pass stick through the sweeping left-handed rollers right before the finish line. Roczen, shaken by the unbelievable pass, was then quickly swallowed by Baggett. Roczen picked the pace back up and hung with Bagget down the stretch, and just one second would separate the trio as the white flag fluttered in the wind. With not only Baggett, but also Roczen, breathing down his neck Barcia was able to hold it together under pressure to capture the moto one win. Musquin would make a late pass on Tomac to crash the big four party. Tomac, who seemed a bit off the pace in moto one, would finish fifth.
Moto two was a mirror image of moto one as Roczen led the pack through the short left-hand start. This time around Roczen was joined by his Red Bull KTM teammate Marvin Musquin and Monster Energy Kawasaki's Ivan Tedesco. Meanwhile, moto one winner Barcia was buried outside the top twenty.
Tedesco's run up front was short lived as a big crash sent the Kawasaki pilot to the pits early. But teammate Baggett was just getting his day started.
Early on it once again looked like Roczen was primed for his first career moto win as he set a blistering pace, which allowed him to distance himself from Musquin, Baggett and Tomac. Baggett and Tomac would get to Musquin, and Baggett used a quick pass on Henry Hill to get by. Tomac couldn't make the pass as quickly, freeing Baggett to take off and go after Roczen. From about nine seconds down, Baggett closed in on Roczen as lappers also began to come into play. The backmarkers would play a big factor in this one as Roczen stumbled his way through which allowed Baggett to pull into the lead and open up a small gap. That gap became a lot wider as once again lappers would hold Roczen at bay through the finish line.
"I'm not going to blame it on the lappers, but it was definitely a big deal," stated Roczen at the post-race press conference.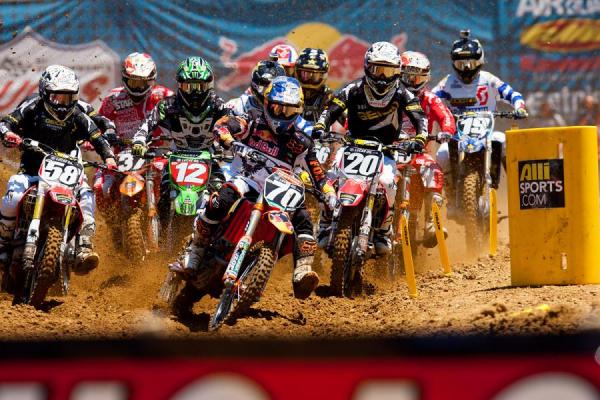 Roczen led again in moto two. Again, he was denied victory.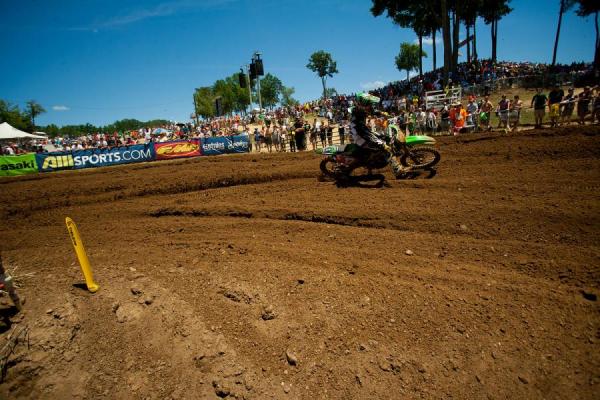 Baggett pulled off another come-from-behind performance to win.
Andrew Fredrickson photos
Baggett would hold on for the win and the overall, while a dejected Roczen was left once again asking what went wrong down the stretch. Tomac would bounce back from a so-so first moto to round out the podium. For the second straight moto Musquin would finish fourth with Barcia coming home in fifth--he also had a small crash during the race.
In 450s,  Ryan Dungey was rolling with four straight moto wins coming into the race. Untouchable since James Stewart injured his wrist at Thunder Valley, Dungey was looking to continue his torrid start to the season in Maryland. But early on it was Muscle Milk Honda's Justin Brayton grabbing the holeshot. Dungey, Mike Alessi and Broc Tickle would round out the top four through the first turn.
Unlike races past, Dungey was not willing to patiently wait to go after the lead. Instead, he attacked Brayton early. And it worked perfectly as Dungey was quickly able to distance himself from the field after getting around Brayton.
After fielding an assault from the series points leader Brayton would continue to surrender positions, dropping back to fifth early in the race.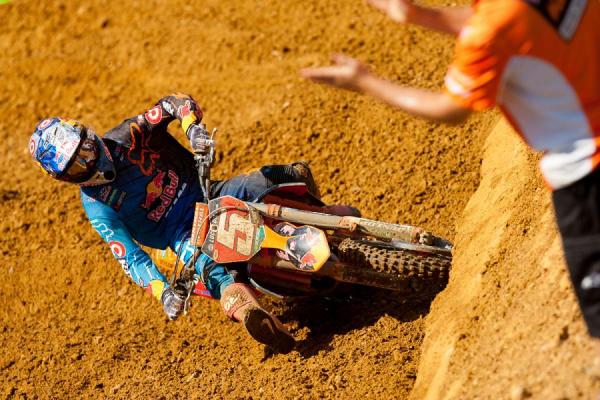 Give Dungey a good start against this field and he'll do the rest.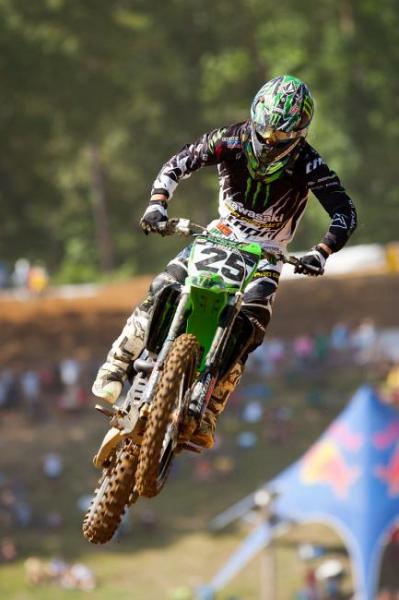 Tickle was a revelation at Budds, going 2-2.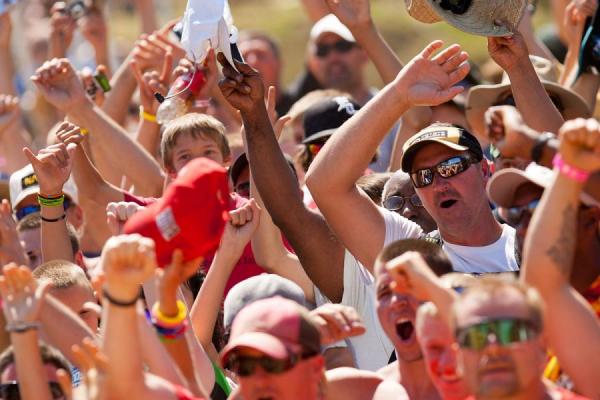 Father's Day Weekend was a good one for motocross fans.
Fredrickson photos
Dungey leading by over ten seconds was of little surprise to the massive crowd at Budds Creek, but it was who sat in second that had the fans on their feet. Broc Tickle has shown steady improvement in his first full year aboard a 450 outdoors but was never really thought of as a podium contender until his third in a moto at Thunder Valley. At Budds Creek Tickle was ready to show he is no one trick pony as he finished a career-best second in moto one. Monster Energy Kawasaki's Jake Weimer would finish off the podium with Mike Alessi and the aforementioned Brayton taking home fifth.
The only difference between moto one and moto two was who Dungey would pass first. Notorious for his holeshot prowess, Alessi grabbed the early lead with Dungey and Tickle battling for second. Like High Point the week before, Alessi was able to hold Dungey at bay for a brief period but eventually relinquished the lead to a charging Dungey.
Riding a wave of momentum from a career-high in moto one, Broc Tickle was able to hound Alessi before getting by and holding on for second. Alessi would finish third with Weimer and Josh Grant battling down to the finish to take round out the top five.
The series now takes a two-week break before heading to ReeeeeeddddBuuuuddddddd for another Red Bull National.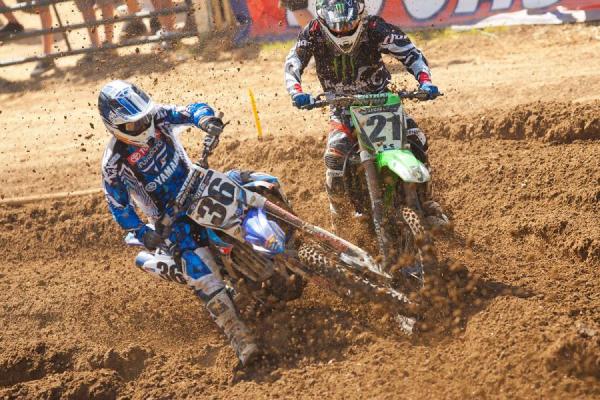 Kyle Regal fought hard in moto two, here doing everything he can to hold off Weimer.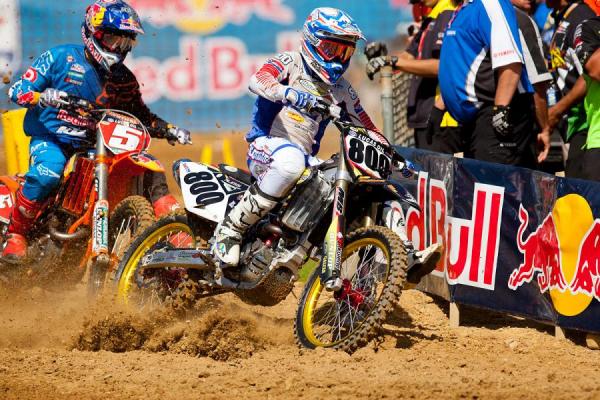 Yet another Alessi holeshot.
Fredrickson photos
450 Overall Results
10.  Ryan Sipes 7-11
11.  Kyle Chisholm 12-12
12.  Jimmy Albertson 15-13
13.  Kyle Regal 22-9
14.  Michael Byrne 11-19
15.  Matt Lemoine 16-15
16.  Billy Laninovich 13-36
17.  Cole Thompson 32-14
18.  Les Smith 14-32
19.  Ben LaMay 19-17
20.  Robbie Marshall 37-16
21.  Vince Friese 18-20
22.  Justin Sipes 17-35
23.  Sean Borkenhagen 23-18
24.  Kevin Rookstool 20-34
25.  Evgeny Mikhaylov 21-22
26.  Derek Anderson 27-21
27.  Cole Martinez 31-23
28.  Ronnie Stewart 26-28
29.  Heath Harrison 25-29
30.  Josh Greco 29-26
31.  Jason Thomas 33-24
32.  Dalton Carlson 30-27
33.  Josh Clark 24-33
34.  Jake Loberg 34-30
35.  Robert Lind 40-25
36.  Dakota Kessler 36-31
37.  Tyler Bright 28-39
38.  Cameron Stone 35-37
39.  Jake Morrison 38-38
40.  Travis Sewell 39-40
450 Class Championship Standings
1. Ryan Dungey, Belle Plaine, Minn., KTM, 236
2. Mike Alessi, Victorville, Calif., Suzuki, 182
3. Jake Weimer, Rupert, Idaho, Kawasaki, 179
4. Andrew Short, Smithville, Texas, Honda, 154
5. Brett Metcalfe, Mannum, Australia, Suzuki, 142
6. Broc Tickle, Holly, Mich., Kawasaki, 134
7. James Stewart, Haines City, Fla., Suzuki, 116
8. Josh Grant, Riverside, Calif., Kawasaki, 111
9. Nico Izzi, Rochester, Mich., Yamaha, 95
10. Justin Brayton, Ft. Dodge, Iowa, Honda, 93
250 Overall
Blake Baggett 2-1
Ken Roczen 3-2
Justin Barcia 1-5
Eli Tomac 5-3
Marvin Musquin 4-4
Jason Anderson 7-6
Wil Hahn 6-7
Jake Canada 13-8
Travis Baker 12-10
Phil Nicoletti 14-9
Jessy Nelson 10-13
Blake Wharton 9-18
Gareth Swanepoel 17-12
Ivan Tedesco 8-36
Alex Martin 16-14
Malcolm Stewart 40-11
Kyle Cunningham 11-34
Hunter Hewitt 25-15
Dakota Tedder 15-24
Killy Rusk 22-16
Matt Moss 36-17
Kyle Peters 20-19
Ryan Zimmer 18-22
Zack Freeberg 19-21
Tevin Tapia 28-20
AJ Catanzaro 21-23
Lowell Spangler 24-26
Steve Roman 29-27
Sean Hackley Jr. 23-35
Gannon Audette 31-28
Luke Vonlinger 27-33
Cody Robbins 32-29
Cody Lackore 30-31
Jacob Hayes 39-25
Mike McDade 26-38
Ozzy Barbaree 34-32
Levi Kilbarger 37-30
Mitchell Dougherty 35-37
Myles Tedder 33-39
Joey Peters 38-40
250 Class Championship Standings
1. Blake Baggett, Grand Terrace, Calif., Kawasaki, 222
2. Justin Barcia, Monroe, N.Y., Honda, 209
3. Eli Tomac, Cortez, Colo., Honda, 200
4. Ken Roczen, Apolda, Germany, KTM, 200
5. Marvin Musquin, La Reole, France, KTM, 153
6. Wil Hahn, Decatur, Texas, Honda, 130
7. Jason Anderson, Edgewood, N.M, Suzuki, 106
8. Blake Wharton, Pilot Point, Texas, Suzuki, 102
9. Ivan Tedesco, Murrieta, Calif., Kawasaki, 99
10. Kyle Cunningham, Fort Worth, Texas, Yamaha, 96
Share this article:
Did you like this article?
Check out MONSTERBALL
in our Latest issue of Racer X available now.

Playing soccer on 250cc motorcycles might sound like a strange form of riding, but in Russia they do it with great passion—and for very little reward. Page 112.
Look for the verified symbol
The Conversation